An old town center peppered with sights and medieval vibes, plus the vibrant life of a modern Polish city and the proximity to the Baltic Sea: every time I'm in Gdansk, I'm seeing the city from a different angle. Because Gdansk is just so diverse! In this article, I'll show you the most important sights in Gdansk , so you can start sightseeing right away!
➜ See Gdansk and the Baltic Sea resorts of Sopot and Gdynia in just one day*.
➜ Cheap accommodation in Gdansk*.
➜ Trip: With the pirate ship to Westerplatte
1. Historical center of Gdansk: The Main City
You will find most of the sights in the Main City. That's where the historical center of Gdansk is. The Main City is home to the most popular tourist destination in the city: the Long Lane (Ulica Długa) is the main street where everything is taking place!
2. Long Lane/Ulica Długa
The Long Lane runs from the Golden Gate to the Long Market and is truly a feast for the eyes. The facades of the houses along the Long Lane clearly show the economic and cultural importance of the former Hanseatic city of Gdansk . Already in the Middle Ages, Gdansk was an important trading port due to its location on the Baltic Sea, and many merchants and nobles settled here.
Not obvious at first glance, because it's just too beautiful and well done: The beautiful medieval-looking facades are not quite original. In fact, during the Second World War, over ninety percent of the houses on the Long Lane were destroyed. After the war, all facades were rebuilt, but the backyards and blocks behind them were constructed according to modern urban planning principles.
3. Long Market
The Long Market at the end of Langgasse is always busy, especially during the high season from spring to fall and on weekends. You can sit here in the surrounding cafes and watch all the hustle and bustle, but Gdansk has so much more great cafes and restaurants to offer that you should also take a look into the small side streets. Good coffee can be found, for example, at the Café Oficyna.
Polish cities are definitely worth a trip! Here you can find more inspiration for a short trip to Poland:
➜ All articles about Poland
4. Green Gate
The end of the Long Market is unmistakably formed by the Green Gate. For me one of the most beautiful photo motifs of Gdansk! There is also an offshoot of the National Museum here, where changing exhibitions are held at irregular intervals. It's worth taking a look!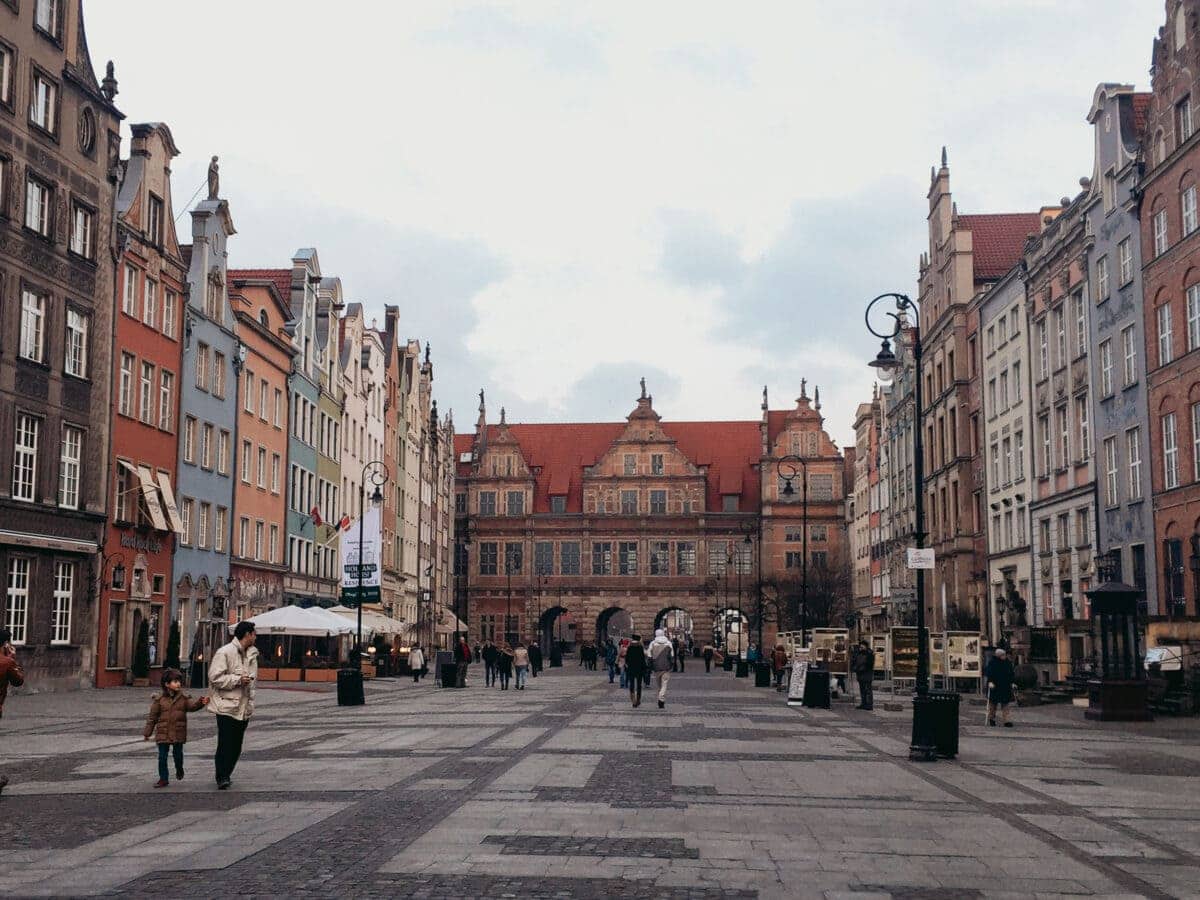 5. Waterfront promenade
Through the Green Gate you'll get straight to the waterfront promenade on the Motlawa, where you can enjoy the maritime feeling! You can already feel the fresh Baltic Sea breeze a bit here, and a few older ships provide the right flair. Among others, you can even see a real pirate ship!
6. Crane Gate
By the way, among the many eateries on the waterfront, the huge Crane Gate stands out. Ships were once loaded and unloaded here since the 15th century. In the Second World War, like so many buildings in Gdansk, it was destroyed, but then completely rebuilt.
Today, the Crane Gate is one of the most famous postcard motifs and landmarks in Gdansk. The single, large wheels of the crane can also be seen through the construction from the waterfront. But in the Crane Gate itself there is also a museum (currently closed for renovation), where you can see the mechanism up close and learn more about life in medieval Gdansk.
Current info Museum in the Crane Gate
7. Mariacka Street
Even before the Crane Gate, you can pass through the St Mary's Gate ontoMariacka Street, which to me, is the most beautiful street in the center of Gdansk! Mariacka Street is lined with stylish town houses and is also the center of the amber trade. Gdansk is famous for its amber! Personally, I don't like it that much, but the street itself is so pretty – an absolutely perfect photo op!
What is amber?
Amber is not a precious stone, but fossil resin. It is also called "Baltic gold" because it has the largest deposits in the Baltic Sea region around Gdansk and in the Baltic States. Attention when buying: Meanwhile there are also synthetically produced fakes!

➜ Learn to recognize fake amber & process amber yourself! (material included)*

8. St. Mary's Church
The Mariacka Street leads to the unmissable St. Mary's Church, which is interesting even you are a big fan of churches in general. From the church tower you have a perfect view over Gdansk!
(Alternatively, you can enjoy the view over the city from the ferris wheel "Amber Sky" on Granary Island).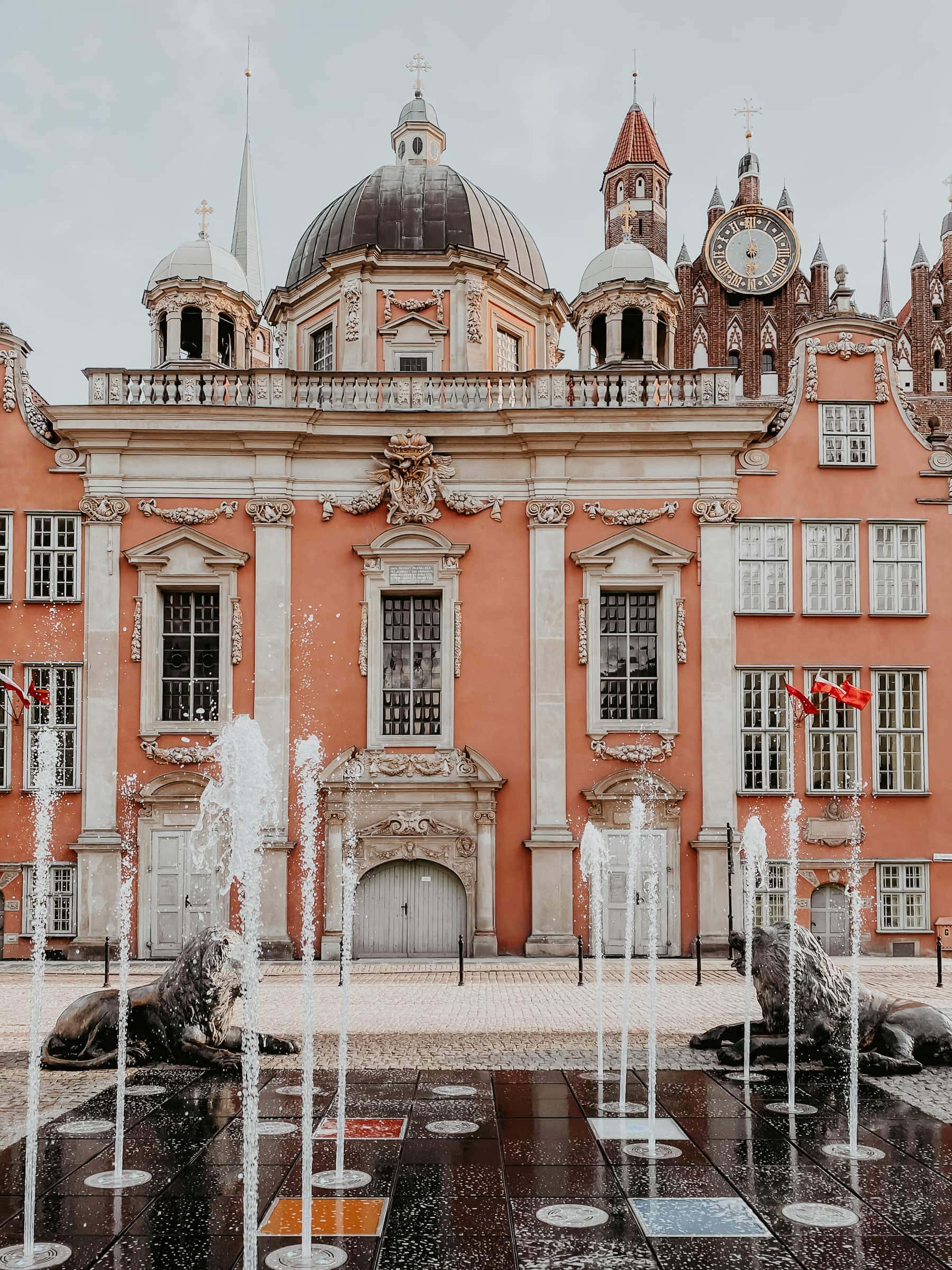 9. Granary Island
The Granary Island opposite the old town has only really been developed in recent years. There is still a lot of construction going on here, new things are being built and the atmosphere here is younger and fresher than in the historic Main City. I'm excited to see what else is created here!
The pedestrian swing bridge that connects the Speicherinsel with the opposite waterfront promenade of the Main City is also new!
10. Street Art in Zaspa
A bit away from the tourist hustle and bustle, you can marvel at exciting murals and street art in the usually less picturesque Zaspa district. You can find an overview of all murals here:
Food & Drinks in Gdansk
You'll encounterGoldwasser on every corner, a spiced liqueur with a whopping 40% alcohol is the signature liquor of Gdansk. By the way, the name actually comes from the gold leaf that is added to the liqueur! It's too hard for me, but fortunately Gdansk has much more to offer than just Goldwasser! As in most Polish cities, the choice of good, modern restaurants and cafés is great!
Beer is popular in Poland anyway and in Gdansk even more so! So if you like beer and want to experience craft beer from small, local breweries that you might never find like this, then this might be for you:
➜ Private beer tasting with local craft beer*.
Day trips from Gdansk
If you've had enough of the city and crave even more Baltic flair, there are some great trips you can take from Gdansk.
Westerplatte
History nerds in search of the historical hotspots will be drawn here anyway: This is where World War II began in 1939 with Germany's invasion of Poland. A large monument to honours the soldiers defending Poland commemorates these first battles today.
But also the location on the Baltic Sea and the wide beach make the peninsula a great place to visit! By the way, you can take a trip here with the pirate ship, which is located on the waterfront – and yes, it is quite touristy with music and animation; but it is also just beautifully done.
There are also water trams by Gdansk's public transport company in summer. Line F5 also departs from the Green Gate and stops at Westerplatte. The stay on the Westerplatte with a fresh breeze are a nice contrast to the lively Old Town.
In general, you should take a boat tour in Gdansk – it's really cheap, and a nice opportunity to get to know the history of the city from the water!
➜ City tour on a historic wooden boat*.
➜ Boat tour of the Kaiserliche Werft Danzig (a historic shipbuilding company) at sunset*.
➜ With a small motorboat across the Motlawa River*.
A boat trip to Westerplatte also takes you past the huge cranes of the Danziger Werft: This is where the Solidarnosc movement around Lech Welesa, later Nobel Peace Prize winner and Polish president, was born in the 1980s. The Gdansk shipyard, today rather insignificant, built huge freighters and passenger ships here at that time. One of the first ships build here is now moored as a museum ship on the Motlawa River, opposite the crane gate.
Sopot
Very close to Gdansk is Sopot, an old Baltic seaside resort, which is still a popular nightlife destination for many Gdansk residents. There you can walk along the busy main street Monte Cassino to the Sopot pier, a wooden jetty that juts hundreds of meters into the Baltic Sea.
You can get there in less than half an hour by regional train from Gdansk Central Station (Gdańsk Główny), which is just outside the Old Town. You can also take an Uber!
Or you can book a full day with a guide who will show you not only Sopot, but also Gdansk on the fly and Gdynia. It's a really a good investment to experience more of the area and at the same time, you don't have to worry about transportation, etc:
➜ Gdansk, Sopot & Gdynia in one day*.
Travel planning tips
Where to stay in Gdansk
Gdansk is a popular tourist destination with a great selection of hotels and places to stay! Like all costs in Poland, accommodation is relatively cheap, so a nice place to stay isn't hard to find.
I have some great tips for you here:
Radisson Blu Hotel & Suites*– Newly renovated and furnished in Scandinavian midcentury style.
➜ More accommodations in Gdansk*.
On the road
You can explore the center of Gdansk perfectly on foot. Everything is close together and you will find less public transportation there anyway. To get to e.g. Westerplatte, Sopot or Gdynia, which is also nearby, you can take bus, train or in summer also the water tram.
Timetables (Polish only): [https://ztm .gda.pl /]
Less adventurous, but also not very expensive, is Uber; it works in Gdansk without any problems.
Best time to visit Gdansk
I think I've been to Gdansk at pretty much every time of year. In summer Gdansk is very busy and touristy, especially on weekends, this may be too much for some. However, the temperatures are then also perfect for a swimming trip to the Baltic Sea coast.
In spring and autumn, Gdansk is quieter, and perfect for a short city trip. In winter I find the morbid charm very exciting, especially the Main City is completely empty, but to me personally the Baltic Sea climate in winter is just too cold – but I'm a fan of warmer temperatures anyway ;) Depending on your preferences, you can visit Gdansk all year round.
How to get to Gdansk
You can easily get to Gdansk by train, plane or by car. Bus connections are also available, depending from where you are departing in Europe.
The airport is well connected to the city by train and only 10 kilometers from the city center. Cab and Uber are also a good alternative.
Money & Currency
The currency in Poland is the Polish Zloty (PLN). The conversion rate is more or less 1:4, i.e. 4 Zloty are converted to 1 Euro.
Card payment is common, sometimes you can even pay in euros and get the change back in zloty. (Usually a bad deal). When paying by credit card, be sure to choose payment in zloty instead of euro or your currency.
But it never works quite like that without local cash. That's why I still withdraw some cash in Poland with my DKB credit card*, which allows me to withdraw cash free of charge from almost any ATM and I'm prepared for all eventualities.
In the city you can also find some independent exchange offices, but the exchange rate there is worse.
Language & Communication
In many places there is information only in Polish, and even though I have been to Poland so many times: It's so difficult! Too many consonants! At some point, I gave up trying to get beyond "hello" and "thank you" and surrendered to my fate. Fortunately, many younger Poles now speak English, so especially in particularly touristy places like Gdansk, you'll get along with just English.
You can also find more about Poland here: