If you are also looking for something special in Singapore, I highly recommend a walk through Tiong Bahru! I had already chosen a place to stay in Tiong Bahru for part of my Singapore trip in advance, and I didn't regret spending two days a bit off the tourist beaten path.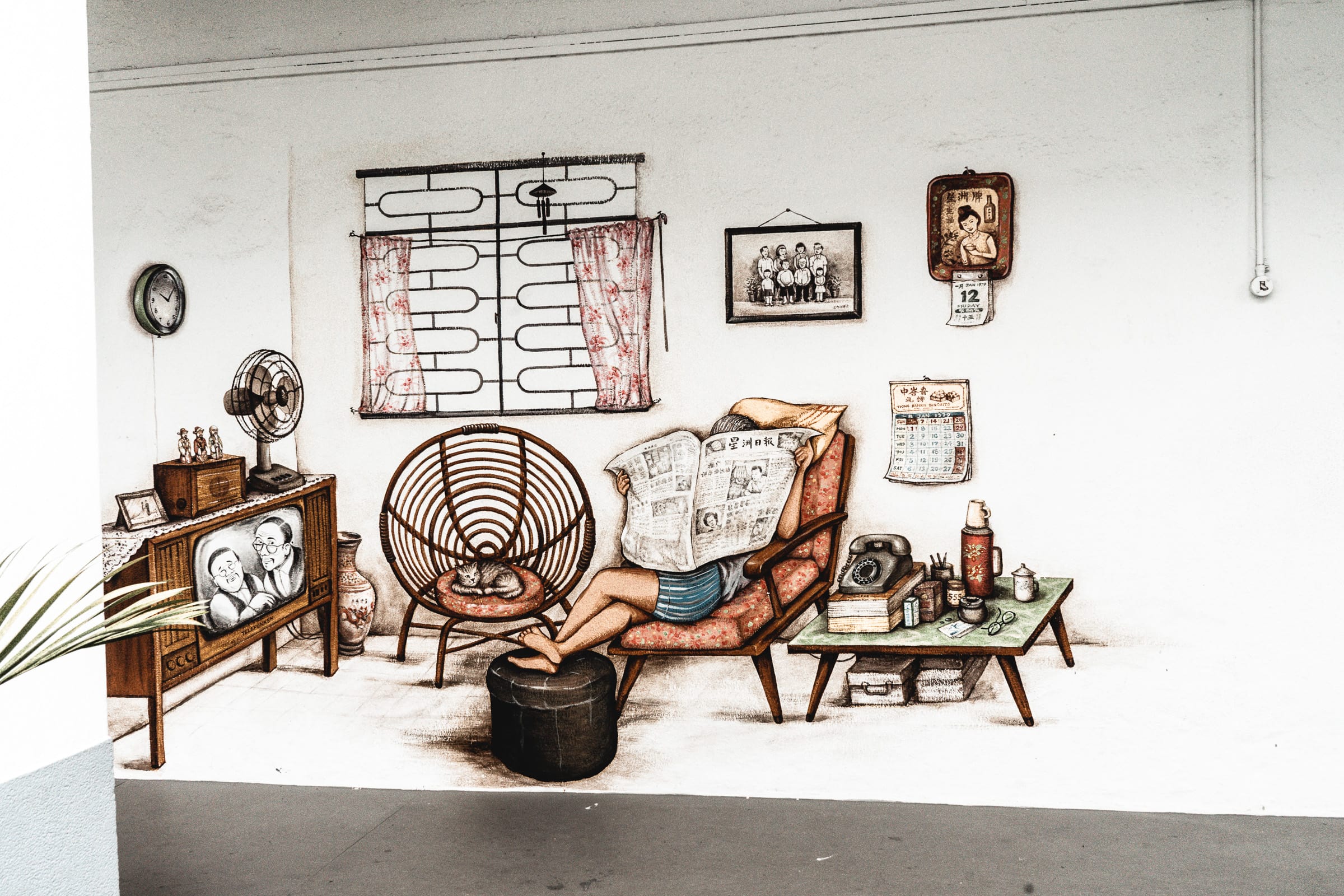 Tiong Bahru in Singapore: A district for insiders!
Singapore is a melting pot of diverse cultures. A bit like Hong Kong, only Singapore seemed to me even more diverse, even more crowded in the smallest space. Indians, Chinese, Malays, British, every culture has left something here, conjuring up this multicultural place that I still have a hard time categorizing. Probably the few days I spent in Singapore were too little after all, I not only dealt with the usual sights like Chinatown and Marina Bay with its Gardens by the Bay, but also with somewhat more unusual corners like Tiong Bahru.
Tiong Bahru: residential district in Singapore with history
Strictly speaking, there are no real sights in Tiong Bahru, it's just too residential for that. But a very special one. Tiong Bahru is the first social housing project in Singapore and was built back in the 1930s. As buildings are often demolished in Singapore to make way for new, better and higher ones due to the lack of space, Tiong Bahru is now the oldest residential district in the city.
Formerly a cemetery, then a purely residential area, and now one of Singapore's trendiest neighborhoods. Incidentally, social housing has a long tradition in Singapore. I was very surprised, because when you think of Singapore, you think of mega banks, expensive, skyscrapers and financial gimmicks. But without social housing, many locals would probably not be able to afford housing – Singapore has been very far-sighted in this regard in the past. The whole district of Tiong Bahru with its residential buildings is now a listed building. And rightly so, because the houses in Art Deco style are really special: round shapes, somehow also a bit Bauhaus, somehow also a bit Miami – in any case a pleasant living atmosphere in the middle of this fast metropolis Singapore.
More info & tips about Singapore can be found in the Singapore Blog!
The Tiong Bahru Heritage Trail also leads through Tiong Bahru and tells a little about the history of this special district with display boards. Here you also pass the Tiong Bahru Air Raid Shelter , the last remaining bunker in Singapore from World War II. However, you can only get in as part of a guided tour.
The new hipster district in Singapore
In recent years, hipsters have conquered the previously sleepy Tiong Bahru and breathed new life into the neighborhood. Can you find good, or stupid, I was in any case very surprised at the contrast to the other parts of Singapore I looked at. Sitting in the evening at sultry temperatures in one of the cozy bars or restaurants, outside in the arcades, the ceiling fan humming peacefully above you, good food or the best cocktails, plus tropical ambience with lots of green plants and the bright houses all around – quite magical.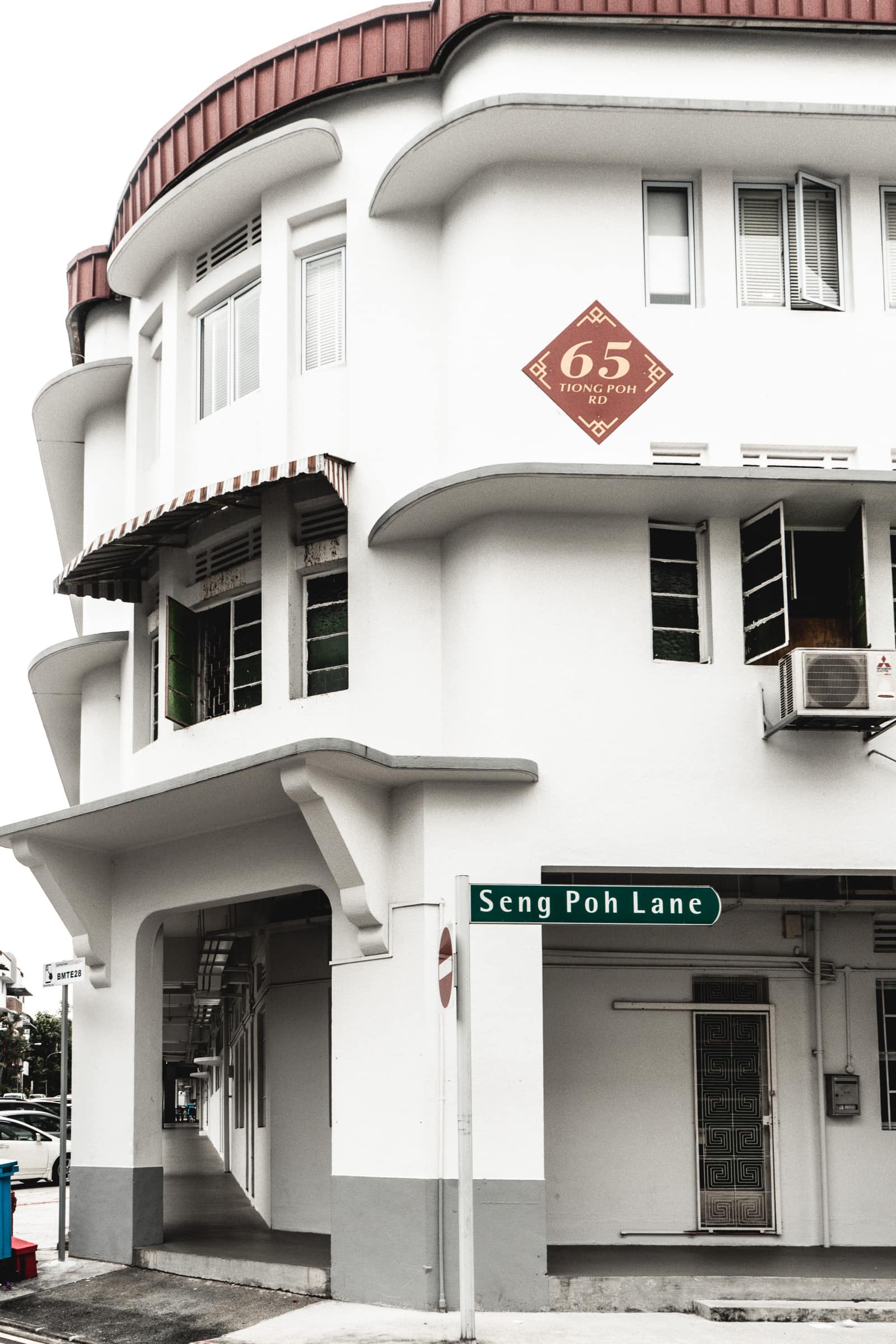 By the way, during the day it is recommended to go to Tiong Bahru Market. Recently renovated, it is one of the most popular hawker centers in Singapore. And as we all know, those are never wrong in Singapore if you're looking for good, inexpensive food. (Hawker Centres are food courts in covered shopping malls – and incredibly, you can find real culinary highlights there! There is even a stand in Singapore that is so good that it even has a Michelin star!)
Tips for Tiong Bahru: shopping, cafes and restaurants
Tiong Bahru Bakery One of THE institutions in Tiong Bahru. Bakery with kitchen, for coffee or the little hunger in between.
Plain Vanilla Bakery Famous for its fantastic cupcakes, located in a small streets with some other nice cafes and stores like Books Actually.
Books Actually – A gritty bookstore with lots of literature about Singapore and very art and design heavy. Could have bought myself dead if I hadn't wanted to lug so much. Also, a very nice children's book corner.
Café Pandan – Simple ambience, but very neat and cheap. And most importantly, the Char Siew Rice (Cantonese barbecue-style marinated pork on rice) is divine. A specialty that you must have tried in Singapore!
PS.Cafe Petit Tiong Bahru A little bit cafe, a little bit deli, a little bit wine bar. What it should be exactly, no idea. However, the interior is really impressive. Everything shines in deepest black, classy and yet cool. Good for the small hunger, or for a glass of wine.
Hotel Tip | Tiong Bahru
For the real Tiong Bahru experience and because I just found the area so interesting, I stayed at the COO Boutique Hostel* for two nights. Pretty hip, clean rooms, unfortunately small and cramped – but hey, this is Singapore! But can still highly recommend it, especially if the travel fund is already pretty plundered. Definitely also a good alternative to accommodations in tourist hotspots like Chinatown, where you get less for your money.
➜ Check here the prices for COO Boutique Hostel*
***
All articles about Singapore: