A city trip to Vilnius is easier than you think: an hour and a half flight and you'll land in the Lithuanian capital, which apart from a turbulent history also has a lot of modern adventures to offer! Vilnius is young, a bit wild and quite innovative! I'll show you the best things to do in Vilnius, especially in winter – and why you should definitely visit Vilnius in 2023!
The main sights in Vilnius + history of the city
Cathedral Square & St.Stanislaus Cathedral
The Cathedral Square with the Cathedral of St. Stanislaus is a must-see during a sightseeing tour in Vilnius. On Cathedral Square you will also see a large monument to Gedeminas, Grand Duke of Lithuania from 1316 and founding father of Vilnius (you will come across the name more often in the city! Right next to the cathedral is the bell tower, from which you have a good view of the surroundings.
➜ Buy tickets for the bell tower here*
Gedeminas Tower
But you'll also have a good view from the Gedeminas Tower nearby. There is also a small cable car up there, in case you are too lazy from all the sightseeing to walk all the way up! Gedeminas Tower is part of the Lithuanian National Museum.
A few facts about Vilnius
Lithuania has 2.8 million inhabitants, 570,000 of them live in Vilnius.
The Old Town is a UNESCO World Heritage Site, the largest in Eastern Europe and famous for its many Baroque churches.
Vilnius is the capital of Lithuania.
Palace of the Grand Dukes of Lithuania
The Palace of the Grand Dukes of Lithuania, which was actually destroyed at the beginning of the 19th century and has only recently been completely reconstructed, is also located on Cathedral Square. Here you will also find the archaeological excavations found in the process, which you can see in an interesting exhibition.
As you can see, you can find a high concentration of historical places around the cathedral. Now you should have a really good overview of Vilnius and its origin!
Gate of Dawn
You shouldn't miss the Gate of Dawn while exploring the main sights in Vilnius. Actually, it is a city gate of the old city wall around the old town. On the side, there is a small entrance from which you go up a staircase just above the archway. There is a really nice little chapel with a Madonna. The Gate of Dawn is an important pilgrimage site and is visited by many believers. (Taking photos is therefore not allowed).
St.John's Church & Vilnius University
Churches, churches, churches. You won't get past that in Vilnius, because the many baroque churches are simply part of the cityscape. You're probably already a little tired from so much history and heavy church history. But there is one more church you should see: St. John's Church is part of the Vilnius University campus (one of the oldest in Europe, by the way!) and the altar with its many columns shows very well why the baroque churches in Vilnius are considered quite unique. By the way, in summer you can also climb the bell tower here for a small fee. The bell tower is the highest building in the old town and you'll have a perfect view!
Tip: If you're discreet, you can mingle with students on weekdays and explore the old university. In the philological faculty, thanks to my local guide, I also came across a hall with impressive murals!
Looking for a place to stay in Vilnius?
The best hotel deals in Vilnius*
Vilnius: Young, modern & creative
Surprising how much history there is in Vilnius, isn't it? Considering that Lithuania has been part of the EU for quite a long time, it is one of the countries in Europe that I knew very little about, and I bet I am not alone. But as interesting as the history of Lithuania and Vilnius may be, the present is also: there really is a special creative wind blowing through Vilnius, the city is young, in constant upheaval, and very creative. Vilnius itself, for example, advertises itself with the slogan"Vilnius: Amazing wherever you think it is" and so much self-irony already suggests that behind all the history you'll find a pretty casual city.
The artists' quarter Užupis
On the other side of the Vilnia river, next to the old town, you end up in Užupis. What somehow started by a group of several artists in the 1990s is now a must-see on any visit to Vilnius.
In Užupis you can find galleries, studios, street art and many small stores. Especially in summer, the pubs here are well attended. Užupis was proclaimed a republic with its own constitution and parliament in 1998 by some of its inhabitants; probably a bit tongue-in-cheek, but still you feel a bit like you're entering a different world.
➜ Official website of the Republic of Užupis
MO Museum
If, like me, you also like to look at contemporary art, then you should definitely visit the MO Museum. (In general, you should check out the quarter around the museum, here you'll find some exciting stores and cafés like Raštinė or the Urban Garden.) The privately funded museum was designed by Daniel Libeskind and offers an interesting permanent exhibition as well as interactive temporary exhibitions. Nice design.
Prison 2.0: Strange things in Lukiškės
I walked through the open, large gate, to the right and left high, dark brick facades with teeny tiny windows. If the gate were to close behind me now, I definitely would feel uncomfortable. A very dominant-looking, broad-shouldered security guard with a bald head warned me that photos with a large camera are not allowed (I hadn't seen the small sign at the entrance) and for a brief moment I thought he is part of the exhibition – because the Lukiškės prison 2.0 is no longer a prison, but has become part of the creative scene in Vilnius.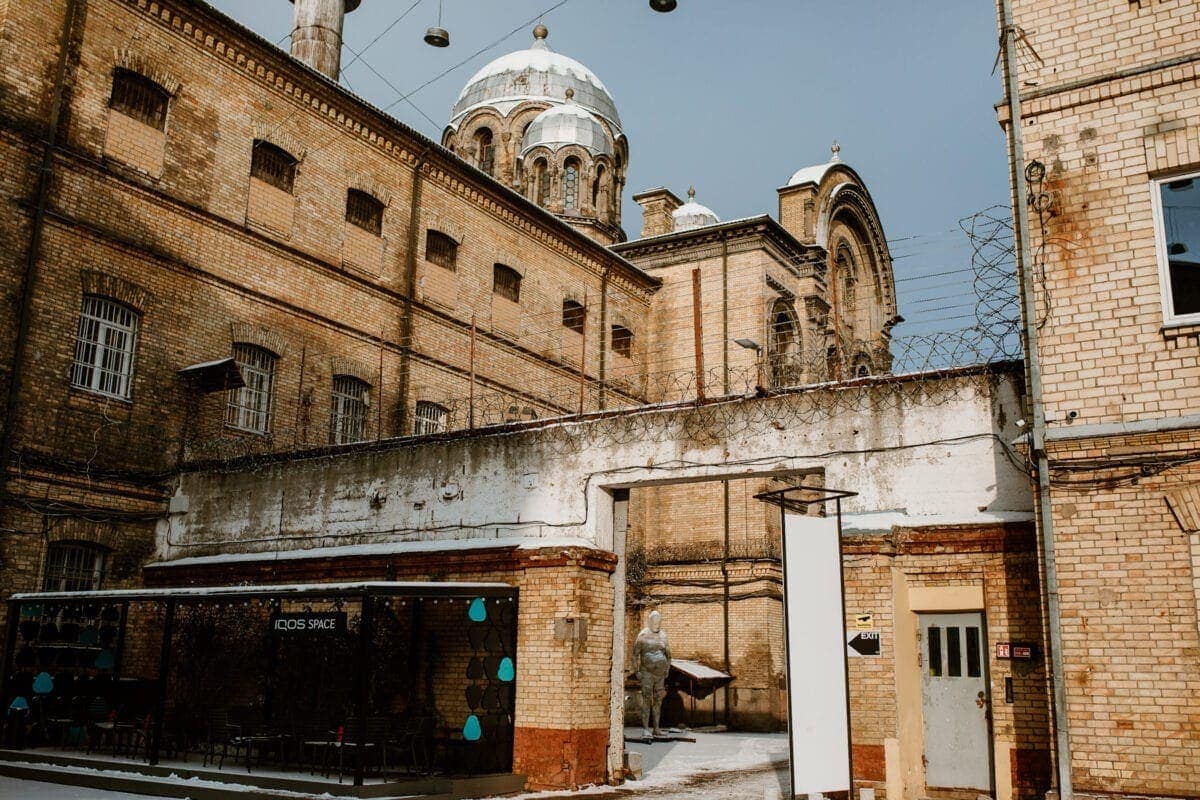 Lukiškės & Stranger Things
If you've watched Stranger Things on Netflix, it will look familiar: In the fourth season of the series, the former Lukiškės Prison served as a filming location. In general, the old prison is a special place, and I think quite representative of the general vibe in Vilnius. The city is young, lively and open to new concepts: creating an event space and creative center in an old prison is very unique.
Lukiškės 2.0: A place for creatives
Some of the old wings now house studios, exhibition spaces, concert stages or even a bar. The former cells can be visited on a guided tour – and here you can also learn more about the history of the prison. The courtyard is also being put to new use: This winter, a large skating rink was opened, and if you're too exhausted, you can enjoy snacks afterwards at one of the street food stands outside.
However, I recommend that you think carefully beforehand about when and if you are going to visit Lukiškės 2.0. (My mood was slightly dampened, at least afterwards; certain places just do something to you).
The history of Lukiškės
Lukiškės Prison was one of the most notorious penal institutions in the country for over 100 years; executions were still carried out here until 1996, when the death penalty was abolished in Lithuania. The undignified conditions, as well as international pressure (not least due to Lithuania's accession to the EU), eventually led to the prison's closure in 2019.
And once you have experienced the barren cells, the musty smell in the dark corridors, the eerie basement cells for solitary confinement (photos were not allowed in the cell wings as well as the individual cells, but I didn't feel like it anyway) or the 10-square-meter outdoor cells live, in which the prisoners could spend their only hour outside of the cell to walk around the yard (together with the cellmate, mind you, with whom you had already spent the other 23 hours hanging on each other), then you ask yourself: Only in 2019???
The flippant tone of the tour doesn't make it any better, and as much as I like creative concepts, I personally found the very casual approach to the past of this place (which is just not that long ago) and the associated fates very disconcerting. You can't see most parts of the prison without a tour, though, so you just have to get through such embarrassments as a goodbye Polaroid mugshot. I didn't like this kind approach that much, but others might feel different. See for yourself!
Nevertheless, I would recommend you to visit it, because Lukiškės 2.0 is really a moving place. Just take care of yourself. <3
Christmas time & Winter in Vilnius
Let's put it this way: winter is a rather exotic time to visit Vilnius. It can get very, very cold; especially in January, and sometimes on the already short days you really have to look for the sun under the thick cloud cover. But during Christmas time it can also be cozy in Vilnius: Many stores and pubs decorate their facades festively and on the Cathedral Square a huge, illuminated Christmas tree creates the right atmosphere.
And anyway, cold temperatures are an excellent excuse to stop at a different café or restaurant every ten meters: The gastro scene is so unique in Vilnius that I have a little food guide in store for you!
➜ Click here for the Food Guide to Vilnius!
Why you should definitely visit Vilnius in 2023
This year, by the way, the Christmas tree is especially decorated: Under a pie-shaped scaffolding and equipped with 700 candles, it stands not only for an atmospheric Christmas, but also for the 700th birthday Vilnius is celebrating in 2023 !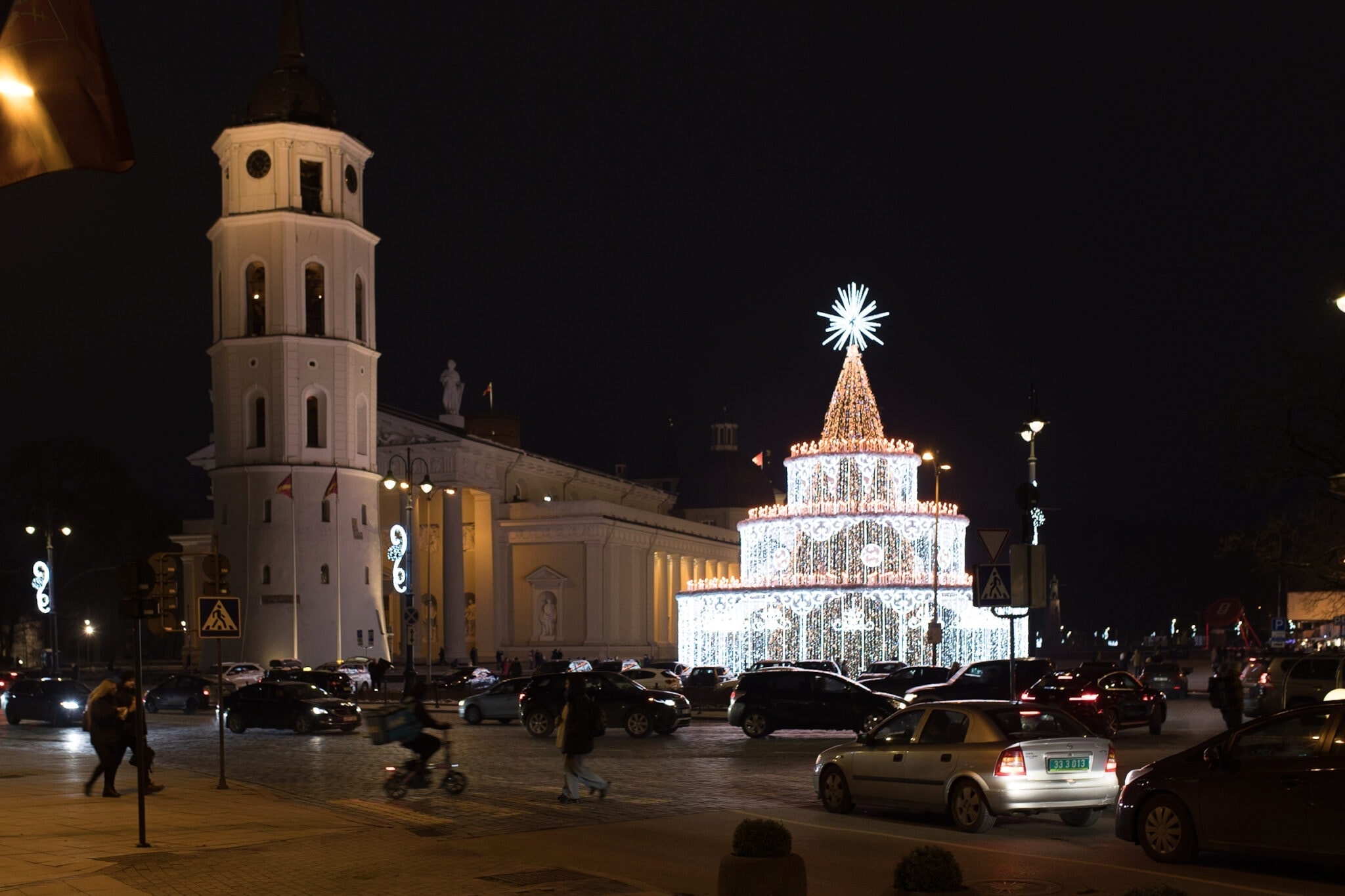 And from what I could already see there, 2023 is going to be pretty epic with many events planned in Vilnius; so Vilnius is my hot tip for a city break next summer!
Helpful tips for your trip to Vilnius
One thing in advance: a city trip to Vilnius is very easy. I would even say that you can just spontaneously get on a plane and spend a few days here without thinking too much about the organization. Still, I have a few tips for you that might help!
Currency & Money
The currency in Lithuania is Euro.
Card payment is common, you don't need much cash.
Getting around in Vilnius
Public transportation is available (streetcar, bus, train), but I didn't use it at all during my stay. The Old Town is best explored on foot anyway and for further distances I used Bolt (available in Vilnius instead of Uber). Bolt is also a good choice to the airport, costing about 15€ one way.
The flight time to Vilnius is e.g. from Frankfurt about 1:40h, from Berlin only 1:10h.
Language
Lithuanian is spoken in Lithuania, which I find super fascinating as a language. Lithuanian, as a Baltic language, belongs to the Indo-Germanic language family, but don't let the "Germanic" fool you, you don't understand anything :) I've always tried to pick out at least a few chunks, but I didn't get beyond "hello" and "thank you".
The native language is very much cultivated in Lithuania. Similar to France with its radio quota, Lithuania has a kind of language committee that makes sure that the Lithuanian language is not riddled with Anglicisms, for example. Thus, all English words are Lithuanianized, so to speak, "computer" becomes "kompiuteris", for example.
Younger Lithuanians, however, often speak English, especially in sights, cafes, restaurants, etc.. Older Lithuanians, on the other hand, also speak and understand Russian, but due to the historical background and the current situation, it is better to avoid this topic.
Where to stay in Vilnius
In the low season you can find some good deals in Vilnius; there are accommodations for every taste. I stayed in an old mansion from the 17th century, which was converted into a design hotel a few years ago with great attention to detail. I enjoy good hotels anyway (although I spend so much time in hotel rooms anyway), but Hotel Pacai is really an absolute recommendation. Certainly not for every budget, but for one or two nights maybe still possible – I promise you, this is a highlight you won't forget!
➜ Book Hotel Pacai in Vilnius here*
My trip to Vilnius was at the invitation of Go Vilnius.