Israel's party capital is a popular travel destination. Apart from sightseeing, good food and a lively club scene, you can relax at long beaches, including beautiful sunshine. In this article, I will share my highlights with you: The best locations, tips and places to see in Tel Aviv!
#1 Tel Aviv's beaches from Alam Beach to Gordon Beach
I was blown away by the beaches in Tel Aviv: I never expected such beautiful white sand beaches! Even in spring the temperatures were perfect for swimming or at least sunbathing. And the beach life is unique in Tel Aviv. As if the whole life of the Tel-Avivis takes place on the beaches of the city. Beautiful people everywhere, active, sporty, cheerful – it makes you feel like you're in Miami Beach. Every single one of the beaches attracts its own audience, from families to LGBT and water sports enthusiasts.
Gordon Beach
At the Gordon Beach, there is even a 50m saltwater pool beside the beach in which you can take a swim if the sea is too wild for you. (Entrance fee.)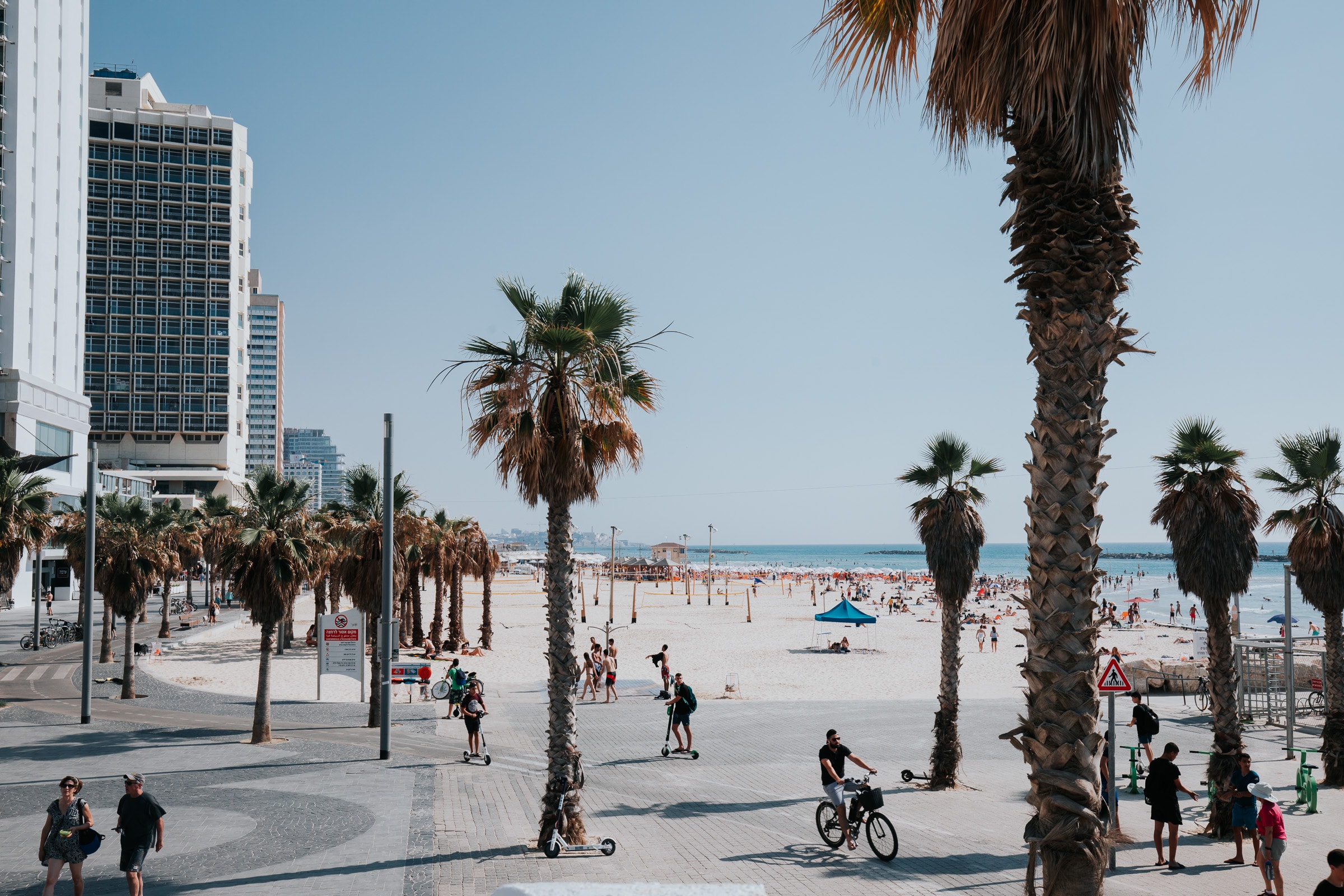 Frishman Beach & Bograshov Beach
The central beaches are Frishman Beach (the one with the colourful lifeguard bungalow) and Bograshov Beach: you'll find people here from morning till late at night.
At each beach there are always great beachside bars where you can spend hours just enjoying the beach life while having a cocktail. Or you come in the evening and watch the sun slowly going down in the sea.
My tips for the best beach bars in Tel Aviv
Goldman (Alma Beach) – Perfect for sunset! The best thing is to reserve one of the chairs at the balustrade to the promenade: there is no better view at sunset!
Gazoz – Once you've sat in the sand in the comfortable deck chairs and had your first drink in your hand, you won't be able to get away from here so easily! Better to stop here at the end of the day!
2. Jaffa: The ancient part of Tel Aviv
South of Tel Aviv is Jaffa (Hebrew Yafo), a coastal town that is over 4000 years old. For Jaffa you should plan at least half a day! Here you will find the small stone-lined alleyways and not to forget the famous flea market. In the small boutiques in Jaffa you can find a lot of nice souvenirs, while a warm sea breeze blows through the streets. The atmosphere here is much more relaxed than in busy Tel Aviv. While Tel Aviv is a bit Miami, Jaffa reminded me of hippie-style Ibiza!
Walking tour through Old Jaffa
The best way is to start your tour at the Jaffa flea market and then walk towards St. Peter's Church. On the way you will have the best view of Tel Aviv and its endless beaches from the hill! Not to be missed!
Then walk from Kikar Kedumin Square through the narrow streets of the old town down to Jaffa Port, Jaffa's old harbour. There are many restaurants and cafes along the promenade, perfect for a little stopover.
Tip: The archaeological excavation in the middle of a shop in the old town of Jaffa at Adina Plastelina, lunch at Aboulafia (grill restaurant, but also bakery) or the hyped Dr. Shakshuka
3. Carmel Market
Markets are always a good tip in foreign cities, especially for trying out culinary delights. Especially in Tel Aviv, where there is a lot to discover because of the different culinary influences! At the Carmel Market you will find everything from underpants to fruits and the hottest coffee shops. And the hustle and bustle is as busy and vibrant as usual in Israel! Here you can try dishes from all over the world at a reasonable price at one of the many streetfood stalls – or just have a few falafels and hummus.
Photo-op for Insta: Don't miss the colourful umbrellas at the entrance of the Carmel Market at Magen David Square!
You can also find further tips for Israel on my blog: Click here to read more!
4. Walking on Rothschild Boulevard
Rothschild Boulevard is a grand boulevard with space for pedestrians, cyclists and scooters. There are always small stalls here, which once sold Gazoz (soda water with taste) and now house mostly hip little cafés.
5. Dizengoff Square
One of the best locations to experience Bauhaus architecture in Tel Aviv is Dizengoff Square. When the glaring sunlight, typical for Tel Aviv, falls on the snow-white facades, it is quite impressive. The Dizengoff Square with its roundabout is one of the central points of the city. Along Dizengoff Street is Tel Aviv's first shopping centre. On the rest of the street you will find small boutiques and inviting cafés.
Tips around Dizengoff Square: Yashka (stylish snack bar, try the shawarma! Caution: huge portions!), Bauhaus Center Tel Aviv, Ben Gurion House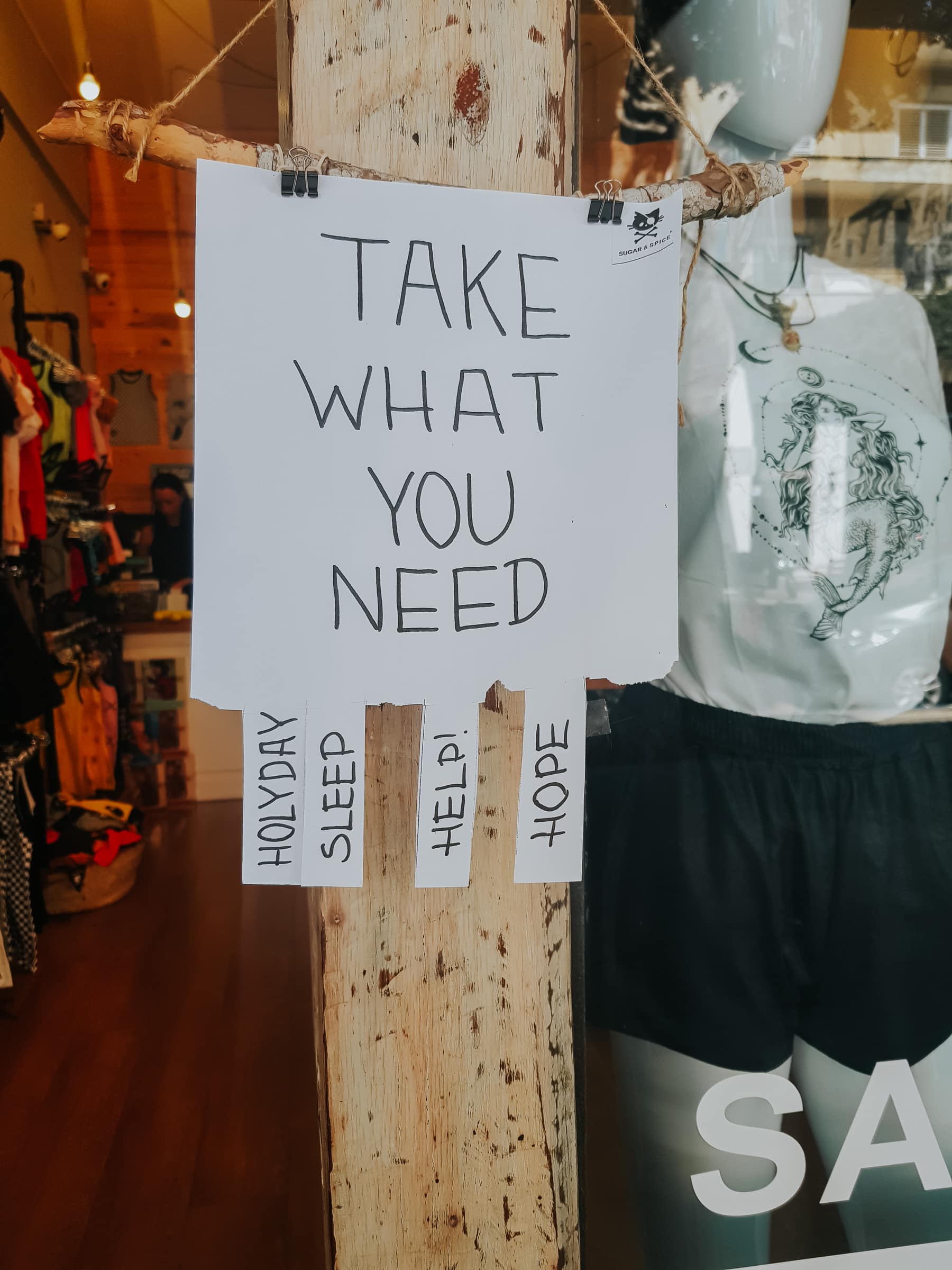 6. Ben Gurion House
Not far away is also the house of Israel's first prime minister David Ben-Gurion. He proclaimed Israel's independence in 1948 and is still well-respected in the country today. His house near Dizengoff Street can be visited. The remarkably modest interior is still in its original state. Very educational if you want to learn a little about the history of Israel. And: The entrance is free!
7. Tel Aviv, Bauhaus and the White City
Tel Aviv has the highest density of Bauhaus buildings in the world. Since many of these buildings are white, this group of buildings is also called the White City. You can get an overview of Bauhaus in Tel Aviv at the Bauhaus Center Tel Aviv. Unfortunately, many buildings are not as well preserved, but at certain corners, such as the impressive Dizengoff Square in downtown Tel Aviv, the Bauhaus influences are quite visible.
Why are there so many Bauhaus buildings in Tel Aviv?
Tel Aviv is actually a very young city. At the beginning of the 20th century Tel Aviv was just a tiny suburb of the historic Jaffa. Fun fact: Today it is exactly the other way around! After the persecution by the German Nazis, many Jews of German origin came to Tel Aviv in the 1930s and 1940s bringing with them the latest architectural trend of the era.
8. Sarona Market: A Foodie's Heaven
Completely different, but still worth seeing is the Sarona market. Located a little bit aside, Sarona Market is the sophisticated alternative to Carmel Market. As a newly opened indoor market, it misses a bit of the patina and the bustling market life, but you will find all kinds of culinary delights! They don't even hesitate to offer more unusual delicacies: There is even a stand with Bavarian streetfood! (Not very authentic though, because hot dogs aren't typically Bavarian, but still interesting!)
Tip: Shahshuka at Benedict! (Benedict is a small chain of breakfast locations), some of which are open 24/7 and serve breakfast throughout the entire day.
9. Florentin: The alternative scene of Tel Aviv
While many parts of Tel Aviv are already modern and hip, Florentin beats them all. This district is probably the most alternative in Tel Aviv. Colourful street art can be seen on the walls, the cafés are full of digital workers sitting behind their laptops. Florentin seems like an island of freedom in the already liberal Tel Aviv.
Tip: Levinsky spice market (a neighbourhood market with many small stands)
10. The Tel Aviv way of life: Eating, drinking and partying
It is hard to escape the dynamics of Tel Aviv. Due to the mild climate, a lot happens outside – and Israelis are sociable anyway. It goes without saying that I was invited to private Shabbat dinners, yacht parties or other events – without any big ado. Israelis appreciate the company, and it's easy to make friends. As a visitor, you are always welcome in Israel. Perhaps because many Israelis originally come from other countries. Tel Aviv attracts young people from all over the world, and if you can prove your Jewish faith, the road to Israeli citizenship is short. I was warmly welcomed everywhere, a circumstance that made up for the lack of service culture in many places, and it touched me deeply more than once.
Tel Aviv has an almost infinite range of gastronomic delights to offer. Bicicletta, for example, is a club/café/restaurant/plant shop in the Nachalat Benjamin district.
Tip: Have a good dinner in the evening, go to Kuli Alma, an alternative club, turn the night into day, and hang out on the beach the next morning: Enjoy life in Tel Aviv to the fullest!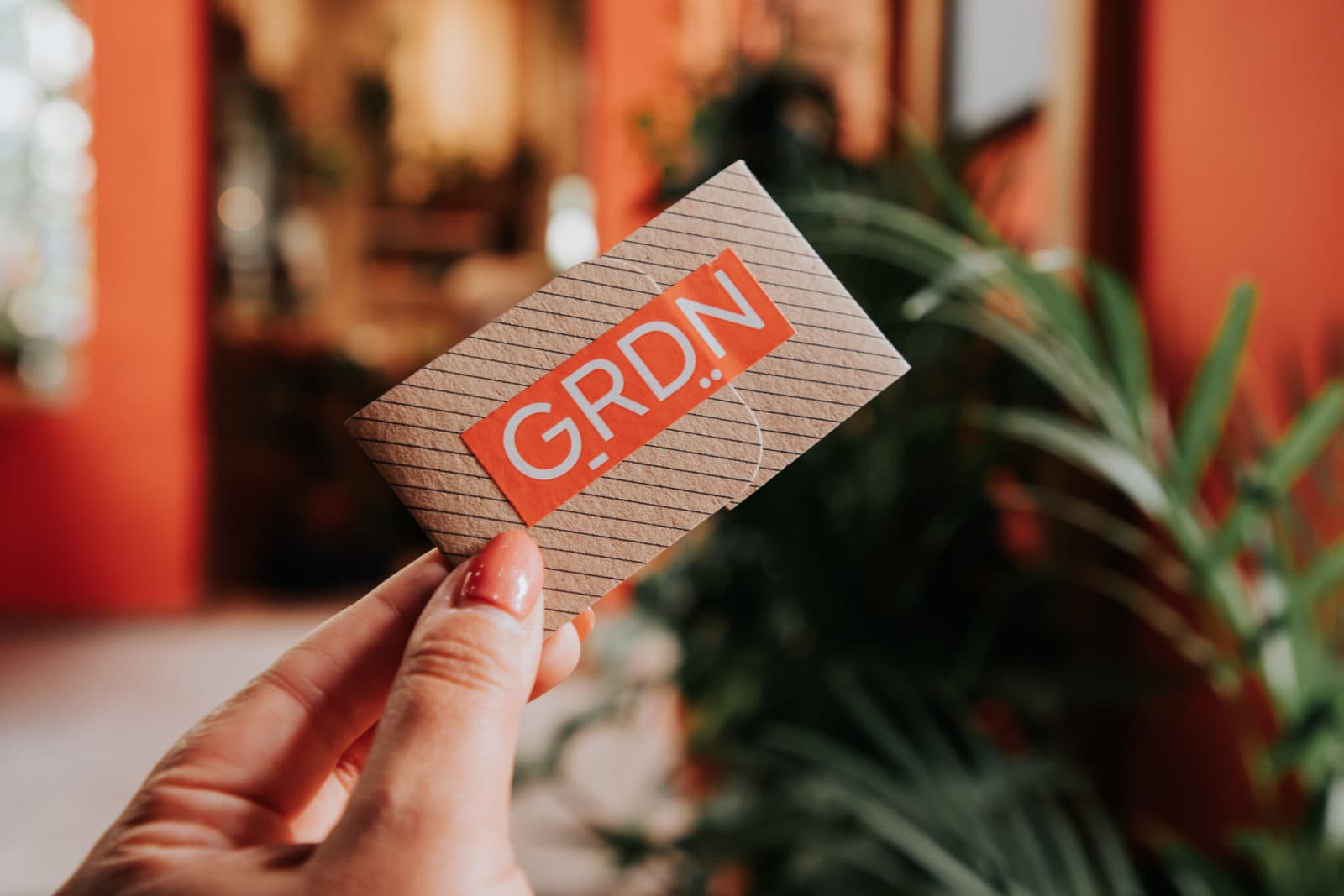 Practical tips for Tel Aviv
Money & Currency
In Israel you pay in Israeli shekels. But you can also pay by credit card in many places, which is rarely a problem in technologically advanced Israel. But: Tel Aviv, like all of Israel, is very, very expensive! The cost of living is also very high for Israelis, with low wages. How the mostly young population copes with that – no idea. As a visitor you just have to deal with it. Especially with food you can spend a lot of money. Which is a pity, because there is a lot to discover in Tel Aviv!
Arrival & Visa
With a German passport you do not need a visa for Israel. From many German airports there are direct flights to Tel Aviv, e.g. Easyjet and El Al fly directly from Berlin-Schönefeld. However, even the journey can be adventurous, depending on which airline you choose. El Al, for example, has very strict safety regulations. Unfortunately I haven't had such good experiences and could write a novel about my journey.
Where to stay in Tel Aviv
Budget hotels and hostels in Tel Aviv
Popular with budget travellers are hostels such as the Abraham Hostel or The Spot Hostel. The Abraham Hostel also has a popular rooftop bar and offers many tours through Tel Aviv and Israel. However, I didn't like the location very much.
Design and boutique hotels in Tel Aviv
If you have a higher budget, you can hardly escape from design accommodations in Tel Aviv. The houses of the Brown Hotels, nine of which are spread all over the city, are particularly individually furnished: Brown TLV, Brown Beach House, Dave Gordon, Dave Levinsky, Poli House, Lighthouse, Theodor, Town House and Hôtel Bobo.
My recommendation for Tel Aviv
I finally ended up at Jojo TLV, a small boutique accommodation in an old factory floor. Absolutely unimpressive from the outside, the owners have created an inspiring place here from scratch. Due to its small size (there are only a few rooms), the Jojo TLV is also more of a stylish shared flat than a hotel. In the common lounge/kitchen you can enjoy the best coffee and nice conversations. Very sociable – and I liked the close location to Jaffa and the beach.
➜ Check availability for Jojo TLV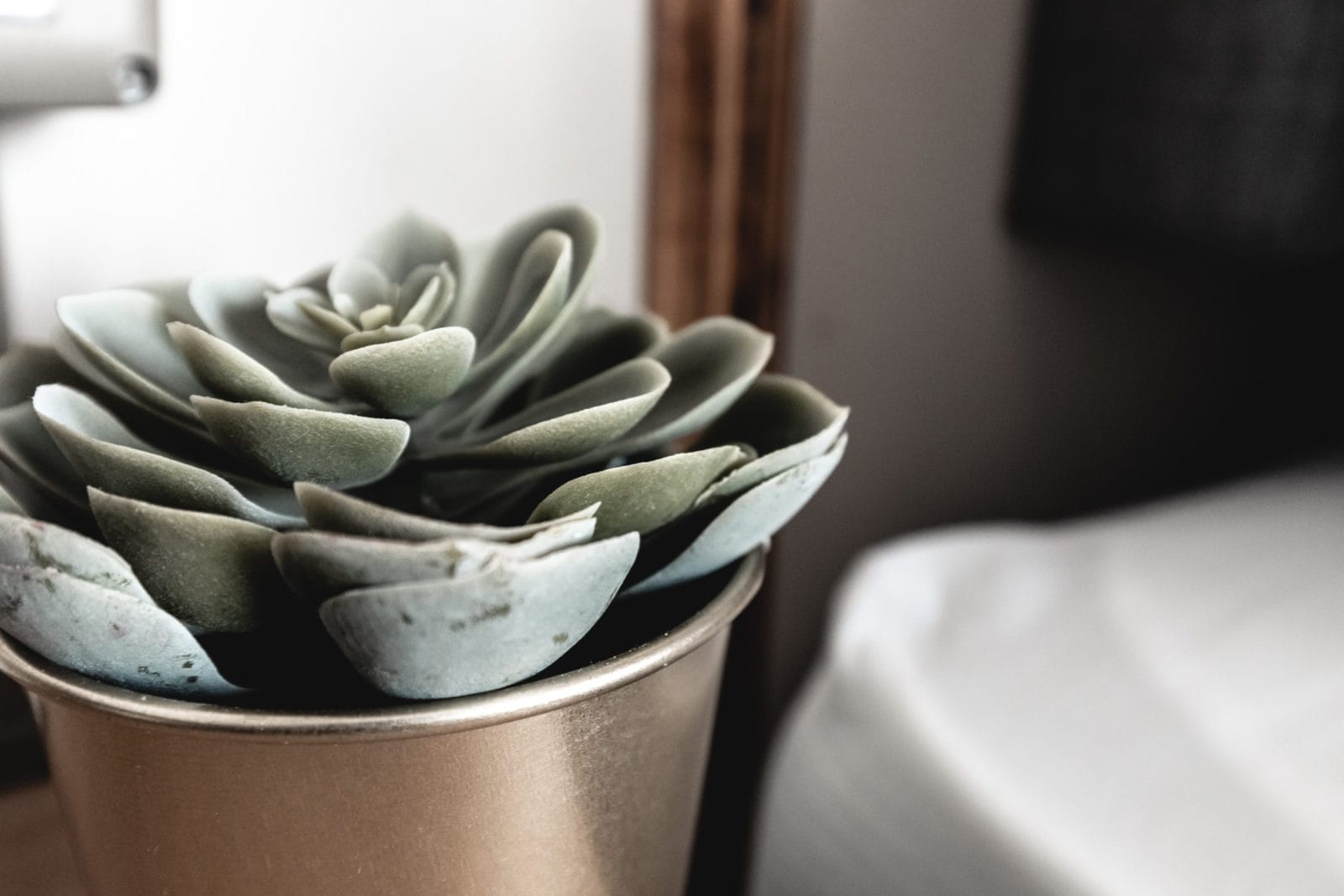 Safety in Tel Aviv
The military/police presence in Tel Aviv is quite high, but not as massive as in Jerusalem, where I have been before. Nevertheless, soldiers in full uniform with machine guns are part of the daily routine. Irritating, but overall I thought the atmosphere in Tel Aviv was more relaxed than in Jerusalem. I never felt unsafe, even when I was out alone in the evening. Due to the constantly changing political situation, I recommend that you take a look at your Foreign Office's information page on Israel, before you leave.
Public Transportation
The actual centre of Tel Aviv is not as large as you might think: You can get to a lot of places walking. For example, I always wanted to rent one of the many bikes (there are several providers in Tel Aviv), but I ended up mainly walking. Scooters are also very popular in Tel Aviv (and very fast – watch out!). Otherwise there is a good bus network and a new tram line. But I didn't really test it all, as I was in Tel Aviv at one of the highest Jewish holidays (Shavuot), and there wasn't a single public transport system running! By the way, this also applies to every Shabbat/Saturday! Taxis also drive less on these days. Instead of Uber, Gett is used in Tel Aviv, unfortunately the app is mostly in Hebrew and you can' t always pay per app. I had to pay the driver at the end of a ride, who promptly demanded the double.
Excursions from Tel Aviv and onward travel
Israel is a small country, and Tel Aviv is right in the middle. From Tel Aviv you can book day trips or tours of several days, or continue on your own. The state bus company Egged will take you to any corner of the country for little money with its long-distance buses, including Jerusalem. I really recommend a short trip to Jerusalem! It's a completely different world than Tel Aviv and hard to digest at times, but if you are already in Israel, you shouldn't miss this city!
➜ Book a day trip from Tel Aviv to Jerusalem!
Read more about Jerusalem in my blog:
Jerusalem: Alle wichtigsten Sehenswürdigkeiten & großer Travel Guide!
City of David: Eine archäologische Ausgrabung mit Tiefgang
Jerusalem: Gedanken über eine schwierige Stadt
Masada & Sunrise over the Dead Sea
Pin this article on Pinterest: