Rio de Janeiro is one of the most impressive cities in Brazil! Even to me as a half-Brazilian, the beauty of Rio is always a surprise. And I'm not alone! Everyone knows the famous sights in Rio de Janeiro like the Sugar Loaf mountain and the statue of Christ the Redeemer, the Cristo Redentor! Rio is a huge city, so it's best to make a good plan if you are just staying for a few days. There are so many things to do in Rio de Janeiro! In this article, I'll show you everything you should visit in Rio de Janeiro and how to save time and money! By the way: At the end of this article you will find some very helpful tips for your stay in Rio, please read them carefully!
#1 Christ the Redeemer / Cristo Redentor
From the Cristo Redentor, you will not only be close to the famous statue, you will also have the perfect view of the Cidade Maravilhosa, the magnificent city of Rio de Janeiro. The Corcovado mountain is accessible by car (or coach), the Corcovado train or even on foot along a hiking trail. An excursion to the Cristo Redentor is only recommended when the weather is good! In Rio, the weather can change quickly and on cloudy days you hardly see anything. But in sunshine, you will have the full stunning panorama of Rio: So spectacular! Come early in the morning, before the crowds arrive.
Tip: Save time and money and buy your ticket for the Corcovado train and the Christ the Redeemer statue in advance! Click here!*
#2 Tijuca National Park
Rio de Janeiro is surrounded by dense nature, large forests and green mountains. In the middle of the city there is also the National Park Tijuca, the Floresta da Tijuca. The Corcovado with the Cristo Redentor is also part of the National Park. In the past, almost the whole area was deforested by coffee farmers. But in the middle of the 18th century, deforestation was stopped and trees were planted again. Today it is a dense forest with many waterfalls and beautiful hiking trails. It's hard to believe that you are in the middle of a big city!
Visit my Brazil page for more travel inspiration and helpful articles for your trip!
#3 Pao de Acucar / Sugar Loaf mountain
Unfortunately, I had a bit of bad luck this time with the weather: In pouring rain, a ride with the cable car up to the Pao de Acucar (Sugar Loaf) is not worthwhile. However, I have been up twice on earlier visits and I highly recommend a ride up the Pao de Acucar: You won't be disappointed! I recommend to go up for sunset! At the foot of the Pao de Acucar, in the district Urca, there is the Praia Vermelha, a nice, small city beach. Don't miss!
Tip: Save time and money! Buy your ticket for the Sugar Loaf in advance!*
#4 Escadaria Selarón / The Selaron Stairs
Jorge Seláron, a Chilean artist, began renovating the decayed staircase in front of his house in the nineties. He covered it with thousands of pieces of tiles, mainly in the colours yellow, green, red, white and blue, the national colours of Brazil and Chile. His small work of art became bigger and bigger, and so a lot of tourists brought tiles with motives from their hometowns, which Selarón used as well. Selarón died a few years ago under mysterious circumstances (his body was found on the stairs), but his staircase is now one of the main attractions of Rio de Janeiro. The Escadaria Selarón can also be seen in a pretty well-known music video: "Beautiful" by Pharell Williams feat. Snoop Dogg.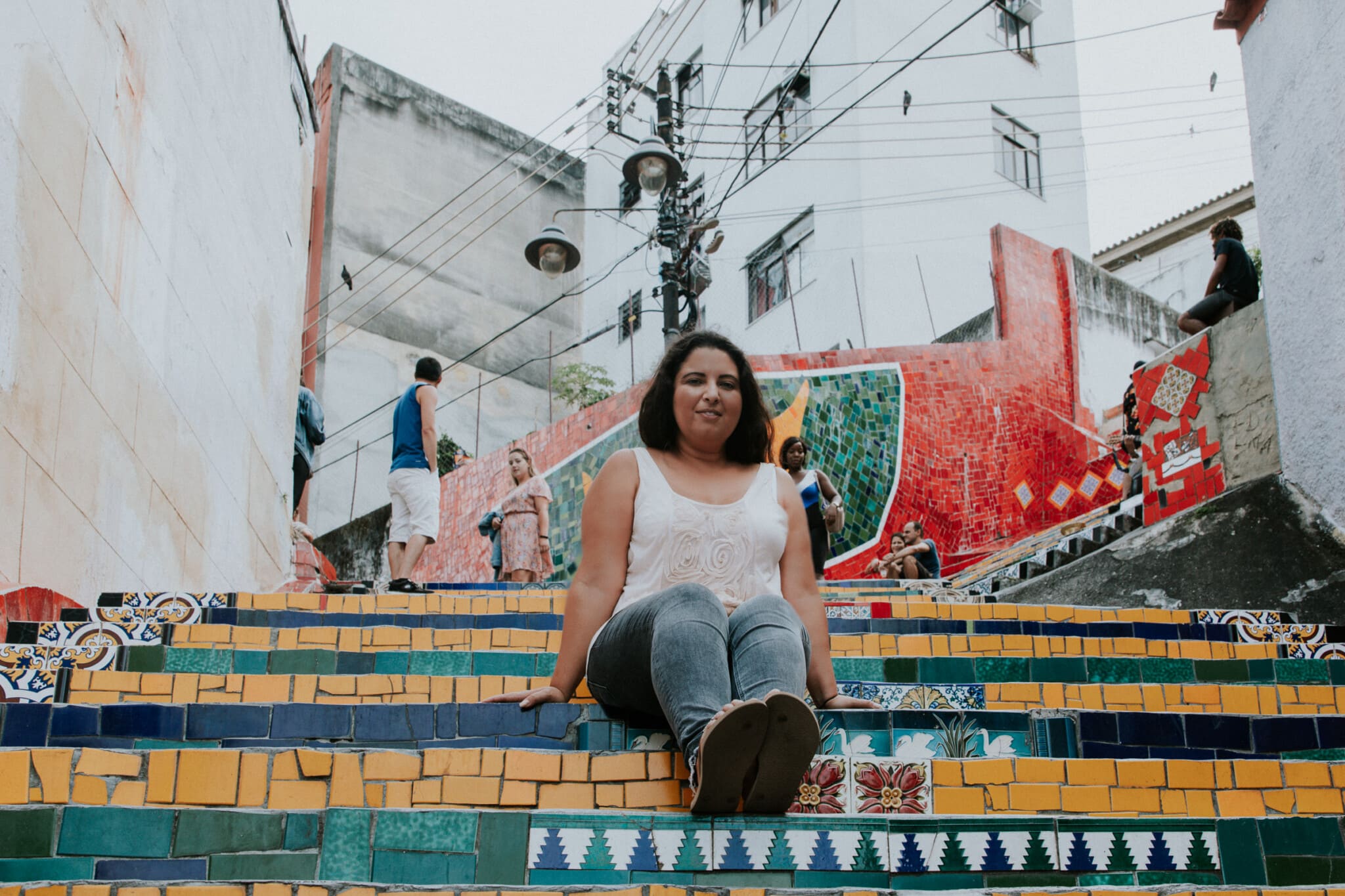 Rio de Janeiro Travel Guide
The Lonely Planet for Rio de Janeiro comes with a lot of helpful information and adresses for your trip to Rio de Janeiro! I also travel with a guide book most of the time, it's a perfect addition for planning a trip besides reading my favourite travel blogs!
Order your Lonely Planet guidebook for Rio de Janeiro here!*
#5 Arcos da Lapa
Near the Escadaria Selarón you will find the Arcos da Lapa, an impressive white aqueduct. At the top of the narrow Arcos da Lapa, after a long restoration period (there was a serious accident years ago), the old tram, "o bonde", is back on the road, and you shouldn't miss a ride with it! It's best to take it straight up to Santa Teresa!
#6 Santa Teresa, the coolest neighbourhood
Santa Teresa is the district of the creatives and bohemians in Rio de Janeiro! The historic tram (called bonde or bondinho) also passes here. In Santa Teresa, you can stroll through the streets around Largo do Guimarães, discover small shops and artisans' studios, and eat brazilian food like salgadinhos and traditional feijoada (black bean stew) in the surrounding restaurants and bars.
#7 Rocinha, Vidigal, Complexo do Alemao & Co.
Rocinha, Vidigal, Complexo do Alemao – these are the names of favelas you will occasionally hear. But never go into a favela on your own! If you are interested in what life is like there, join a favela tour* to be on the safe side. Some people will consider this to be awkward, but the favelas belong to the cityscape of Rio. Such a tour can also help to understand the life of the local people a little better! Many favelas also show the improvisational talent of the Brazilians! As these are illegal settlements, the entire infrastructure is maintained by the locals. Electricity, water, cable TV, internet connection, garbage collection, roads and paths: everything was organized by the inhabitants themselves!
#8 Copacabana, Ipanema, Leblon:
Rio is also known for its wonderful beaches in the middle of the city! Copacabana and Ipanema are the top addresses for swimming. The hip cariocas meet at Posto 9 in Ipanema. Unfortunately, there was no beach weather during my visit. The beach life in Rio is definitely something special: This is where the whole city meets, the beach belongs to everyone! Be careful with the strong currents: They can be quite tough! My advice: Go only with a towel and a few Reais for a Guaraná (Brazilian Limo), a coconut or a Caipirinha to the beach and enjoy the hustle and bustle!
#9 Catedral Metropolitana – Things to do in Rio de Janeiro
Not particularly beautiful, but unique: 20,000 people can stand in the cathedral of Rio, which was only built recently, in 1979. If you don't have that much time and also aren't very religious, this is a location that you can skip. Nearby, however, is the Confeitaria Colombo!
#10 Confeitaria Colombo – Things to do in Rio de Janeiro
The Confeitaria Colombo is the oldest coffee house in Rio de Janeiro! Founded in 1894, it is reminiscent of European coffee houses – a radical contrast to the tropical city of Rio. Cariocas however think the prices are too expensive, but the atmosphere is worth it. It is also a good opportunity to try some Brazilian specialities! Besides sweet pastries and cakes the Confeitaria Colombo also offers a wide range of Salgadinhos (small dumplings, croquettes or pastries – all salty, hence the name), which are often eaten with coffee or as a snack in Brazil.
You can explore the above mentioned locations on your own (except for the favelas, of course, these I recommend to visit with a tour only!). By bus, subway and Uber you can easily get around the city. But as I wanted to take pictures with my huge DSLR camera without any worries, I opted for a day trip with a group this time. The disadvantage is, of course, that you often arrive at a location at the same time as other tourist groups, which can be a little bit stressful. However, everything is planned and you can relax completely in terms of safety and organization.
Book here: Full day tour with Cristo Redentor, Corcovado, Sugar Loaf and BBQ lunch (all tickets included!)
Safety in Rio de Janeiro – Is Rio de Janeiro safe for tourists?
Unfortunately, crime is always an issue in Rio de Janeiro, and it doesn't stop with tourists either. Caution is essential! However, the Cariocas are always very nice and helpful, often they give you hints where to pay a little more attention. Even if there is no imminent danger in sight, take all the advice you get very seriously! You can read more about my personal evaluation of the situation and my experiences in this article:
Als Frau allein in Rio de Janeiro – Ist es wirklich so gefährlich?
Getting to Rio de Janeiro
Rio de Janeiro has two airports: Galeao, which is further away, is mainly used by international flights, and Santos Dumont, which is close to the city, is reserved for domestic flights. Many European airlines have direct flights to Rio de Janeiro. Tip: Take a Uber (there is an extra Uber parking lot where you can meet your driver) or a regular taxi for the trip to the city. There is a bus connection, but with luggage I wouldn't recommend using public transport for safety reasons.
Best time to travel to Rio de Janeiro
In the Brazilian summer from December to March/April hell breaks loose in Rio de Janeiro. Weather-wise it can come to heavy rains in summer, but they pass quickly again. It can get very hot! But you also experience Rio in full summer vibe! But the other months are also suitable: In winter it can be a bit colder, which means 25 degrees in Rio – but perfect for sightseeing and hiking. Unfortunately, I had caught a few rainy days in September.
Accomodation in Rio de Janeiro
Rio de Janeiro has one of the highest accommodation prices in Brazil! Especially in the Brazilian summer from December to March/April the prices increase tremendously. Not to mention events like New Year's Eve and Carnival: For these dates you have to book in advance! In addition, many accommodations require a minimum stay during these times. The most popular tourist area is Copacabana, where most hotels are located. It is very touristy here, but you are also staying close to everything. But there is also a recent trend towards locations such as the Santa Teresa artists' quarter and a small number of accommodations in peaceful favelas. In both cases, however, I would not necessarily recommend these accommodations to every visitor.
For Copacabana I can highly recommend B+B Copacabana Hotel: Perfect location close to the beach and right between the hotspots Copacabana and Ipanema!
Day trips from Rio de Janeiro to other places
From Rio you can also do a number of great excursions to the surrounding area of Rio de Janeiro! Beaches, islands, nature, culture – you can actually spend two weeks in Rio and there would still be plenty to see. If you are planning a longer trip, you can of course travel straight to places like Paraty or Búzios instead of day trips. Many intercity buses depart from the bus station in Rio to all parts of the country!
***
All articles about Brazil: