Naples is wild and rough, cheerful and fun at the same time. Perhaps it is also due to its proximity to Mount Vesuvius, the still active volcano, that Naples is literally bubbling with life. In this article, I'll show you the best things to do in Naples, attractions you shouldn't miss and I'll give you insider tips for this delightfully chaotic city in Italy.
The best attraction in and around Naples
Not even two hours by plane from Germany, you'll land in Naples in another world: Naples is perfect for a short city trip! But also the region around the Gulf of Naples has a lot to offer: If you have time, you should definitely visit the Amalfi Coast as well! If possible, be sure to stay longer than just a few days or a weekend in and around Naples! From Naples you can explore the famous Amalfi Coast, impressive islands like Capri or Ischia, ancient Pompeii or Mount Vesuvius!
➜ Best hotel deals in Naples*
➜ Excursion to the Amalfi Coast from Naples*
➜ Pompeii & Vesuvius in one day*
#1 Centro Storico (Old Town)
The Centro Storico, the old town, is where many of the sights in Naples are located. The name "Old Town" is actually misleading – also the rest of the city is quite historic. Because Naples is, to put it mildly, a very rustic city.
Even in tourist areas like the old town, the alleys are still authentically dim and that the garbage all around might be something you should get used to when visiting Naples. Waste disposal is said to be firmly in mafia hands in Naples, and the fact that actual cleaning is not at the top of the government's to do list is unfortunately noticeable. But it is exactly this patina that makes the charm of Naples!
#2 Spaccanapoli: The main street of Naples
The Spaccanapoli is the heart of Naples. On this shopping street you will experience the real Naples. Corner stores, old-established businesses, touristy souvenir shops or ice cream parlors, here, you'll find it all. You won't find Spaccanapoli under this name on most maps, because it actually consists of three streets: Via Maddaloni, Via Benedetto Croce and Via San Biaggio dei Librai.
Along the Spaccanapoli are also many Naples attractions! In addition, it is always worthwhile to take a look at the small side streets and immerse yourself in real Neapolitan lifestyle. Definitely a good starting point to get to know Naples.
➜ You can find more impressions from Italy in my Italy Blog!
#3 Cappella Sansevero
At the Cappella Sansevero you get a taste of how much history and culture Naples has in store. The Cappella Sansevero is a former private chapel of a rich nobleman, the Prince of Sansevero, converted into a museum. He was a Freemason and an alchemist, so the small chapel looks more like a cabinet of curiosities of that time.
The main attraction is the veiled Christ(Cristo velato), a marble statue laid out in the center of the main room – and crafted deceptively real! In the cellar there are still two anatomical models, which are just as intricate for the 18th century.
The entrance fee of 8 euros for the small chapel is quite expensive (by the way, photos are also prohibited and are immediately prevented by the museum guards!). Therefore, if you are on a tight budget, I would rather recommend a visit to the other museums of Naples if you are in the mood for culture.
#4 Museums in Naples
Other museums worth visiting in Naples:
Museo Archeologico Nazionale di Napoli (MANN)
The Archaeological Museum of Naples is one of the most important museums in all of Italy and one of Naples' top sights. Here you can find many treasures of antiquity, including from Pompeii. (But since we went to Pompeii later, we didn't visit the Archaeological Museum this time).
Museo di Capodimonte
The summer residence of the then King of Naples and Sicily now houses the Museo di Capodimonte with a huge collection of paintings from the Middle Ages to the Renaissance. Located a bit out of town, but definitely worth seeing for the surrounding park with views of downtown and Vesuvius.
Museo d'Arte Contemporanea Donnaregina (MADRE)
With so much heavy history and many churches, the MADRE can be a good change of pace: The Museo d'Arte Contemporanea Donnaregina (MADRE) houses modern and contemporary art.
#5 Churches in Naples
Il Duomo di Napoli
My personal tip is always to visit churches anyway, if you want to get to know more about the cultural history of Europe, but don't necessarily have the budget or time for extensive museum tours. And in the exceedingly pious south of Italy, churches can be found almost on every corner. In Naples you should not skip the Duomo.
Other churches worth seeing in Naples
Complesso Monumentale di Santa Chiara
Church with adjoining monastery. You have to pay an admission fee, but the cloister is a true oasis in the otherwise bustling old town of Naples.
Chiesa del Gesù Nuovo
The facade of this church alone is extraordinary! Inside, things continue pompous again.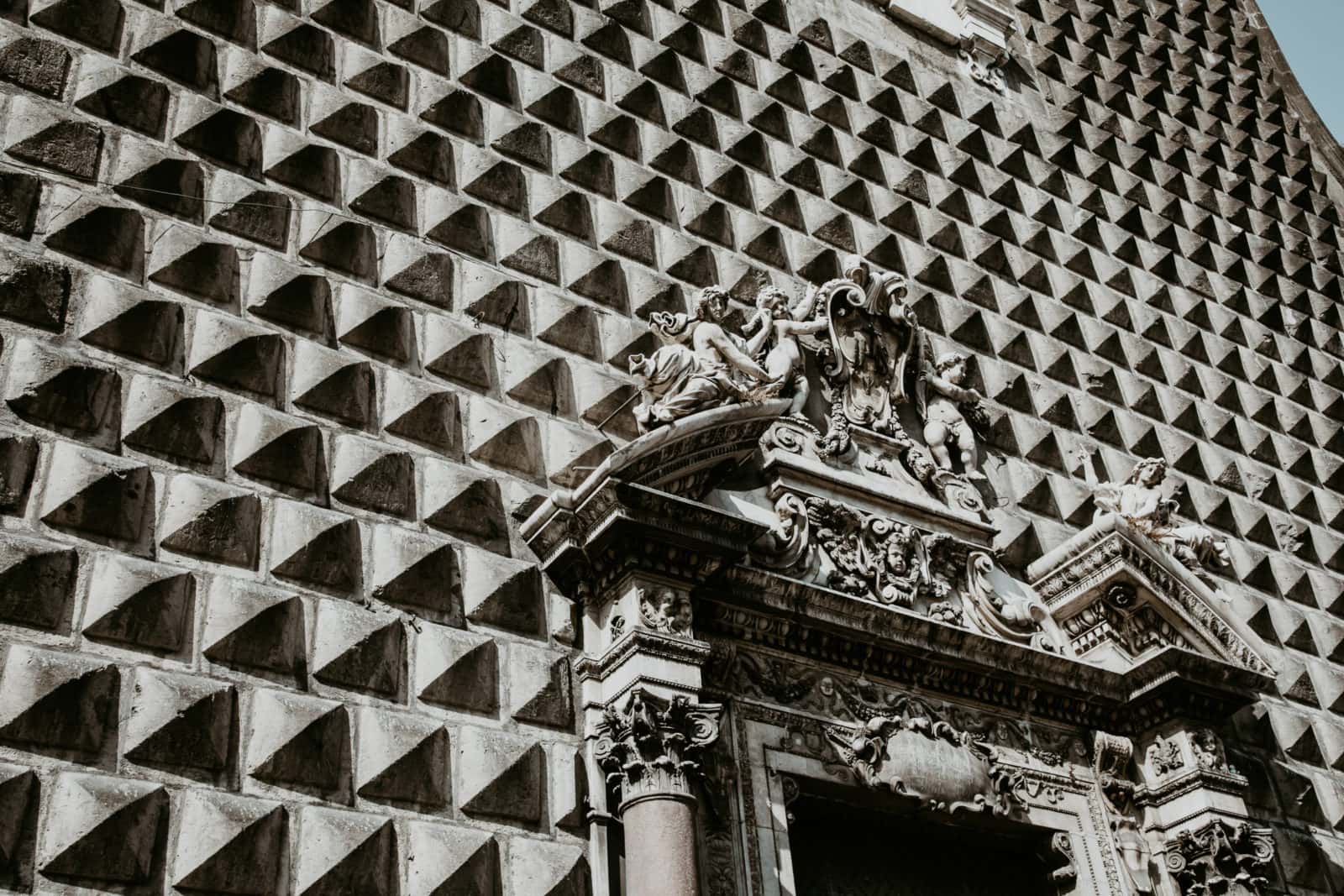 #6 Via San Gregorio Armeno: The Nativity Street
The Via San Gregorio Armeno is one of the most extraordinary streets in Naples. Even if you are not religious you will enjoy the not necessarily always Christian nativity figures sold here on this street, some of which are still handcrafted. In between, there are all kinds of satirical things, such as toilet paper rolls with Italian and international politicians. The italian humor is one of a kind!
#7 Vomero and the Castel Sant'Elmo
If you want to experience Naples away from the touristy old town, I recommend a trip to the Vomero district. Vomero is a somewhat calmer district, many well-kept old buildings in tree-lined avenues and a pleasant street life – it almost seems a bit like being in Paris. We also had a fantastic lunch here, by the way, at a tiny family-run osteria. No menu, no one speaks English, but instead there is real homemade Neapolitan cuisine, della Nonna, of course.
By the way, if you want to know where to find the most famous pizza in Naples, click here in my article: The best pizza in Naples
Situated on a hill, Castel Sant'Elmo has the best view over the city. If you don't want to pay the entrance fee, there is a viewpoint below the castle with a fantastic view over the old town, the harbor of Naples and the Vesuvius. The best way to get to Vomero is by metro (a sight in itself in Naples, by the way!) to Vanvitelli station, or by funicolare from Augusteo.
#8 Metro dell'Arte: Line 1 & Toledo Station
The metro in Naples is still quite new, the first line was opened only in 1986. Some downtown stations were even added just a few years ago. Line 1 is nicknamed Metro dell'Arte because many of its stations are particularly artistic. Most worth seeing is the Toledo station – if you ride down the extra-long escalator here, you feel like you're diving down into an aquarium. To get there, you need a valid metro ticket (single trip 1,10€). But I recommend you to buy a day ticket for your stay in Naples. It costs only 4,50€ and you can use ALL public transport like metro, bus and cable car!
#9 Via Toledo & Galleria Umberto I
Shopping enthusiasts will have a great time on Via Toledo. I still think Italy is a teeny bit ahead in terms of fashion. Here you can still get the most beautiful clothes, from cheap to high-end, and just watching the Italians with their unique fashion sense gives you enough inspiration for your own closet. Those who are not so fashion-savvy may be pleased to see the many small snack stands, the friggitorias, with the typical deep-fried Neapolitan delicacies.
At the end of Via Toledo, almost somewhat hidden, is the Galleria Umberto I, a shopping gallery in the style of Galleria Vittorio Emmanuele II in Milan. Whenever I enter such shopping galleries, I'll always enjoy the particular Italian style. The architecture is so impressive!
#10 Piazza Plebiscito to Castel dell'Ovo
Naples can be beautiful, but it can also be exhausting: The many small streets, uphill, downhill, the noise everywhere, the bustling traffic and daring scooter riders make the old town of Naples an experience. From Piazza Plebiscito you can take a short walk that will take you to a more relaxed area. Piazza Plebiscito is a real huge square, quite a contrast to the narrow old town. From here you can walk down to the water and enjoy the view of the Gulf of Naples and Mount Vesuvius with an Aperol Spritz in one of the simple beach bars on Via Nazario Sauro. For me one of the most beautiful places in Naples!
A little further on you will come to Castel dell'Ovo, a really impressive castle. Many rooms of the castle are not open to the public, but the entrance is free and from the top you also have a beautiful view.
Tips & hacks for your trip to Naples
Safety in Naples
Naples is one of the European capitals of pickpockets, along with Barcelona. I have been to both cities several times and personally, I think Barcelona is much more dangerous in terms of petty crime. Naples never seemed to me as critical as people say, except perhaps the area around the main train station. Nevertheless, you should be just as careful in Naples as in other big cities: Stow your cell phone and wallet away well and always be a little careful.
Tip for photographers
I always had my big camera * with me and haven't been only for ergonomic reasons grateful for my cross body strap* . It also makes the camera less interesting for potential thieves, because you can't tear the camera off the body. Cars should be parked in monitored parking lots or parking garages and do not leave valuables in them.
➜ You can find my full camera equipment here
Best time to visit Naples
In my opinion, spring or fall is the best time to visit Naples. Under no circumstances would I recommend August (as for all other Italian cities). It gets very hot, besides August is general vacation month in Italy. Many stores are closed and the city is full of tourists.
Accommodation in Naples
In Naples there are numerous small bed & breakfasts or apartments. We stayed at Tutt'e Sant Luxury Rooms*, a small B&B consisting of just two very individually and tastefully decorated accommodations – with a truly Neapolitan view. Particularly fun was the old-fashioned elevator which ran through the middle of the huge stairwell. It was equipped with a coin machine, in which you had to put 5 cents in before each ride. So fun!
How to get to Naples
There are now many direct flights from different European cities to Naples, but unfortunately the airport is far too small for all the crowds that land there every day. It's quite messy. You really need a good set of nerves there.
From the airport you can get to the city by cab or public bus. If you go by cab, you will be asked whether you want to pay the flat rate (to the city about 18 euros, price list is displayed in the cab) or by taximeter. We thought we were particularly smart to choose the taximeter, but then had to pay 5 euros more. So don't be shy to choose the flat rate.
If you want to travel from another city in Italy, I can also recommend the Italian train.
Driving through Naples by car, by the way, is adventurous (but doable if you follow Italian traffic rules: they are basically non-existent). In addition, car theft is not uncommon. We booked a rental car for our further trip to the Amalfi Coast, but at the rental office we were told to park the car in Naples in guarded parking lots only. I therefore advise you to book a rental car only when you continue your journey from Naples to the surrounding area. Many car rental companies also have stations in the city center around Garibaldi Central Station.
➜ Book a cheap rental car in Naples here*
Excursions from Naples
Naples is a perfect starting point for a road trip to the Amalfi Coast or excursions to the islands of Capri, Ischia or Procida in the Gulf of Naples.
Ideas for trips from Naples:
➜ Trip to Capri
➜ Archaeological excavations in Pompeii
➜ Road trip along the legendary Amalfi Coast
➜ What to see on the Amalfi Coast