The fact that I have a preference for places by the water and southern climates should be obvious by now. But to a certain extent, I also count Friedrichshafen among them, because when you look out over the huge Lake Constance from the waterfront promenade, you feel like you're at the seaside. In this article. I'll show you which tips and sights you shouldn't miss in Friedrichshafen!
Sights in Friedrichshafen
With all the wonderful places like Konstanz or Lindau nearby, Friedrichshafen stands a bit in their shadow among the towns around Lake Constance. There is no picturesque old town and there aren't that much spectacular attractions. Nevertheless, a trip is worth it – just for the really great Zeppelin Museum!
Lake Constance
An unmissable sight in Friedrichshafen is probably the incredible view over water as far as the eye can see. Lake Constance is enormous and you'll probably forget that it's just a lake, not an open sea. It is the largest inland body of water in Germany and also borders Austria and Switzerland.
In the lake, the border triangle meets, so to speak, and the Rhine also flows through Lake Constance. Strictly speaking, Lake Constance consists of Obersee (together with Überlinger See) and Untersee.
You can also swim in Lake Constance, and the lido in Friedrichshafen is particularly nice for this.
Waterfront in Friedrichshafen
On the waterfront you can walk for kilometres along the lake. From the mouth of the Rotach River to the castle, the promenade in Friedrichshafen stretches for a full two and a half kilometers. On days with good visibility you can even see the Alps on the horizon from here!
In the city you will find some nice cafes and restaurants along the promenade: take a little break here and enjoy the view of the impressive Lake Constance panorama in good weather.
Unfortunately, you will also find some tourist traps here. But I can definitely recommend these locations:
Aika Always good for a coffee or a bite in between, open summer and winter, and perfect if you just want to chill.
s'Wirtshaus am See Hearty cuisine with an alpine touch, cozy inside and out (outside with a perfect lake view!).
Looking for more ideas for quick getaways and destinations nearby? Here you will find inspiration for exciting locations in Germany and Austria!
Observation tower/Moleturm
For the ultimate view of Lake Constance, you can also climb the observation tower at the harbor pier. It's free of charge.
Lake Constance boat trip from Friedrichshafen
From the harbor in Friedrichshafen you can reach many other places around Lake Constance. I can definitely recommend a little tour across the lake!
The ferry takes you to Romanshorn in Switzerland, and two catamarans regularly connect Friedrichshafen with Constance. And in summer there are the ships of the White Fleet, which still call at ports such as Meersburg, Lindau or Bregenz, as well as other small providers, whose timetable you can find directly at the port.
Tip: If you are kinky or just want to do some people watching at the harbor, don't miss this pretty special boat tour:)
Do you want to spend a longer time at Lake Constance? Here you can find suitable accommodations:
Overnight stay around Lake Constance*
Zeppelin Museum
Friedrichshafen will forever be linked with the Zeppelin. The great airships named after their inventor, Count von Zeppelin, were built right here on Lake Constance. From 1900 to 1940, they even transported passengers across the Atlantic and were also used for military purposes, especially in wartime during World War I and World War II.
With the accident of the Hindenburg in Lakehurst in 1937, in which the entire airship went up in flames, the era of the zeppelins was then slowly over.
Today, you can see the entire history of zeppelins as well as areplica of a passenger cabin at the Zeppelin Museum. The entire exhibition is interactive and interesting for both children and adults.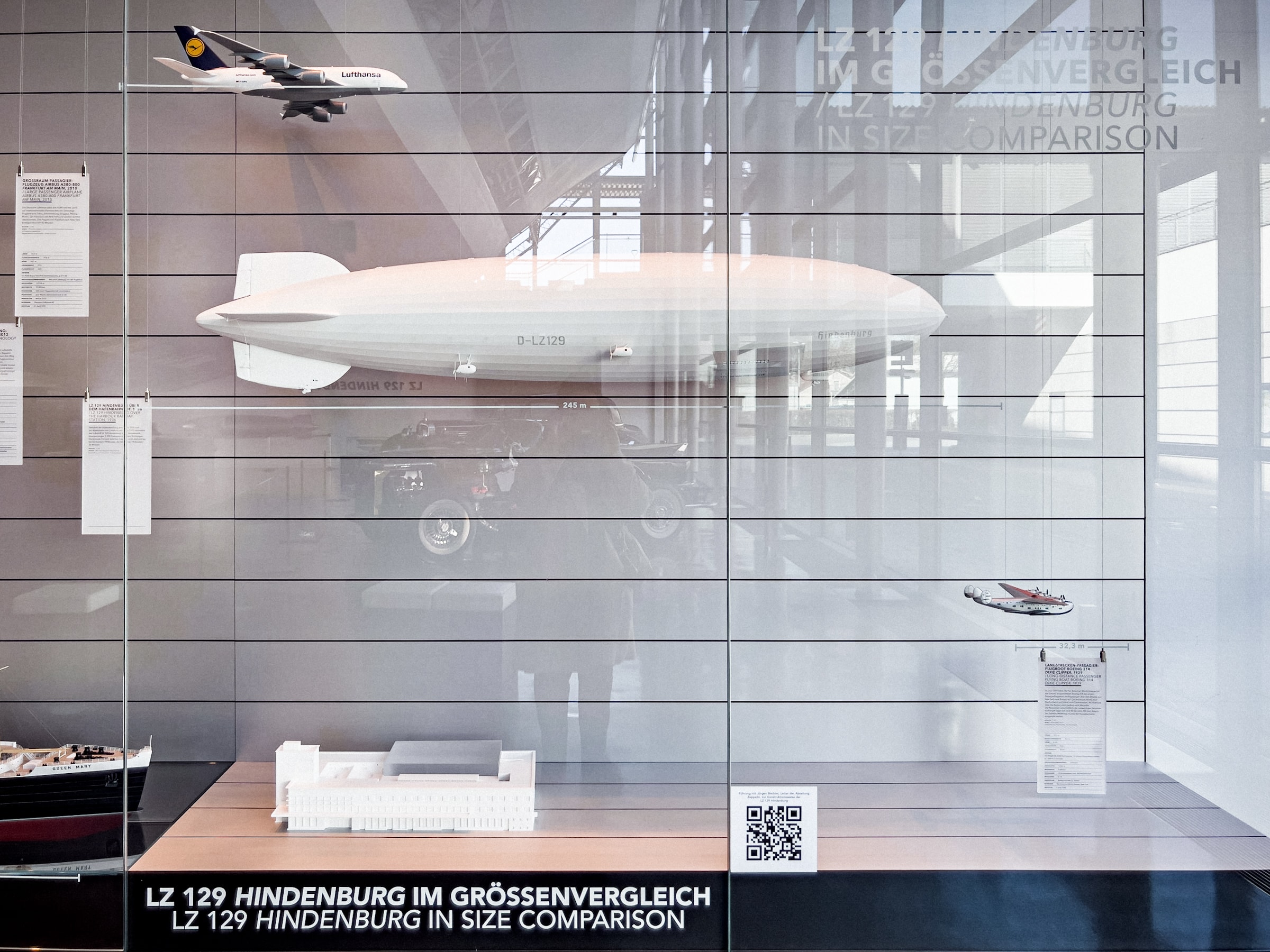 I've been here twice already, because the history of zeppelins is just so fascinating and tells so many tales from a very different era of aviation. Definitely one of my favourite recommendations for Friedrichshafen!
Zeppelin Museum Friedrichshafen
Tip: If you are staying around Lake Constance, you might get the Echt Bodensee Card, which also gives you a small discount at the Zeppelin Museum.
Zeppelin flight from Friedrichshafen
After so much Zeppelin in Friedrichshafen, you might feel like experiencing a ride yourself! With the Zeppelin NT, an airship of the latest generation, you can make various sightseeing flights over Lake Constance.
All sightseeing flights from Friedrichshafen
The hangar is located right next to the Friedrichshafen airport and can also be visited separately if a flight is beyond your travel budget (unfortunately, the flights are relatively expensive!).
Shopping in Friedrichshafen
Okay, calling Friedrichshafen a shopping destination is probably a bit of an exaggeration. The city center is rather quiet and doesn't offer that many special shopping opportunities. Yet, curiously enough, Friedrichshafen has some excellent bookstores that I like so much that I stop by every time I'm here. Maybe it's the relaxed atmosphere by the lake that makes it so tempting to read a lot?
My favorite bookstores in Friedrichshafen
Ravensbuch Great bookstore with a fantastic selection. Located in the middle of the city on the waterfront!
Gessler 1862 mixture of café, bookstore and interiorshop. Small but very fine selection and great atmosphere: choose a book and start browsing right away in the café.
How to get there
Maybe you live close by, or you're traveling around Lake Constance in your own car anyway – then you're bound to find your way to Friedrichshafen somehow. Otherwise, I have the following tips for you:
By plane to Friedrichshafen
Friedrichshafen has a small airport, and it's actually one of my favorites on duty because it's so small and cute. Everyone knows everyone around here and the atmosphere is rather familiar unlike at larger airports.
There are good connections within Germany from here to Frankfurt (and you'll probably meet me on one of these occasionally). If you are traveling from further away, just have a look, maybe there is a suitable connection via Frankfurt for you.
Flights to and from Friedrichshafen*
By train to Friedrichshafen
Friedrichshafen has a small long-distance train station (Friedrichshafen Stadt), which is centrally located. From here, for example, there are trains to Frankfurt, Stuttgart, Ulm, Innsbruck and Basel and an Intercity connection to Dortmund, Düsseldorf and Cologne.
You can also get to the harbor station (Friedrichshafen Hafen), which is located in the city centre.
Check connections & prices with Deutsche Bahn here*
By long distance bus to Friedrichshafen
With Flixbus, you can easily get to Friedrichshafen on Lake Constance from cities like Munich, Freiburg or Zurich. There are three bus stops in the city, one of them directly at the city train station, the other one at the airport.
Prices & connections with Flixbus to Friedrichshafen*
Other places worth seeing near Friedrichshafen and around Lake Constance
As a popular vacation region, Lake Constance offers a variety of great destinations, whether on the German, Austrian or Swiss side of the lake.
A few ideas (in German):
Konstanz: Sehenswürdigkeiten & Tipps
Radolfzell: Tipps einer Einheimischen
UNESCO Welterbestätten am Bodensee
Inselhopping am Bodensee