Suzhou in eastern China, very close to Shanghai, is known for its picturesque gardens and its picturesque old town with its many waterways. Suzhou is over 2500 years old and is known throughout China as a place of poets and thinkers. But above all, Suzhou is one thing for me on this China trip: quite a surprise. I'll tell you here which great sights in Suzhou are waiting for you!
The most beautiful sights in Suzhou
Because of its many small canals that run through the rather large old town center, Suzhou is also often and gladly referred to as the Venice of the East. And I shudder at this expression at the latest.
Tip: In Suzhou you will find numerous large hotels of western chains with corresponding comfort. Unfortunately, these are often housed in uninspired high-rises or large complexes. It's best to look for accommodation near the old town like the Garden Hotel* for that real Suzhou flair!

Book Garden Hotel in Suzhou*
"Venice of…" (as well as "Mecca of…" and "Paris of…") – as an author or copywriter, you only ever write this when you really can't think of any better comparisons. The main thing is a few boats, a few canals, and the analogy with Venice can be formed. As with the waterways in Suzhou in the Yangtze River Delta in eastern China near Shanghai.
All Venice, although nothing really compares to Venice, not even Suzhou. But anyone who has been there will wonder why Suzhou needs any comparison at all – because Suzhou is a true gold treasure.
By the way, you can easily reach Suzhou from Shanghai! And even without a visa for China! (Attention: Due to the pandemic there may be temporary restrictions – please check with the Chinese Embassy or the Foreign Office). The trick: For a stay of less than 72 hours in Shanghai and the surrounding area, entry for German citizens (and many other countries) is possible without a visa! And from Shanghai, you can be in Suzhou and the surrounding water towns like Zhouzhuang and Tongli in no time!
Here are a few recommendations for tours from Shanghai*
By the way: The nearby water town Zhouzhuang was also very worth seeing! You can find out more in my article:
Suzhou and its gardens: The garden of the humble official
The garden of the humble official. What a name. Modesty is really the last term that comes to mind when looking at what is probably the most famous garden in Suzhou. The garden is actually a huge park with secluded pavilions and thoughtfully landscaped lakes and trees.
According to Chinese horticulture, the main focus is not so much on flowers and colors, but on the harmonious interaction of the so-called "seven elements": earth, sky, water, stones, buildings, living creatures and plants, although here rather trees and green plants are meant.
And it soon becomes clear how harmonious the garden of the modest civil servant is: although hopelessly overrun by tourists, an aura of peace and relaxation nevertheless shines over the garden. Very impressive. In many corners you can meet painters and draftsmen who give free rein to their creativity and are inspired by the atmosphere of the garden. I was briefly annoyed that I didn't have my watercolor stuff with me – I would have loved to just sit next to it and paint along. But there was much more to see in Suzhou anyway, that time was short anyway.
Got a taste for it?
➜ C heck out my China blog for even more inspiration for a trip to China!
How much history there is in Suzhou can also be seen here: For almost 900 years, a garden has existed on this site, which passed through many hands until a high-ranking official chose it as his retirement home in the 16th century and gave the garden its name. Today, the garden of the humble official is state-owned, a UNESCO World Heritage Site and one of the most beautiful gardens in China.
Shantang Street: Immersion in Ancient China
With temperatures around 35 degrees (yes, it can get very, very hot!) and what feels like 100 percent humidity, a boat trip is always a welcome change, especially in Suzhou with its picturesque canals. Clotheslines fluttering in the wind, children waving enthusiastically at the foreign tourists (as a Western visitor in Suzhou you are still something special) or sneak peeks into foreign kitchens: My eyes did not even know where to look first.
Even on foot, Shantang Street (Shāntáng Jiē) was the China I was looking for: red lanterns, small houses with old wooden beams – and relaxed, friendly faces everywhere. On 7 miles you can find everything at once: tourist stuff, culture, history, snack bars and cafes with all kinds of exotic delicacies and actually real street life. If you turn into the more deserted alleys, you will quickly find yourself in local hustle and bustle, without any touristy stuff. A real experience.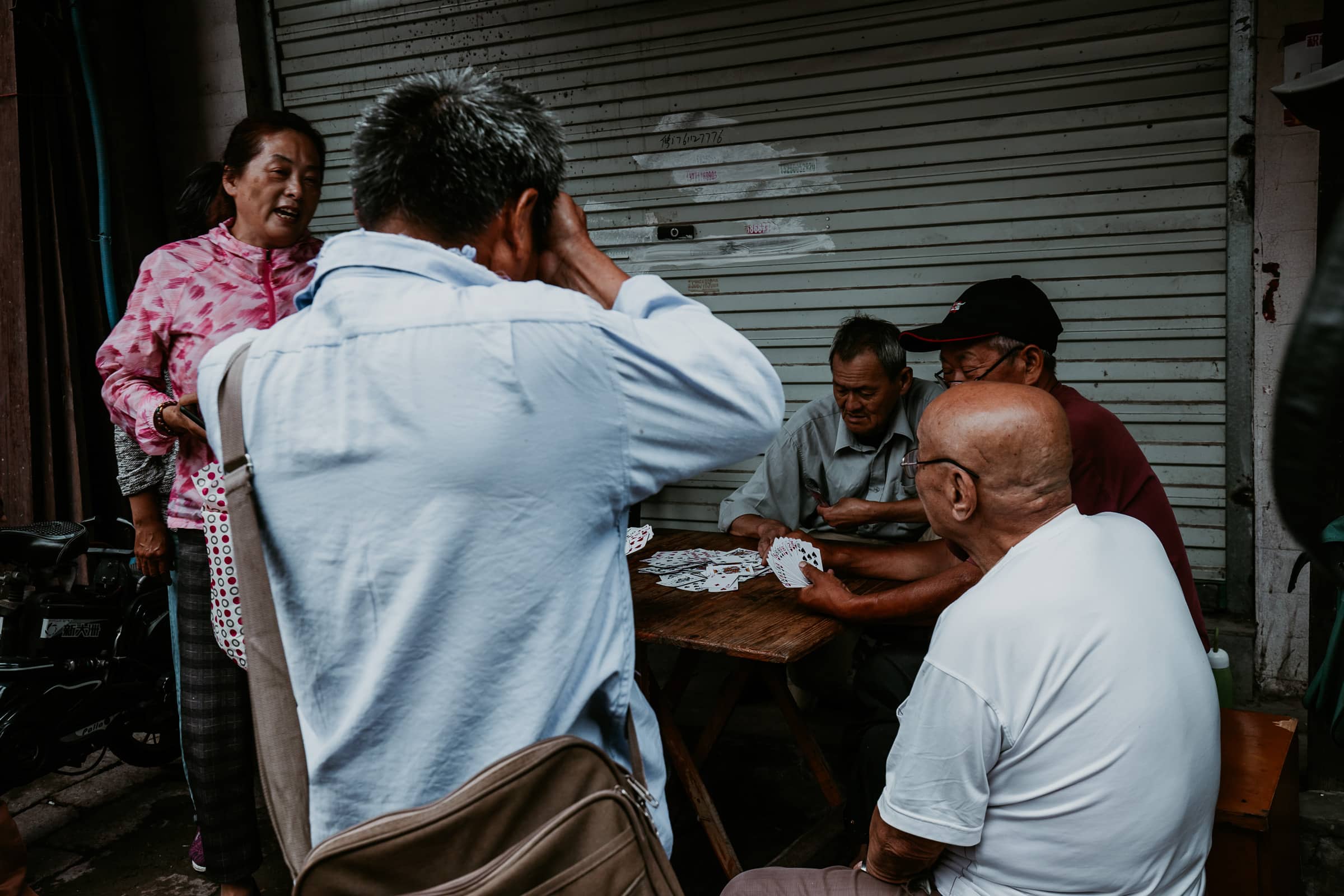 Pingjiang Road: tea houses, canal boats and nightlife
Even more authentic Chinese flair can be found on Pingjiang Road (Píngjiāng Lù), similar to Shantang Street a street with many stores and restaurants. Here it is even a little bit more cozy than on Shantang Street. The boats are smaller, the bridges even a little prettier.
My highlight was the tea house, a small café by the canal, more wooden shack than house, where we listened to 80 year old(!) Mr. Wang playing original Pingtan music to us over a cup of tea. It could hardly get more Chinese! By the way, Pingjiang Road is also very busy in the evening and a nice nightlife spot in Suzhou.
Are you interested in China?
Here you can find more articles about China!
Suzhou Opera in the Garden of the Master of the Nets
In general, music, like all other arts, plays a major role in Suzhou. Somehow creativity and appreciation of art and culture are in the air here, so I wasn't surprised to learn that Suzhou is considered a "very elegant" city in China. Found it apt – and I never thought before that I could find a place in China elegant. For me, China was big, crowded and rough at times – but this trip showed me once again how unfair prejudices can be. Suddenly China was small, picturesque and warm (oh, the people!).
I would even recommend an evening at the opera to anyone here, even if you are one of those people for whom operas are more likely to trigger flight impulses. Or where else do you watch an opera in one of the most beautiful gardens?
In the garden of the Master of the Nets there is a performance of a Kunqu opera every evening. The opera consists of several parts: Comedy, song, music and dance. The special thing: Each part is performed in a different place within the garden, so you walk along the garden between each performance.
Real Chinese Silk: A Visit to the Silk Factory
Suzhou is famous for its silk – and the region has always formed one end of the Silk Road, from where the beautiful fabric found its way to the world. The silk factory, modestly named No.1, is therefore on the agenda of many tours of Suzhou. You should think about this carefully beforehand – because what many people don't consider is that here you can observe the production process (at least part of it). That also means watching caterpillars crawl. And later it becomes even less something for the faint of heart, because the silk thread is obtained from the cocoon of silkworms. In order not to damage it, the cocoons including caterpillars are thrown into boiling water. Not for everybody.
Personally, I have an affinity for fabrics anyway (I actually used to have a fabric store in Berlin) and silk anyway (I always like to block out the boiled caterpillar part), so I found the visit interesting in itself. Unfortunately, the production process is shown only abbreviated (there is no weaving or dyeing here), and shortly after watching the spinning of the threads, you will find yourself standing in a huge sales hall with clothing made of silk for (almost) every taste. I didn't like the clothes that much, but I was a bit sad afterwards not to have bought some fabric. So for all people who love to sew: In Suzhou, do not forget to buy silk!
The Suzhou Museum
The Suzhou Museum stands out mainly because of its architecture – somehow edgy and not at all traditional Chinese. It was designed by Chinese star architect Ieoh Ming Pei, who also planned the famous glass pyramid in the courtyard of the Louvre and the Museum of Islamic Art in Qatar, among others – and he was born and raised in Suzhou.
Here you will find an outline of Suzhou's long history in the form of artworks and artifacts, from calligraphy to porcelain and handicrafts. Worth seeing, but perhaps not necessarily interesting for everyone. But what is really fascinating is the way the mostly Chinese visitors interact with the exhibition: I have never seen so many young people in German museums who are so intensely interested in history and who press their noses against the display cases out of sheer thirst for knowledge.
The modern part of Suzhou
Gate of the Orient & Jinji Lake
Outside the sprawling old city, Suzhou looks a bit more like how you'd imagine big Chinese cities to look. The city currently has over 10 million inhabitants and as well as Suzhou is developing, there is no end in sight. Large companies produce and conduct research here. The proximity to Shanghai ensures that Suzhou is one of China's up-and-coming cities. The spirit of optimism is also reflected in the bold architecture in the modern part: The landmark of the new Suzhou is the Gate of the Orient (Dongfang Zhimen), the second tallest skyscraper in Suzhou. Located on Lake Jinji, it is supposed to act as a gateway to the East – but locals affectionately nicknamed the building "the pants" due to its unusual shape.
Suzhou Supertower
The "pants" are topped by the Suzhou Supertower, 450 meters high – and that's where it really starts to look futuristic. Every time we passed it, I could hardly believe that just a few kilometers away we were sailing on small wooden boats along romantic canals. The way the old and the futuristic are combined here is breathtaking.
Suzhou Industrial Park & Suzhou Culture and Arts Centre
In the Suzhou Industrial Park there are further examples of modern Suzhou: The Suzhou Culture and Arts Centre is a gigantic cultural center with a (free) museum of modern art, various exhibition rooms, a musical theater and a small amusement park with a Ferris wheel, cafés and restaurants. In good weather, there is a fantastic view from here across Lake Jinji to the Suzhou skyline.
Shopping in Suzhou – shopping from silk to designer clothes
In Suzhou you can shop till you drop. I've long imposed a strict no-shopping policy on myself, which I usually stick to, because otherwise I'd be impoverished by now with all the traveling I do. My souvenirs are my photos – but in places like Suzhou, it's pretty hard to contain yourself.
Popular souvenirs from Suzhou
Popular souvenirs from Suzhou are silk in all variations, green tea (Bi Leo Chun), fans in all shapes, and lots of handicrafts like embroidery and fruit core carvings. On Shantang Street and around Pingjiang Road there are also a lot of small stores selling pretty hip handicrafts – no more boring tourist stuff!
Tip for design lovers
I could have shopped myself to death at Chengpin Eslite, actually a huge bookstore. I have a thing for beautiful bookstores anyway, and this one is embedded in a state-of-the-art shopping center with countless small designer stores. I'm usually put off by shopping malls, but the Eslite reminded me a lot of trendy temples like Terminal 21 in Bangkok! Between the stores, there are always small snack bars and cafés, so you can sample all the delicacies of the region here if you don't dare try street food.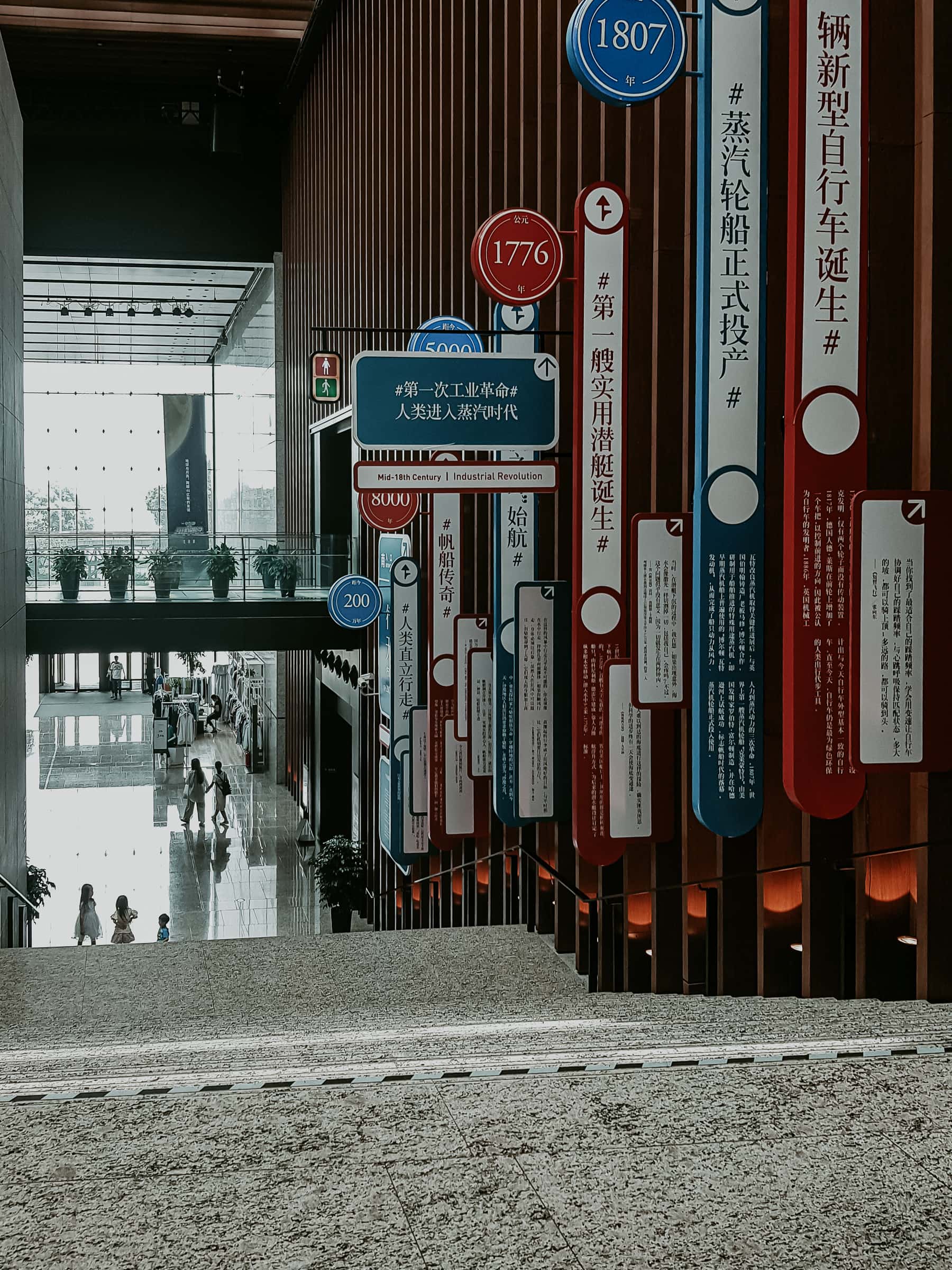 Food & Drink in Suzhou
Exotic dishes: What is one in Suzhou?
Food in general can be quite exotic in China. And it has nothing whatsoever to do with the Chinese restaurant from the German provinces. Vegetarians often have a hard time, somewhere there is meat in it or seasoned with fish sauce. Meat eaters like me have to deal with the most off-the-wall dishes like duck tongues or braised offal. Basically, Western tourists are already careful not to offer the most unusual dishes, but due to communication difficulties, you should be prepared for anything.
Jiangsu cuisine
The Jiangsu cuisine (this is the name of the province in which Suzhou is located) is so sophisticated and rich in variation that I often wished I could jump over my shadow even more and try dishes like Pig snout or Chicken feet Unfortunately, I couldn't get over myself to do it. After all, if you're going to eat meat, it's only logical to use every piece of it. Especially the cuisine in Suzhou is a true paradise for gourmets!
Vegetarian cuisine
Vegetarians don't have to starve though, there are plenty of exotic ingredients to try like water asparagus, lotus roots or purple sweet potatoes. Not everything is spicy, but a lot is greasy and due to the foreign spices and the different climate, one or the other stomach needs some time to get used to the new cuisine. However, I have tried so many new and delicious things in the whole days that I can not even remember everything!
Dishes are always shared, which means if you sit in a big group, you can try a lot more!
Specialties of Suzhou cuisine
Mandarin fish
Sooner or later you will get it served in Suzhou, this specially prepared fish is THE dish in Suzhou. The fish is completely deboned, cleverly draped in the shape of a squirrel and then deep fried. Finally, a sweet and sour sauce is added on top, which took sweet and sour to another level for me!
Suzhou noodles
Noodle soup is noodle soup you could say. But the fresh noodles at Zhuhongxing in homemade broth with tender beef were so divine that I still think about them sometimes. Tip: Don't spend too long marveling at the food and enjoying it, because the noodles soak up so much broth in the bowl that the mountain of noodles gets bigger and bigger instead of smaller. The professional slurps quickly! (Don't be afraid of table manners: Hanging over the bowl and slurping loudly is not seen as closely in China as it is here).
Tangbao
Dumplings in all varieties can not be missing! The Tangbao are again a special variety, filled with broth in addition to the mostly meat content. This is slurped out beforehand with a straw, similar to the xiaolongbao that exists in neighboring Shanghai.
Street food in Suzhou
Always dare to try street food! Sometimes it can also be surprising, like the particle on the right, which I bought in a bakery. It looked delicious, so hairy breaded – but what I imagined was sweet ended up being a breading of finely ground pork. Wasn't mine – but I still like to try strange things. The dumplings, however, were divine!
Accommodation in Suzhou
Our accommodation in Suzhou could not have been better. Centrally located, equipped with all the bells and whistles like a pool and tennis court, and with a breakfast buffet to die for, the Garden Hotel* was perfect. The hotel consists of several smaller guest houses and two main houses, nestled – it couldn't be more fitting in the City of Gardens – in a beautiful, tranquil garden setting. If you want to treat yourself and stay in Suzhou in style: Absolutely recommended!
➜ Book a room at the Garden Hotel in Suzhou*
Travel & Getting around Suzhou: How to plan your trip!
Location & Arrival
Suzhou is located only 80 kilometers from Shanghai, and is directly on the express train line that runs from Shanghai to Beijing. So if you are in Shanghai for a few days, Suzhou is definitely a good choice for a multi-day trip: by train you can be in Suzhou within 90 minutes.
Shanghai is very beautiful, but I personally find Suzhou much more appealing from a historical and cultural point of view – and always only mega big cities can also be very exhausting. By the way, train travel in China is a thousand times more organized than I thought. However, there may be communication problems here as well, since English is not widely spoken.
➜Here you can book a full day tour by high speed train from Shanghai to Suzhou* (incl. guide, train tickets, entrance tickets and lunch on site).
Individual travel vs. group travel
We were traveling in a small tour group, and although I usually travel individually in Asia and plan everything myself, I was sometimes glad to have a tour guide with me, who explains a lot and can translate in case of need. Especially because the region around Suzhou is not yet very familiar with western tourists, not much English is spoken and in most of the sights there is no information in English, so you are denied a lot of interesting information.
Individual travel modules instead of a complete round trip
Complete China tours are often very expensive, and honestly, you can book a flight to Shanghai and spend a few days there on your own. For more "exotic" destinations like Suzhou, however, you can book individual modules with China Tours, which I can really only recommend.
We wore out three guides during our trip through several places around Shanghai, all of whom were highly professional, even spoke very good German (!) and had absolutely in-depth knowledge on every topic. Especially with such a complex destination as China with so much culture and history, about which I admittedly didn't know very much beforehand, professional guidance was worth its weight in gold.
Locomotion within Suzhou
If you prefer to travel individually, you can take a cab or one of the tourist bus lines for longer distances in Suzhou. There are rental bikes in many places. The subway network is being expanded.
Suzhou: My conclusion
I really liked Suzhou and often wondered why it is almost unknown among Western tourists. Especially when you visit Shanghai, a trip (sporty people can do it in one day) to Suzhou is a must. Shanghai is fascinating, but I always missed a little patina there. This can be complemented well with a side trip to Suzhou! Also, the city is much more relaxed and everywhere you are warmly welcomed as an exotic tourist from the West, which showed me again a whole new side of China.
***
All articles about China at a glance:
Disclaimer: I was invited on this trip by the Tourist Offices of Suzhou and Nanjing and China Tours. Thank you very much!