Located 300 kilometers from Chicago, Springfield, Illinois is one of the most historic places in the United State. And no, it's not The Simpsons' Springfield: It's only called that because Springfield is one of the most common names for small towns in the US. This Springfield is on the one hand the capital of the state of Illinois (not Chicago, who would have known?) and on the other hand the place of work of the probably most important US president: Abraham Lincoln. Historic Route 66 also runs through Springfield, so a stop in Springfield on our Route 66 road trip was an absolute must for a full load of American history.
Springfield Illinois: The main attractions
History always sounds so dull anyway – and what do Europeans have to do with American history? All of Springfield, Illinois, revolves around Abraham Lincoln, there's no escaping it, and at first glance, the city that is so meaningful to Americans seems only moderately interesting to the likes of us. But turns out, Springfield is so interesting! First of all, Lincoln was a great person who changed not only America but also the world. And second, Springfield, Illinois, is a charming town and the Lincoln attractions are so wonderfully designed that even if you're a culture vulture, you'll be enthralled. And you also learn something along the way. (By the way, as so often on this trip, I thought that such a road trip is also a nice trip for families: many museums and sights are designed to be kid-friendly and kids are always welcome in family-oriented Illinois anyway!)
Abraham Lincoln Presidential Library & Museum
Dedicated exclusively to the life and work of Abraham Lincoln, the museum is a mix of interactive exhibits and multimedia demonstrations. It's very informative and people put so much detail into it! Don't miss the screening of "Ghosts of the Library" at the Holavision Theatre – and afterwards puzzle over whether the narrator was a hologram or actually on stage. And be sure to look out for costumed guards: they are part of the exhibition and perform pieces throughout the museum!
Abraham Lincoln Presidential Library & Museum website
Old State Capitol
Abraham Lincoln was in and out of the Old State Capitol in Springfield, which served as the Illinois House of Representatives from 1840 to 1876, throughout his life as a politician and lawyer. Today, you can still visit all the halls there, including furnishings from that time. In 1858, Abraham Lincoln announced his presidential candidacy right here, and in 2007, he was followed by then Senator of Illinois: Barack Obama.
Lincoln Home National Historic Site
Here, in a sort of an open-air museum, you can see the home of Abraham Lincoln, where he lived until his election as president. The residence has been extensively restored to its condition during Lincoln's lifetime. But not only was Lincoln's residence preserved, but so was the entire street. And with the help of the ubiquitous actors who show life at the time, a visit to the site is like going back in time! If you're lucky, you might even encounter a deceptively real Abraham Lincoln strolling down the street every now and then.
Lincoln Home National Historic Site
Lincoln's tomb
Abraham Lincoln was buried in Oak Ridge Cemetery, which is one of the most visited cemeteries in the United States as a result. Don't forget: Be sure to rub the nose of the Lincoln bust in front of the entrance to the mausoleum, it's supposed to bring good luck! Judging by the scrubbed nose, this is probably really popular and for small people like me, there's even a stool in front of it!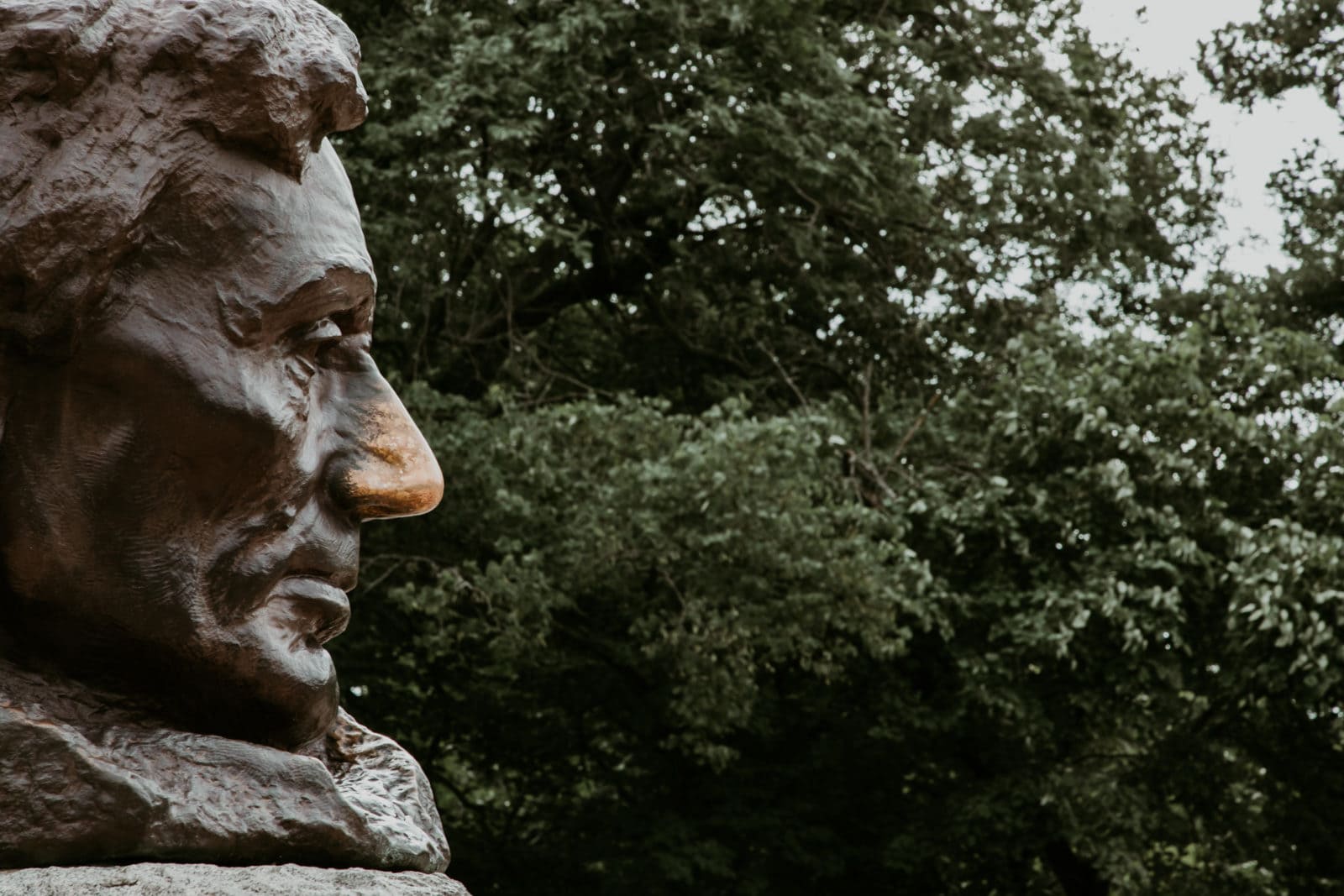 A few Lincoln Facts:
Abraham Lincolm was President of the USA from 1861 to 1865
the first US president to die in an assassination attempt
Opponent of slavery, which led to the War of Secession between the liberal North and the slave-holding South
Won the Civil War, reunited the North and South, and ensured the end of slavery in all states
lived with his family in Springfield, Illinois, where he began his career as a lawyer and politician
Springfield also has a lot to offer outside of the Lincoln sites, so plan at least one full day for that, better yet two days! What else you should have seen:
Illinois State Capitol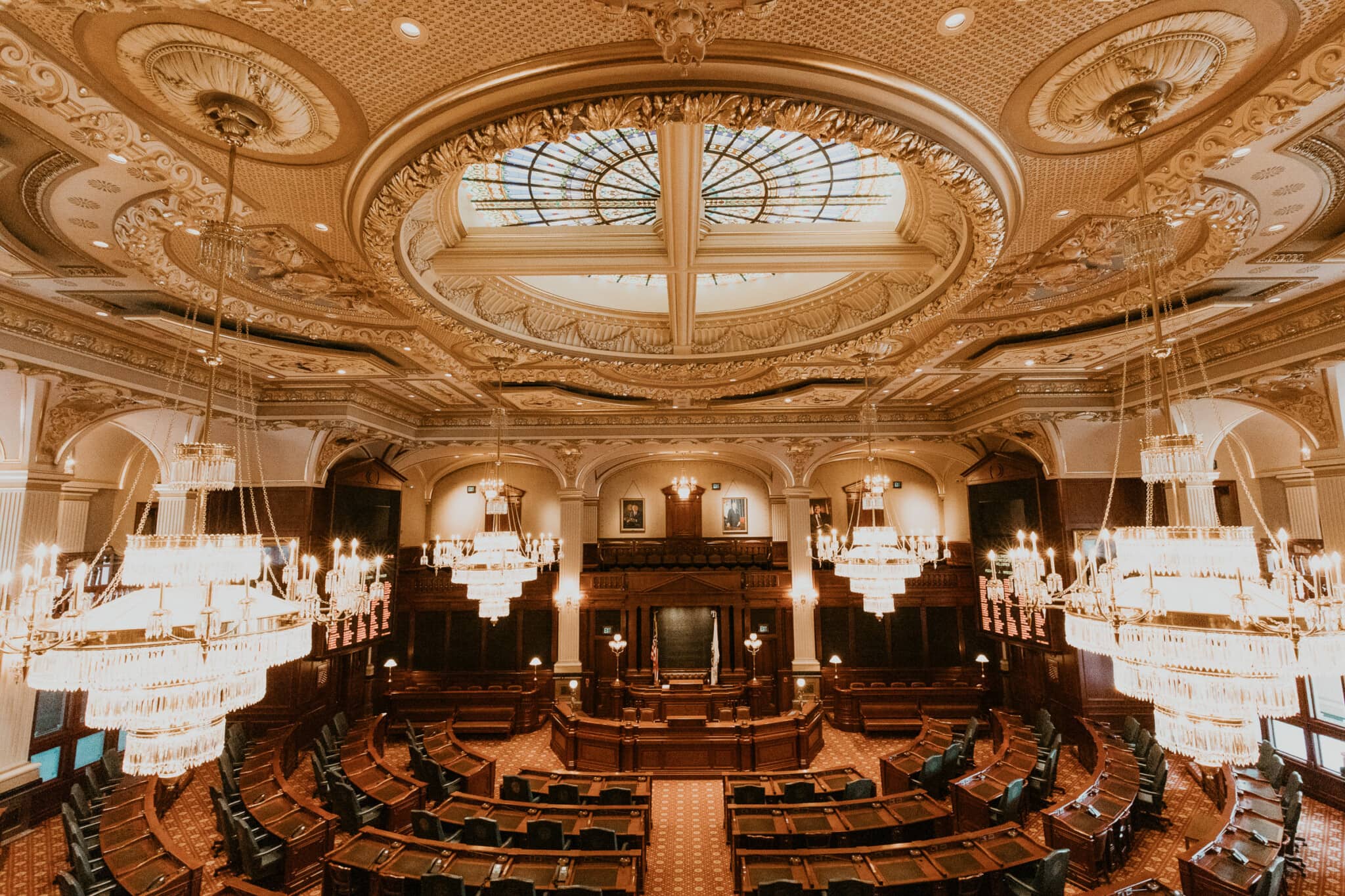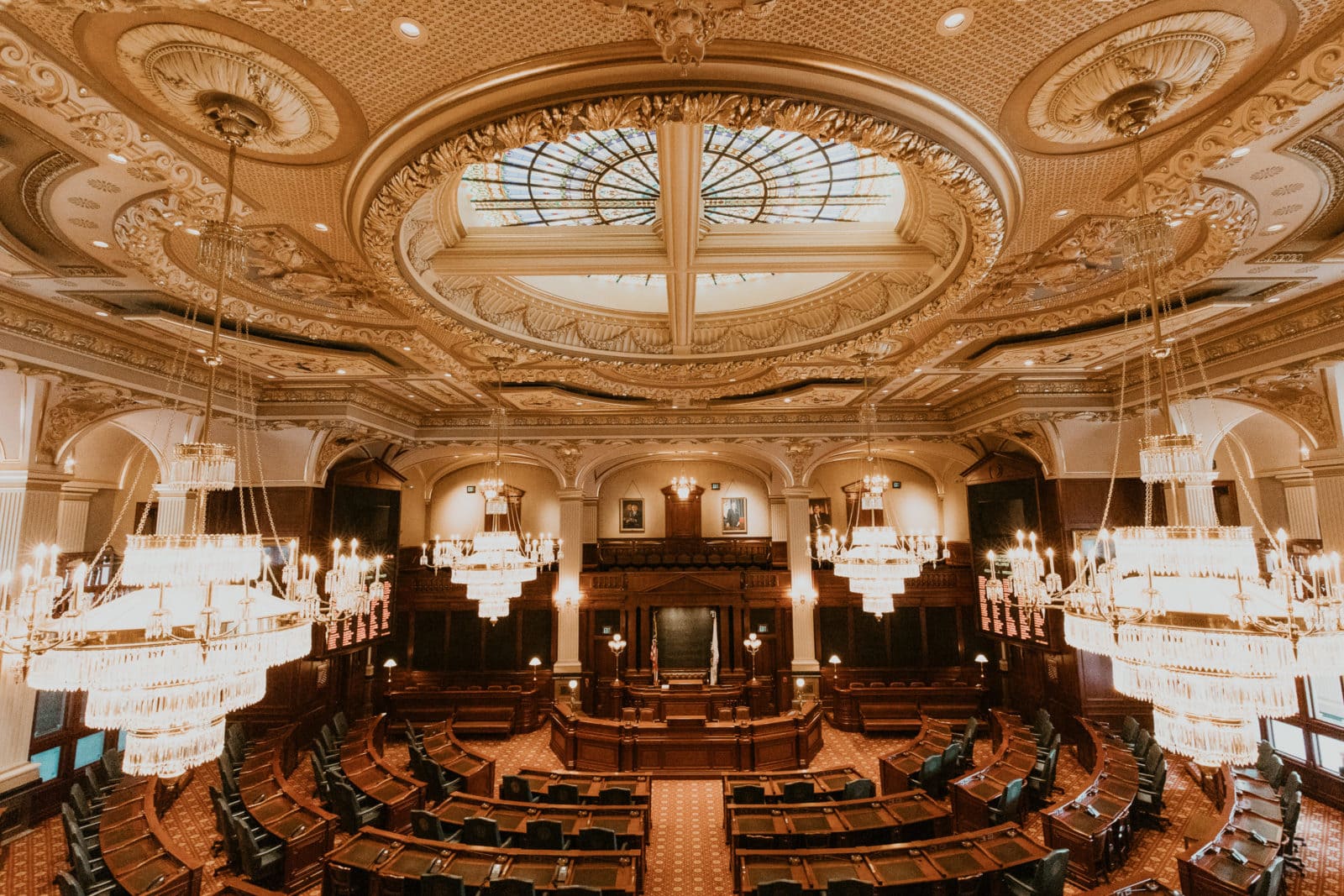 Dedicated in 1877, the Illinois State Capitol still functions as the Illinois House of Representatives. Visible from afar, the dome is over 100 meters high (even higher than the Capitol in Washington, DC!) and truly spectacular, especially given the low-rise development of the small town of Springfield. (Although Springfield is the capital of Illinois, it only has 115,000 residents!)
Tours take place throughout the day, where you can even visit the Chamber of Deputies with the most impressive crystal chandeliers! The huge dome is worth seeing from the inside! Really impressive!
You can also find more about Illinois in my USA Blog
Dana Thomas House by Frank Lloyd Wright
Frank Lloyd Wright was one of the most famous American architects of the last century: for example, he designed the Guggenheim Museum in New York. With his "Prairie Houses," he created the concept of "organic architecture," where houses and buildings were meant to blend seamlessly into the landscape, art, and culture.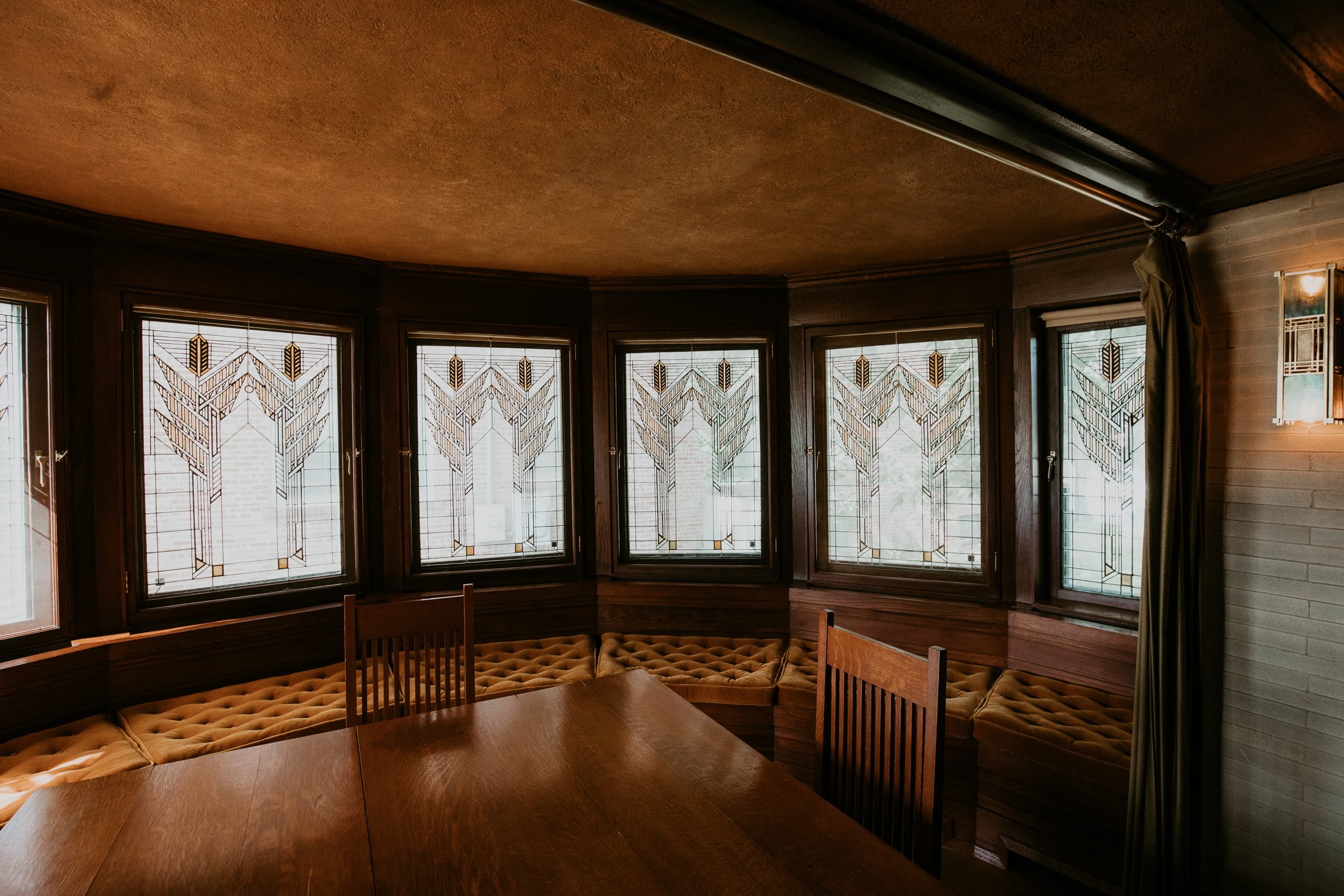 One of these Prairie Houses is Susan Lawrence Dana's house: lots of wood, unexpectedly dark, but tremendously visionary for its year of construction (1902). 35 rooms spread over 3 floors and 16 mezzanines in total. Wild parties are said to have taken place here. Oh, and there's also a bowling alley right behind the entrance.
To the website of the Dana Thomas House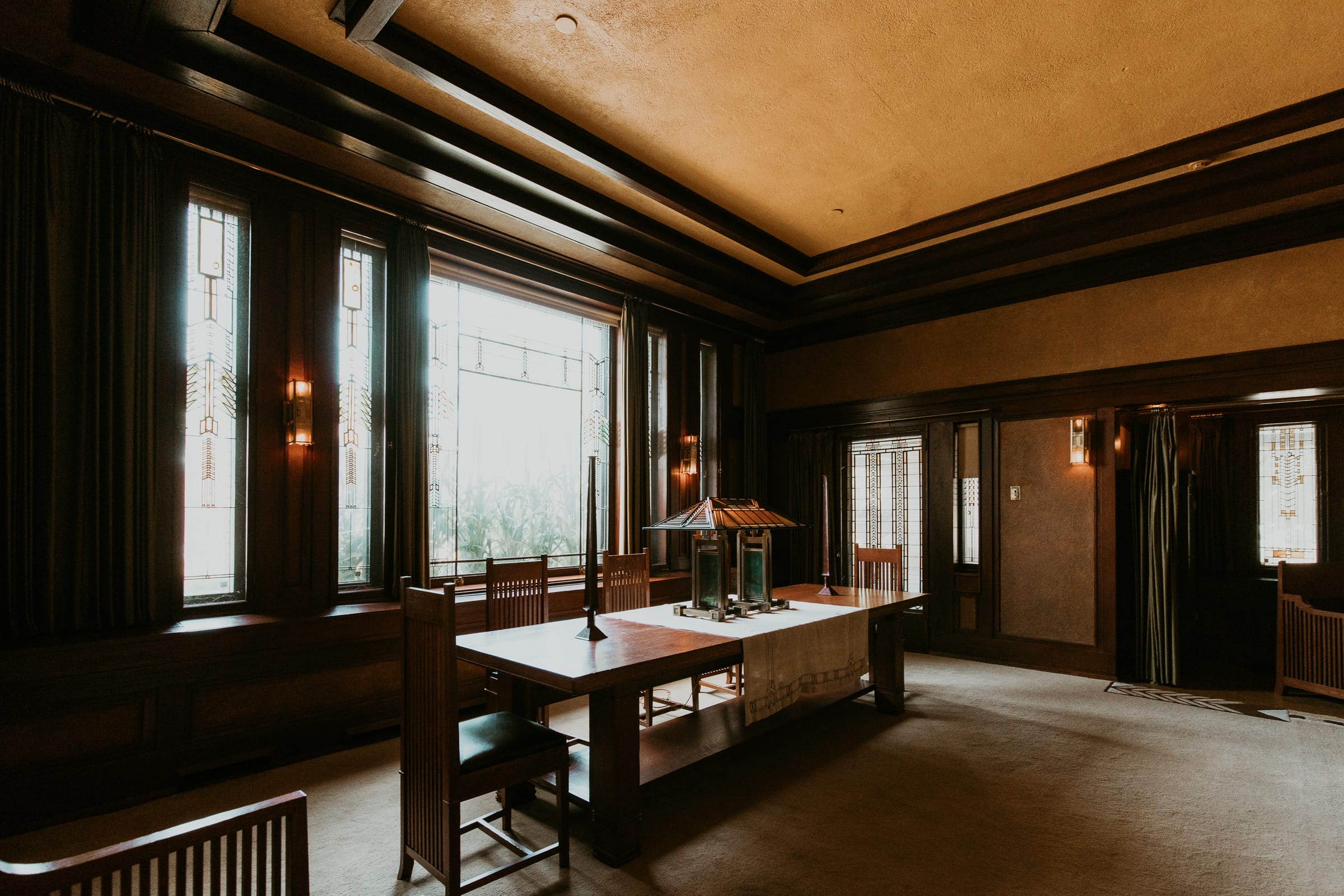 Eating and drinking in Springfield: The best locations
Illinois Made: Local and Sustainable
Springfield, Illinois has quite a few locations that you should definitely include on your Route 66 trip! You'll love it! And as in the rest of Illinois, you'll find plenty of "makers" here: creative small business owners in craft, trade and agriculture – fairly produced, local and sustainable. All are joined together in a public program called Illinois Made. It really pays off to keep an eye out for Illinois makers! On our road trip through Illinois, we met a few café and restaurant operators, microbreweries and craftsmen every now and then – and it's impressive to see the enthusiasm with which these small businesses go about their business. And it's nice to see that it's being promoted by the state – I would have liked something like this in my time with my small creative business in Germany.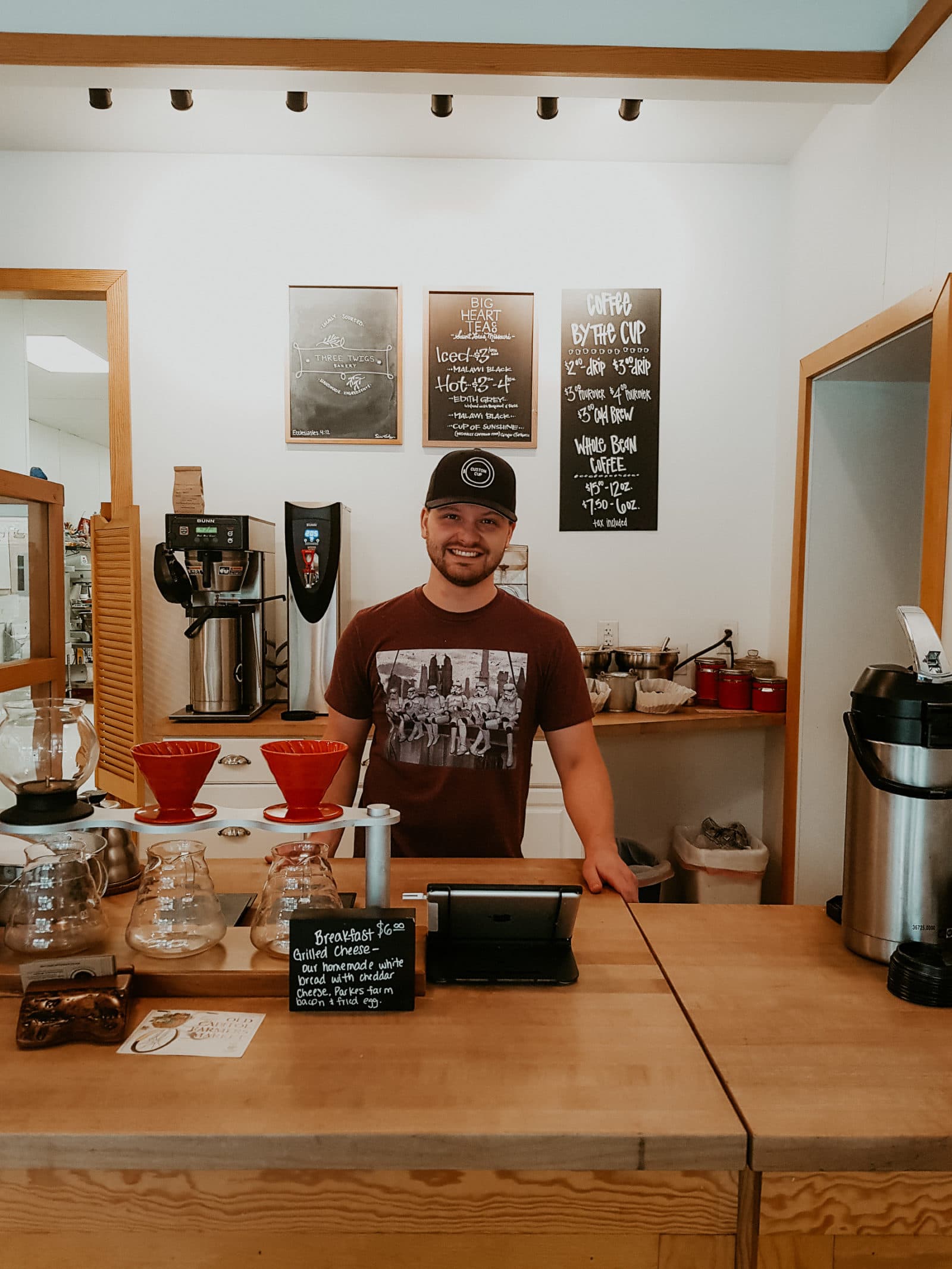 Custom Cup Coffee
Here, the coffee is roasted on site – and you can even watch! If interested, all questions about coffee will be answered. The operators attach importance to fair trade coffee and know a large part of the suppliers from all over the world personally. And they have the most awesome apple cinnamon bacon pockets ever, in addition to fantastic coffee and personable service. (Yes, Bacon!!) Custom Cup Coffee is also among the Illinois makers.
Route 66 Motorheads Bar
Route 66 Motorheads Bar is not only the classic Route 66 trucker bar on the side of the road, but it's also a museum with classic cars out front, vintage signs inside and out, and lots of neon. In the shed next door, you can not only admire even more pieces, but also watch them being restored. By the way, an absolutely fantastic photo spot!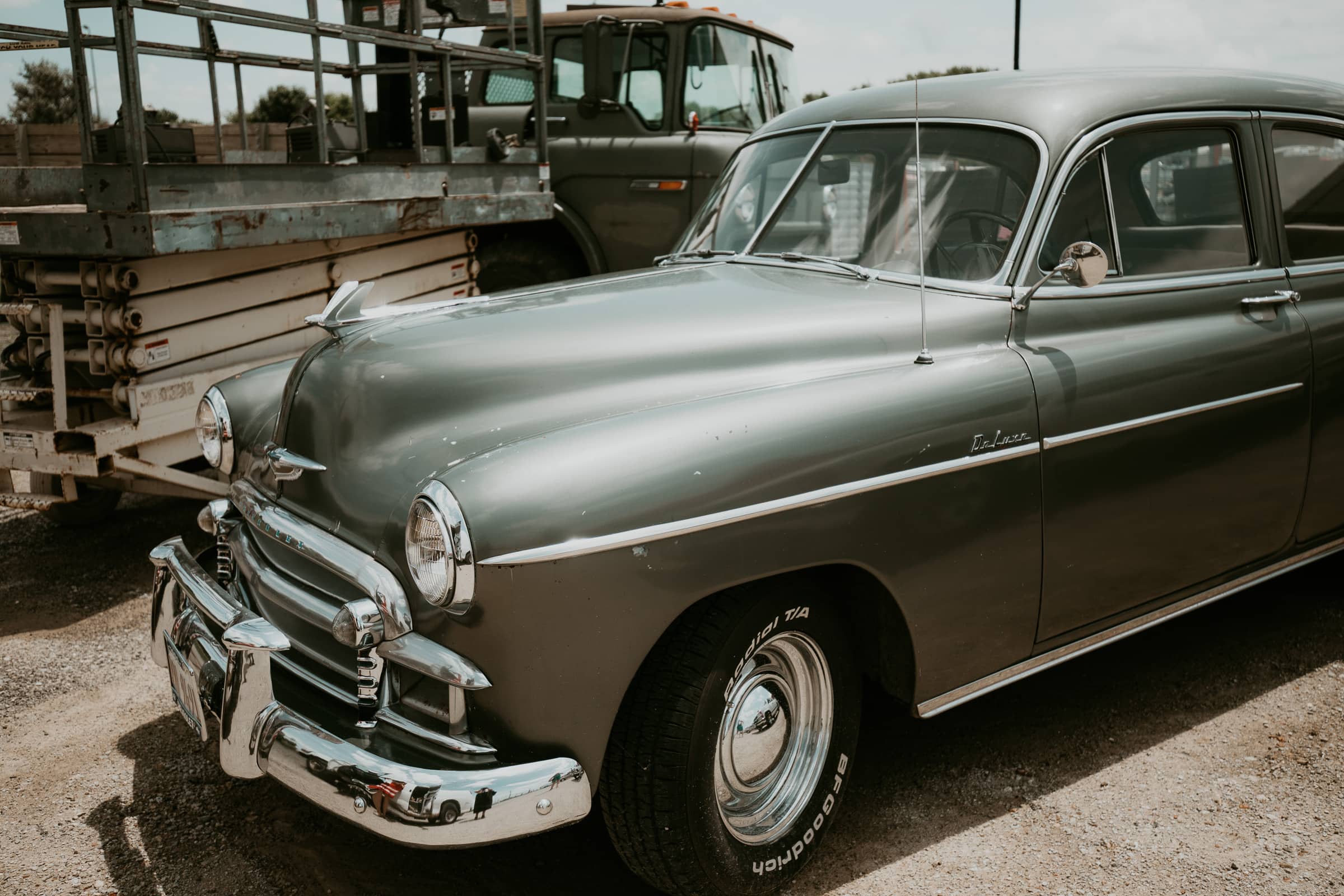 Cozy Dog Drive In
Real must-see on Route 66: The Cozy Dog Drive In is where the cozy dog was invented, a hot dog sausage on a skewer deep-fried in a batter coating. Sounds scandalously greasy, it is, but also kind of tasty. A portion with fries for two – as everywhere else – is easily enough for four. The portions are huge.
The Cozy Dog Drive In is a Route 66 institution. Young and old have been coming here since 1949, and not just tourists! The atmosphere is familial, everybody knows everybody, and everybody knows Bob Waldmire: The Route 66 legend, about whom there is a whole exhibition in the Route 66 Hall Of Fame and Museum in Pontiac, is the son of the founder, Ed Waldmire. By the way, the Cozy Dog Drive In is still family owned and operated and is now run by one of Ed's grandsons.
Engrained Brewery & Restaurant
At Engrained, they brew what they can: Those who like, order directly a collection of several beers, five pieces, served on a wooden board. One is tastier than the other! By the way, Engrained makes the dough for their Flatbread Pizzas from the leftover grain from beer production, so nothing is wasted!
And here, too, you'll find the horseshoe sandwich typical of Springfield, Illinois: a toast sandwich with a burger patty, topped with endless fries and cheese sauce. The portion as always: Huge. If that's too much for you, order a Ponyshoe. Not that it would make much difference: either way, you have to slowly say goodbye to dieting on Route 66 anyway, with beer, horseshoes and cozy dogs.
Practical tips for visiting Springfield, Illinois
You should plan enough time for Springfield, there is a lot to see. So it's worth stopping in Springfield and spending the night here. There are some great hotels in town with good accommodations, like the Wyndham Springfield City Centre* An eye-catching skyscraper from the outside, it has one big advantage: from here, the upper floors offer the best view of the city and the State Capitol! (Be sure to ask for room view towards the center!)
By the way, Springfield can also be reached by train from Chicago if you don't want to rent a car – but on site it's actually often better to travel by car, since public transportation is not very well developed and some locations are quite far from each other.
***
More about Route 66:
I was invited on the trip to Illinois by Enjoy Illinois .