In the Shibuya district in Tokyo you will find one of the most fascinating crosswalk in the world! As if everything else in Tokyo wasn't fascinating enough! With all the blinking lights everywhere and crazy things, Tokyo already is a fascinating place. And everyone knows the Shibuya crossing, an intersection through which millions of people pass every day.
Where is the busiest pedestrian crossing in the world?
The intersection in front of the railway station Shibuya is one of the busiest crosswalk in the world! The Shibuya crossing is so famous, that it is a very popular site among tourists. You shouldn't miss it whenever you are in Tokyo!
The busiest intersection in Tokyo
Tokyo doesn't exactly have a proper city center. Nevertheless, the famous intersection in front of Shibuya Station feels like the epicenter of Tokyo. Many other tourists think the same and climb on flower pots for a better photo perspective. Or they try to get one of the window seats in the Starbucks on the second floor of a corner building, from which you have the perfect top view of the craziest intersection of Tokyo, if not of the world. (By the way: If you want one of the window seats at Starbucks be prepared for a long line!)
Sounds completely ridiculous, but I also walked back and forth across the Shibuya crossing a few times. Japanese people are so fascinating. They all start walking at green, fast, but not rushing, like choreographed. Despite the crowds, there is no pushing and no bumping. It all flows. None of the drivers are honking. And when the light turns red again, the entire road is suddenly free of pedestrians again, and cars buzz gently across the intersection. It's so organized!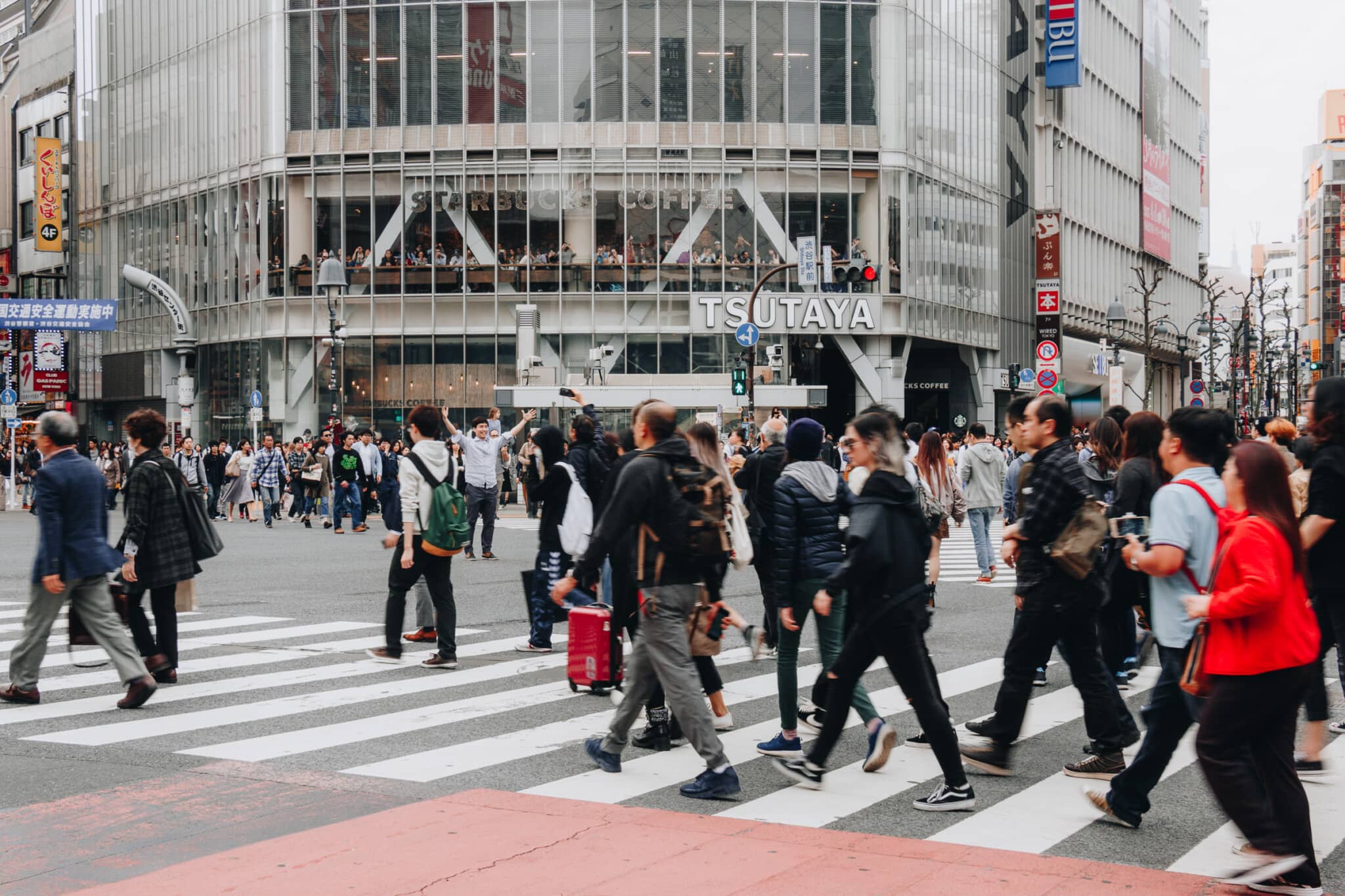 Hachiko: The most famous dog in Japan
Shibuya railway station is just as gigantic: Hundreds of tracks on several levels, it's a real maze. In front of the station, you'll find a popular bronze statue of the dog Hachiko. In the 30s, Hachiko always picked up his owner at the station until he passed away. Hachiko continued to come to the station daily for over ten years. That's true love!
Read more articles about Tokyo and Japanese culture on my blog!
Shopping in Shibuya: My favourite stores
In almost all areas, the most sophisticated products come from Japan! As a big fan of stationery, for example, I stocked up on about twenty kilos of notebooks and pens. You won't find such beautiful, high-quality paper products anywhere else. And I've developed a very strong passion for 100-yen shops (100 yen is about 85 euro cents) in Tokyo, which sell just about everything you don't really need but need to have!
My shopping tips for Shibuya:
Tokyu Hands – a huge department store, more for furniture and handicrafts, but worth seeing just because of the size and the huge selection!
Daiso – one of those 100 yen shops where you always find something. There are also branches in many other parts of Tokyo. The biggest branch is in Harajuku.
Can Do – also a chain with many Japanese products at low prices. Quality here is often better than you think!