Ever since I devoured a few documentaries about North Korea, I've wanted to go there. Well, one can argue whether one should support a stupid regime with foreign currency while its head keeps the world in suspense with his nuclear projects. Because traveling to North Korea is a bit like traveling to the GDR back in the days. Only the government profits something from the Western money washed in, and you yourself are inundated with propaganda during the state-organized and supervised trip. From Seoul, it is not far to the border with North Korea; the demilitarized zone (DMZ) on the border is just around the corner, so to speak.
North Korea border: The demilitarized zone near Seoul and its attractions
From Seoul, a few operators offer tours to the DMZ. Driving there yourself is rather difficult – the DMZ is a several kilometers wide border strip in front of the actual border and a restricted military area. But the term demilitarized is rather an euphemism. Exceptions are made only for tour groups. With all the pros and cons: We stopped several times at some stops on the trip to pick up or drop off other tour groups or both. A few "highlights" of the tour weren't highlights either – for example, the stop at a supermarket with supposed local products. Among the Oreos, Pringles, and gum were a few dusty bottles of pickled ginseng. Not the kind of shopping experience you'll need. Included was also a tour guide, who repeated each sentence a whopping five times, varying only a few words. What a surreal tour.
How far is Seoul from the North Korean border?
Visiting the border between North and South Korea is quite easy from Seoul. The distance from Seoul to the border with North Korea is only about 50 kilometers. So an excursion can be conveniently planned in one day in Seoul – and is really recommended to get a feel for Korea's history.
➜ Book a tour from Seoul to the Demilitarized Zone here*
Imjingak Park
Imjingak Park has always been a gathering place for exiled North Koreans to commemorate their relatives who stayed behind. At some point, a folk festival atmosphere arose, and to crown it, a giant parking lot, a small permanent fair and a few memorial corners were set up in the middle of nowhere. I was particularly impressed by the many colorful inscribed bows tied to the chain-link fence to the restricted area. A sign of color and hope in this whimsical, barren environment.
Dora Observatory: War through music
Music resounds deafeningly loud from giant loudspeakers over the lookout point, in the direction of the border. I hear something by Frank Sinatra and then again something with "freedom" in the lyrics. Here, the position is not only taken with weapons and military. The North Koreans probably do a similar thing with music, and somehow I find it bizarre that two countries are fighting each other with music.
From the vantage point, the Dora Observatory, you can see the border and two showcase villages, one of North Korea, one of South Korea, of which the North Korean one, according to our tour guide, is only prettified for propaganda purposes, nobody lives in the settlement. The adjacent industrial park, which was supposed to be the first start of cooperation between North and South Korea, is now also lying fallow due to the resurgence of political tensions. Everything looks like a ghost town – even from a distance. It definitely creeped me out.
Dorasan: The ghost train station to North Korea
The next stop is even more spooky – from Dorasan station, you could take a train straight through to Pyongyang from South Korean soil. Could. In reality, the brand-new station lies fallow in the middle of nowhere. Tickets can be bought anyway, and we do so, because that's how you get to the deserted platform. And then we stand there, on the empty platform, for two minutes, because time is short. All very strange.
But some passengers really made our day. Inside there are stamps for free use, imitating real entry and exit stamps. As a souvenir. Not without the advice "Don't stamp your passports!"… and some people stamped their own real passports full with the fake stamps. Wonder on what questions will arise when they present their passport back home.
Secret tunnels under the border between North and South Korea
In the course of the separation between North and South Korea, several tunnels were discovered on the South Korean side, which North Korea probably dug to smuggle in either troops for invasion or agents for infiltration purposes. You have to imagine! Kilometers of tunnels, just high enough for a slim Korean man to fit through upright! The North Koreans, of course, say that all this is not true at all, that the South Koreans dug the tunnels themselves. Pretty crazy. Photos inside are unfortunately forbidden, strictest border area, since one comes in the tunnel really very after the demarcation line. But with 300 meters of descent and ascent at a gradient of 11 percent, you have other worries anyway – nothing for heart patients. And also not for extreme claustrophobics, a quarter of an hour through a narrow tunnel so deep in the earth – you have to like.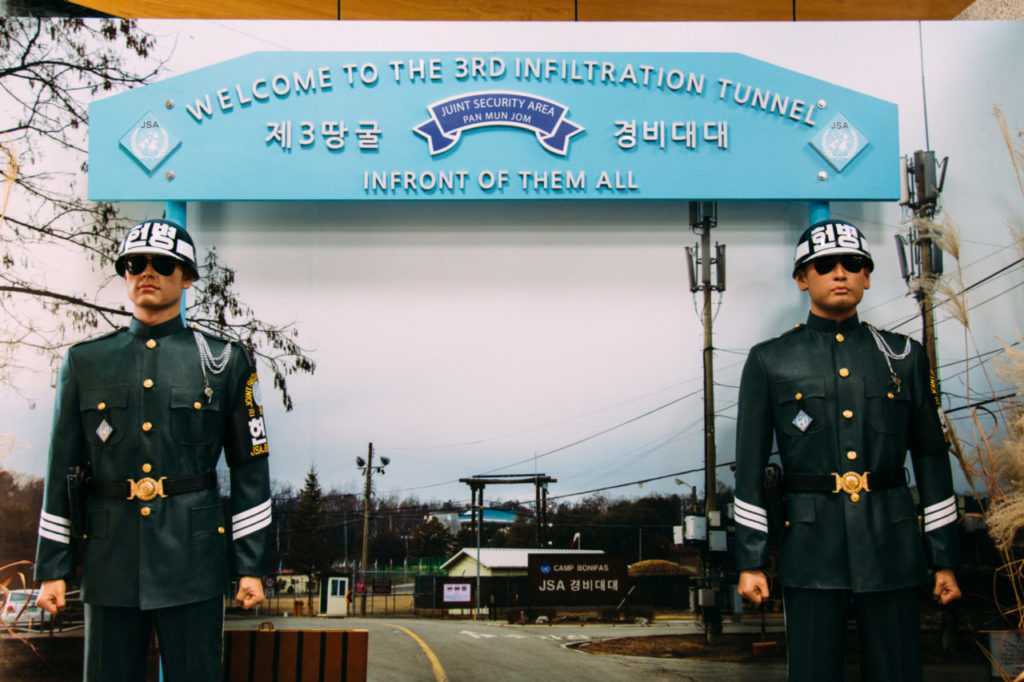 The tour to the DMZ in Korea – is it worth it?
The whole tour was very peppered with (of course South) Korean propaganda, which could be annoying at times, although the distribution of the roles of good and evil in this case are quite obvious anyway. And finally, we were dragged through a factory outlet for gemstones. No one wanted to go, but at least we were allowed to choose whether we should be talked into ginseng or amethysts.
Still, if you're ever in Seoul – it's definitely a good day trip!
➜ Book a tour to the DMZ from Seoul*
***
Travel literature on Seoul:
Travel Guide Seoul (English)
Korean phrasebook from Lonely Planet
What else to experience in Seoul:
6 things you must see in Seoul!
Seoul: Free admission to Gyeongbokgung Palace
If you want to go to the other side of the border to North Korea, you can get some first impressions here:
Blog post on Movin' Groovin'