Seoul is truly a special destination: on the other side of the world and in many ways the same and yet different from Europe. Actually, you don't know where to start with looking and marveling. And for those who are as fascinated as they are irritated, I have brought back from Seoul a small personal list of things that you really should have seen live and in color while you are there. My very personal list of the top Seoul sights!
#1 Seoul Sights: N Seoul Tower / Namsan Tower
The N Seoul Tower is located on the top of the highest mountain in Seoul, Mount Namsan. This makes the view from the tower even more fascinating, on clear days you have an incomparable view over the entire city.
You'll go up first with an elevator, then with a cable car. Or you can hike up in about an hour. The area around the tower is a recreational area with beautifully landscaped gardens, some cafes and stores and a changing cultural program.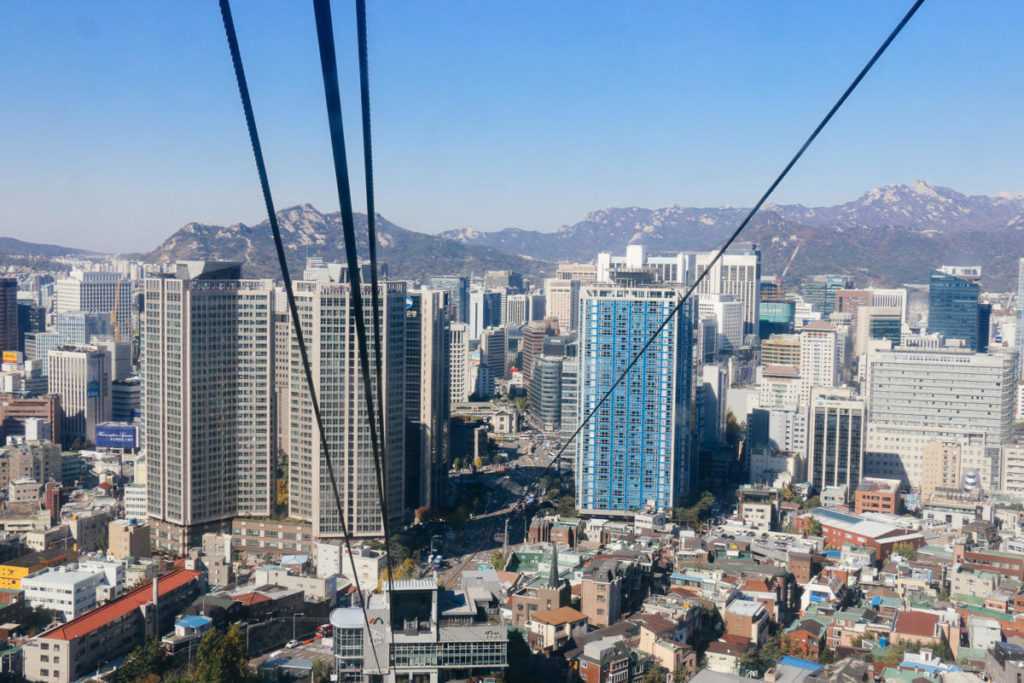 And the N Seoul Tower seems to be the place of pilgrimage for all newlyweds; railings and fences around the tower are covered all over with love locks, creating a fascinating colorful carpet of love locks. So crazy! 98% of the world's production of padlocks probably ends up near the N Seoul Tower.
#2 Gwangjang Market – Seoul's famous street food market
Not for the faint of heart. Mainly a fabric market, there's also a small but effective street food corner here that will test even the toughest stomach. From dog meat soup to pigs' feet and snouts, from live squid ready for slaughter to indefinable blood sausages, there's everything you need to train for your next adventure in the jungle. Personally, it turned my stomach at the live sea worms, a marine animal without eyes looking like guts – that's nothing for me, not even to look at.
Otherwise, there are also much more tolerable dishes, soy pancakes made from freshly ground soybeans (very tasty!) or freshly rolled noodles in broth.
#3 Top Sights in Seoul: The Palaces
Seoul has several palaces from the times of the Joseon Dynasty – be sure to visit one of them. The biggest one is Gyeongbokgung Palace >
#4 Whimsical theme cafes
Koreans seem to love cafés. (Note: bring time, usually the service is rather slow). And quirky cafes in particular. Like the sheep cafe Thanks Nature.
The two sheep belonging to the café are probably intended to bring alienated city dwellers closer to nature again. Whether the way of keeping is animal-loving and lifelike enough, so on bare concrete in a dark concrete, let's see.
Or the Poop Café in Insadong. In this café, everything revolves around poop! Poop piles. Poop piles as a pillow, as a notepad or as a table decoration. Soups are served in small toilet bowls. Yum.
Click here for more travel guides about South Korea!
#5 Seoul public transportation: subway riding
Admittedly, the Berlin subway is no benchmark. But in any subway in Seoul, it's so much cleaner than at home in my beloved-hated U7. Floors so smooth as glass you could eat off them. And even during rush hour, everyone is calm and disciplined, no crowding, no pushing, no bad vibes. So impressive!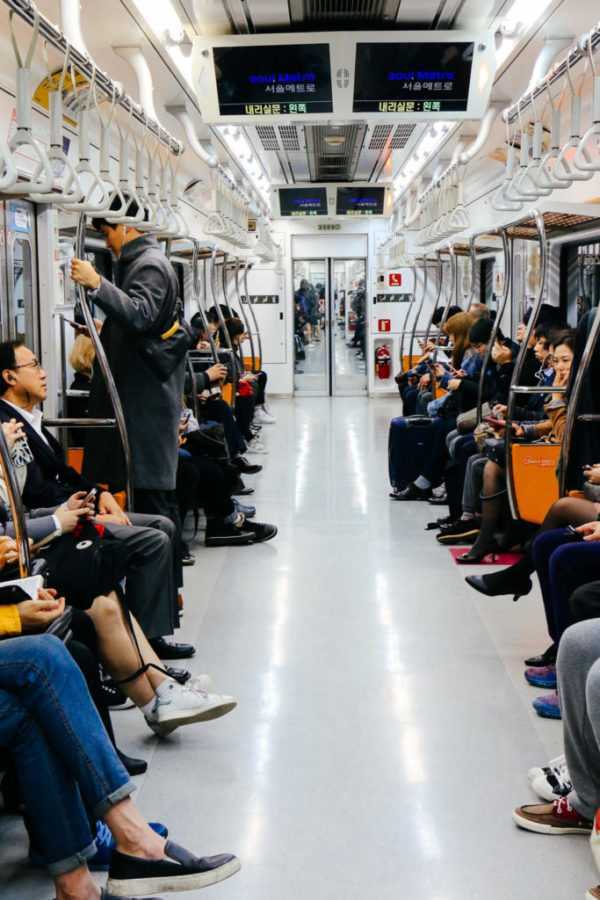 #6 Korean food in Seoul: from Bibimbap to Korean Barbecue
There are two dishes you have to try in Seoul! No visit to Korea without Bibimbap or Korean Barbecue.
Bibimbap is really just a bowl of rice with fresh vegetables and optional meat on top. Put some hot sauce in, stir it – and in addition, as with everything in Korea: Kimchi. Pickled, fermented white cabbage. Some people swear by it, but I don't like it. But what the heck, trying is part of it.
The second famous dish: Korean Barbecue. I have to admit it didn't blow me away either. At a Korean Barbecue you'll grill the meat by yourself at the table, and you'll be served a few varieties of – of course – kimchi and the whole thing is then rolled up with rice together in a thin lettuce leaf(!). In my case, it was a mess! I definitely need some more practice! So I wasn't that impressed by the Korean Barbecue, but still the experience was worth it! And the atmosphere, which ranged from neon-lit canteen to noisy market hall, was also worth seeing.
***
More articles about South Korea: