Seoul. At the other side of the world. And so different than Europe. Actually, it's hard where to start looking around and staring. And for those of you who are as impressed as irritated by the exotic Korean culture I made a small personal list of some things you shouldn't miss when you visit Seoul.
1. N Seoul Tower / Namsan Tower
The N Seoul Tower is located on top of Seoul's highest mountain Namsan. From here you have a spectacular view over the whole city – on a clear day, of course. We were lucky, and it was so amazing. Can you believe how huge this city is?
First with an elevator, than with a cable car, you'll get on top of Namsan mountain. There's also a hiking trail, which takes over an one hour, but as the sightseeing schedule was tight and the feet lazy… well, you know how it is. Around the tower there are a lot of shops and restaurants, as well as some cultural events, so it's a nice place to rest from sightseeing and enjoy the view.
The N Seoul Tower is the meeting point for all young lovers, apparently. All fences in the area around the Tower are covered with lovelocks, there are literally millions of them all around the place. Crazy stuff. Probably 98% of the world's production of padlocks are found near the N Seoul Tower.
2. Gwangjang Food Market
Nothing for people with a sensitive stomach. Mainly a market for fabric, there's also a small, but very impressive corner with street food. A challenge even for the most courageous eaters. Here you will find dog meat soup, pig tails and noses, live mini octopus ready to eat and undefined blood sausages. Basically everything you will need if you are training for the next season of "I'm a star – Get me out of here!" I didn't try anything of these exotic dishes – when I saw the living worms in an aquarium, no eyes and wobbling around like living intestines I lost my appetite for the rest of the day. Eeeek.
But still, there are some tasty dishes around you should try – like the fresh pasta or the soy bean cakes!
3. Palaces in Seoul
There are a few palaces from the Joseon dynasty in Seoul – you should definitely visit one. The biggest is Gyeongbokgung Palace. You can read the full post here:
Seoul: Free entry at Gyeongbokgung Palace
4. Strange Cafés
Koreans love coffee. And especially in strange cafés.  Like the café Thanks Nature, whose main attraction are the two living sheep Lulu and Lala.
Or the Poop Café in Insadong. Here everything revolves around… poop. Poop stickers, poop pillows, soup served in little toilet bowls… Very strange.
5. Riding the metro
Admittedly, the Berlin subway is not a benchmark. But in any subway in Seoul it is so much cleaner than at home in my beloved-hated U7. Floors so smooth that you could eat off them. And even in rush hour everyone is calm and disciplined, no crowds, no pushing, no shoving, no bad mood. BVG, you guys could really learn something here.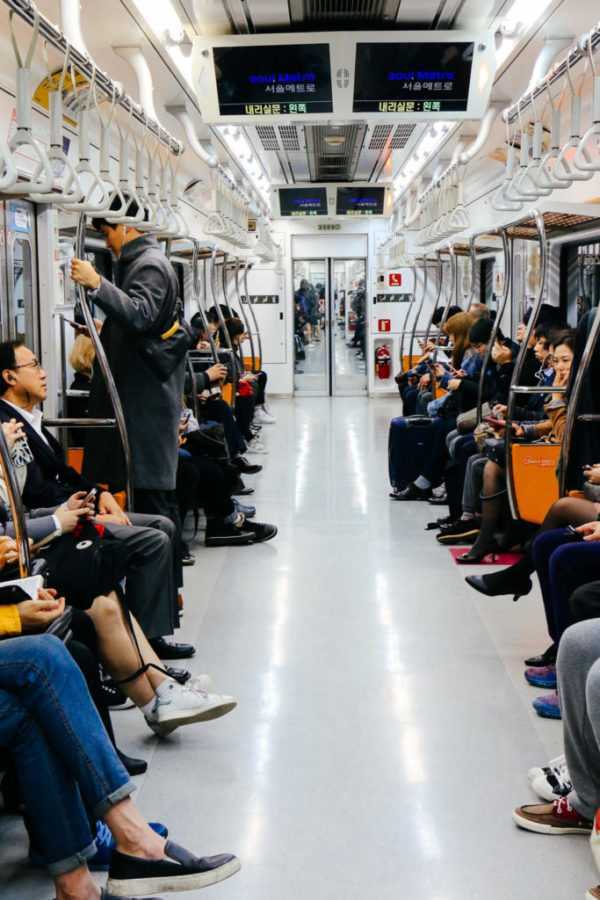 6. Getting familiar with Korean cuisine
Bibimbap is actually just a bowl of rice with fresh vegetables and optionally meat on top. Hot sauce pure, stirred vigorously – and in addition, as with everything in Korea: Kimchi. Pickled, fermented white cabbage. Some people swear that I can't get anything out of it. But what the hell, tasting it's part of it.
Second national dish: Korean barbecue. Didn't really knock my socks off, though. Meat, which you grill yourself at the table, plus some sorts of – of course – Kimchi and the whole thing is then rolled up together with rice in a thin salad leaf(!). In my case it was a mess, it dripped and dripped. Korean Barbecue – not mine in terms of taste either. But the atmosphere was all the more worth seeing, ranging from neon-lit canteen to loud market hall.
***
All about South Korea: