Escaping the hustle of everyday life and recharging the batteries: who wouldn't want that in these times? In any case, at Seehof Nature Retreat in South Tyrol, I enjoyed the ultimate program of total relaxation and pure nature.
South Tyrol: Apples, fresh air and many, many mountains
I arrive in South Tyrol just in time for the apple blossom. Did you know that most of the Italian apples on our supermarket shelves come from South Tyrol? Apple growing has a long tradition here. Originally intended for their own supply only, South Tyrolean farmers started to export their apples right across Europe from the end of the 19th century. Apples were seen as an absolute luxury good at that time.
Today, many areas at my destination, the Valle Isarco, are full of bright pink blossoming apple trees in spring. And by chance, the nearest apple farmer is only a tiny stone's throw away from the Seehof Nature Retreat in Natz near Bressanone! So beautiful!
Cocooning at the Seehof Nature Retreat
After a comfortable arrival, I move into a junior suite. The bathroom has an open design: Usually not my cup of tea, but here it's perfectly integrated and just fits the cocooning style of the rest of the room. The Junior Suite has a balcony and a window front with two double doors across the entire width. Like in a movie, I get up in the morning and enjoy the fine rays of sunlight, open both double doors and admire the unobstructed view over the mountains and the hotel's own lake.
Rates & availability
Seehof Nature Retreat*
In line with the wellness concept, there are small details in the room that make the stay even more enjoyable. For example, if you're a stressed-out city dweller who forgot your spa gear in the rush to get going (hellooo me!), you'll find everything you need in the room: A fluffy bathrobe, a pair of flip-flops and a sauna towel are waiting for you in a large bath bag. Another nice gimmick: a backpack is provided in the spacious closet for hiking trips.
Celtic druids know how to relax
Relaxing at the touch of a button might be difficult to some people. At Seehof, everyone relaxes in their own pace and way, and although there so much offered in terms of quality and service, the atmosphere is unpretentious and welcoming. For the more active, there is a small sports and hiking program, sometimes with unusual offers such as Wyda, the yoga of the Celtic druids, which combines static poses with quite a bit of primal screaming and chanting. Sounds crazy, doesn't it? It definitely is. At first you might feel like an ecstatic Icelandic soccer fan on the way to the next European soccer championship, but in the end you'll feel strangely liberated after all the collective screaming in the group. Worth to try!
Hiking trails around Natz & the Valle Isarco
If you want to enjoy even more nature, all you have to do at Seehof Nature Retreat is step outside the door. The hiking trails in the Eisack Valley are well signposted. If you prefer to hike in company and with someone who knows the area, simply join a group. The hotel has its own hiking guides who offer tours to sights in the area such as the Neustift monastery or walks through the idyllic old town of Brixen.
More Dolce Vita?
Here you can find more articles about Italy!
Wellness at the Seehof Nature Retreat
A retreat would not be a retreat without a classic wellness program. If the nature around it wasn't so beautiful, I could have easily spent a whole day in the spa area of the Seehof Nature Retreat. There you will find everything your heart desires! In addition to a steam bath, the Seehof has no less than two saunas, one of which is a mild bio-sauna and the other a Finnish sauna with a spectacular view of the mountains and the hotel's own lake. If you can't stand hot sauna temperatures for long, you really have to watch out here: Staring at the mountain panorama through the floor-to-ceiling windows, you might forget the time!
Are you looking for special accommodations?
Check out my hotel reviews!
In between sauna sessions, you can swim a few laps in the heated infinity pool or even in the lake, and then get busy deciding where you'd like to chill out most. Whether on the green roof in the sun, on one of the fluffy lounge chairs on the lakeside or indoors in the oriental-inspired séparée with relaxing trance sounds – you can indulge in sweet idleness everywhere on the premises without squatting too much on each other. Because space is also a luxury, of which enough has been planned at the Seehof.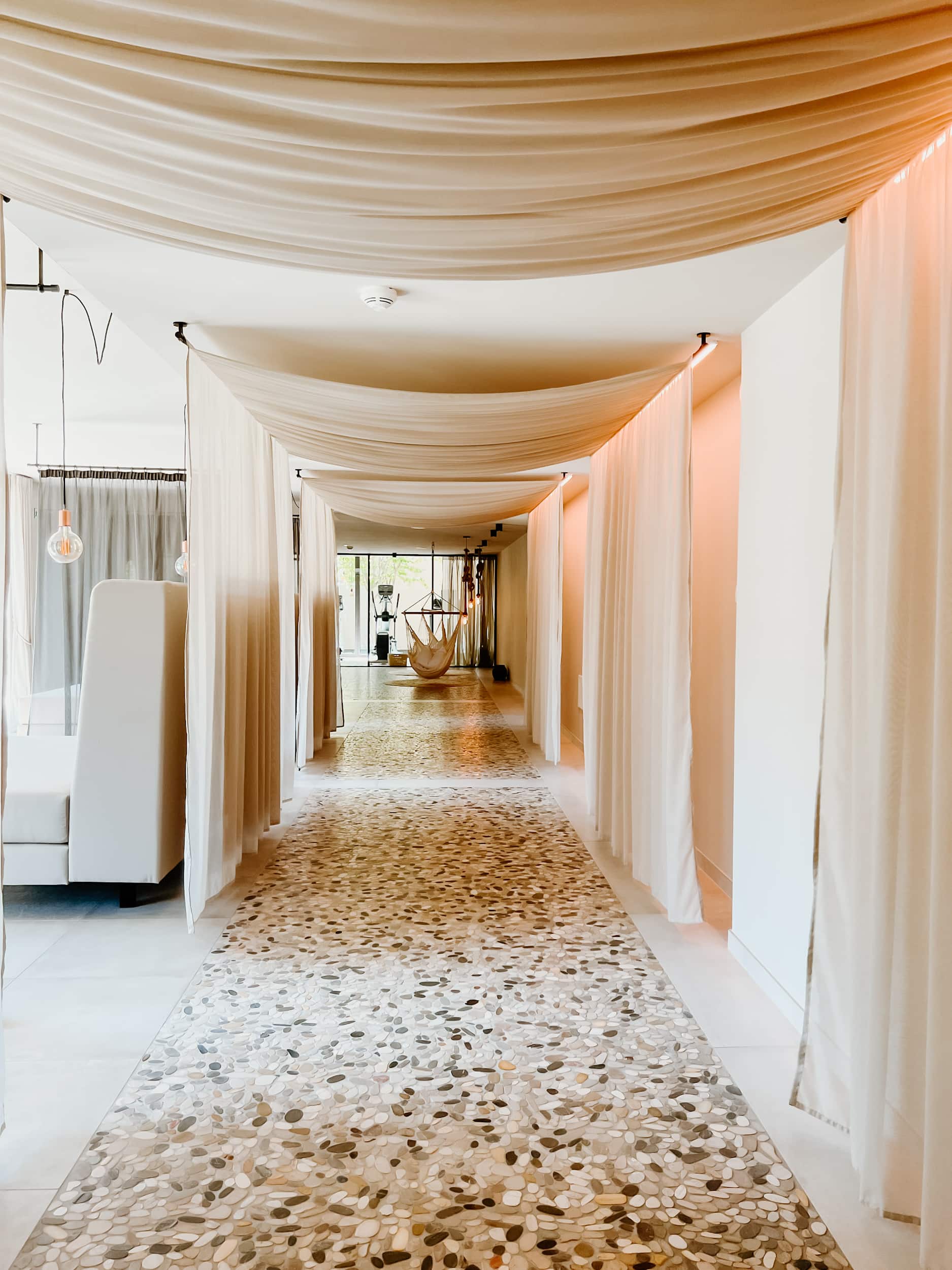 The wellness area is located in the annex, but due to its special architecture it almost seems to merge with the green surroundings. You don't even notice from the outside how much space there is to relax in the Seehof! In the basement of the hotel are the premises for massages and treatments, from there you'll get to the sauna and pool area.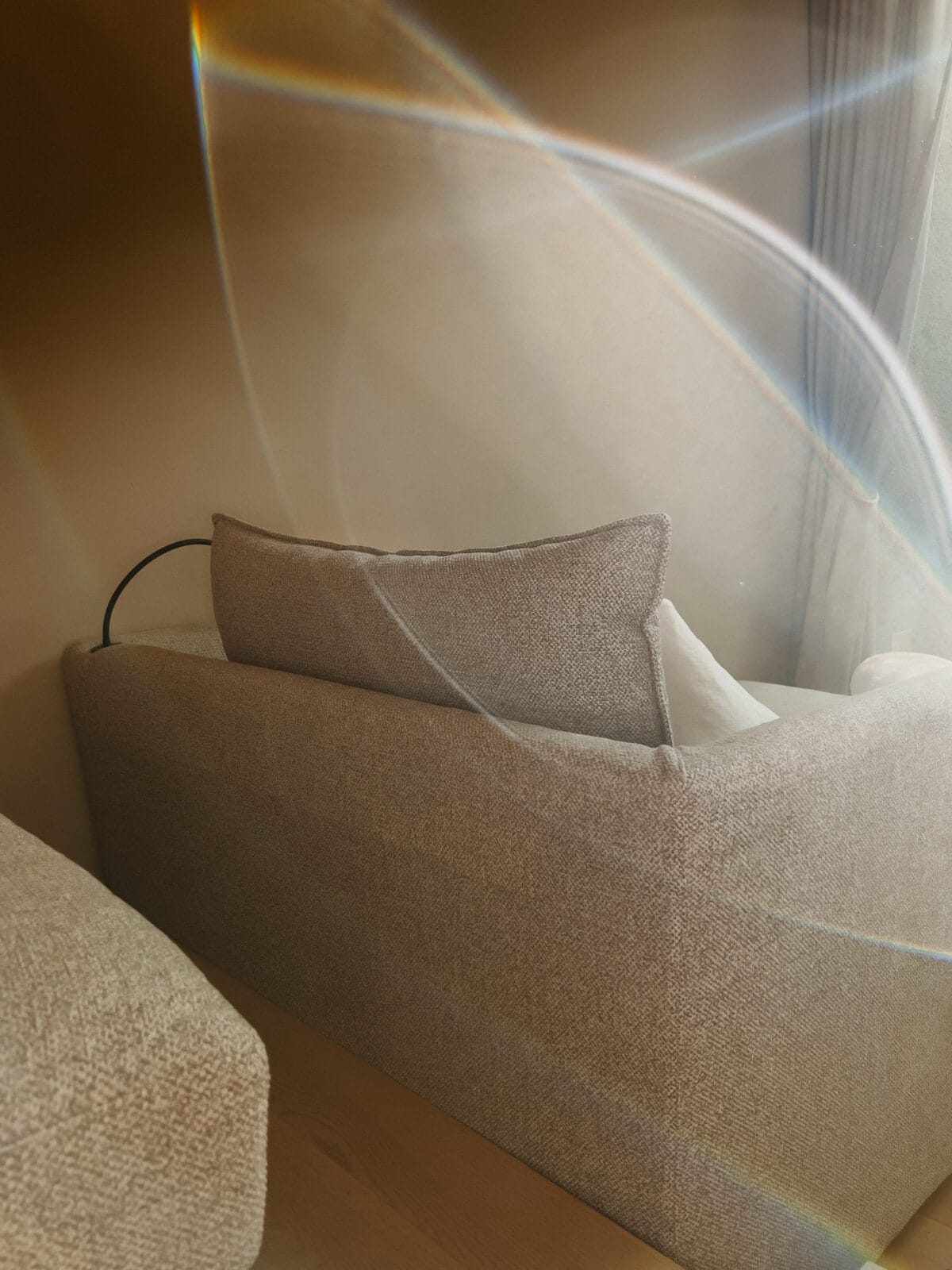 Good food good mood
Foodies are spoiled by the way with 4 meals a day with South Tyrolean delicacies. Breakfast, a light lunch, a snack or coffee and cake in the afternoon and a brilliant 5-course menu in the evening are served. For the main course, there are always 3 dishes to choose from (fish, meat or vegetarian) and I would have loved to try them all because it tasted so fantastic.
The evening can be concluded with a good drink in the cozy bar with a surprisingly well-stocked library.
The bar and restaurant, along with the wellness area, are the heart of the hotel: from morning to night, you can be pampered here on the sun terrace with drinks and small snacks; the service is always unobtrusive, but in the best of moods, and somehow always there if you have a wish. "Prego, signorina," and in front of me I'll find the perfectly chilled Coke in a crystal tumbler with ice and lemon, along with a small bowl of small aperitivi, potato chips and homemade savory cookies, just like that, and I enjoy the sun and the view of the postcard-perfect landscape spread out before me.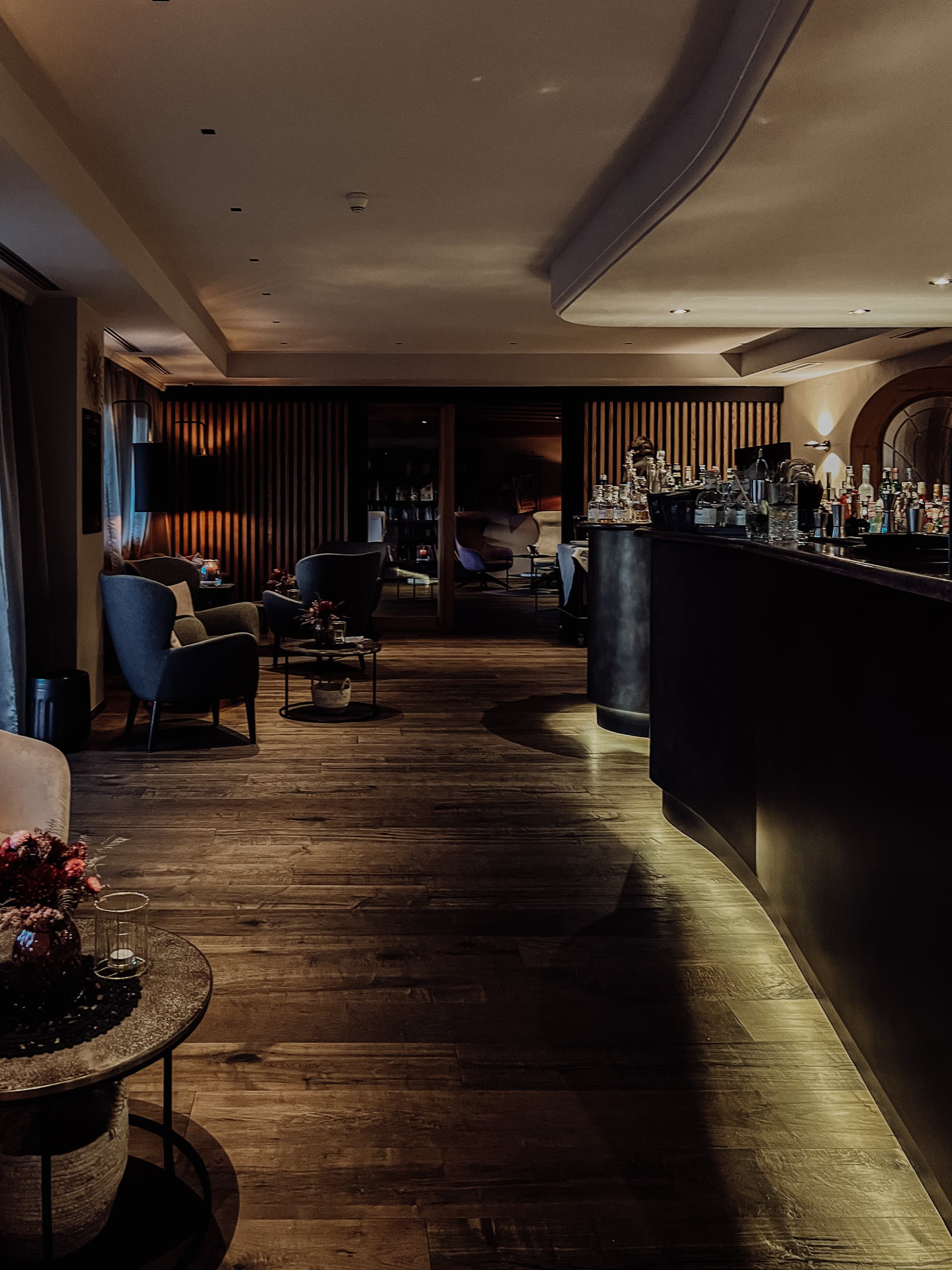 For whom is the Seehof Nature Retreat suited?
The Seehof Nature Retreat is an adults only hotel. Guests must therefore be at least 14 years old. Whether it's a romantic weekend for two, traveling alone, or a girls' getaway where everyone can relax and chat, the Seehof Nature Retreat appeals to a wide range of guests. Except for the restriction for children, all age groups were represented during my stay, from young to old.
Nature lovers and relaxation seekers with a penchant for aesthetics and a sense for small and fine details will feel especially at home here.
Seehof Nature Retreat
Flötscher 2
39040 Natz near Bressanone (Brixen)
South Tyrol
Italy
More info: www.seehof.it
How to get to South Tyrol
Although Seehof Nature Retreat is so nestled in nature, it can be easily reached. Even if you're traveling from further away, like I did from Berlin, there are very good travel options.
The Seehof Nature Retreat is located in Natz-Schabs in the Eisack Valley in South Tyrol, between Innsbruck and Bolzano.
By car
From Munich: ca. 3 hours drive (over the Brenner pass)
From Innsbruck: ca. 1 1/2 hour drive
By plane
The nearest airports are Bolzano* and Innsbruck*, but there are only a few flights there.
From Berlin, for example, there is a direct connection a few times a week with Skyalps, a small South Tyrolean airline based in Bolzano.
The closest bigger airports are Verona* and Munich*, but from both you will need a rental car or to travel by train.
➜ Rent a car at Munich Airport here*
By train
My personal tip! I traveled from Berlin by train. It takes time (about 9 hours), but with only one perfectly coordinated change in Munich, it was the most stress-free option for me. The Seehof Nature Retreat offers a free hotel shuttle to the nearest train station in Franzensfeste (just call, travel time 10 minutes). Franzensfeste is located exactly on the train route Munich-Innsbruck-Venice and is therefore perfectly accessible by train.
If you book in time, you can make a real bargain here with a journey by train and save stressful car trips!
➜ Check timetable & fares to South Tyrol/Italy*
Looking for more beautiful destinations in Italy? Then take a look here:
Transparency: I was invited by Seehof Nature Retreat.