Copacabana, the sugar loaf and Christ the Redeeemer – these are probably the first pictures that come to mind when thinking of Rio de Janeiro. No trip to Rio is complete without any of these places! However, Rio de Janeiro is so much more: the artists' quarter Santa Teresa, for example. Located on a hill, Santa Teresa is almost like a completely different world. Santa Teresa has always been the center of attraction for artists and creative people in Rio de Janeiro. I'll show you in this article the best locations in this exciting neighbourhood you definitely should visit!
Santa Teresa: The creative hotspot in Rio de Janeiro
Santa Teresa is one of the older districts of Rio de Janeiro. The European immigrants who settled here at the beginning of the last century also brought their different architectural styles: There are impressive city villas in all kinds of styles all over the place. Santa Teresa is also located on one of the many hills in Rio. Therefore, from many houses, you have a great view over the city. For a long time, Santa Teresa was a neglected part of Rio de Janeiro – until it was rediscovered by many creative people and artists in the last years! Today I consider Santa Teresa to be one of the most exciting parts of Rio de Janeiro!
Brazil is an amazing country to visit!
Read more articles about Rio de Janeiro and Brazil here!
Santa Teresa's historical streetcar: O bonde de Santa Teresa
The nostalgic tram is the landmark of Santa Teresa (called "bonde" in Portuguese). You can ride up and down through Santa Teresa to the famous Arcos da Lapa. The Arcos da Lapa are a narrow aqueduct and the tram runs on top! A true experience! After there was a serious accident some years ago, the tramways are however not that crowded anymore: In former times, you could take the train for free if you just jumped up and held on outside.
One ride costs 20 Reais (about 5€), but it's worth it! It is best to get on at the beginning of the line at the Estaçao Carioca. From there, the train goes up the Arcos da Lapa to Santa Teresa. Unfortunately, there is no day ticket, so either you have to buy a new ticket every time you want to get off the tram and on again. Or you can change to Uber or Bus. Therefore, I recommend to drive up to the terminal station first and then to work your way down again.
More information: http://www.bondesdesantateresa.com.br/
Tips for Santa Teresa in Rio de Janeiro
The Largo dos Guimaraes is the heart of Santa Teresa! Especially on weekends, restaurants and bars are well filled! Here you can enjoy typical Brazilian cuisine, even Cariocas come here to the traditional Feijoada lunch (bean stew with rice) on Saturday. Some nice addresses:
Bars, Restaurants und Cafés
Explorer Bar
Small bar near Largo dos Guimaraes with fantastic cocktails (Caipirinha is also great here, but the rest of the menu is really recommendable!) with Israeli-Brazilian cuisine with many original vegetarian and vegan dishes. The bar is also part of a nice boutique hotel! ➜ Check rates and availability*
Livraria Largo das Letras
Bookstore with café in a romantic courtyard directly at Largo dos Guimaraes! Good for a short break from sightseeing!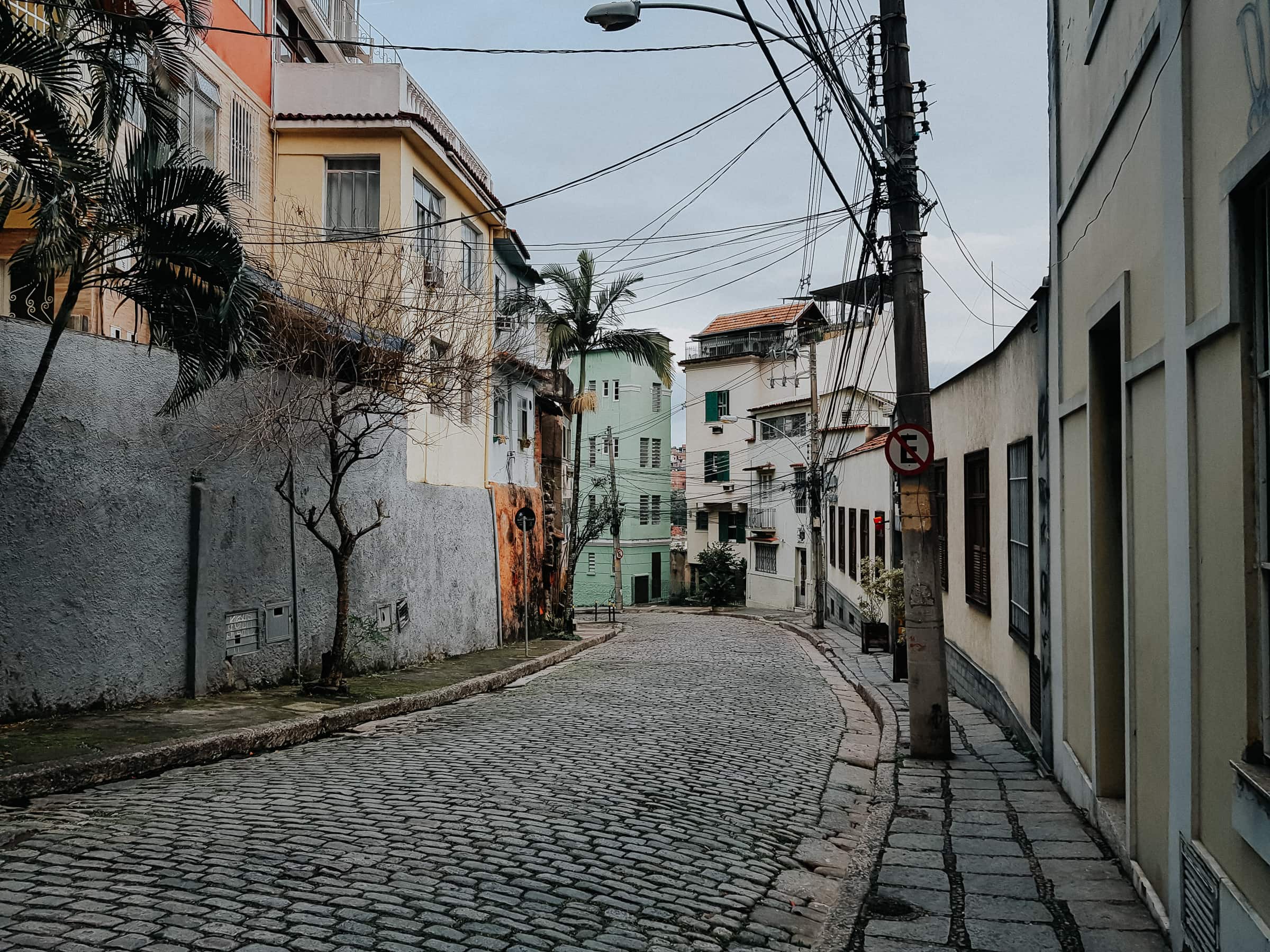 Adega do Pimenta
German cuisine may not be your first choice when in Brazil, but the atmosphere at the Adega do Pimenta is so bizarre that you might change your mind. One of the institutions in Santa Teresa which has been around forever!
Bar do Mineiro
Another classic in Santa Teresa: The perfect address for a Brazilian feijoada, Brazil's national dish. If you aren't that hungry will also find typical snacks like Salgadinhos, which are traditionally served with an ice-cold beer.
Accomodation
Santa Teresa has a lot of great airbnbs. Especially if you are into cool design and a creative environment! I stayed in a small house that belongs to an artist collective; very nice and definitely an unusual place to stay.
If you prefer more hotel-like accommodations, this is perfectly situated with the Explorer Bar on the first floor and close to Largo dos Guimaraes: Discovery Suites Rio*
If you want to spoil yourself a little bit I'll recommend this place: MGallery Santa Teresa*
Safety in Santa Teresa und Rio de Janeiro in general
Santa Teresa is not a super unsafe part of the city due to the many tourist attractions. But you have to be very careful here as well. In the evenings, it can get a little more deserted here and not all streets are so busy that you might feel uncomfortable. As a solo traveller (and half-Brazilian, who is familiar with local habits), I didn't always consider Santa Teresa the best place to stay overnight.
I had booked a nice Airbnb, which was centrally located, but in a quieter street. In the evening, I always took an Uber, when I left my place. But I've heard from many drivers that Santa Teresa isn't a popular destination for some drivers due to its remote location and because there are some shady people around, especially at night.
During the day, I felt safe in Santa Teresa. Just be cautious and don't talk longer walks around the neighbourhood at night.
Read more about safety in Rio de Janeiro as a female solo traveller in this article
➜ Traveling to Rio de Janeiro as a female solo traveler: Is it dangerous?
More about Rio de Janeiro