When you visit Palma de Mallorca, the Passeig del Born will probably be this one special street you will remember when you come to the city. Starting at the beach promenade and the cathedral La Seu it's like a big, inviting entrance to the city centre with more sights like the Plaza Mayor and the old town. A perfect starting point for a day visit to Palma. But maybe you want to explore something different and avoid the touristy crowds? Then be smart and explore the neighbourhood of Santa Catalina in Palma de Mallorca!
Sometimes it seems that the Passeig del Born divides the city – on one side there is the spectacular cathedral which resides like a castle over the beach promenade and which is constantly surrounded with visitors and on the other there is this special little gem, an old charming village which I'm certain you will love:
Santa Catalina: The trendiest neighborhood of Palma de Mallorca
Sure, it's no longer a secret that Santa Catalina became a hotspot in the last few years – the main street is filled with scandinavian real estate offices selling apartments in the area for tremendous prices to their fellow countrymen – but it still has this laid-back mediterranean flair mixed with modern bars and innovative restaurants.
Nightlife in Santa Catalina
And when it gets dark, Santa Catalina turns into the nightlife hotspot of Palma de Mallorca! Don't worry about drunk tourists on pub crawls: This is where the locals go to have a good time! You will find a broad selection on restaurants, bars and clubs here, all very different from the usual tourist traps.
-> Book your stay in Santa Catalina! Click to see all hotels in the trendiest neighbourhood of Palma de Mallorca!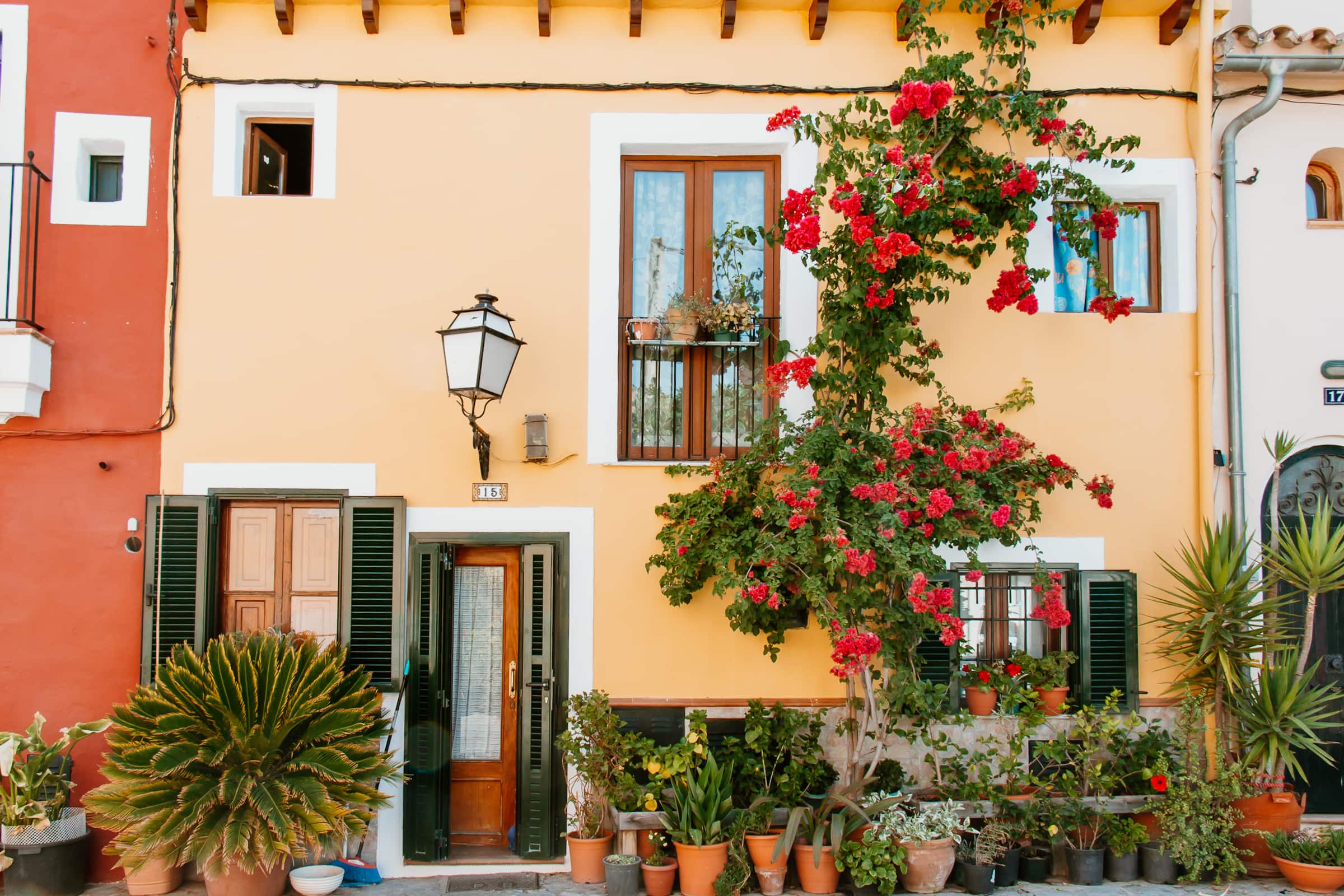 Walking through Santa Catalina: The old fisherman's village of Palma de Mallorca
By day, you take the opportunity and explore the area by foot: Until a few years ago, Santa Catalina was a rather neglected part of town, dark streets, abandoned houses. Almost all houses were restored and now there are parts where it's like the calm mallorquin village it was decades ago before tourism hit the island.
Do you need more inspiration for your vacation in Mallorca? On my blog you find much more information and ressources for this beautiful island! Click here
Wander around the small curvy streets and get lost in the quiet village! You won't believe you are less than a 20 minute walk away from the busy cathedral!
On top of Santa Catalina you get to see an original old mill – and you have the most wonderful view over the harbor.
On your return, take a coffee in one of the tiny cafés around the Mercat de Santa Catalina.
The Mercat de Santa Catalina
Many city guides mention the Mercat de Santa Catalina as a sight worth seeing. Unfortunately, it's not THE authentic mallorquin market you might expect. After a big renovation years ago it's more of a gourmet market and in my opinion, it lost a lot of its authenticity. And besides, almost everything is overpriced! If you want a better market experience, check out Mercat de Olivar in the city centre or one of the local farmers' markets all over the island.
How to get to Santa Catalina in Palma
To get to Santa Catalina just turn left at the Bar Cuba at the Passeig del Born and go straight ahead – you are already there! By the way, the Bar Cuba is now part of an excellent hotel: Click here for the best room rate!*
***
Read more articles about Mallorca: