"Do you know a quiet place to stay on Mallorca to relax, with a small beach, good food and just beautiful?" This is a question people often ask me when they are planning a trip to Mallorca. Quite often I reply with a question: Have you ever been to Sant Elm? In this post, I'll tell you why the small town at the westernmost tip of Mallorca is definitely worth a visit.
Tip: Sant Elm is a really charming village, but accommodations are rare! If you want to spend several days here: ➜ Book your accommodation well in advance!*
Sant Elm: At the westernmost tip of Mallorca
As the winding road meanders down through dense pine forests, it becomes more and more narrow. I wonder if I will ever reach anything here. From Palma, I'm driving in the direction of Andratx, and somehow this part of Mallorca is quite peculiar anyway.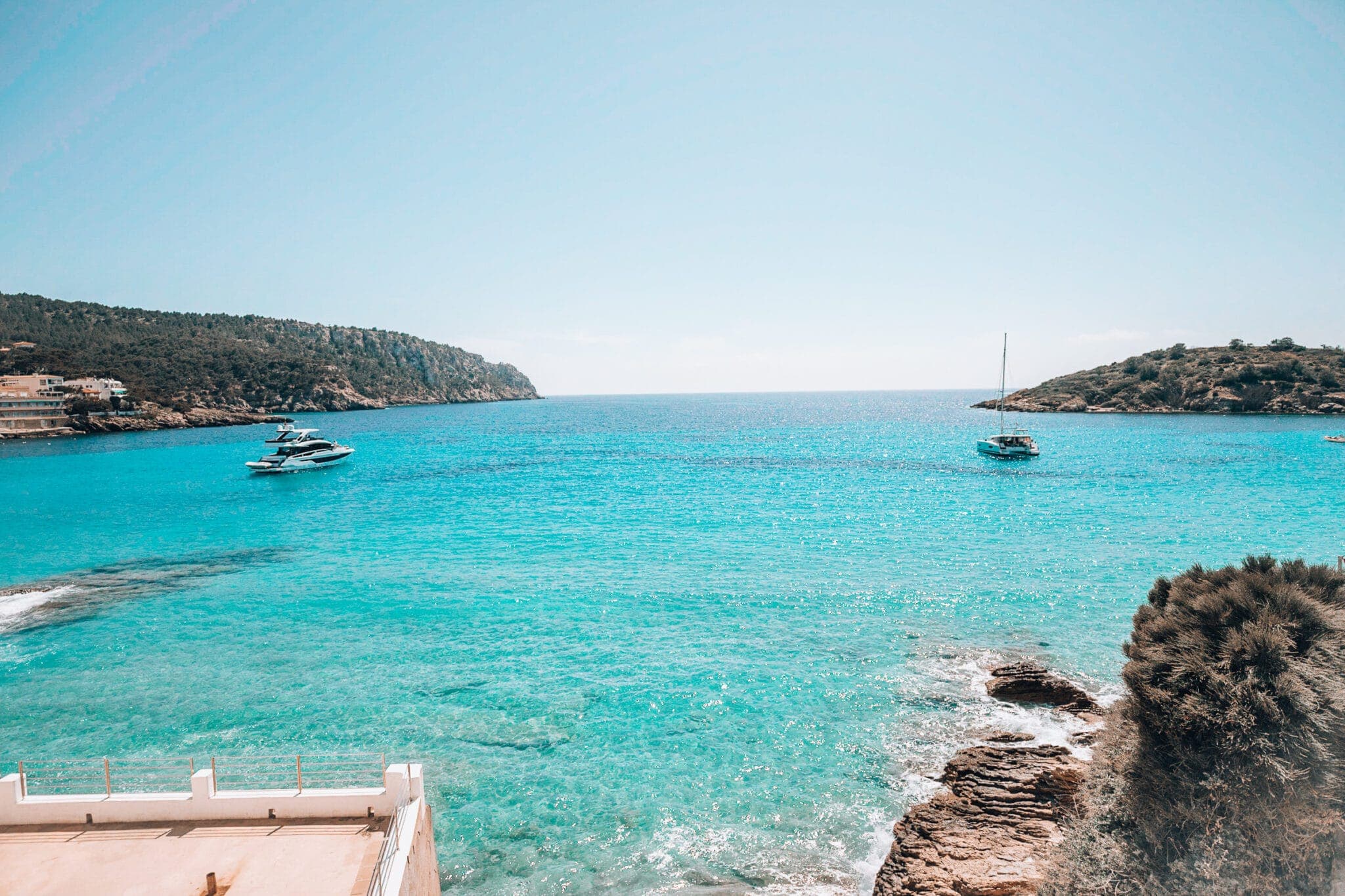 Here, in this particularly sunny corner of Mallorca, blessed with the most beautiful bays, you will find one realtor's dream after another: Light-flooded villas line the slopes around Port d'Andratx and in hardly any other region of the island the celebrity density is higher. And therefore you would hardly suspect that this special gem is still to be found right after Andratx: Sant Elm is like a small, hidden oasis!
Looking for even more inspiration for your favorite island?
➜ Click here for all Mallorca articles!
Relaxation & vacation atmosphere in Sant Elm
Sant Elm is a quaint little village. A bit abandoned by locals, it is inhabited mainly by tourists and vacation home owners. A real infrastructure as in other places with fully equipped supermarkets, stores for daily needs, schools, kindergartens is almost non-existent here. What remains is a quiet, manageable place with everything you need in a 1 or 2 weeks stay and a relaxed atmosphere that immediately brings you into summer vacation mood.
The beach of Sant Elm is located directly in the center of the village, the distances are short. Take a small snack in one of the bars at lunchtime, then head back to the beach: Not a problem in Sant Elm. The water in the bay is clear and on sunny days it's so blue that it almost hurts your eyes! A paradise for all beach lovers!
Hiking through La Trapa
Sant Elm is bordered by the nature reserve La Trapa, with a great hiking trail along the coast. From the monastery ruins of the same name La Trapa you'll also have a breathtaking view over the island of Sa Dragonera.
A detour to the Torre de Cala en Basset is also worthwhile. (Currently, hiking trails and access roads are being repaired, better inform yourself again on site about the current situation, whether everything is accessible, as of May 2021)
Sa Dragonera
The whole island of Sa Dragonera is a protected nature reserve, like Cabrera. You can visit and explore the island by yourself along designated hiking trails. The Visitor Center provides information about the island's special flora and fauna. For example, there are lots of lizards here, hence the name Dragonera, or a large population of hawks).
There are regular boat tours to Sa Dragonera from Sant Elm and Andratx. On site, there are no restaurants and you are also required to take any trash back with you.
➜ Book your boat tour to Sa Dragonera*
Eating & Drinking in Sant Elm
There are not a lot of culinary options in Sant Elm, but they are some quite nice locations. If I were spending several days here, I would most likely be a regular guest at Forn Sa Palomera and try everything from freshly baked crossaints and pastries every morning. An absolute recommendation! (And not just for breakfast either, of course!).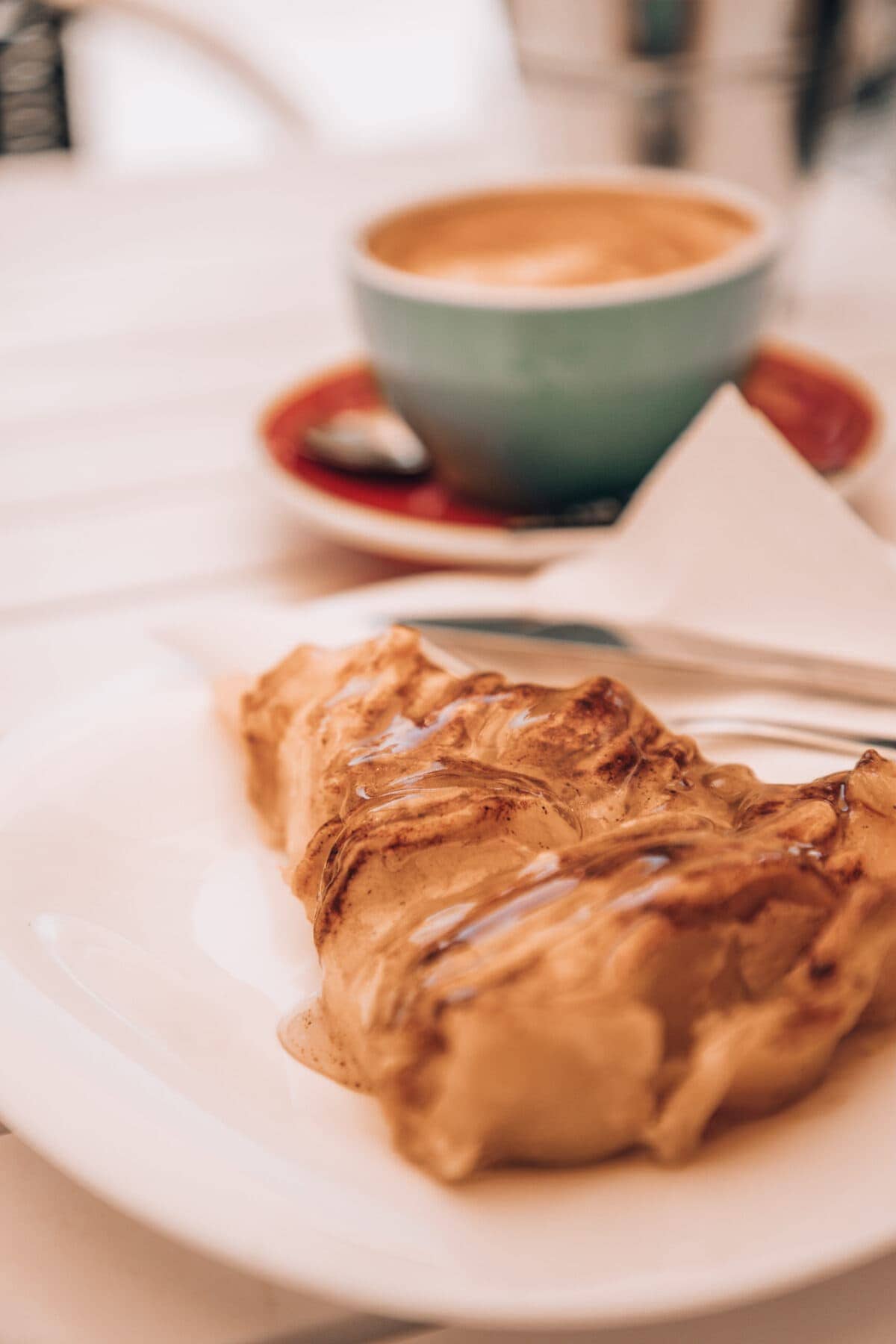 Fish and seafood lovers will be delighted with Es Raor: Mediterranean cuisine in such an impressive scenery – what more could you ask for?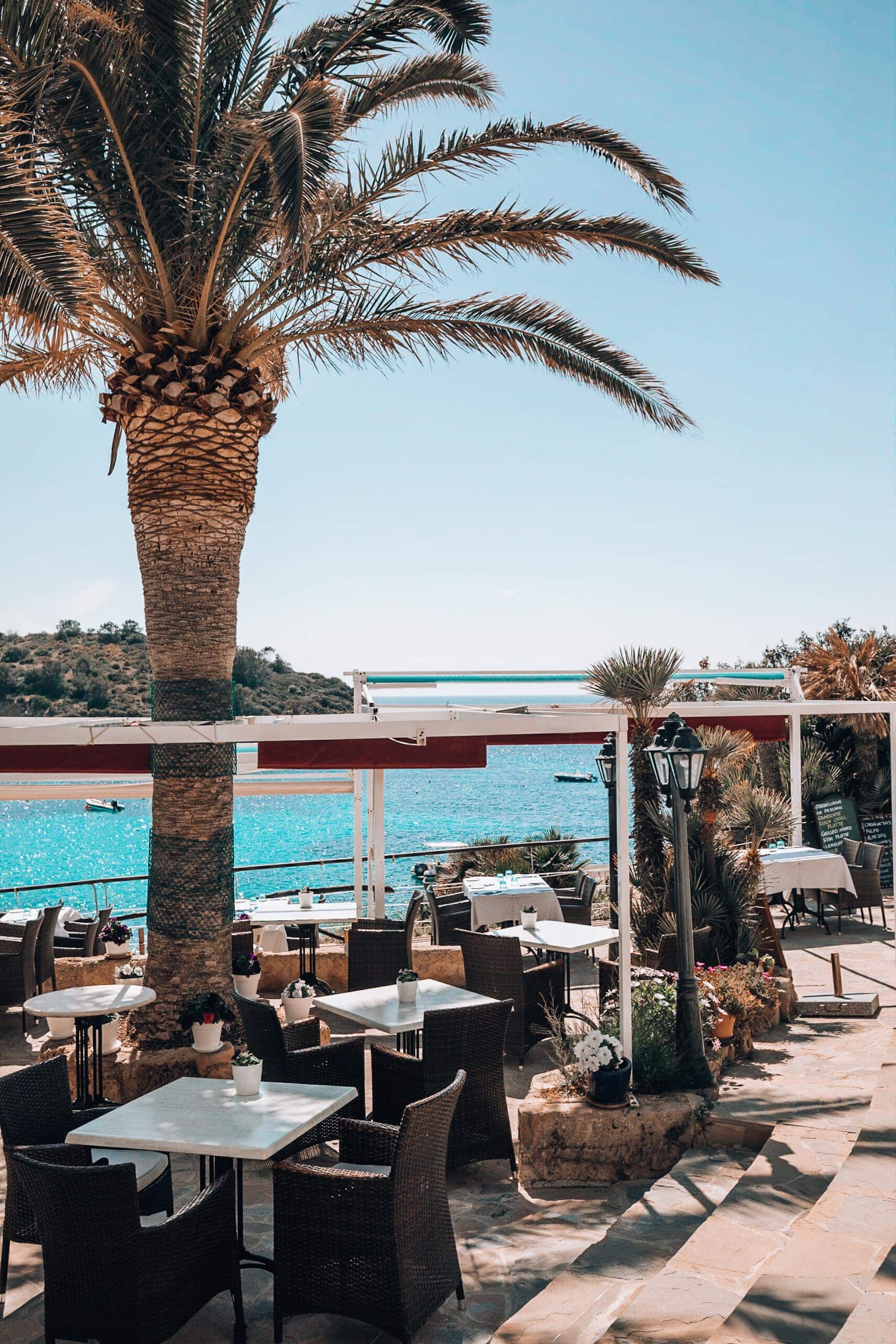 Accommodation in Sant Elm
Due to the size of the village, the choice of accommodation is limited in Sant Elm. Even if you're like me and don't usually go for plain vacation hotels – maybe you'll make an exception here.
The Universal Hotel Aquamarin* and its sister hotel Don Camilo* may not win the next design award for the most stylish interior, but you'll get solid service and arguably the best panoramic views in Sant Elm at the only two larger hotels in the area. And you can enjoy Sant Elm's biggest asset here: endless peace and quiet.
➜ Find all deals in Sant Elm here *
Map with all the places in and around Sant Elm.
Day trip to Sant Elm
Is spending the whole vacation in Sant Elm too quiet for you? No problem, I always recommend Sant Elm as a nice day trip, especially if you want to see a little bit, but you don't really feel like meeting the crowds.
Rental car
The best way to reach Sant Elm is by rental car. From Palma the journey takes about 35-40 minutes.
➜ Book a rental car in Mallorca*
Public transportation
With public transport, the journey to Sant Elm is somewhat more difficult due to its remote location. The line 121 connects Sant Elm with the nearby towns of Port d'Andratx and Andratx, from there there is a bus connection with the line 101 to the Estació Intermodal at Plaça Espanya in Palma. The trip takes an hour and a half in total. ➜ Timetables and more info can be found on the page of tib (Transports de les Illes Balears).
From Sant Elm onwards
Starting in Sant Elm is the distance hiking trail GR221, which passes through the entire Tramuntana mountains. A perfect starting point for a longer hike!
If you are traveling by rental car and do not want to hike much, then you can also include Sant Elm in a small road trip and explore the same day Port d'Andratx, for example. A small trip along the southwest coast through the towns of Paguera, Santa Ponsa or El Toro with the stylish new marina Port Adriano are also an option.
But if you want a total contrast after so much peace and quiet, you can also end the day nearby in Magaluf, the epicenter of the british party crowd – in Mallorca, everything is possible!
Here you will find even more inspiration for a stay on my favorite island: