Salzburg in Austria is not only famous for its picturesque old town, breathtaking mountain views and lots of history and culture, it's also a paradise for foodies! To me, Salzburg is one of the classic destinations you should have seen in Austria and Central Europe! And the food is amazing! With so many good restaurants and cafés with tasty Austrian and international cuisine the choice can be a pain, so I have put together some very impressive Salzburg restaurants and locations – I guarantee you won't stay hungry in Salzburg for long!
I'm a huge Salzburg fan – you will find more information about this extraordinary town in my other articles:
Read all about Salzburg here! Your perfect ressource for your trip to Salzburg!
I always love to discover places by their culinary! So here's my big Salzburg food guide with a lot of Austrian cuisine with alpine flair: Be warned, Salzburg is really a paradise for food fetishists!
The Mozartkugel: Round, sweet und typical for Salzburg
In Salzburg everything revolves around Mozart – and the Mozartkugel. While in Germany (and probably the rest of the world) people immediately think of the Mozartkugel in the famous red packaging, there are a few long-established confectioners in Salzburg who produce Mozartkugel according to their own recipes and, in some cases, completely handmade in Salzburg. The original Mozartkugel can be found in the Konditorei Fürst, whose head store is located at the Alter Markt directly opposite the historical Café Tomaselli, the oldest coffee house in Austria! But also the small Café Habakuk in the Linzergasse for example produces delicious Mozartkugeln, 100% handmade.
(Fun fact: Mozartkugel translates Mozart's balls in English – please use the German name, when you're in Salzburg :) )
Website Konditorei Fürst
Website Café Tomaselli (even Mozart's family drank coffee here!)
Website Café Habakuk
Salzburger Nockerln: The three Salzburg mountains
Salzburg is surrounded by three mountains, the Kapuzinerberg, the Gaisberg and the Mönchsberg – and if you can't remember this, you can simply order some Salzburger Nockerln at a local restaurant. At the latest after the sight of this icing sugar powdered soufflé monster on a cherry sauce you will remember it forever. Each Nockerl stands for a snow-covered local mountain. But be careful: Salzburger Nockerln are always served in only one size, allegedly for two people, but as a dessert they are sufficient for nine! Salzburgers are defintely not cheap with their food servings…
Translated with www.DeepL.com/Translator
K+K at the Waagplatz: Modern Austrian and International cuisine
A little more sophisticated, but with a down-to-earth, modern cuisine: at K+K am Waagplatz you'll find classics such as Wiener Schnitzel, but also vegan curries. Upstairs you will sit in a cosy, traditional setting with lots of wood, downstairs there's a newly renovated bar in the lovely wine cellar – warm and with lots of copper, a real dream!
The portions are not quite as spectacular as in other places, but they are of high quality and ingeniously prepared. I had a cucumber thyme panna cotta for dessert after a perfect Wiener Schnitzel – what a delight!
Seven Senses at the Hotel Stein
The Hotel Stein, founded in 1399, is the oldest hotel in Salzburg and has recently been completely renovated, with a lot of love for detail and lots of art (you will even find a sculpture by Sir Anish Kapoor in the hallway; after The Bean in Chicago I'm a fan of his work). Salzburg is also often described as the most Italian city north of the Alps, and a Venetian architect contributed to Salzburg's development in the 17th century. At Hotel Stein, this connection between Salzburg and Venice is being refreshed again by the motto "Salzburg meets Venice". I couldn't be any more excited when I had just been to Venice two weeks earlier and fell in love with this wonderful city.
Those who have the spare change should stay overnight here – the hotel concept is incredibly individual and beyond the usual hotel chain atmosphere in this price range.
Book your stay at Hotel Stein in Salzburg HERE!
If, on the other hand, you don't want to spend so much money on hotels, you can simply enjoy an Airone Spritz (an Italian bitter somewhere between Ramazzotti and Aperol, which is only available here at the Hotel Stein in Salzburg and surroundings!) and the wonderful view from the terrace of the hotel's own Seven Senses rooftop bar. You won't regret it!
Bärenwirt: Traditional atmosphere for hungry people!
One of the most traditional restaurants in town! Be prepared for huge portions and a lot of typical local food! I had beef goulash with a dumpling (don't ever forget to eat homemade dumplings whenever you're in Austria or Southern Germany!) – and the dumplings was the size of a football!
Augustiner Bräustübl at the Kloster Mülln
I grew up in the Ruhr area in Germany, a industrial region with lots of coal ovens and breweries. Beer always reminds me of home! On hot summer days I love a cool draught beer as much as a fine Aperol Spritz. I don't need to mention that I felt home immediately at the Augustiner Bräustübl. People drink from bucket-sized clay jugs, which they themselves fish from a shelf and hold them under running water so that the beer is kept cool. You can also buy food at one of the stands inside, there you can get everything from Leberkäse (a kind of meat loaf) to thin-sliced radishes (Radi) and sweet foam rolls (Schaumrollen) – or you can bring your own food from home, which I think is really ingenious. Only beer has to be bought here, otherwise you are welcome to have a picnic. The atmosphere in the beer garden couldn't be better: Young and old, locals and tourists, everybody is enjoying their delicious Augustiner beer.
Herr Leopold: A coffee house open on Sundays as well as all other days
Not so easy to find an open coffee house on Sundays beyond the usual tourist attractions. People from Salzburg love their coffee houses, but obviously not on Sundays. But fortunately, there's Herr Leopold. Foodies are thrilled with Strudel and Buchteln, fresh from the oven and bathed in creamy-warm vanilla sauce – and design junkies will love the stylish interior design.
Ludwig Burger: Amazing option for vegans!
Popular among young Salzburgers, you can get the best burgers in town here at Ludwig Burger. Everything is homemade, from the burger patties to ketchup(!). And the vegan mushroom patty is so good that even me being an absolute meat lover, was immediately convinced!
Pauli Stubm: Traditional and cozy!
Hidden away in a small old town alley, the Pauli Stubm offers real local cuisine!
Two houses further on is a night establishment, by the way, if you know what I mean… and I mention that because even such places here in picturesque Salzburg simply look pretty.
Café Würfelzucker: A place for Strudel lovers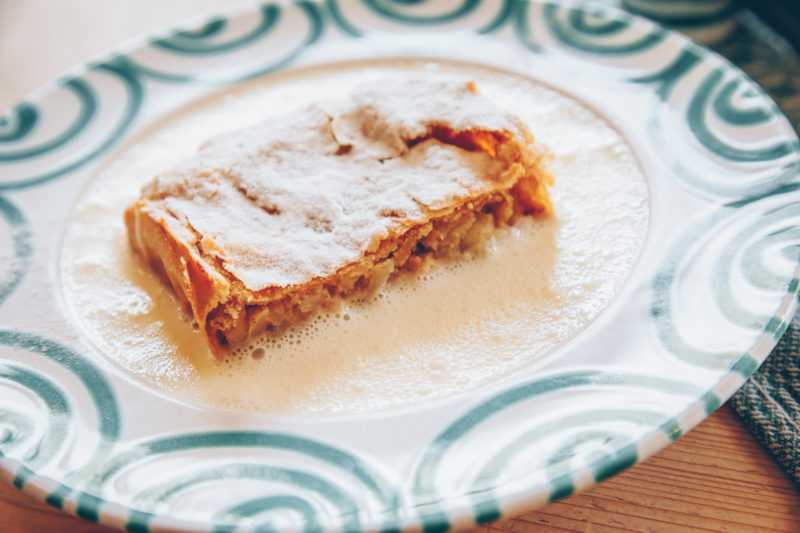 When in Austria, trying a good Strudel is a must! The tradtional one is filled with apples, cinnamon and raisins, but you can also get get them with other filling. It takes a lot of time to make a good Strudel dough by hand and unfortunately you only get industrially produced Strudel in a many locations. Therefore I highly recommend Café Würfelzucker, where all Strudel are hand-made! And they are so delicious! Order an Apfelstrudel with vanilla sauce and you will end up in Strudel heaven!
***
Have you ever been to Salzburg? What was your favourite food? Leave me a comment!
* This article contains affiliate links. If you book or buy something through these links I get a small comission which helps me to maintain this blog. There's no further cost for you and I'll be grateful for your help! Thanks!

** TSG Tourismus Salzburg GmbH in cooperation with fraeuleinflora.at kindly invited me on this press trip.