I'm probably the perfect tourist. From an economic point of view. Wherever I go, I'm visiting the most overcrowded and most obvious tourist traps. As long as they are only among the top 10 must-see sights. At all costs. Ballooning in Mexico? (Really unique!) Forty dollars for a visit to the Top of the Rock in New York? (Dream. Best sunset ever.) I don't care. You only live once, YOLO. And who knows if I'll ever come back? So I always give in and pay for the most ridiculous activities, even if my wallet says it's not worth it.
It's a form of acute FOMO: Fear of missing out, the perpetual fear of missing something. In travel guidebooks, I always open the top 10 pages first, and then I plan my visit more or less in a way that I'll see the most important sights, like in Barcelona.
Barcelona as a perfect city trip?
I've actually been a few times to Barcelona, but my last visit was so long ago that I decided it was time for a complete sightseeing tour. In my memory Barcelona was this energetic city full of sunshine, joie de vivre and the best pickpockets in Europe (I still remember too well a tearful visit to a police station packed with other victims). Also, Barcelona is easy to reach for a few days and quite affordable at the same time. Well, I should be proven wrong.
Sagrada Familia: Barcelona's most popular landmark (and eternal construction site!)
How your memory can fool you: Even in January, Barcelona is crowded at the touristic highlights. And don't get me started on the prices! I would have loved to see the Sagrada Familia from the inside again, Gaudi's eternal construction site (While here in Berlin everybody's laughing about our BER airport: take a look at Barcelona's Sagrada Familia! It's under construction for over 130 years now! ) The Sagrada Familia is THE landmark in Barcelona. A cathedral, unlike anything before. An architectural work of art. So I had a plan: To climb one of the towers at sunset and see Barcelona in the soft light of the evening sun.
The only problem: You habe to buy your ticket for the popular sunset time in advance, they sell out quickly even in low season. And worst part, if you manage to get a ticket it will cost you 32 Euros! Even I was shocked and couldn't get over myself and spend that much money on an admission for a church. So I stayed outside and admired the Sagrada Familia in Barcelona from the outside only. Something you just have to say no. For those of you who still want to visit, here are some helpful informations for your visit: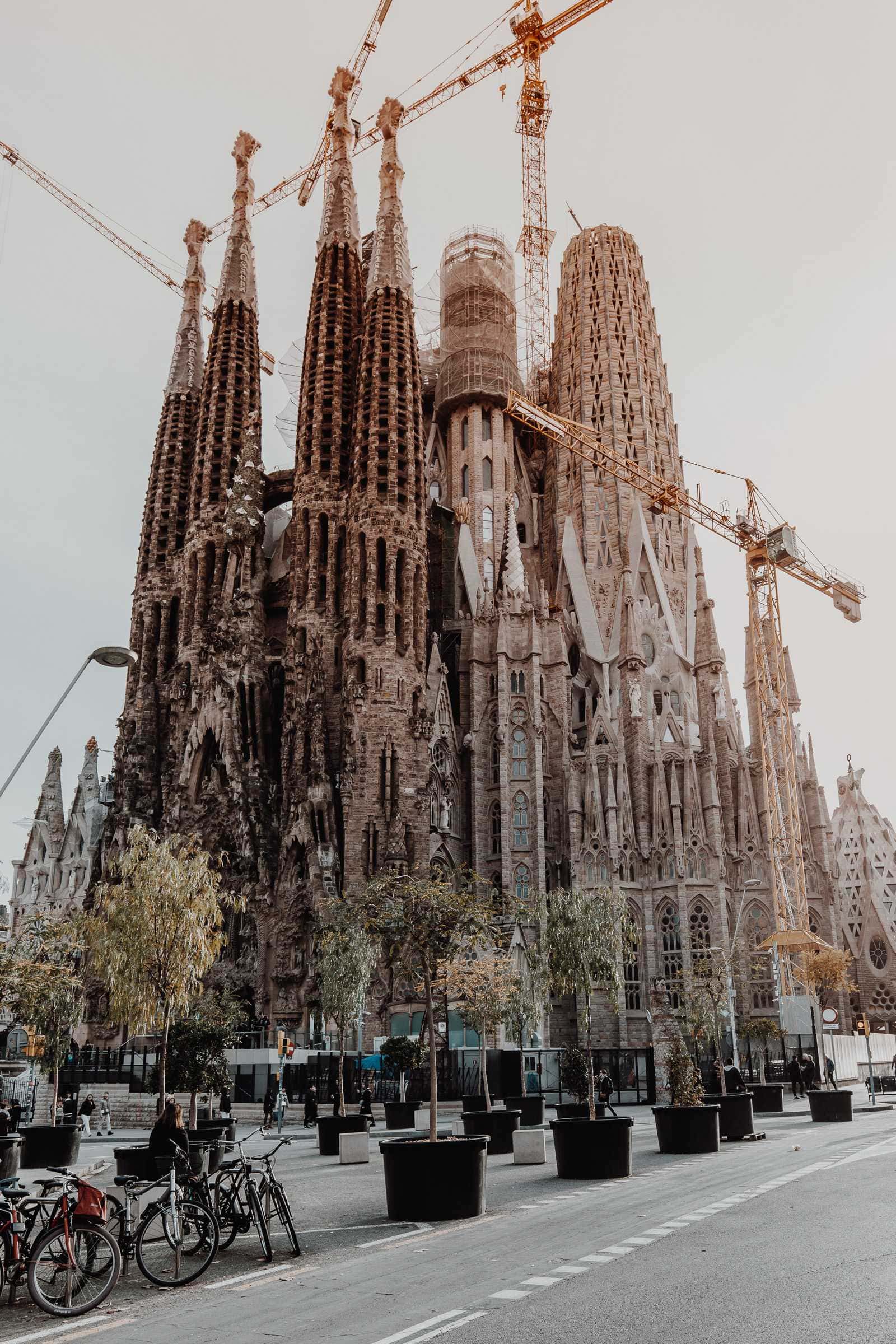 Your visit to the Sagrada Familia: Admission & Helpful information!
It is absolutely necessary to buy tickets online for the desired time beforehand. Also in the low season!
Best times are in the morning (less busy) and in the afternoon/evening at sunset. The soft light shining through the enormous glass windows gives an amazing glow and the view over Barcelona from the towers during sunset is a photographer's delight.
When you buy a ticket, you have to choose which of the two open towers you want to visit!
Tower on the Birth Facade – This side of the cathedral was designed during Gaudí's lifetime, so it's a Gaudi original. And you can enter the bridge between the towers.
Tower on the Passion facade – This tower is higher and offers an unobstructed view of the city. This side of the cathedral was built after Gaudí's death. For the most part, however, this tower is perceived as the "better" one.
If you only want to visit the cathedral, you can also buy a single ticket for 15 Euro without ascending the tower.
Pin this article on Pinterest: