Pontiac was another stop on our road trip along the legendary Route 66 through Illinois. It might seem another quiet town in the Midwest at first, but this is the place to be if want to indulge in the full Route 66 adventure! At the local Route 66 Museum you will be able to discover the full load of history of the legendary Route 66.
Along the Route 66 everybody has their own personal Route 66 story to tell and Pontiac was no exception. Although Route 66 has long time been replaced as an official route by modern interstate highways, it still holds a special place in the heart of many people. I loved chatting with the locals and hearing their stories! In my article I'll give some ideas of what to do in Pontiac, Illinois, on your Route 66 road trip!
Pontiac, Illinois: Route 66 Association Hall of Fame & Museum
The Route 66 Museum is the landmark in Pontiac that you definitely have to visit on a Route 66 road trip in Illinois. So many memorabilia, photos and exhibits about life on Route 66 have been gathered here that you will think you have entered a time machine. I would have been able to wander around here for hours!
Walldogs: Street artists of the first hour
A special highlight: In the courtyard of the Route 66 Museum you will find impressive murals! These murals are supposed to reminisce the Walldogs. Back then, that's how the artists who used to paint shops, billboards and walls with creative advertising messages were called! Today, Pontiac is trying to bring this tradition back to life, with the most beautiful Route 66 Murals throughout the city.
Looking for more inspiration? In my blog you will find more articles from the land of the free!
Photo op: The most beautiful (and absolutely instagrammable) mural is located at the back of the Route 66 Museum! The intricate Route 66 mural emblem is legendary!
You will find the complete route for a Route 66 roadtrip through Illinois here!
Bob Waldmire: My Route 66 Hero
Even before digital nomads and vanlife came into existence, Bob Waldmire (1945-2009) went his own way. In his van, he spent half his life driving up and down Route 66, writing stories, drawing and illustrating. His yellow Volkswagen van, which can be found today inside the Route 66 museum, even served as the model for Fillmore from the Pixar movie "Cars "! Bob's illustrated Route 66 maps are still up to date today more than ever and definitely a great souvenir to buy in the museum shop.
An even greater souvenir, however, is the attitude to life that makes Bob Waldmire such a fascinating person: I have been so impressed by his passion for a life according to his ideas, away from the ordinary and in complete freedom.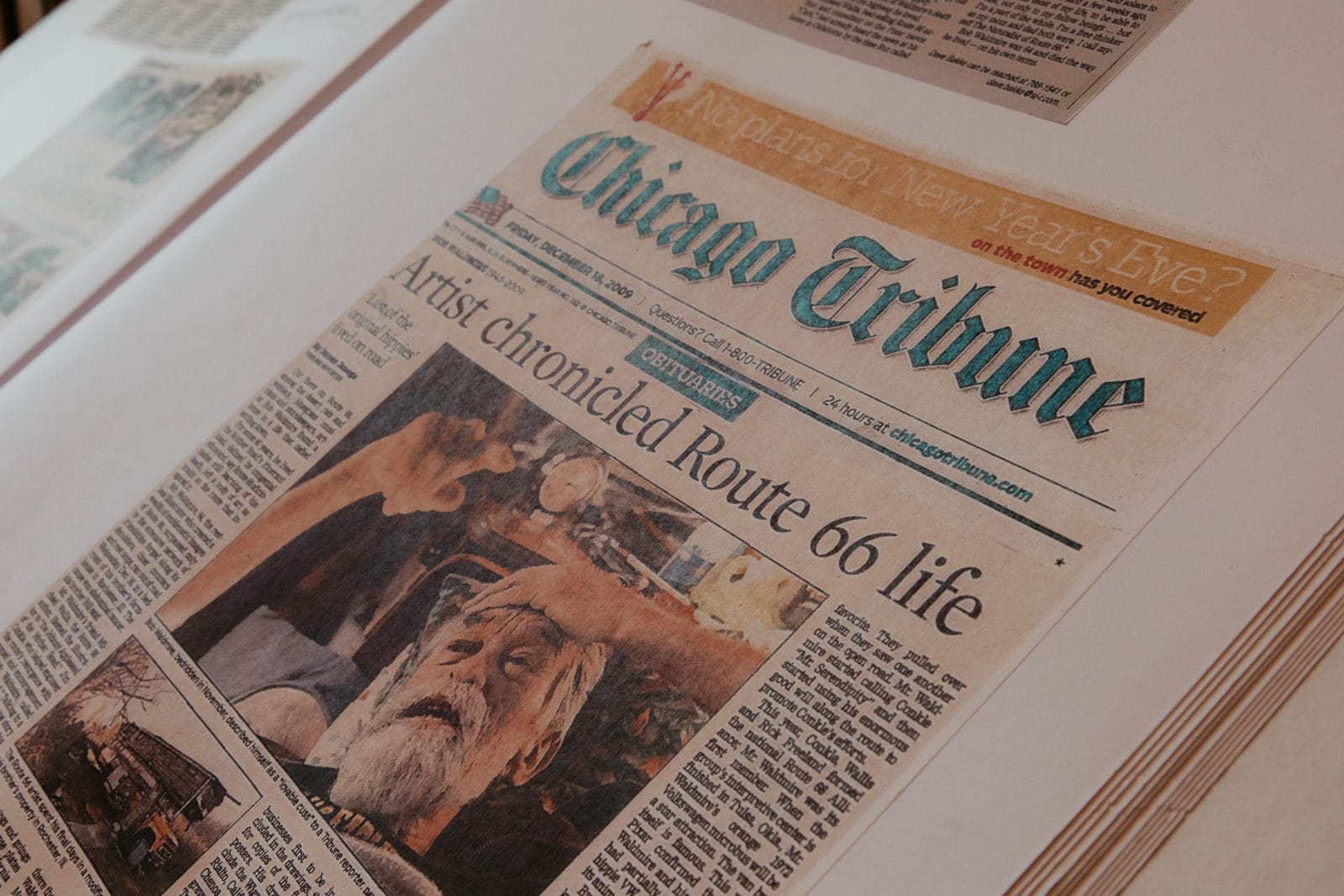 When he wasn't travelling, he lived in a converted school bus, which was mostly parked somewhere in his home town of Springfield, Illinois. (Click here for my travel guide for Springfield, Illinois!) The school bus is now parked in the courtyard of the Route 66 Museum – completely furnished, like Bob Waldmire left it An impressive collection of art works and souvenirs through several decades on Route 66.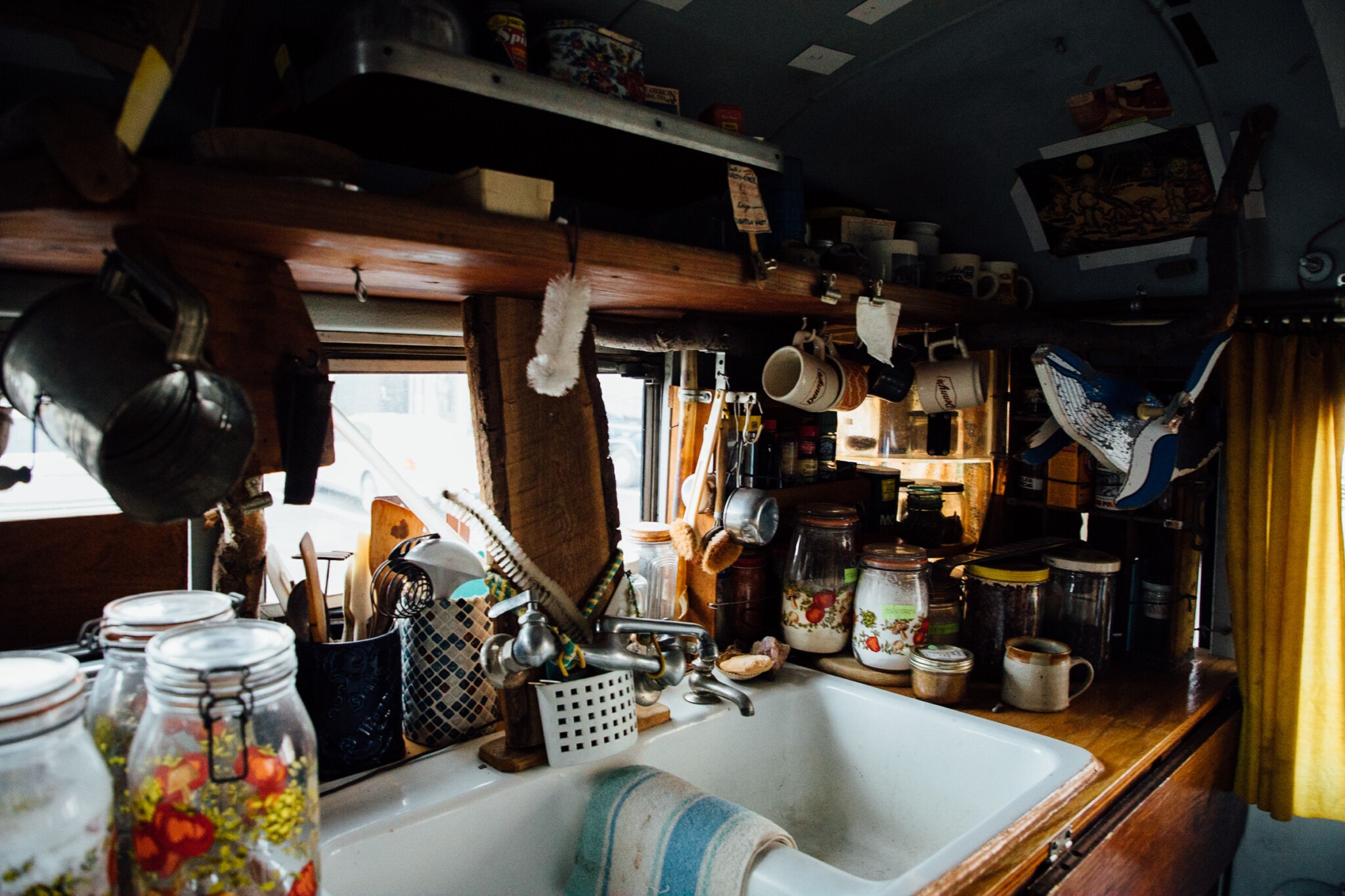 Fun Fact: Bob Waldmire was the son of Ed Waldmire Jr., founder of the legendary Cozy Dog Drive-In in Springfield, Illinois! Here you can try the famous Cozy Dogs as well as buy some of Bob Waldmire's art work.
Museum of the Gilding Arts & Pontiac-Oakland Automobile Museum
Although Pontiac is named after an Indian chief and not after the well-known US car brand, there are still lots of Pontiac vintage cars to be seen next door at the Pontiac-Oakland Automobile Museum.
Not far away is the Museum of the Gilding Arts – at the end of the 19th century the production and refinement with gold leaf was very popular and here in the museum you will learn more about this technique.
All three museums (Route 66, Gilding Arts and Automobile Museum) are free of charge, but donations are welcome.
Food & drinks in Pontiac
Italian cuisine in huge portions can be found in Bernardi's, probably the best Italian in town.
Great coffee shop, which also serves as a meeting point in town: At The Cup and The Scone you will find yourself at home immediately.
All locations are within walking distance, so just park your car and explore the city by foot!
***
Link tips
***
All articles on Route 66 in Illinois

*Press trip on invitation by Enjoy Illinois. Thank you for this opportunity!

**This article contains referral links. If you book or buy something through one of these links, I get a small commission. This will help me run this blog and continue to provide free information, reports and tips. There are no extra costs for you – but you get lots of good travel karma! Thank you so much for your support!