Positano is one of the famous villages of the Amalfi Coast. Other spots may be also beautiful like Amalfi or Ravello, but Positano is one of a kind. There's something special about this little village with its numerous houses on the hills surrounding the small bay of Positano. It's also probably one of the most popular spots of the international jetset in Italy! In this article, I'll give you some helpful information for your visit and I'll give you some hints to get the perfect Instagram shot!
Positano is the highlight of the Amalfi Coast in Italy!
Positano, that is the small Italian coastal village with the pretty little houses that frame a bay on steep slopes. On the Amalfi Coast, Positano is probably the most famous place and the highlight of any trip through the region. The journey to Positano is adventurous: The coastal road, known as the Amalfitana is narrow and consists almost only of narrow curves!
The Instagram Hotspots in Positano
To be honest, I'm not a big fan of Instagram hypes. But as we were travelling along the Amalfi Coast anyway, I had to check out, what the hype about Positano is all about. You might have noticed all the posts as well: Positano has always been an attractive destination, but it really gained even more popularity with Instagram. We were there in late fall, so there was no more beach weather. We were also lucky, that it didn't rain that much during our stay, but it still was a little cloudy. So imagine all these photos in sunshine, during summer, when the colours pop out even more!
#1 Fornillo Beach & Positano Beach
Positano has two beaches. But to be frank, don't expect much, if you are a real beach lover and dreaming of perfect white sand beaches. Both beaches are quite small and the sand is more dark brown than white. Renting deckchairs and umbrellas is very expensive. But the view around on the houses of Positano is amazing! The beach right next to the city centre is called Positano Beach. The second, Fornillo Beach, is more quiet and less crowded (but also more difficult to reach, especially when you're only spending the day in Positano).
Have a cocktail at the Blu Bar and enjoy the spectacular view from their terrace!
Read more articles about Italy
#2 Church of Santa Maria Assunta
The Church of Santa Maria Assunta can be seen from almost everywhere in Positano. The dome is fully covered with colourful majolica tiles.
#3 Viewpoint in Positano: Restaurant Il Capitano
Go to the Restaurant Il Capitano to have a fantastic view over the bay of Positano! If you don't want to spend money: You'll also have a good view from the road above.
#4 Instagram Hotspot in Positano & Lunch Spot: Casa E Bottega
It was pure conincidence when we found the Casa E Bottega, a perfect lunch spot in Positano. And by the way, very instagrammable, too! It's hard to find a decent place to eat in Positano, as there are a lot of overpriced tourist traps. On the other hand, there are many high-end restaurants, which are good, but out of our reach. So we felt really lucky having found this little gem! Prices are okay, the quality even better and the interior is so dreamy! There are also some vegetarian and vegan options.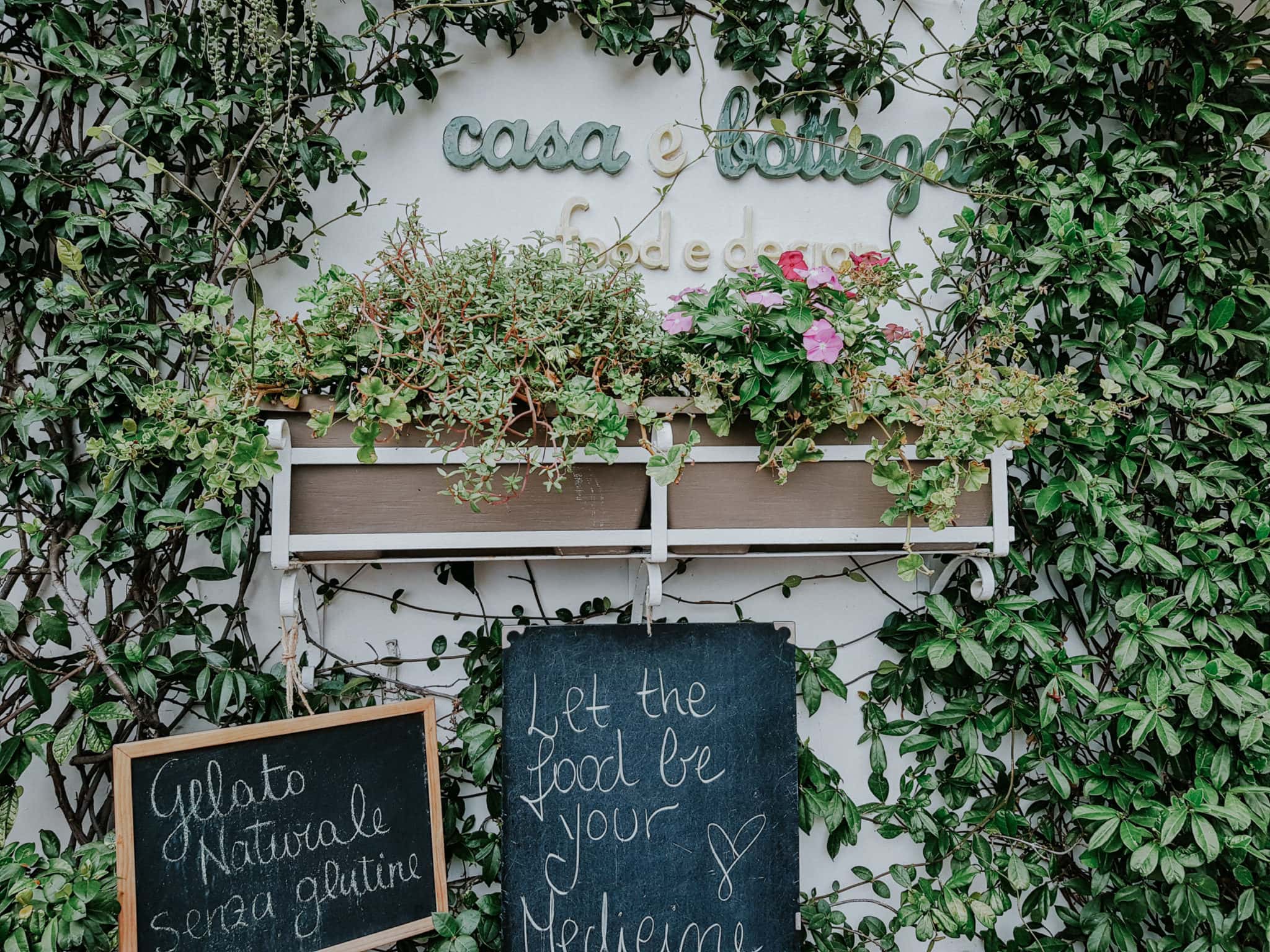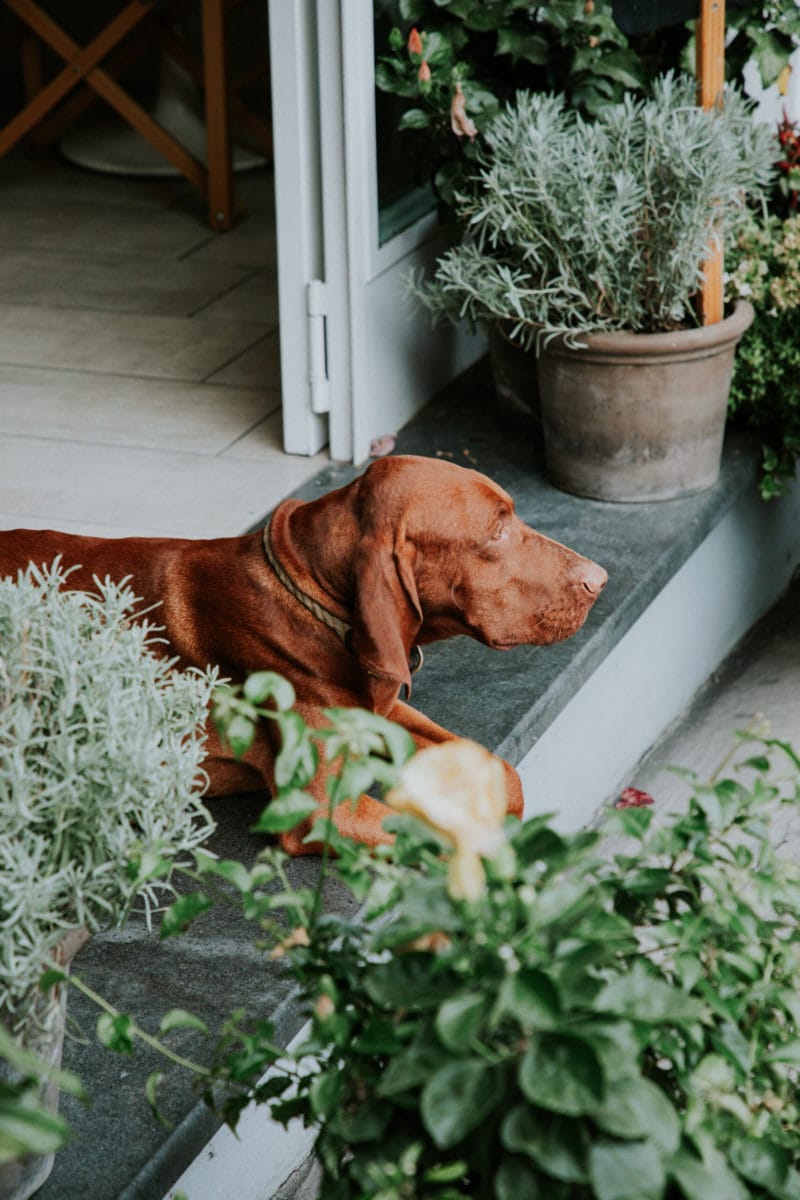 #5 The Streets of Positano
Don't wear high-heels, if you are visiting Positano! You'll probably have to walk and climb a lot of stairs! But the picturesque streets of Positano are totally worth it: You'll find wonderful Instagram motives at almost every corner!
Helpful information for your trip to Positano
Hotels in Positano
Positano is really a lovely village. However, it's definitely very pricy and spending a few days here will cost you a small fortune. Hotels are hard to find in high season. Book as early as you can to get the best rates! If you get here by rental car, you should also pay attention if your hotel has a parking lot (which are rare in Positano) where you can leave your car.
Getting to Positano
You have several options to get to Positano:
the public bus SITA (with stops all along the Amalfi Coast, but it can get very crowded, especially in high season)
by ferry from e.g. Capri, Sorrento or Amalfi (schedule depending on season)
by rental car (my recommendation for the Amalfi Coast!)
by organized tours, e.g. from Naples
Next airport is Naples International Airport (NAP), with many connections to other European airports, ca. 1 1/2 hour drive away.
Click here to find a cheap flight to Naples!
***
Interested in Naples and the Amalfi Coast in Italy? Read more here:
***