Actually, I had no idea at all about Pompeii. The city on the Gulf of Naples was completely buried during the great eruption of Vesuvius in 79 BC. under lava ash and has been rediscovered in the 18th century only. Pompeii is really huge and the excavations endless. Without a plan, you don't even know which houses and interesting places to look at first! Which sights in Pompeii you should definitely go to, I'll show you in my article.
Sights in Pompeii: must-see from Naples.
Admittedly, archaeology is not my biggest area of interest. But I've been to Naples umpteen times, not once of them to Pompeii, and Naples without Pompeii – that's almost a travel faux pas. Should be different this time. Besides, we were on a big mother-daughter trip and really wanted to take everything with us. Also Pompeii.
Pompeii: Best with a plan.
"Your best bet is to start in the Roman Seven quadrant, then Roman Eight, and then further back are the mummies," said the cashier at the entrance, pointing to an itty-bitty portion of the huge map of Pompeii spread out before us. It was already half past three in the afternoon, the search for a parking lot before adventurous and actually every guidebook says: For Pompeii you need a day. I can only confirm this now. Not only because of the size, but also because of the overwhelming impressions. We actually only saw the part with the most important excavations, but that is fascinating enough.
First of all: Pompeii really impressed me. It is hard to grasp how advanced people were living 2000 years ago. The sheer size of the city, the preserved streets and buildings, are also hard to grasp and one vacillates between disbelief and amazement when imagining Pompeii at that time.
Pompeji war in der Antike eine blühende Handelsstadt am Golf von Neapel
completely buried in 79 A.D. under volcanic ash after an eruption of Vesuvius
1500 years later the first remains were rediscovered
only around 1800 began serious archaeological excavations
today two thirds of the former city area have been excavated
nach dem Kolosseum in Rom steht Pompeji an zweiter Stelle der meistbesuchtesten Attraktionen ganz Italiens
The Forum: Marketplace and heart of the city
This is where the streams of visitors will automatically lead you: The Forum is the center of the city, so to speak. Interesting are also the former granaries on one side of the forum, where today archaeological finds are kept.
Cave Canem in Pompeii: The Dog in the Casa del Poeta Tragico
Das Haus des tragischen Dichters zeigt eines der bekanntesten Motive aus Pompeji. Ein filigranes Fussboden-Mosaik im Hauseingang, das vor dem bissigen Hund warnt: Cave Canem (lateinisch für "Achtung Hund"). Ein ähnliches Mosaik aus einem anderen Haus ist im Archäologischen Museum in Neapel zu sehen. Die Menschenauflauf lässt ahnen: Eine der beliebtesten Sehenswürdigkeiten Pompejis.
The theater of Pompeii
Actually we wanted to visit the amphitheater at the other end of Pompeii, but our feet didn't carry us that far. The area is really huge. For that, the Grand Theater is also quite impressive.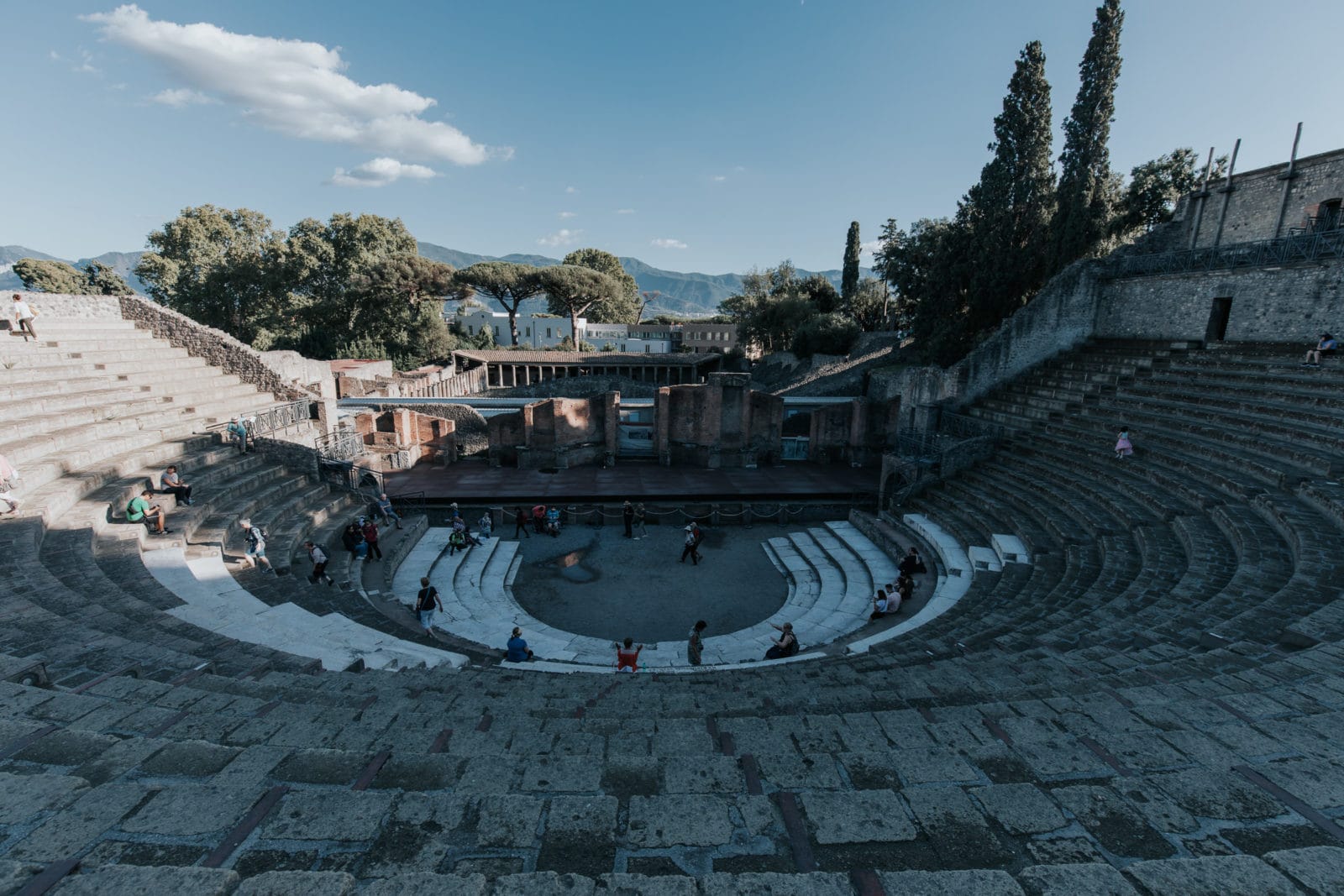 The mummies of Pompeii
No idea why the cashier always talked about mummies. But somehow it also sounds more reverent than the expression "corpses" of Pompeii, which is also sometimes used. In fact, some inhabitants of Pompeii were surprised by the eruption of Vesuvius and were buried on the spot by volcanic ash and rocks. Contrary to popular belief, some of Pompeii's inhabitants had already fled before the great eruption.
After a strong earthquake in 62 AD. with major damage, Pompeii was still half a construction site anyway and the volcanic eruption announced itself days before. During excavations, cavities were then found within the rock containing human remains and filled with plaster. Human outlines appeared, some of them in the middle of performing activities. The Orto dei Fugaschii (Garden of the Fugitives) contains the largest number of victims found in one place.
Taking photos of it, I did not feel like it. But there are a lot of beautiful impressions – that Pompeii will impress me so much, I would not have believed before.
Looking for more travel inspiration for Italy?
➜ Then click here to go to all Italy travelogues!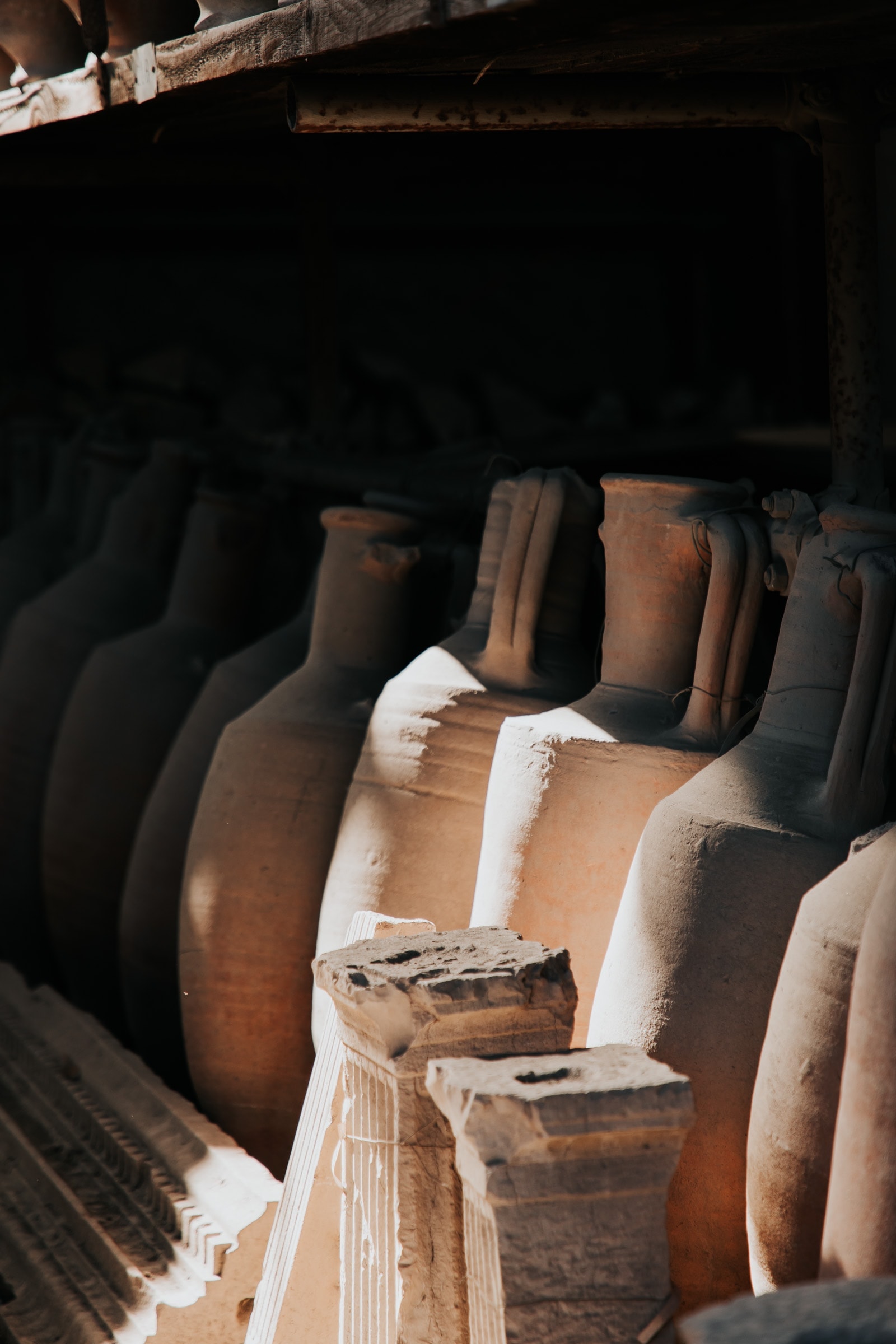 Best time to visit Pompeii
How you can even visit Pompeii in high summer is a mystery to me. Even during our visit in the cooler month of October, the sun shone particularly hot in Pompeii. The location on the hill, many open spaces and the massive stones everywhere quickly heat up the excavation. However, in bad weather and rain, I imagine the ancient road surface of thick cobblestones also quite slippery. So we were very lucky with our sunny autumn day and had the best Pompeii weather. In summer, the sun is said to be merciless. The volume of visitors is also a challenge, even in the off-season: we struggled to always find the right slot between two tours at each house.
Practical tips for visiting Pompeii
Tickets for the excavations in Pompeii
Pompeii can be expensive: Admission alone costs €15. However, there are a number of discounts or even free admission for young adults, journalists, teachers, lecturers, students of relevant faculties. Admission is also free for children and teenagers under 18! I thought that was great. Unfortunately, neither of us fell into any of those categories.
Tip: Save yourself long queues and buy your ticket in advance! Buy ticket for Pompeii online*
Audio guides
Audio guides are available separately, and given the dimensions and historical background, a great thing – if they worked. The audio guides are stored on old smartphones, which supposedly have a battery life of four hours. Alleged. Onert of the two lasted only half as long with minimal use. At 15€ for two audio guides very sad. The audio guides for Pompeii are available only at the entrance Porta Marina. For the rest, however, I was so flashed by everything that I had no capacity left to listen to an audio guide. If I had more interest, I would probably still prefer to use a tour guide.
Without a map you are almost lost in Pompeii: Here you can download the official map of the excavation site
What clothes you should wear in Pompeii
You can already guess: sturdy shoes are required. And real solid. Preferably shoes in which you do not slip much. Despite comfortable sneakers, our feet hurt in the end. On the huge cobblestones you run namely uncomfortable than you might think. Thicker soles with some grip are very handy! Sun protection such as hat, sunglasses and sunscreen are advisable to essential depending on your sensitivity.
Pompeii parking
We finally ended up in a restaurant parking lot that takes 3.50 euros per hour. This was about a 5 minute walk from the Porta Marina entrance. However, I have not seen cheaper alternatives at a comparable distance.
Arrival by bus and train
Relatively comfortable you can get to Pompeii with the Circumvesuviana railroad lines. Had we not had the rental car for our further trip anyway, this would probably have been the better alternative. The Circumvesuviana Naples-Sorrento stops at Porta Marina (stop: Pompei Villa dei Misteri), the Circumvesuviana-Poggiomarino stops at the entrance Piazza Anfiteatro (stop: Pompei Santuario).
But from Naples you can also book complete packages, tour guide and travel included:
Stay overnight in Pompeii
Pompeii is only a 40-minute drive from Naples. If you want to spend the night closer to Pompeii, e.g. because you want to get to the area at 9 a.m. or because you are on the way to Sorrento or the Amalfi Coast, a stop in the neighboring Castellammare di Stabia is a good idea. Accommodation prices are a bit lower here, and yet in this authentic little town you will find a nice beach promenade and a cable car that goes up to Monte Faito.
➜ O ur B&B in Castellammare di Stabia*(very well maintained and central)
More tips for Naples:
City Guide Naples: Sights, tips and the best locations!