Paris is such a fascinating place and one of my favourite cities in the world: The imposing Eiffel Tower, the old Parisian buildings decorated with intricate details, drinking café au lait at a bistro table by the side of the road and the flair of a world city steeped in history! But the city is huge, the most beautiful sights give each other a hand and if you're there for the first time you might be overwhelmed with all the places to see! Getting to know Paris in one day (and then mostly on foot) might seem like an impossible mission to you, but I'll show you how to get the most out of your short trip or weekend in Paris if you only have little time!
Best tips at a glance:
➜ Affordable accomodation in Paris*
➜ If you're not up to walking: Paris by the Hop On Hop Off bus*
How to see Paris in one day
For a long time I had my first overnight stay in years in Paris. It was early summer, and the day couldn't have been better: By now, stores and restaurants were open again, and Paris had its lively city life largely back. I wanted to see a lot of Paris in this one day: Enjoying the city, soaking up the flair and gather a bit of inspiration. My sightseeing plan was ambitious, I was highly motivated and willing to check off a long list of places I wanted to see again or get to know anew. But in the end everything should turn out differently!
The Eiffel Tower: The most important sight in Paris
I didn't leave the hotel until early noon, so I even had a little less than a day in Paris. But if you have a full day in Paris, I advise you to start the morning at the Eiffel Tower. Especially if it's your first time in Paris! After all, the Eiffel Tower is still the most important sight of the city! And in my opinion it's the most impressive one! I've been to Paris many times, and the Eiffel Tower gets me every time!
You should definitely go up, and right to the top, of course to enjoy the full view over Paris!
Note: The Eiffel Tower is very popular! Especially, if you have little time:
➜ Book your ticket for the Eiffel Tower in advance!*
A day in Paris: Around the Arc de Triomphe
From the Eiffel Tower, you can then walk across the Pont d'Iéna to the other side of the Seine. At the Trocadero, you'd better take the metro for a few stops to Place Charles de Gaulle; you'll definitely walk enough, as I did. The metro stations can be real mazes, but the Paris Métro is so fascinating! For that reason alone I always enjoy riding a few stations in Paris. (For tips on riding the metro in Paris, see below!)
Take line 6 to the Charles de Gaulle Étoile station.
Try to find the right exit here, because the station is huge and you can exit at pretty much any entrance to the star-shaped Place de Charles de Gaulle. I can't remember which exit I took exactly, but look for signs towards Avenue de Champs-Élysées/Georges V!
Once at the top, you'll see one of the most popular landmarks of Paris: the Arc de Triomphe.
Strolling on the Champs-Élysées
This is where the famous Avenue des Champs-Élysées begins, and even if you don't like shopping: The huge flagship stores here are a class of their own, and long-established french brands such as Guerlain turn their window displays into veritable works of art.
By the way, at the end of Avenue de Champs-Élysées you'll find Avenue Montaigne, the street in Paris with the most famous luxury brands. This is also the street, where Marlene Dietrich spent her last years in her Parisian apartment! If you want to feel a little more glamorous, take a detour here. The many great storefronts alone are worth it!
Place de la Concorde
You'll walk on the Champs Élysées towards the Place de la Concorde with the Obelisk de Luxor at the end. For the last bit I took the metro, but there are also some buses.
Jardin des Tuileries
Actually, I wanted to go straight to the Louvre, but I eventually got off at Place de la Concorde and walked through the Tuileries. It's quite a walk, but the Tuileries are such a beautiful oasis in the middle of bustling Paris!
Louvre, the pyramid & Mona Lisa
By now, at the latest, you're already blown away by pomp and history; and then suddenly you're standing right in front of the famous Louvre! This place was exactly what I needed, when I arrived in Portugal! If you have a little more time (and are a bit interested in art), you should visit the Musée du Louvre. Da Vinci's famous Mona Lisa in real life is absolutely worth it! But also otherwise the collection is incomparable.
➜ Buy Louvre ticket here in advance*.
Unfortunately, such a visit takes time, and with only one day in Paris, a visit to a museum will probably interrupt your plans. Which is especially unfortunate in Paris with all of its fantastic spaces. If you have more time, check out the Louvre as well as these amazing museums: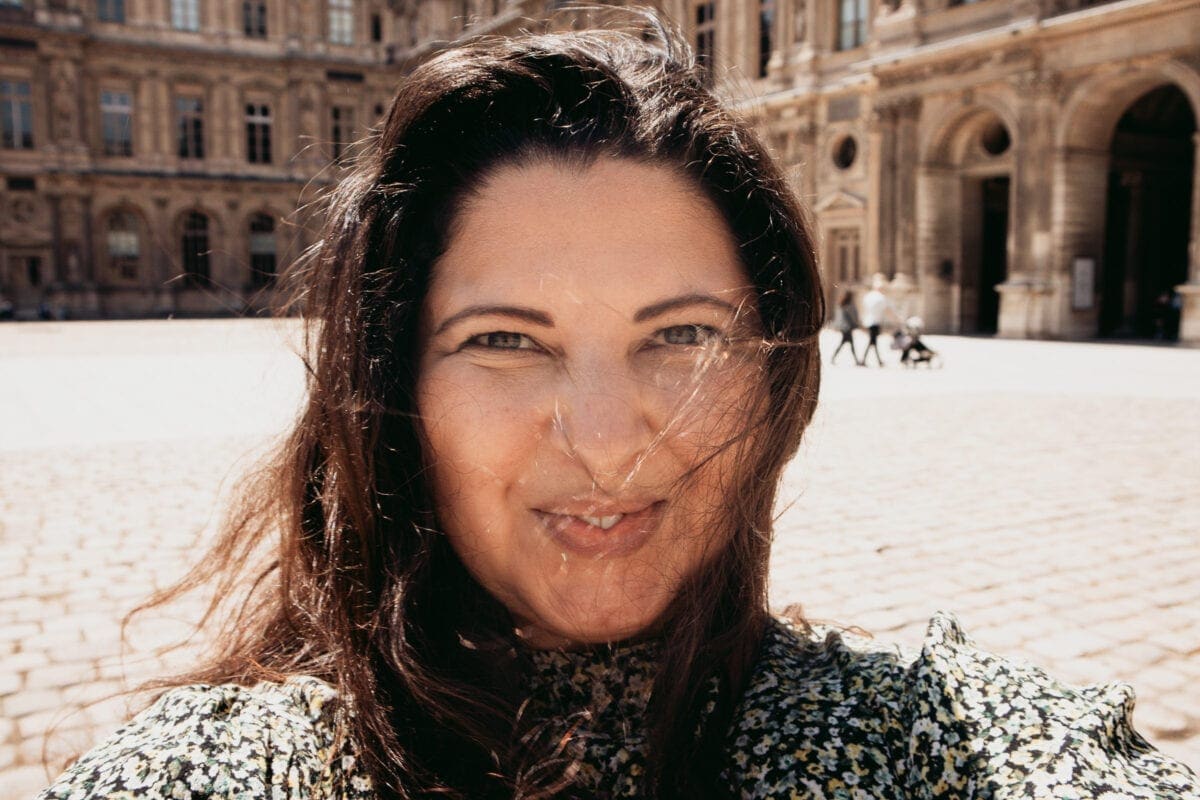 Seine & Quartier Latin
Behind the Louvre you can cross the Pont des Arts. Enjoy the view over the Seine from here! Along the shore you'll continue towards the Latin Quarter. The next bridge, by the way, is the famous Pont Neuf, the oldest stone bridge in the city.
At some point, the first bouquinistes will appear, the famous booksellers with their cute stands along the Seine. This is where you will find a great selection of antiquarian books, illustrated books and prints.
The Latin Quarter is the traditional student and nightlife district of Paris. This district is full of restaurants, cafés and bistros. But be careful, the Latin Quarter is also quite a tourist trap. If you've followes the whole route up to this point like I did, you'll be probably starving right now and you won't care which bad tourist place you end up in :) Therefore, avoid the Rue de la Huchette and try your luck in the side streets.
By the way, I also discovered a Shiso Burger restaurant here, that seemed pretty similar to the ones in Berlin – maybe try it there for fresh burgers with an Asian twist:
Notre Dame & Île de la Cité
Take the Pont Saint Michel over to the Île de la Cité,the big island in the middle of the Seine – and by the way, from here you have a fantastic view of the Notre Dame Cathedral (which unfortunately still has to be renovated for some time after the terrible fire and can therefore only be visited from the outside).
I took a small break at the Brasserie Les deux Palais. to sip a Café au Lait in style like a real Parisian :) Mission completed! Highly recommending this place if you are looking for a authentic Parisian brasserie.
Tour Saint-Jacques
Then, on the other side of the Seine, I stumbled into a total gem. And got a teeny bit annoyed, by the way, that I hadn't planned a picnic, like so many others who were enjoying their Saturday afternoon here. Around the Tour Saint-Jacques, there is a small green park, the Square de la Tour Saint-Jacques, with many trees. Perfect for a quick stop!
Marais Quarter
I could have spent the whole day in the Marais: Strolling, drinking coffee and looking at gorgeous people. The Marais is the Jewish center of Paris, and here there are lots of exciting stores, the streets are bubbling over with neighborhood life, and Paris is exactly how I always imagine it to be.
I've put together a few tips for the Marais district:
Chanel Beauté Marais small boutique by Chanel, with beauty products only!
Laize Bubble Tea Shop for minimalists
Mariage Frères a Parisian tea house classic!
Ending the day in Paris
If I hadn't got lost in the bustling Marais, I would have actually gone up to Montmartre for sunset. If you've been to the Eiffel Tower, you've already seen Paris from the top – which in my opinion, is an absolute must-do! But the sunset atmosphere at the Sacré Coeur Basilica on Montmartre is something special!
So if you have more time and your feet aren't burning too much, you should set off from here in the direction of Montmartre. Take one of the metro lines heading north and then change to line 2 to Anvers station. From there, it's just a short walk to the Funiculaire Montmartre, which takes you up to the bright white basilica with its pretty towers and the most beautiful sunset.
Tips for a short trip to Paris
How to get there
As I was on duty, I arrived by plane. With a huge international airport like Paris Charles de Gaulle nearby and one like Paris Orly a little further away (this is where mainly budget airlines arrive), you'll find a great selection of direct flights even from overseas.
But there are also great connections from Germany with the French TGV high-speed train. From Cologne, Frankfurt or Stuttgart, for example, you can arrive in the middle of Paris at the Gare de l'Est in less than four hours!
Getting from Germany to Paris by train
Public transport in Paris
Travelby bus and métro within Paris is so easy! The metro stations are sometimes like a whole city under the city, but you can get everywhere pretty quickly.
I bought a day pass,but this is actually not necessary. The advantage of a day ticket is simply that you don't have to queue up at a machine every time. But since I really walked a lot, single tickets would probably have been cheaper.
Tip: At the ticket machines you will first see the day ticket for tourists. Except for a few perks that no one really needs, it's nothing more than a normal day pass, but it will cost you a few euros more. Just scroll one page further and you will find the normal day ticket for 10 euros.
Info & timetables for Métro, RER, buses etc.
Attention: The Paris Métro can be a pain in the ass if you don't know your way around the stations. Getting lost is sometimes quite time-consuming, and the paths to the actual line are often long as well. It's definitely more comfortable to travel above ground, and if you're not quite as adventurous, just take a hop-on hop-off bus. Yes, I know they are touristy and expensive, but in cities like Paris it's just worth it, especially since you stop right in front of the main sights and don't have to worry about anything as far as changing trains, etc. And you just save precious time.
➜ Buy your ticket for the Hop-On Hop-Off bus in advance*
Food & Drinks
Paris is an expensive city, and eating out can be challenging if you are on a budget. Stay away from tourist traps, where you'll find mediocre food and bad-tempered waiters who will spoil your trip to Paris. But otherwise, like any big city, Paris is full of great locations just waiting to be discovered.
Where to stay in Paris
This time I was in Paris on duty, so fortunately, I didn't have to worry about accommodation. After all, that can sometimes be adventurous there, especially if your budget is limited.
➜ Find cheap accommodation in Paris here*.
Map for your short trip to Paris
On this map, you will find all locations! Download it on your phone to have it with you while you're visiting!