Paraty is located between Rio de Janeiro and Sao Paulo in the middle of the thicket of the Mata Atlântica: a small tropical paradise with a great colonial flair! Quite a few on Brazil trip simply get stuck in Paraty. In the surrounding area there is everything from dreamlike beaches to jungle adventures between waterfalls and mountain streams – and the old town of Paraty is magically beautiful!
Paraty, Brazil: Relaxing with colonial architecture
Despite tourism, the old town has retained its relaxed character. Time seems to stand still. In the picturesque old town one feels like being taken back one hundred years, to the old Brazil under Portuguese colonial rule.
---
Are you looking for more information on Brazil? Click here!
---
Horse-drawn carriages rumble leisurely over the huge cobblestones (high-heels can stay right here at home!) and today transport tourists on sightseeing tours. Almost the entire old town centre of Paraty is very well preserved, and since the mid-1950s Paraty has been a UNESCO World Heritage Site. Many of the formerly neglected houses were bought and restored by well-heeled Brazilian entrepreneurs and personalities. In one house even the descendant of the last emperor of Brazil, Dom Pedro II, lives in the middle of it all and without any pomp.
Tip: Every morning, a free walking tour starts at the Praça da Matriz that leads you to all important places of the old town. (Portuguese & English)
Nightlife & Shopping in Paraty
In the evenings, life comes to the otherwise tranquil old town: shops sell really nice souvenirs, no two shops are alike and there are so many handmade, original pieces from plates to hammocks that you can't get enough of them. Paraty has style, no question.
Livraria das Marés – Small bookstore with selected assortment, many illustrated books about Paraty and Rio, also English literature and a cozy café in the backyard. Insider tip!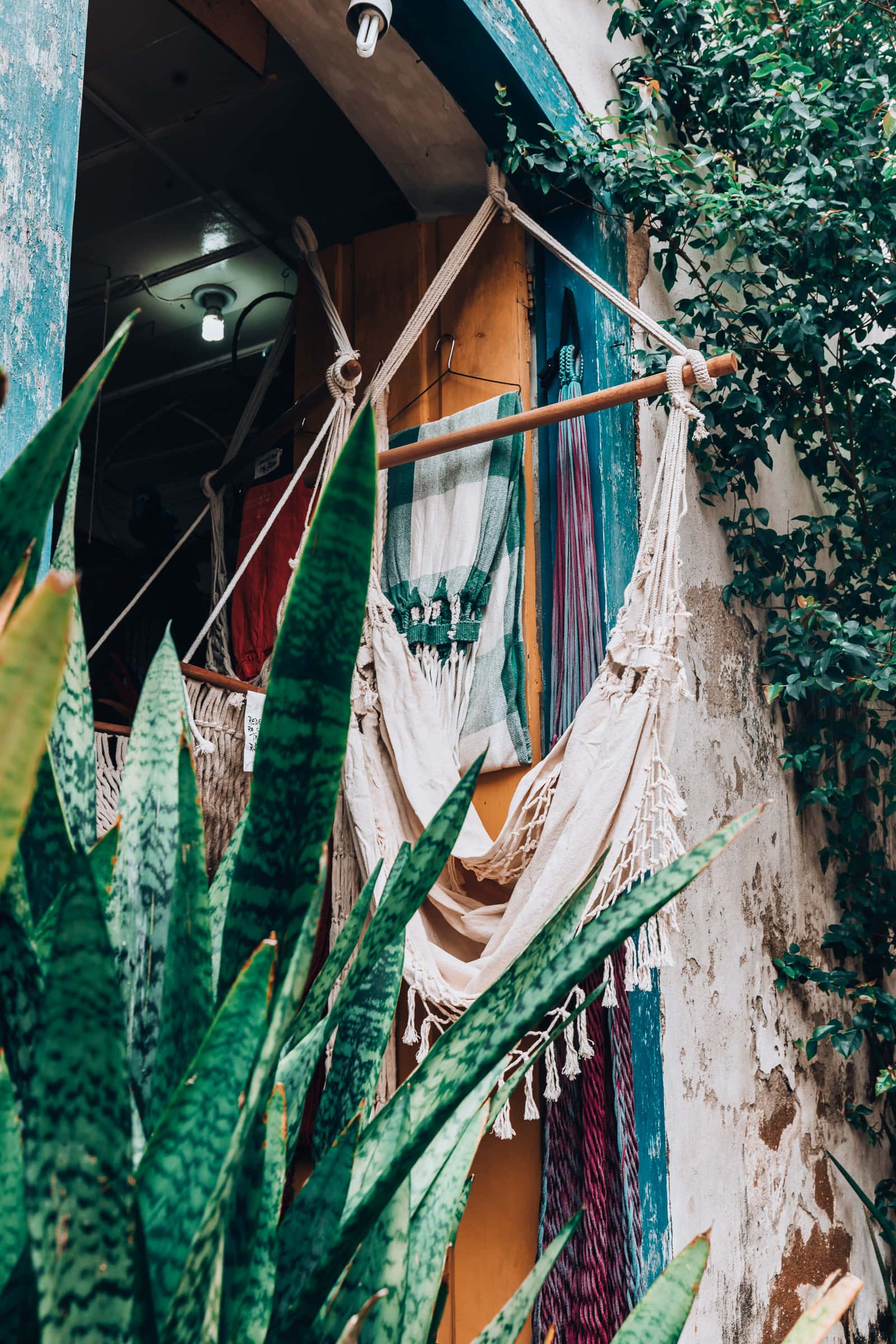 Where to eat and drink in Paraty, Brazil
Good food and a small cervejinha (beer) should not be missing in Brazil in the evening! Around the Praça da Matriz, the central market place in the old town, there are many bars and restaurants, but also in the cozy side streets there are many interesting locations. In most of the locations there is live music every evening, the atmosphere is Brazilian-cheerful and intoxicating – here you can enjoy yourself almost everywhere.
Café Paraty | Very popular, you have to wait at peak times, but the tropical ambience with chilly live music is worth it! Brazilian cuisine. Recommendation: Picanha (beef steak on special cut).
Frida y Diego | Small Taqueria with live music in the evening, away from the hustle and bustle of the old town, with Mexican cuisine.
Sabor da Terra |Down-to-earth self-service restaurant with delicious Brazilian cuisine.
Manuê Sucos | Actually a juice bar, but it is open until the evening and offers many fresh little things as acaí or Pao na chapa (toasted bread roll with cheese). Good and cheap. Could be the perfect workplace for nomads who want to do something on the way – laptops are not allowed, though.
For all venues, the following applies: in case of live music, it is common that a surcharge of 10 to 15 R$ (3-4€) per person is charged (couvert).
For the small appetite there are plenty of street stalls with a variety of dishes from tapioca (pancakes made from cassava flour) to pasteis (fried dumplings). You should stop at one of the numerous cake carts that are spread over the old town: Brazilians are true masters in sweets! Try a Cocada (freshly sugared coconut) or a Bolo de Tapioca: the snow-white, sticky mass of cassava flour tastes more like pudding at first, but the freshly poured sweetened condensed milk makes the dessert perfect.
Save this name: Jorge Amado
You must try a Jorge Amado, which you can find in every bar! The Signature Cocktail from Paraty tastes like a sweet caipirinha: instead of cachaça, the liqueur Gabriela is used, with cloves and cinnamon (Cravo e Canela). No coincidence: Jorge Amado is one of the most famous Brazilian authors and his novel "Gabriela like cinnamon and cloves" was filmed here in Paraty. You don't have to like his books – but after five days in Paraty I was hooked on Jorge Amado!
Excursions around Paraty
But Paraty is so much more than just culture and history: around the city there are so many possibilities for excursions from deepest jungle to lonely islands! During the day, most of the tourists therefore travel around Paraty. I have put together the most beautiful locations for you here!
Trindade
In Paraty itself there is a beach, but the beaches in Trindade are even more beautiful! You can go there easily on your own: From the central bus station (Rodoviária) there is an hourly bus service. (One way 5 R$, about 1,20€, paid in the bus, get off at the final stop).
Whether you're looking for peace and quiet or party atmosphere, there's something for everyone in Trindade. At the Praia dos Ranchos you will find many bars and restaurants. There you can use umbrellas and chairs if you order something in the surrounding restaurants. Here it is typically Brazilian animated with lots of music.
Through a small path you reach Praia do Meio. Here, restaurants and beach vendors are prohibited, as this beach is part of the surrounding nature reserve. The beach is relatively wide and the huge rocks are very impressive.
Waterfalls near Paraty
In the densely forested mountains around Paraty there are plenty of waterfalls. One of them is particularly impressive and is only called Tobogã. In Portuguese this means water slide and on the spot it becomes clear why: on a huge, slippery rock you can throw yourself down the waterfall like a murderous slide. If that's too dangerous for you (accidents are not uncommon here), it's best to just watch the local boys who have already perfected their daring stunts – my jaw dropped.
In Poço do Tarzan (Tarzan's pond) further up, one can get into the water more safely and feel a little like a bathing Tarzan. However, remember that you are in the middle of the jungle: don't forget mosquito repellent!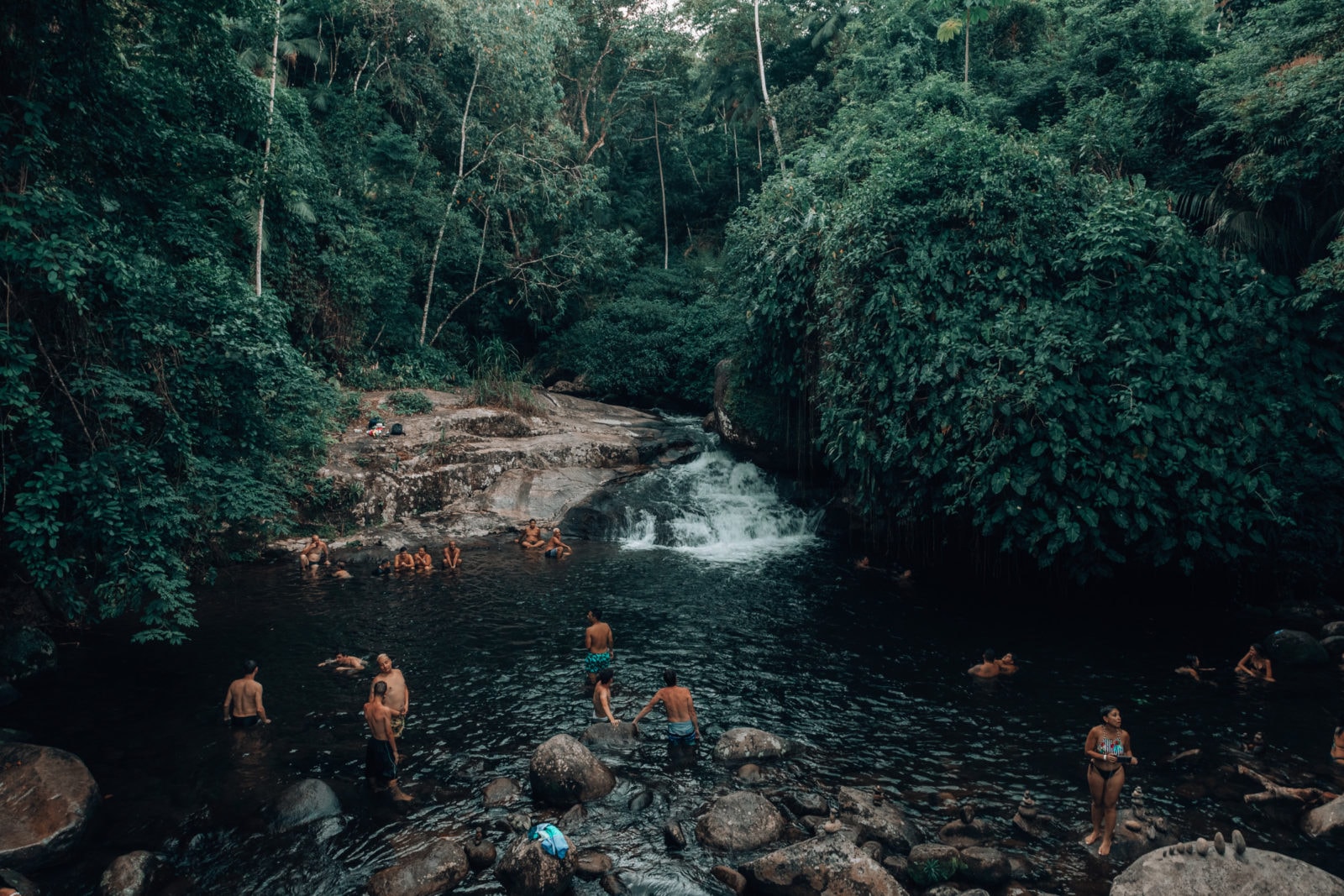 Next to the Restaurant Vila Verde there is one of the most beautiful bathing places for guests: Here you can swim in a cool mountain stream away from the hustle and bustle! The water is cold, but crystal clear: pure nature! If you visit the restaurant as part of an excursion, you don't have to eat on site, but can relax and enjoy nature!
The best way to visit these places is with a guided jeep tour! I recommend Paraty Tours, the organization was great, the Landrover-Jeeps were nicer than those of the competition, which had to sit in a stuffy car :)
➜ Book the waterfall tour here!
(Don't be impressed by the ratings, during the long lunch break we relaxed in the mountain stream and enjoyed our picnic)
Paraty by boat
You should not miss a boat trip! On the one hand you will meet Brazilians on vacation there (spoiler: even more exuberant than usual!), on the other hand you will see the beautiful islands around Paraty. If you choose a "Passeio de escuna" it is a larger boat, usually with a complete kitchen and bar on board.
Those who arrive early secure the best seats. You are also allowed to bring your own food, but it is not absolutely necessary. The excursion takes about 4-5 hours, there are beaches to be visited, there is the opportunity for swimming (I love jumping directly from the boat into the water) and lots of music. And of course Jorge Amado!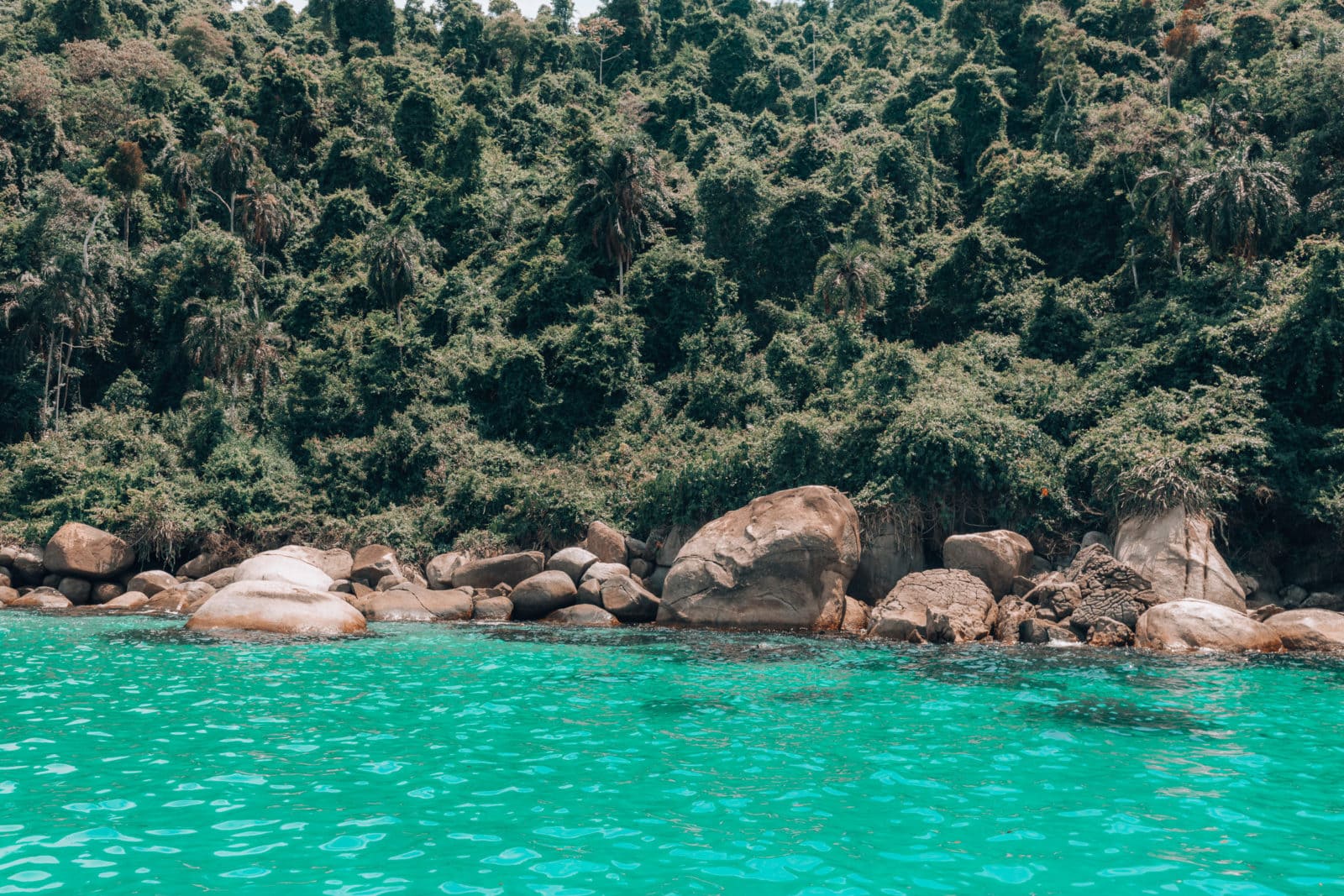 At the bathing places you can snorkel wonderfully. Equipment is only available on board for a fee, it's not great either, so better bring your own if you want to snorkel!
Where to stay in Paraty
Location is everything in Paraty! It is most beautiful near the old town centre! There you live idyllically and right in the middle of it. Also at the Praia do Pontal, only a few minutes walk from the centre, you can stay overnight and there is still a relaxed beach feeling included.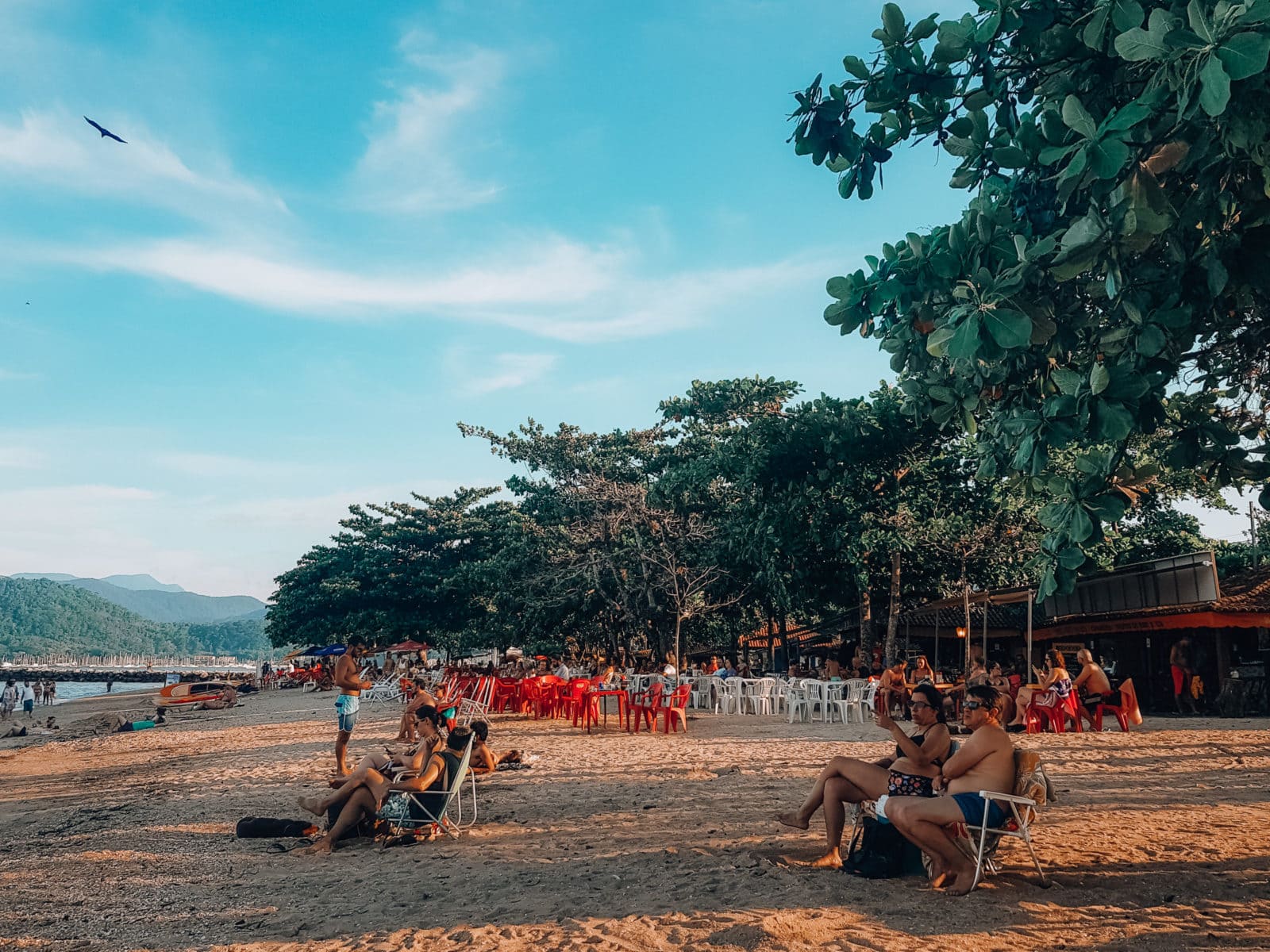 How to get there
Paraty is located between Rio de Janeiro and Sao Paulo, both cities can be reached by interurban bus. Paraty has no commercial airport. The journey takes about 4 hours in both directions, a one-way trip costs about 80 R$ (about 20 €). The buses are comfortable, but often don't have WLAN or USB charging. The bus station in Paraty is relatively central in the city, many accommodations can be reached on foot from there. If you have a lot of luggage or have to get further away, just take a taxi at the taxi stand, it doesn't cost the earth. There is no such thing in Paraty (yet).
You can buy tickets directly at the bus station, preferably a little in advance, or online, where you can often get additional discounts. (Attention: With some bus companies you'll only receive a voucher that you have to exchange for a ticket again at the counter).
Important advice for your trip
Avoid the peak travel season between Christmas and carnival: prices are rising and the choice of accommodation is getting scarce!
Topic security: Although you should be careful in principle, Paraty is really very relaxed. I never felt insecure at any time, rather the opposite.
Think about mosquito protection, the heavy one with DEET, if mosquitoes love you as much as me! You can get good remedies locally in every pharmacy.
Paraty is pronounced "Pa-ra-tshiii" in Brazilian Portuguese ;)
***
Are you looking for more inspiration for your visit to Brazil?