People often ask me where to go in Palma. For a long time I kept the hottest tip in Palma to myself – but by now my list of great locations in my favorite part of Palma is so long that I finally have to share it with you! So here you can find my tips for Molinar, probably the most beautiful district in Palma!
Molinar in Palma: From a fishing village to Mallorca's hotspot
Just a few decades ago, Molinar was a only an old fishing village. But after the beach promenade was extended here from downtown Palma in the late nineties, the forgotten suburb became the city's new hotspot. Although land prices rose ad infinitum, Molinar nevertheless retained the charm of a village and to this day has little to no tourist appeal. A great secret location for all those who don't want to stay in one of the many hotels and who like to mingle with the locals!
Are you planning a vacation in Mallorca?
Here you will find many more tips for the island!
Where is Molinar located?
Molinar is a district of Palma and extends from the marina Portixol along the sea out of town to the next district Ciudad Jardin. Molinar is especially popular for its long beach promenade, which unlike many other sections in Palma, is not very touristy. By bike you can explore Molinar particularly well: From here you can ride both in direction to the big port of Palma and in the other direction to Playa de Palma. This section is also popular among inline skaters.
Molinar or Portixol?
Due to its proximity to the Portixol marina, this corner of Palma is often called Portixol. Strictly speaking, however, Portixol is only the area around the marina. Molinar is the suburb of Palma that starts right there. However, many people also name the beachfront in Molinar Portixol – so don't panic if you ask someone for directions, both names are often used for what's actually Molinar.
Molinar is my tip for you on Mallorca if you only have a few days but still want to relax by the sea!
The best beaches in Molinar
Classic beaches with the typical touristy infrastructure with umbrellas, lifeguards and postcard stores are not to be found in Molinar. But that is exactly what makes the beaches in Molinar so popular. Many locals swim here, the atmosphere is relaxed and people know each other.
The only beach equipped with showers is Playa de El Molinar, right at the beginning of the boardwalk. Down to Ciudad Jardin, however, there is no official beach. You can just enter the beach here in the wild, so to speak, a real rarity in and around Palma! Especially popular are the spots around the Rosa del Vents, the monolith with the seagull on top right on the promenade. Here, the water is shallow and you can walk forever into the ocean. The sea is crystal clear in good weather.
On weekends, the promenade is very busy here, but during the week you'll find great, quiet swimming spots. There are also two small bays that are especially suitable for children; the water is clear and shallow, and there is little to no swell due to the enclosed bay.
Click here for accommodations directly in Molinar
At the end of the promenade you are already in Ciudad Jardin. It's a bit more lively there with some bars and a chiringuito (that's how the beach bars directly by the beach are called). Here there are showers, public toilets and access for visitors with reduced mobility. This beach is also guarded by lifeguards during the day in summer.
Click here for more dream beaches in Mallorca
Where to eat and drink in Molinar
The Paseo of Molinar has also become the favorite gastronomic destination of Palmesans, where people like to stroll along the promenade in the evening or do sports. Outside the high season and on weekdays it is relatively quiet, but even in summer on weekends it does not get too crowded. To some extent, places come and go here, but there are some really good tips that are absolutely no tourist traps.
These are my restaurant favorites in Molinar!
Mala Madre A bit off the boardwalk and more with a street view than an ocean view, the menu is a bit of a wild mix, Tex-Mex, Asia, a little bit of everything but still good. Great interior with jungle vibes.
Izizi Nunnak Great cocktails, good selection, both for small lunch or large dinner. Seats on the terrace with ocean view are especially popular on weekends, but inside the huge bar and the cozy patio are also eye-catchers. Cocktails are amazing.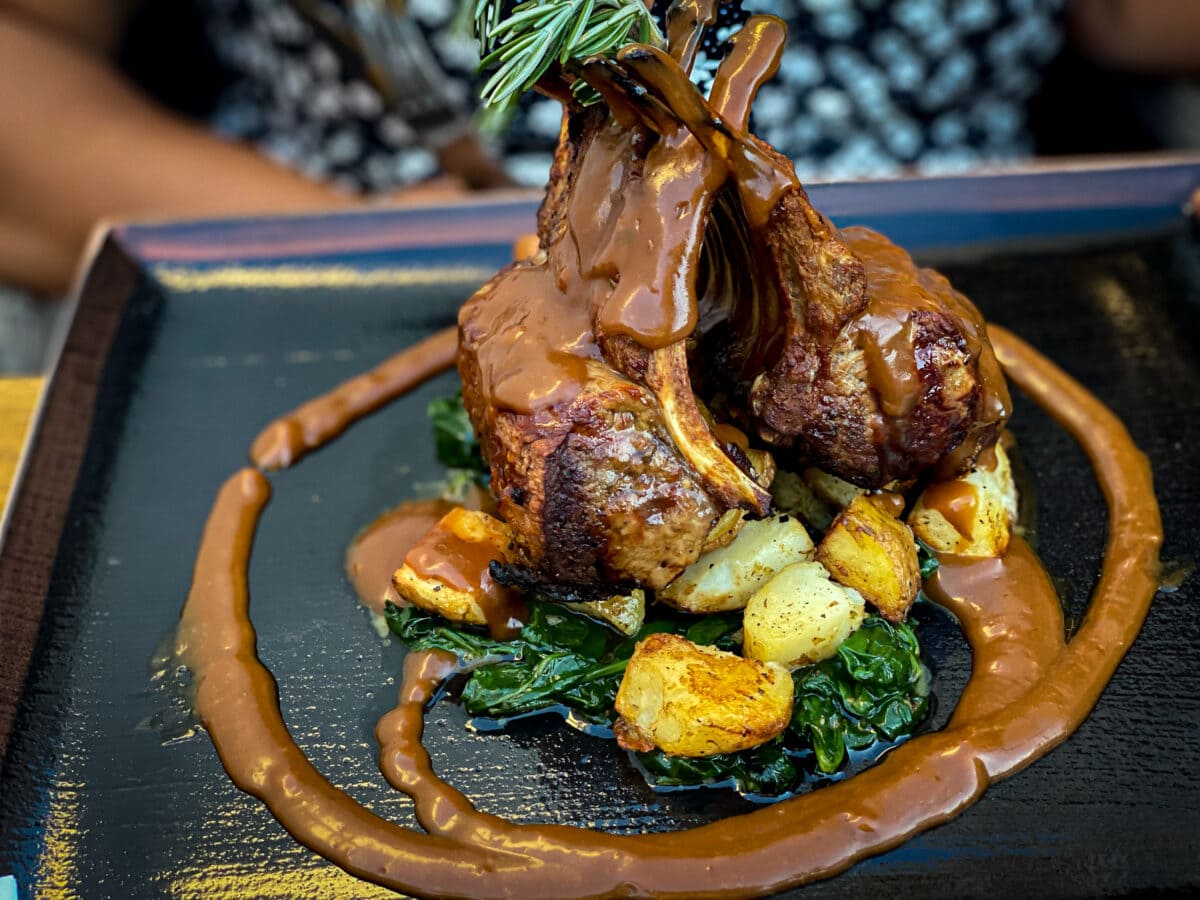 Enco Longtime classic on Playa de El Molinar and always a safe bet for coffee/cake, snacks or tasty sandwiches. Also good for breakfast!
Es Vaixell Right next door, also recommended for drinks and snacks. Popular among locals!
Cocco My recommendation for drinks at sunset! From the upper floor you have an even better view of the bay and the setting sun.
A Tarantella A little less fancy, but that shouldn't stop you. I am very picky about Italian restaurants outside of Italy in particular; but Tarantella is one of the few restaurants where I eat lasagna without hesitation. I especially love the lasagna! Everything else, pizza, pasta, also delicious, fresh and good. Service is authentic and attentive. Very popular, best to reserve on weekends.
Vent Portixol Good for a drink in the afternoon or evening. Decorated in beach bar style; very comfortable to sit and people-watch here.
Sa Roqueta A bit fancier, but still with the charm of the near harbour and absolutely recommended for fans of fresh fish and seafood. Secluded on the mini peninsula of the Hotel Portixol. Even the former King Juan Carlos of Spain with family is said to have dined here on their annual Mallorca vacation!
Alta Marea Very good tip for a romantic dinner! Alta Marea is located in a small square, somewhat hidden from the promenade on Passeig del Born del Molinar. Sit outside & enjoy good Italian cuisine on a warm summer evening!
Can Tito is right next door at the same square, with a nice terrace as well. Established and traditional, famous for fish and seafood and a good address if you are looking for really typical cuisine!
By the way: Here you can find more tips for Palma!
Insider tips in Molinar
On the Carrer Llucmajor, it's less fancy than on the promenade, but you're really only among locals here. Often the places here are not particularly prepared for tourists, so strangers usually shy away from going inside. But I can only recommend it! It's much cheaper than on the promenade and you can also dive right into village life. Menus are often not available and English isn't very common here, but here's a glimpse of the authentic Mallorca!
El Rincón de Laura My recommendation for a good breakfast! The entrance on the main street is inconspicuous, but behind it hides a cute and charming place! Mingle among the locals! Start the day with a Café con leche and delicious, freshly made tostadas (one portion is enough for two). Just ask for the current Pa amb Oli (bread with oil). The toppings change constantly, with everything from basics like jamón, queso and tortilla to calamares and anchoas.
El Camionero Traditional restaurant with a changing daily menu. Here you can get typical dishes and home cooking for lunch. Often well attended, the village meets here for lunch. There is loud laughter, chatting, and even a glass of wine at lunchtime – an experience!
Forn Can Na Teresa bakery, which with the white and blue interior is more reminiscent of a fish store. Lively meeting place, also good for having coffee with a piece of cake!
What to see in Molinar
Even though Molinar is actually just a small village, there are still a few spots you can check out.
Port Petit
The small harbor in the center of Molinar is still being restored, but from the looks of it already, this place is becoming the new hotspot in Molinar. New is the small viewpoint at the top of the port, from which you can see all the way to the cathedral and the port of Palma. By the way, all this is only thanks to the protests of Molinar's population: Originally, the local government wanted to sell the run-down area to a foreign investor. Thanks to a large-scale citizens' movement and years of protests, however, this piece of village history now remains public – and makes Molinar even more beautiful.
Rosa del Vents
The monolith with the seagull on top is the landmark of Molinar. By the way, this (as well as the rest of the promenade) is a popular spot for fashion shoots. It is not uncommon to see big photo and video productions here – the light with the sea in the background is simply magnificent.
Where to stay in Molinar
Due to its perfect location, Molinar is also very suitable for staying overnight and as a home base for your stay in Mallorca! Especially if you want to spend a few days in Palma only and want to avoid to stay in the busy city centre, Molinar will be a perfect choice!
A quick weekend in Palma?
Molinar is only 10 minutes by car from the airport!
Find cheap flights to Mallorca!*
Here you will find beach and tranquility, but still have a perfect bus connection to downtown Palma and the airport. If you're feeling like it, you'll also be at the infamous Playa de Palma or Arenal in no time. Cab rides to the airport or to the city are also affordable. The only problem: accommodation in Molinar is scarce.
A great recommendation is the iconic Hotel Portixol* right on the marina. A bit cheaper, but also very nice is Hotel Portofino* in Ciudad Jardin at the other end of Molinar; you'll have the beach almost directly in front of the hotel. Almost next door, in an old city villa and somewhat hidden you'll find Hotel Ciutat Jardi* with nostalgic flair, pool and good restaurant included.
More articles about Palma:
My Guide for Santa Catalina
The Arab baths of Palma
Christmas st the Pueblo Español