As I said, the motorcycle trip with Duc over the cloud pass in Vietnam had many surprises in store for me. Every few kilometers we stopped and Duc told me a story, showed me the most beautiful view or just dropped me off somewhere for dinner or coffee. In Da Nang we suddenly stopped at an elevator that seemed to be in the middle of nowhere. Aha. It soon turned out that the elevator led up to the marble mountains. For me one of the absolute insider tips in Vietnam: The marble mountains near Da Nang (better known under the English name Marble Mountains) really impressed me and were an absolute surprise on this Vietnam trip!
He wouldn't go up with me, but he'll buy me a ticket and then I can run back down again. (What can now be summarized in one sentence was a quarter-hour pantomimic show due to Duc's fantastic English and my no less fantastic Vietnamese).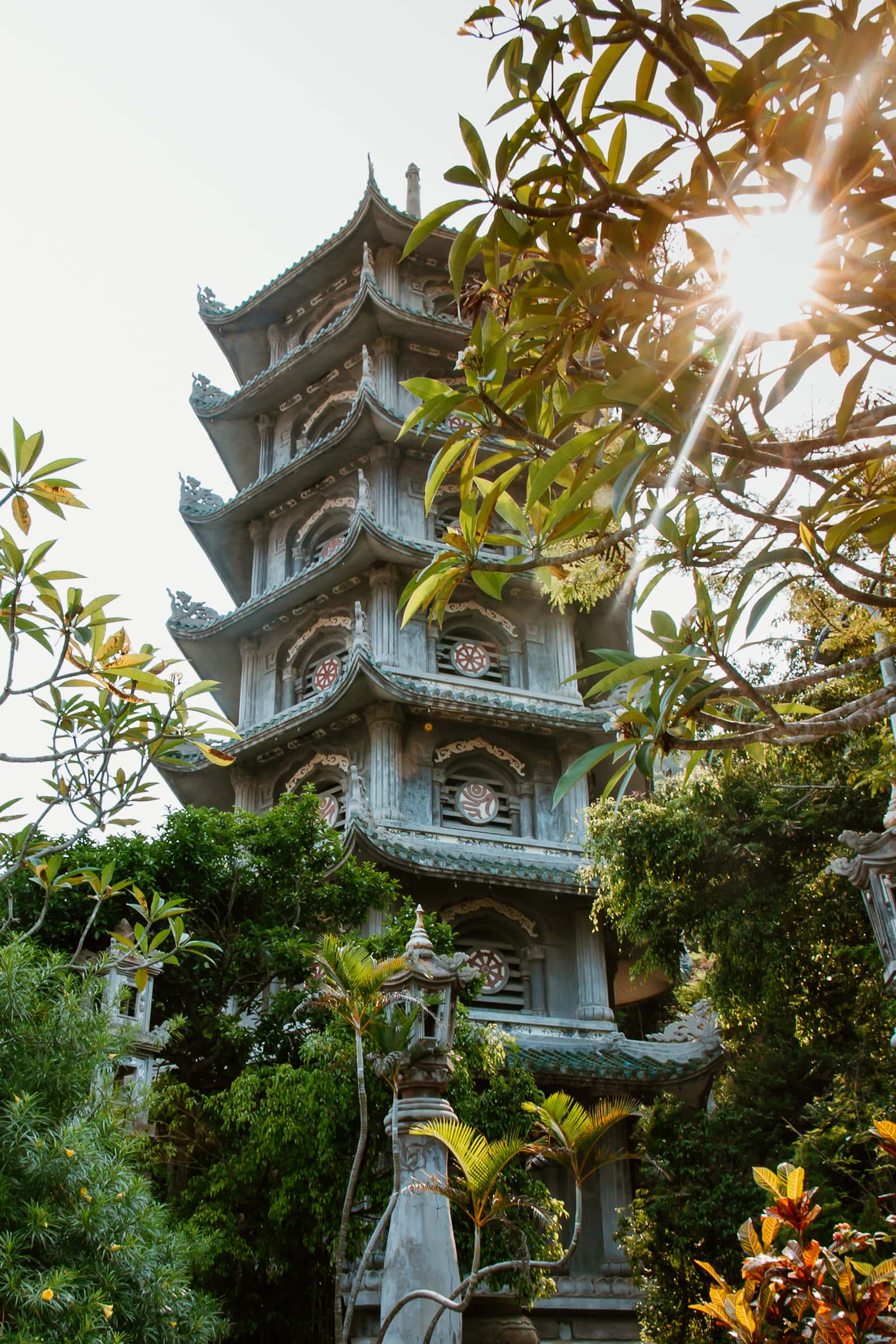 It was all I could get out of Duc, so I just drove up. Probably just a boring tourist trap, I thought, and when I reached the top I immediately looked for the fastest way down. Not so easy – there were no signs, I didn't even know where I had landed there; and many winding roads led to some temples and Buddha statues – but not down to Duc.
Anyway, there were some tourists on the way, so this was probably a kind of tourist attraction. One of the old ladies in front of the temple told me to buy some incense and I enjoyed the silence for a short time until I wanted to continue my way down.
Thanks to the lack of signs I wandered around a bit until a few Vietnamese people shouted "here, here!" between the densely overgrown paths around the temple. So I just followed them. (Hm. As an unaccompanied traveller I should probably work on this naive reflex – strange men shout "this way" and I just follow like a sheep. Also a bit reckless.)
The path led along behind the temple and became darker and darker. The one or other tourist was also wandering around. My curiosity was aroused. Suddenly I was standing in a huge and densely overgrown cave – and felt like Indiana Jones. What was this place supposed to be? I glanced briefly into the dark, dim corners of the cave. The most beautiful Buddha statues were actually standing there. Just like that.
Unfortunately I could not fully enjoy the moment, one of the "here, here" men had already sensed his chance, ran towards me and snatched my last incense sticks, which I actually wanted to keep as a souvenir. I ran after him, and what only appeared to be an attempted purse snatching was more likely intended as a cave tour. "Here, to get lucky, get lucky!" my new-found cave guide lit an incense stick, pressed it into my hand and frantically told me to put it in front of a Buddha statue. "Buddha good, Buddha good!" he shouted. There was no time to take a closer look, because my tour guide had already lit the next incense stick long ago and chased me to the next statue. We must have made a great picture; the alleged "tour guide", obviously filled with too much stimulant drugs, who manically ran with me from one dark corner to the other, and I naive sheep, who slowly got spooked by the situation, but nevertheless decided to play the "guide" for now, and ran after the cave guide waving my incense sticks on speed.
Luckily, my pack of incense was soon completely torched, the "lead" was over, and I pressed a few dong into the good man's hand, which he pushed towards me quite naturally. I quickly took my legs in my hand, because I really had doubts if his tip would be enough for him…
Very well. Learned something again. So here you have to watch out for loitering "tour guides".
The way down, however, was more relaxed, suddenly huge groups of tourists appeared – I didn't feel queasy anymore – and somehow I had halfway an orientation. On the way I discovered one cave after the other, big and small, sometimes so small that you could only reach them by climbing and crawling. (I recommend good shoes!)
Each cave was an experience in itself!
Information about the Marble Mountains in Da Nang

The elevator is liable to pay costs, I didn't know the exact price – but it was not worth mentioning ;)
The marble mountains are relatively central in Da Nang, tour operators offer several tours there.
Be sure to pack sturdy shoes, the descent is not for high heels, and the stone stairs and caves are often slippery.
Beware of supposed tour guides (see above) and sellers after leaving the mountain. As soon as you have passed the last step, they immediately follow you and want to give you a nice chat first and then sell you their marble souvenirs.
***
Read more about Vietnam: