What should you eat in Mallorca? What are some typical Mallorcan dishes? In general, the traditional Mallorcan cuisine is based on the most common Mediterranean ingredients. Various vegetables such as tomatoes, onions, peppers, eggplants; fish and seafood; meat (including lamb) and of course lots of garlic and olive oil make the cuisine of Mallorca both healthy and diverse. In this article I will show you which 10 Mallorcan specialties you definitely shouldn't miss out on.
#1 Ensaimada
As soon as you arrive at the airport in Palma de Mallorca, you will notice the hexagonal boxes which are found in all kinds of sizes at the gourmet stores: That's the traditional packaging used for ensaimadas. (Tip: So if you want to take one or more ensaimadas home with you, you still have the opportunity to do so at the airport!)
An ensaimada is a sweet pastry made of a yeast dough and is traditionally coated with a lot of pork fat and baked afterwards. Therefore it is not suitable for vegetarians! Ensaimadas are available plain or filled. Popular fillings include angel hair, vanilla or chocolate cream, dulce de leche or more exotic combinations like sobrasada.
You can find delicious ensaimadas in many bakeries on Mallorca. In the branches of Forn de Sant Christo you can not only buy ensaimadas, but also taste them right away with a café con leche.
#2 Frito mallorquin / Frit mallorquí
The Frito mallorquin is one of the Mallorcan specialties that may not be everyone's cup of tea. The original version of this stew is prepared with lamb offal (liver, lungs and heart). The offal is sautéed with onions in a lot of olive oil, then chopped vegetables such as peppers, fennel, peas, and potatoes are added and everything is stewed. The Frito mallorquín is a main course, but can also be served lukewarm in small portions as tapas.
However, there are also versions without offal or entirely meat-free.
Fancy a trip to Mallorca? Here you can find even more tips for Mallorca!
#3 Gató de almendra / Gató d'ametlla
Mallorca is known for its almond blossom in February, which in many places provides a sea of flowers. So it' s no surprise that almonds also play a role in the Mallorcan cuisine. The traditional Mallorcan almond cake Gató d'ametlla is light and fluffy and is made almost entirely of eggs, sugar and almonds. Enjoy a slice in authentic Mallorcan style with a scoop of real Mallorcan almond ice cream.
You can find the recipe here. (in German)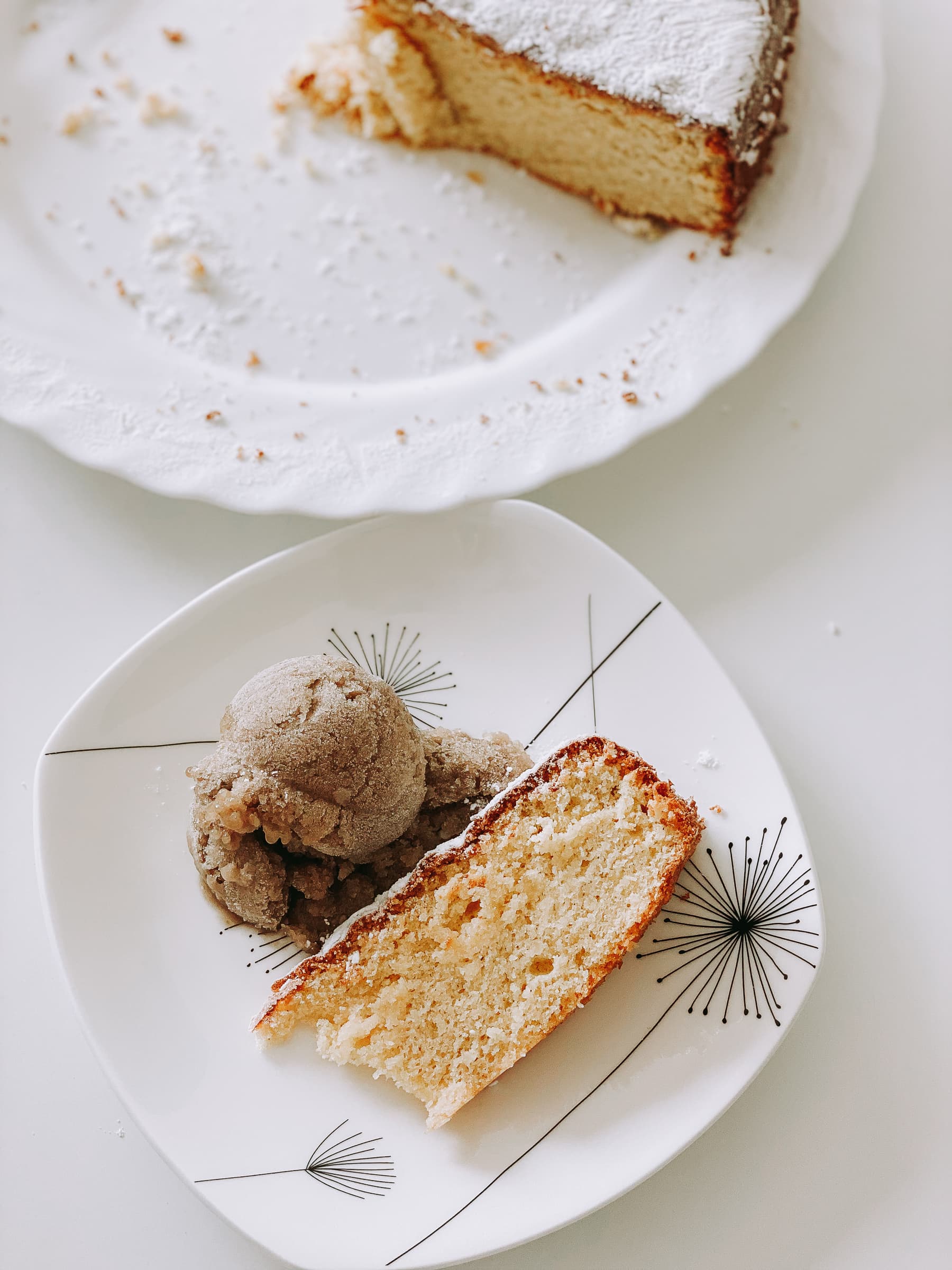 #4 Coca de patata
Cocas de patatas are fluffy, sweet yeast rolls made from potato flour. They are a delicious snack with coffee and dusted with icing sugar. You"ll find the best cocas on the island in Valldemossa! They are baked here fresh from morning until late afternoon and you can often buy lukewarm cocas fresh from the oven.
More about Valldemossa & where to find the best cocas de patata!
#5 Coca mallorquina / Coca de trampó
Quite unlike the cocas de patatas, the coca mallorquina is a savory specialty. The coca mallorquina is sort of a thin pizza without cheese, but topped with lots of vegetables, especially peppers. This vegetable tart is eaten cold or warm, as a snack or even as a small appetizer. Attention vegetarians: traditionally the dough is made with pork fat.
#6 Sobrasada
Sobrasada is a sort of spicy-hot bell pepper sausage that is eaten like a spread on bread. I prefer to eat it on a fresh slice of bread, a few drops of honey on top and toasted in the oven for a few minutes – so delicious!
Sobrasada is often available as "picante" (spicy) or "dulce" (sweet).
Sobrasadas (and also other Mallorcan products like cheese, olive oil or ham) can be bought on the many great markets of the island, for example on the market of Esporles.
#7 Pa amb oli
Pa amb Oli translates as "bread with oil" and is as simple as it is delicious. A toasted rustic bread is spread with olive oil, Ramillet tomatoes and garlic. Ramillet tomatoes are a special kind of tomato in Mallorca. They are often sold hanging on a vine and they have a particularly firm skin. For Pa amb Oli, they are simply cut open and the surface is rubbed over the bread.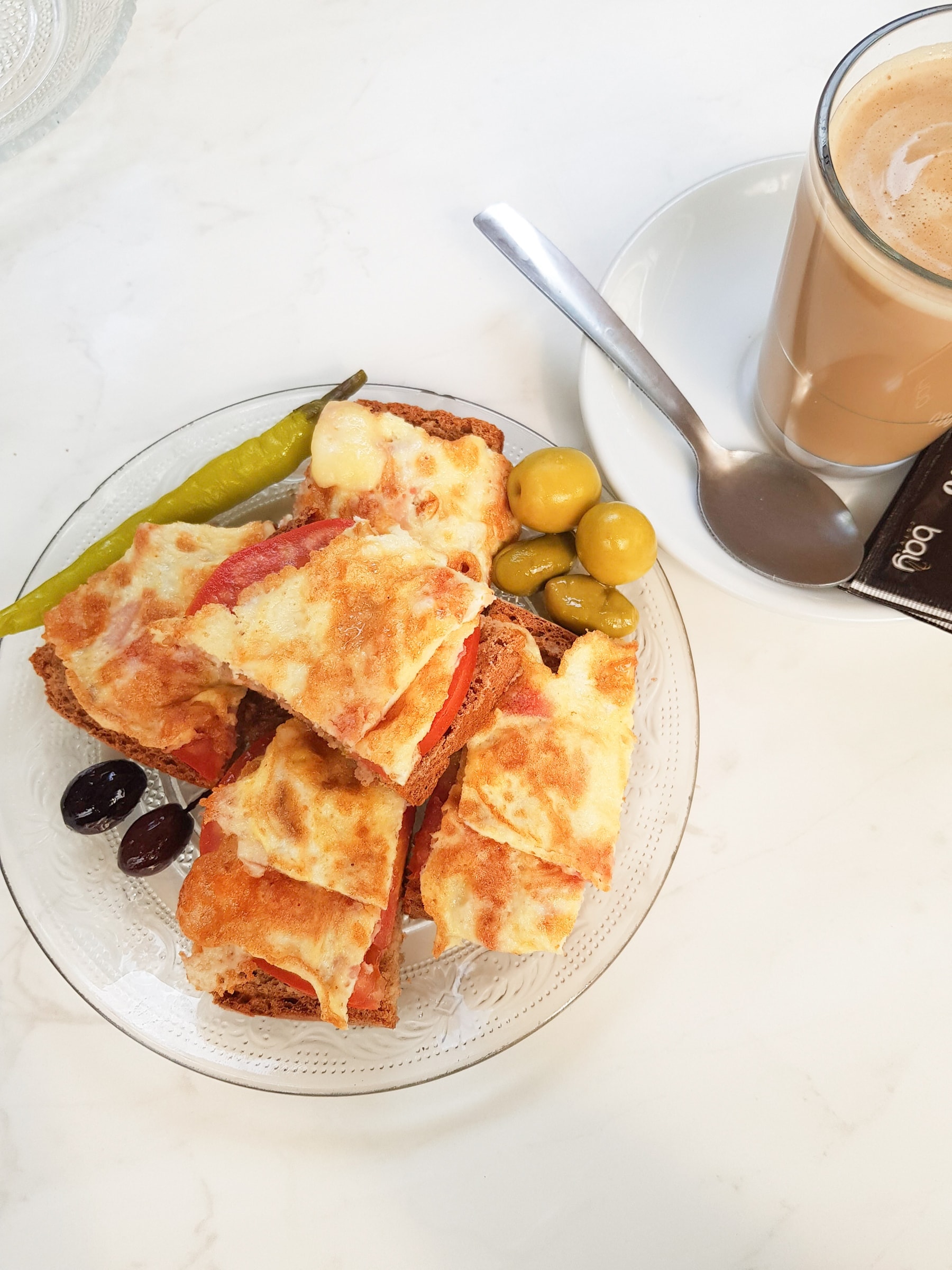 #8 Tumbet
A tumbet mallorquí is a delicious and hearty vegetarian dish. Potatoes, eggplant, peppers and onions are sautéed in plenty of olive oil, topped with a tomato sauce and then braised in the oven. Tumbet is served as a side dish with meat and fish, as an appetizer served cold or as a complete main course.
#9 Sopas mallorquinas
No, this is not a spelling mistake, a Sopas Mallorquinas is always named as plural! Strictly speaking, it is a rich stew with white cabbage and pork, served on thick pieces of bread. A traditional farmer dish that will strengthen you for the whole day!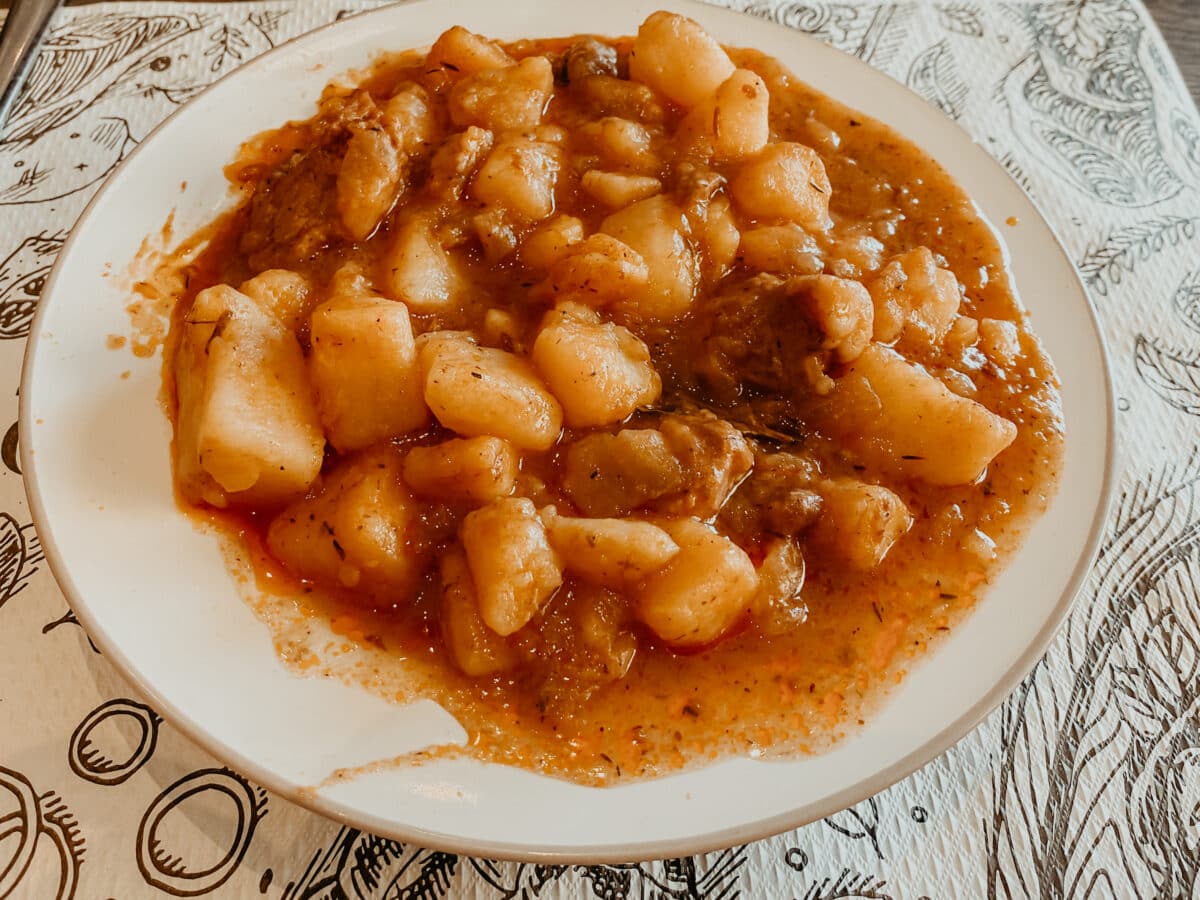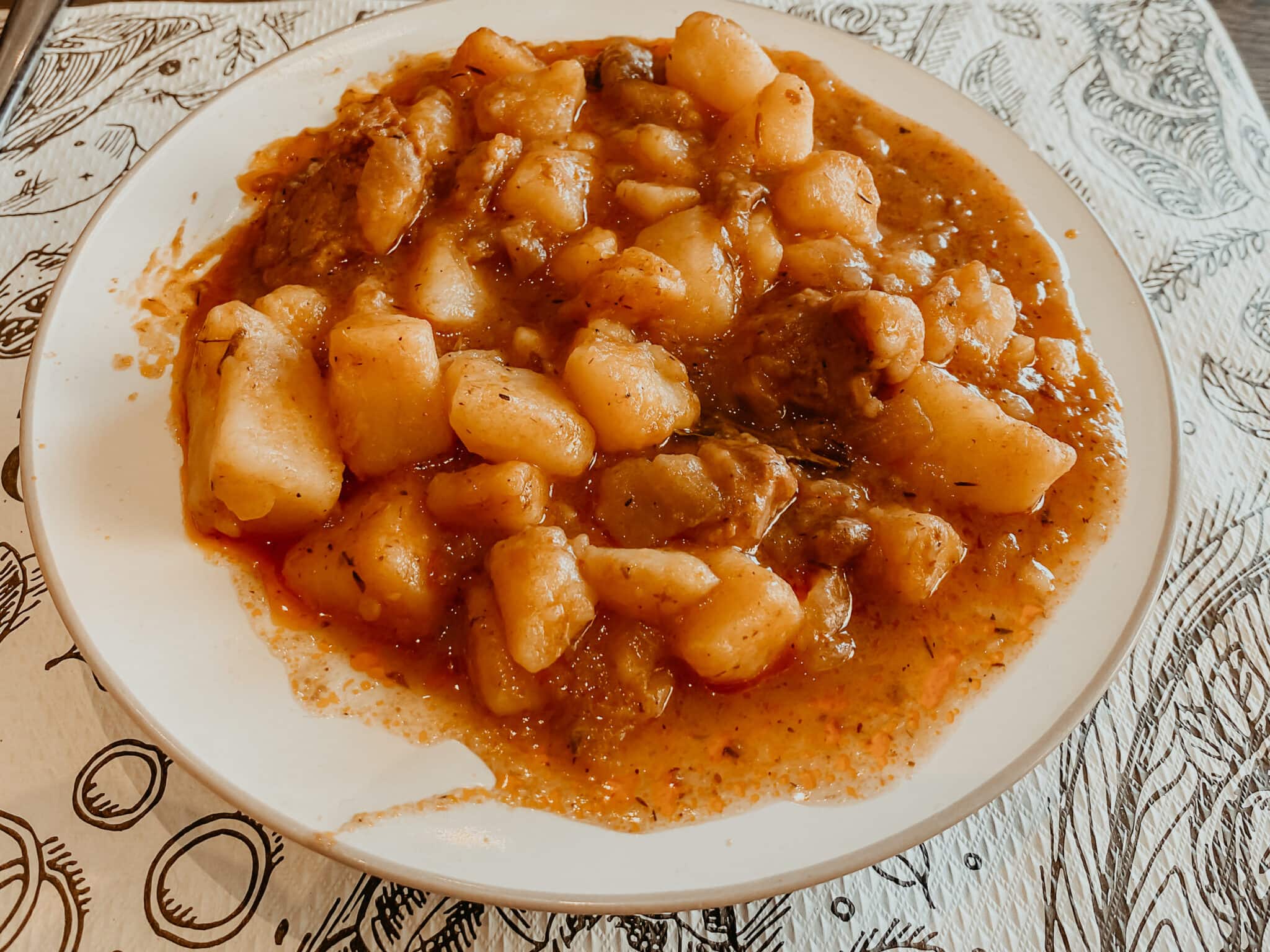 #10 Arroz brut
Another stew: Arroz brut (dirty rice) is usually served in an clay pot and is made up of rice, broth, vegetables, meat and offal, which give the stew its dark color. Another rice dish that you will also find very often in Mallorca is the famous Paella.
Bonus tip: Paella
Strictly speaking, Paella is not a typical Mallorcan dish and originally comes from the area around Valencia. But on Mallorca you will find many restaurants that serve paella! And because a paella can be a huge event, depending on the size, and it really brings the Spanish way of life to the table, I recommend you to try a paella! Especially if you like seafood, you will be thrilled!
Tips for eating on Mallorca
You see, the Mallorcan cuisine is very rich! Many vegetables and fruits originate straight from the island, and you really can taste it! Mallorca has very fertile soils, where oranges, lemons, olives, almonds and more can be found in abundance! I also highly recommend you to visit one of the many farmers markets – and if you are self-catering in your accommodation and love to cook, you will have your real pleasure with the great products of the island!
Foodie tip: Do you feel like cooking for yourself on vacation? On Mallorca you will also find many beautiful accommodations for self-catering! ➜ Book a vacation apartment or a finca with own kitchen in Mallorca*