Ad. Especially for frequent travelers and crews, the choice of a good suitcase is essential. And nowadays, traveling with hand luggage only is becoming more and more popular. However, the small size makes it even more important to choose the right model to make perfect use of the little space available. Therefore I tested the Horizn Studios M5 Smart*!
➜ Order the M5 Smart from Horizn Studios here and save 20% with the code HSXHAPPYJETLAGGER!*
In more than 20 years as a flight attendant, I've worn out quite a few suitcases, from inexpensive discount models to high-priced luxury brands, and I can say: It's not easy to find the perfect suitcase. I therefore tested the M5 Smart from Horizn Studios especially for flight attendants and frequent flyers.
Horizn Studios M5 Smart: A carry-on for all occasions?
Not only at first glance, the M5 from Horizon Studios has everything a frequent flyer's and flight attendant's heart desires. Just for the visual, the M5 gets 10 out of 10 points from me: Clean, minimalist and still practical.
Exterior pockets: practical, but often not beautiful
As a rule, I mostly choose hard shells when it comes to suitcases, whether large or small. The interior thus remains protected from wind and weather, unlike with textile material. There are few models in carry-on size that also have textile outer pockets – and if they do, they are mostly not fancy.
Outside pockets are especially practical if you are only traveling with carry-on luggage, but also need to stow your tablet and/or laptop somewhere. Fumbling your electronic devices out from between your knickers and shoes at security control can be quite embarassing.
Unfortunately, I never got my hands on a model that combines hard shell and a textile front pocket in visually appealing way without looking too masculine. Many models are simply still designed with a focus on a male target group.
Neutral design
Not so the M5. The design is gender-neutral and the outer pocket is so cleverly constructed into the case itself that nothing stands out. Inside there is space for a laptop up to 15″. Various pockets provide storage for small items, such as charging cables, memory cards, but also make-up and drugstore items that usually would get lost easily.
Gadgets for modern travelers
Speaking of charging cables: A USB-C cable with a combo connector for USB-C and Lightning ports is even included with the case. A nice detail that perfectly matches another gadget of the M5 Smart: Hidden under the telescopic handle you will find a powerbank that can be removed at the touch of a finger.
At many airports, charging options are still in vain, so having your own power supply is worth its weight in gold. With the built-in powerbank you are self-sufficient, and should you have to check the suitcase spontaneously, you can get the powerbank out in no time.
The interior is a complete game changer
However, I was absolutely convinced by the interior: The M5 Smart has a mesh divider on one side and a compression pad on the other. Anyone who has ever had a suitcase with such a divider knows how beneficial this is when packing!
Not only does the Compression Pad offer a further division of the interior and compression of volume; it's perfect to keep folded shirts in place. I especially love it for my uniform blouses!
The difference between Smart and Essential
The M5 is available in two options: Smart or Essential. From the outside, the two models look alike. However, only the Smart has the removable powerbank and the compression pad, which in my opinion is definitely worth the small surcharge. My recommendation!
Order your Horizn Studios M5 Smart here*
Colors & customization
All luggage lines at Horizn Studios are available in numerous colors. I usually prefer black (All Black) because as crews we are required to choose discreet colors for our luggage (Night Blue or Graphite would also be possible as crew luggage, for example).
But also the Light Quartz Grey or Blue Vega are really amazing shades and make your luggage a stylish companion.
In addition, you can also customize your suitcase and choose different colors for wheels, hubcaps, the front pocket or the handle. There are no limits to your imagination.
Price
The Horizon Studios M5 Smart* costs €465.
This may sound expensive, but especially when it comes to luggage, it pays to spend more. The smooth-running wheels alone will save you a lot of back pain! Believe me, when your suitcase glides through the terminal like butter on warm toast, you'll never grumble about long walks at airports again.
Especially when it comes to luggage, if you buy cheap, you buy twice. You will be annoyed not to have invested a little more right away.
20% OFF
with the code
HSXHAPPYJETLAGGER
*Enter coupon code in shopping cart
Conclusion
In terms of functionality, design and price-performance ratio, the M5 Smart is currently THE carry-on suitcase for me on the market.
Overall, the M5 makes a very robust impression on me and the many details are so well thought out that it is simply fun to travel with such a suitcase.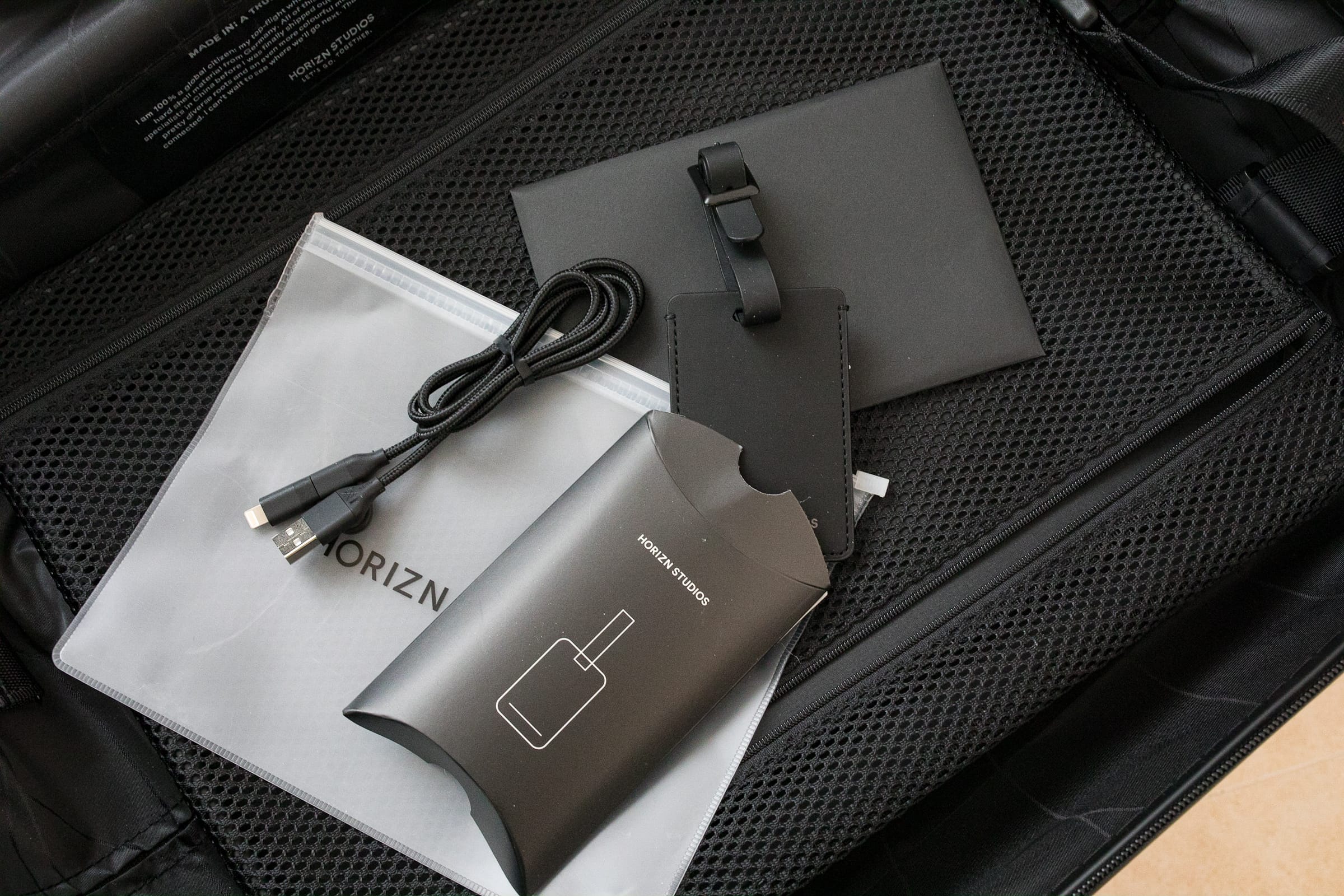 The brand: Horizn Studios
Horizn Studios is a Berlin-based designer label founded in 2015 with the mission to create the perfect travel luggage. In the flagship store in Berlin-Mitte you see all the products live. All bags and suitcases are characterized by their attention to detail. Luggage from Horizn Studios is also not only highly functional, but also durable.
New to the range is the "Circle One" line whose hard shell is not only durable but also made from 100% renewable raw materials, making it completely biodegradable.
Transparency: Horizn Studios provided me with samples. However, this article reflects my personal opinion.