Are you looking for a beautiful hiking trail in Germany that is easy to hike, even for beginners? Come with me to the southern Harz: From Bad Frankenhausen I'll show you a wonderful route through the Kyffhäuser! If you love nature and forests, you will like this tour. But hiking in the Harz mountains doesn't sound like you, do you think? As a total city gal, I have to admit that I really discovered hiking last year only, too!
Hiking in the Southern Harz and the Kyffhäuser mountains
Bad Frankenhausen marks the starting point of my solo hiking trip, an idyllic little town in Thuringia. The city center is small and adorable. Half-timbered houses adorn the well-kept tiny streets. Despite its small size, Bad Frankenhausen has a lot to offer. Many hiking enthusiasts use it as a starting point or stopover during their hiking trip.
What to do in Bad Frankenhausen
The most prominent attraction in Bad Frankenhausen instantly jumps my eye: The Leaning Tower of Bad Frankenhausen. Over 600 years old and built on unstable ground, the leaning church tower is the town's landmark.
It's even more inclined that the famous Leaning Tower of Pisa!
Hiking around the Kyffhäuser mountain
My hiking trail around the Kyffhäuser starts in Bad Frankenhausen, it is called the "Kyffhäuserweg". To my convenience, all hiking trails are well marked. As an absolute beginner in hiking, I already fail at using the standard hiking apps, which guide you through the area. (In Germany, Komoot and Outdooractive are very popular, in case, you are looking for a good hiking app!) But due to the excellent signs, getting lost is almost impossible (I still managed it once or twice, but hey, that was part of the adventure!).
.
The Kyffhäuserweg
I hiked along the Kyffhäuserweg, a long-distance trail. Although it's up and down the Kyffhäuser, even as a novice hiker, I thought it was long but doable. In total, the circle route is 38 kilometers long, which you can divide into two days. However, you can also hike only part of the route, for example, by taking the regular bus service from Bad Frankenhausen up to the Kyffhäuser monument and then walking the Kyffhäuserweg down into the valley.
Kyffhäuserweg on Outdooractive
Information about the Kyffhäuser trail (Kyffhäuserweg)
See also: More amazing travel ideas for Germany!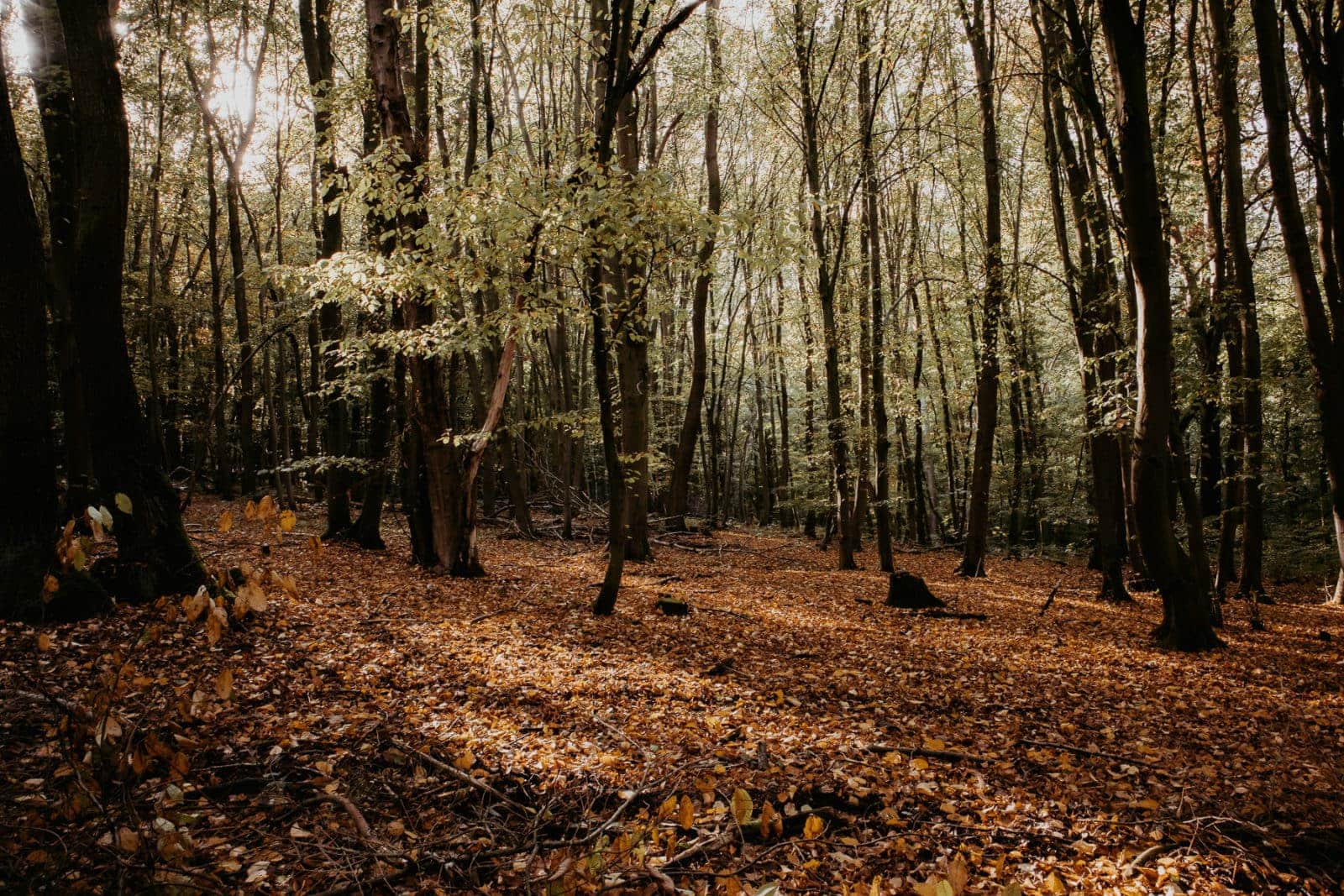 Past orchards and through dense forest
At first, my biggest concern on my first long solo hike was that I might get bored. But that wasn't a problem. Sometimes I listened to my favorite podcasts or just dived deep into nature, enjoying the silence and consciously breathing in the fresh forest air. Many parts of the trail lead through dense forest, with no soul nearby. Only tall trees and paths on the fluffy forest ground that feels like soft cotton under your feet.
Around Tilleda you will pass huge orchards with apples in the brightest colors. Coming here in the sunny late autumn was definitely a good decision!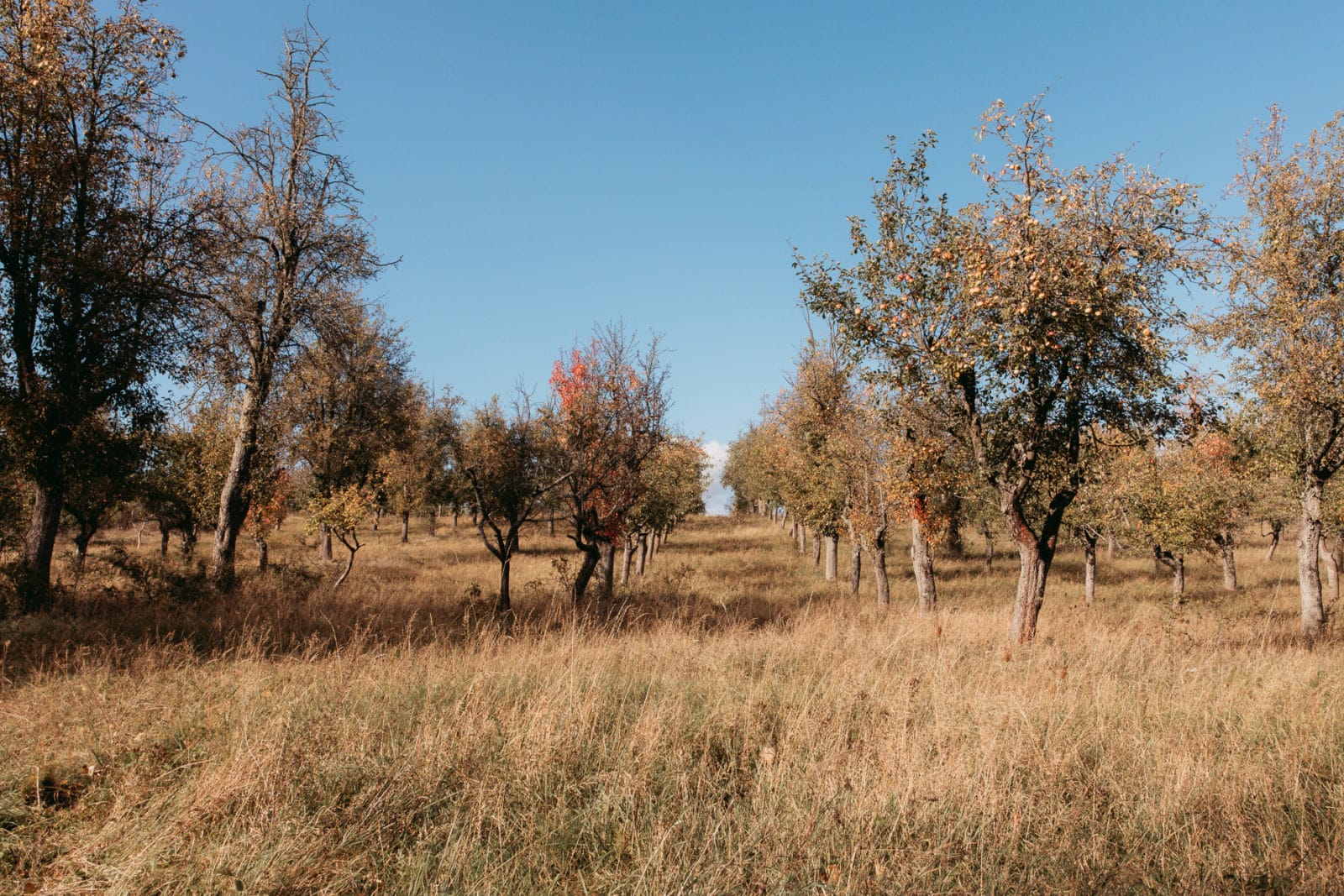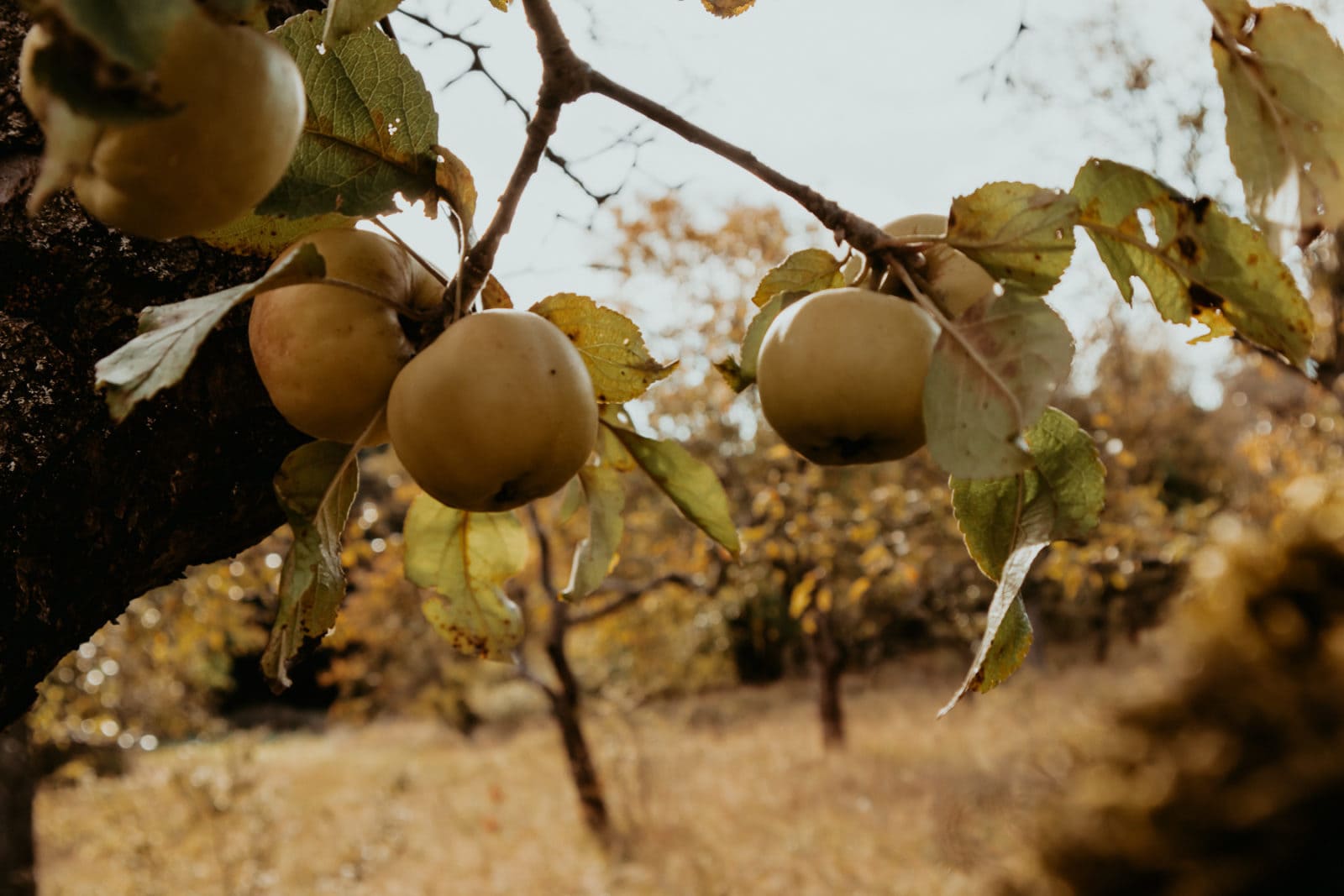 In Tilleda you will find idyllic meadow orchards as well as a small café, which is wonderful for a short break!
The Kyffhäuser Monument
Perched atop Kyffhäuser, the Kyffhäuser Monument can't be missed! It is a popular destination on weekends for families and motorcyclists who enjoy riding up the winding roads. The Kyffhäuser Monument is sometimes called the Barbarossadenkmal, but it is dedicated to Kaiser Wilhelm I.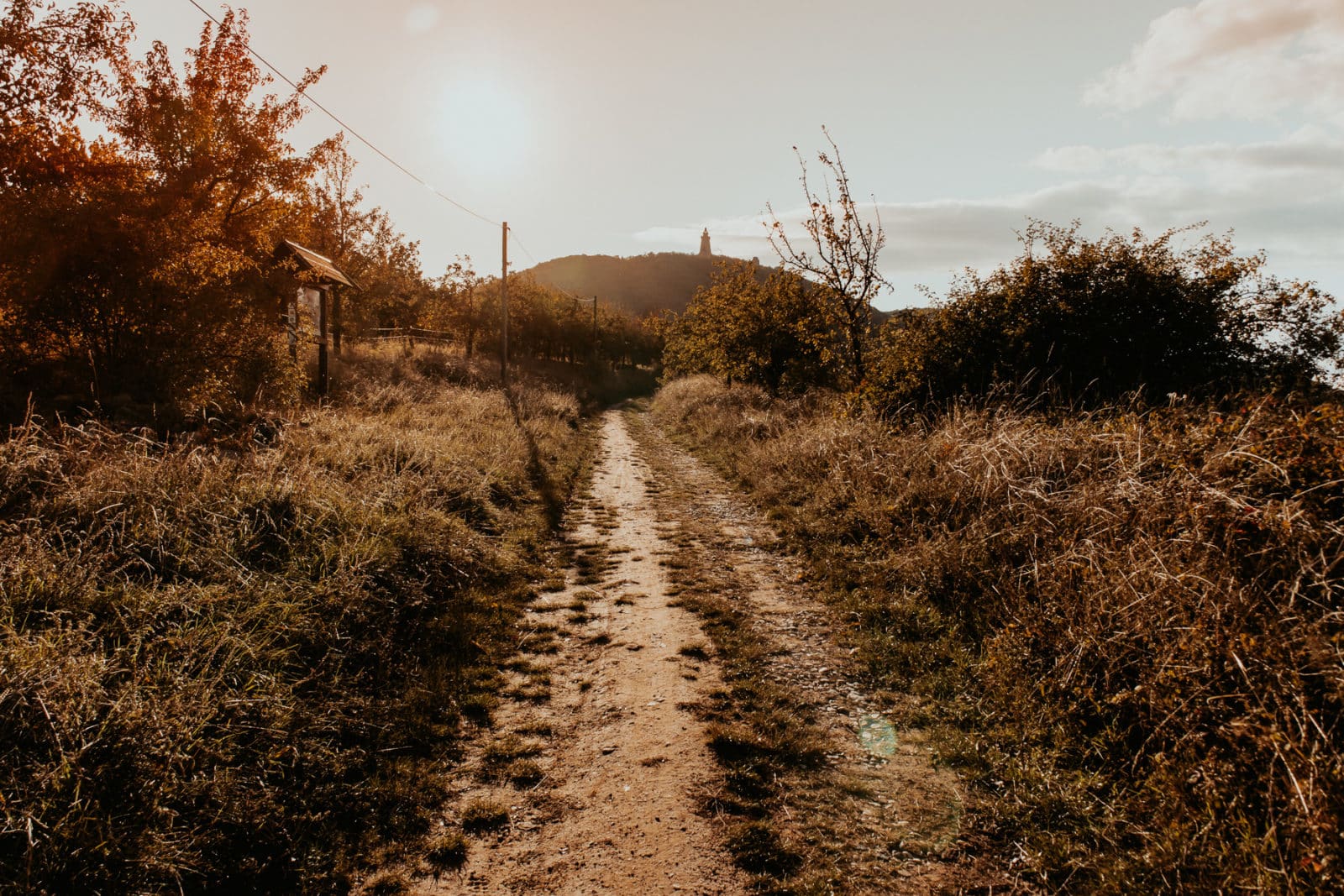 Country life and autumn impressions
My feet were already getting heavier on the last part, but the landscape made up for it! Broad views of the valley with cows, close enough to touch:
More interesting tips in and around Bad Frankenhausen
Locations & Attractions
For those who want to explore more of German and Thuringian history and culture, I highly recommend the following locations:
Panorama-Museum The Panorama Museum above the town features just one painting, Werner Tübke's "Early Civil Revolution in Germany," or Peasants' War Panorama. It's painted as a vast panorama in 360 degrees and lets you dive deep into the region's history. Experience the time around the German Peasants' War in 1525 as if you were right in the middle of it. For fans of: German history, art, culture
Kyffhäuser-Therme Typically for a spa town, Bad Frankenhausen also has an excellent brine spa with bathing and sauna facilities! If there hadn't been a pandemic, this would have been my first port of call after my long hike: Best relaxation in the brine water! For fans of: Wellness & Relaxation
Solewasser Vitalpark Located in the middle of a park, you'll find a modern outdoor brine pool with such illustrious features as a foot reflexology course, Kneipp basins, and an inhalation pavilion. For fans of: Outdoor pools, wellness, and outdoor
Barbarossahöhle (Barbarossa cave) You will across this name often: the legendary Emperor Friedrich I, also known as Barbarossa, is said to sleep in the Kyffhäuserberg, according to legend – with a bit of imagination, you can see him sitting in a rock formation at a stone table, while his long beard grows around it. For fans of: Legends, myths, archaeology, history.
Where to eat in Bad Frankenhausen
Don't miss out on the famous Thuringian cuisine with Thüringer Bratwurst (Grilled sausage) and Thüringer Klösse (Potato balls, usually served with meat and lots of sauce). Best place in town: Thüringer Hof
Traditional coffee, hot waffles and homemade cake: Kur-Café Trautmann
Where to stay in Bad Frankenhausen
Hotel garni Anger* I can recommend the Hotel garni Anger*! Located in the middle of town, modern, renovated, and the perfect starting point for all hikes around the Kyffhäuser.
Hiking solo in the Harz mountains
I would never have thought that I would like hiking so much! More than 40 kilometers came together on my long weekend. And all the worries I had before! Did I bring the right equipment, does the backpack fit, do I have the right shoes? For me, as a novice hiker, I was utterly overwhelmed with the choice of my equipment alone. But in the end, it was no problem at all.
Even with the many meters of altitude, I didn't have any problems. I was probably much slower on the road than experienced hikers, but I didn't see the trip as a competition. And I got a taste for hiking longer distances – who knows what will come in the future!
Are you an experienced hiker? Do you have any tips for beginners? Feel free to tell me in the comments!
Disclosure: The Harzer Tourismusverband e.V. invited me on this trip. Thanks!
Did you like this article? Then save it on Pinterest for later!