As a vibrant metropolis, Hamburg has a lot going for it in terms of gastronomy, of course! You'll find a brilliant mix of exotic cuisines, new concepts and endless creativity. The only problem: the supply is simply very, very large! To make your next trip to Hamburg easier, this food guide includes my current favorite restaurants, bars and cafes in Hamburg!
Pasta Autentica by Jill
Just around the corner from Hamburg's city hall, yet tucked away in a small side street, Pasta Autentica by Jill is the perfect spot for a city lunch between shopping and sightseeing. The store itself is not particularly large (reservations are a good idea!), the kitchen probably not either: The eponymous fresh pasta is namely made in the shop window on what feels like half a square meter in a corner of the guest room!
At your leisure, you can watch the cheerful pasta fairies as one ravioli after another is lovingly filled and only a short time later lands on the plates of the guests. This fact alone (and how incredibly neat they are in such a small space) would have earned Pasta Autentica by Jill a spot in my food guide – but it came to pass: my salmon ravioli in pistachio butter was so delicious that I was completely blown away. Absolute recommendation!
Pasta Autentica by Jill, Börsenbrücke 5/7, 20457 Hamburg (city center)
Frau Dr Schneider's Grilled Cheese Wonderland
Bread, cheese and a grill: the most delicious things can be so simple! In the pink Frau Dr Schneider's Grilled Cheese Wonderland, grilled cheese sandwiches get that little bit extra! My favorite was the Bacon Jam Grilled Cheese – the bacon jam made with their own recipe was so delicious! By the way, bring an appetite, such a sandwich is really a whole meal!
Frau Dr Schneider's Grilled Cheese Wonderland, Seilerstraße 40, 20359 Hamburg (St.Pauli)
Marshall Street Coffee
Admittedly, I'm not a very big fan of French toast: too buttery, too monotonous. I don't know what possessed me to order a French toast at Marshall Street Coffee that day. Possibly, however, it was also the premonition that it would be really difficult to find something here that didn't excite me.
In summary: French toast was great, the fresh juice too & great store anyway! Tip: Don't be put off by queues at the door. It's worth it!
Marshall Street Coffee, Schopenstehl 30, 20095 Hamburg (city center)
Elbgold
As a port city, Hamburg was the first port of call for exotic goods from overseas centuries ago. So it's no surprise that good coffee is easy to find: At the roastery in the Schanzenviertel, you can not only taste the in-house coffee, but also take it home with you.
Elbgold, Lagerstraße 34c, 20357 Hamburg (Schanzenviertel)
Mutterland
I only stumbled into the motherland by chance, because I had to kill a few hours at Hamburg's main train station – and it's not really inviting. Quite the opposite of the Mutterland, a real Hamburg institution.
Actually a delicatessen, here you can find delicacies from local manufactures as well as great gastronomy. On the one hand, there is a take-away area here with seating (good opportunity to work), but also a really good restaurant that is quite busy – definitely try it out! There are also four other locations, including in Eppendorf.
Mutterland Stammhaus, Kirchenallee 19, 20099 Hamburg (St.Georg)
Mimosas Brunch Club
Either way, Wexstraße is a good place to go if you're looking for a bit of homey atmosphere in downtown Hamburg. Here you'll find cute stores, small restaurants and such great locations as the recently opened Mimosas Brunch Club.
Mimosas Brunch Club is, as the name suggests, a great idea for an extensive brunch for two or with friends, but also for a small coffee break with delicious waffles. And if you can't get enough of the fruity mimosas, there's even a mimosas flat rate!
Tip: Despite new opening very popular, on weekends you should reserve!
Mimosas Brunch Club, Wexstraße 27, 20355 Hamburg (city center)
La Casita
With tacos it is such a thing, I think. Eating tacos completely drip and spill free just won't work for me. Especially not with the tacos from La Casita, because they are so well filled!
Tip: The tacos are the perfect snack when the flea market takes place around the little snack bar on Saturdays, a really good flea market with lots of vintage treasures.
La Casita, Neuer Kamp 30, 20357 Hamburg (Schanzenviertel)
Blick Bar
If the typical fish sandwiches are too mundane for you, or if you are curious about a completely different variant, then I recommend a visit to the Blick Bar. Not only can you enjoy a beautiful view of Hamburg's city center, you can also get to the Elbphilharmonie observation deck without waiting – because the Blick Bar is actually the house bar of The Westin Hamburg, whose rooms are located above the concert hall.
Be sure to try the signature duo of a glass of champagne and a fish brioche and just take a break from sightseeing. And don't worry, the Blick Bar is wonderfully unpretentious and relaxed despite all the luxury!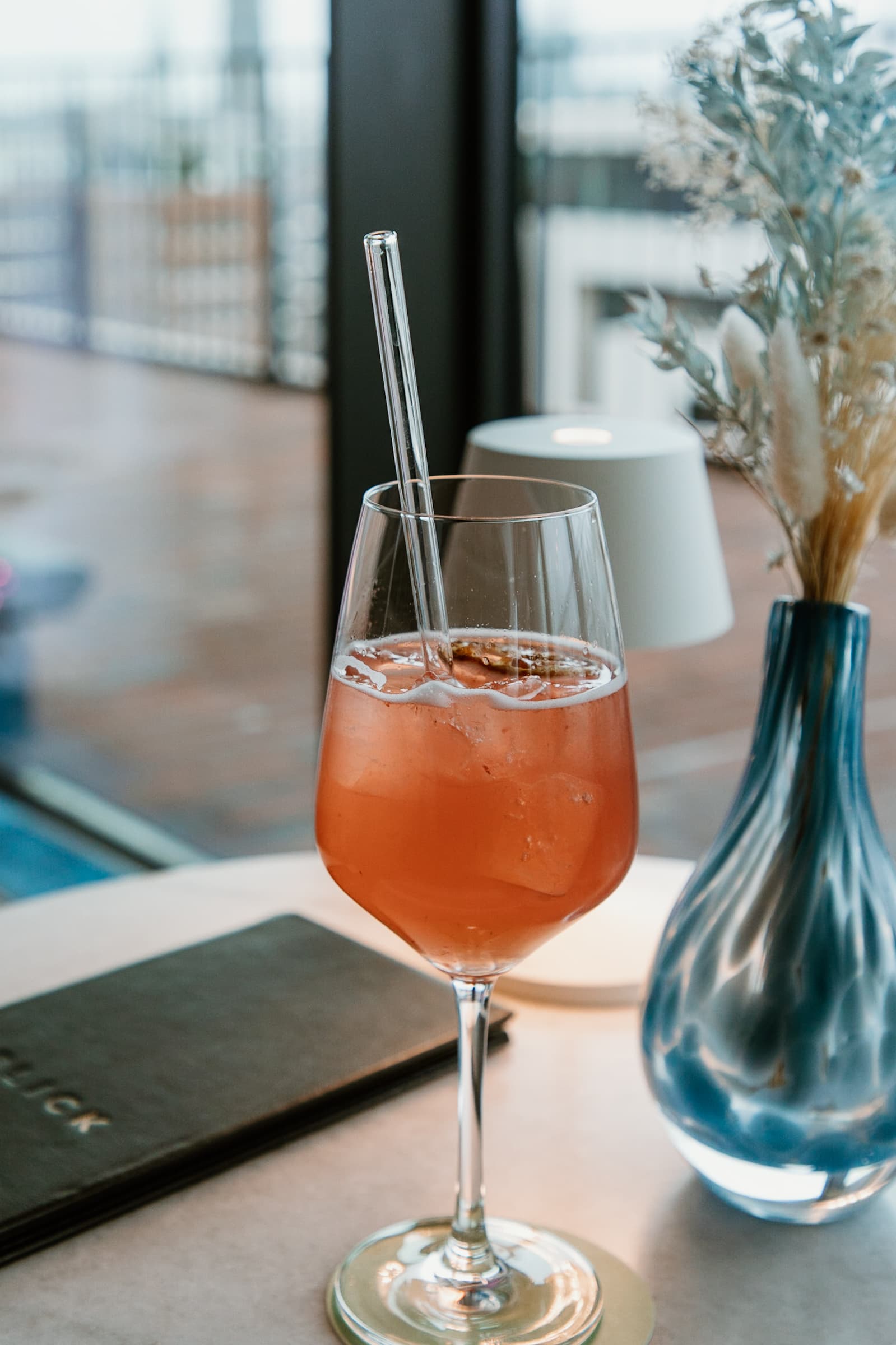 Blick Bar, Platz d. Deutsche Einheit 2, 20457 Hamburg (city center)
If you're in the mood for some pretty extraordinary accommodation: Book your stay at The Westin Hamburg here*
Many thanks to Hamburg Tourismus and The Westin Hamburg for their support during the research for this article!