At the right place at the right time. It's freezing cold, but the day is sunny. And it is just the right, unfortunately much too short, phase when the autumn leaves still shine from the trees in their full blaze of colour. I wondered if the gardeners of Gyeongbokgung Palace in Seoul planted the trees after how they change they colours? It almost looks like it, because this cheerful and warm mixture of all imaginable leaf colors is unique and too beautiful to be just coincidence. Or it is simply due to the fact that the palace complex itself is very simple. No pomp, no gold, no displayed wealth. And quite a lot of grey. I guess modesty is an ancient Korean trait.
Gyeongbokgung Palace: How to get a free entry
But not only the sea of leaves around the palace is colourful, but also its visitors: Many young Koreans in the greatest traditional costumes swarm through the complex, shoot selfies or giggling in front of their cameras for the most beautiful photo. They also proudly let themselves be photographed with strangers, because Koreans are really happy when tourists are interested in their culture.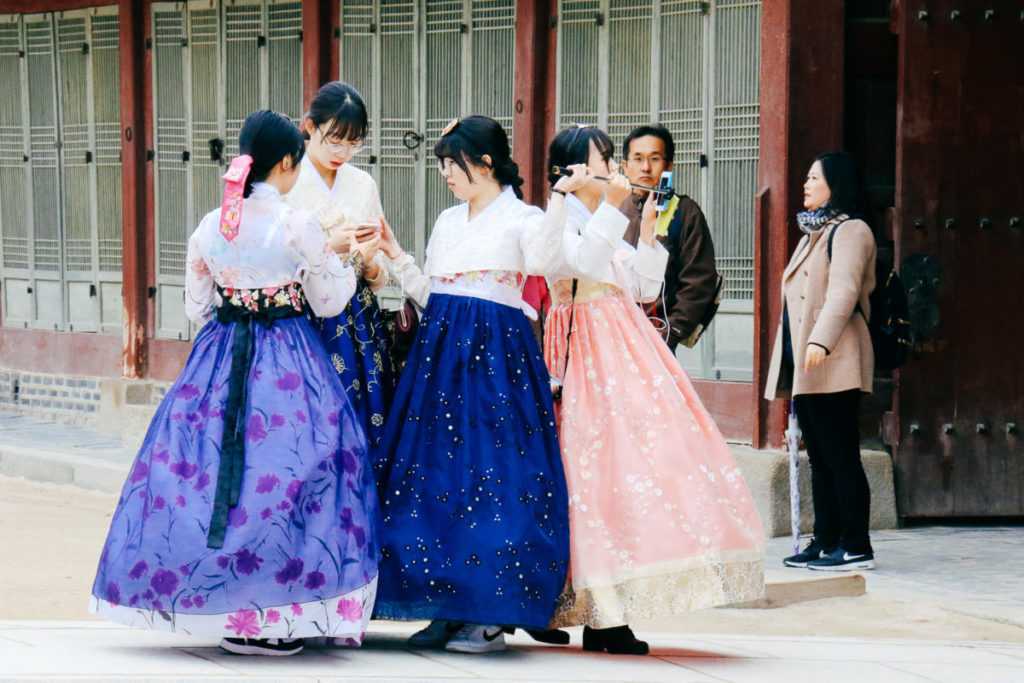 No one really knows who came up with the disguise and what it's all about, though. But everyone has fun. And free entrance. Because those who appear in traditional costume don't have to pay any entrance fee! However, the money saved in this way is usually invested in the fee for one of the surrounding costume rentals beforehand – but what the heck.
By the way, I didn't pay any entrance fee, either, without a costume. On the way to the cash desk a Korean woman came towards me and pushed one too many bought tickets into my hand. Why? Just because. "Take it as a gift. You look so nice. And enjoy Korea!" and ran away.
Bukchon Hanok Village
Close to the palace is also Bukchon Hanok Village, a small mountainous district with well-preserved houses that can look back on 600 years of history. Despite the streams of tourists, it is actually quite restful here. There is a sign on almost every front door asking for peace and quiet – and fascinatingly enough, everyone sticks to it and moves silently and thoughtfully through the small alleys.
In the alleyways themselves there are only few or no restaurants, shops or similar. But a little further down there are nice little streets with the most dreamy cafés. Stop for a bite to eat, drink tea, forget time.
Information
Gyeongbokgung Palace
closed on Tuesdays
Subway Line 3 Gyeongbokgung
Admission 3000 Won (approx. 2,50€)
free guided tours in English 11.00, 13.30, 15.30 (highly recommended, otherwise there is little information on site)
more info here
Bukchon Hanok Village
about 15-20 minutes walk from the main entrance of Gyeongbokgung Palace
or subway line 3 Anguk
More articles on South Korea: