Have you ever been to Aberdeen? The city in Scotland is also known as the "Silver City". In this article, I'll show you around and give you some ideas what to do in Aberdeen. Don't miss this charming city if you are travelling to Scotland or if you are on a road trip through the Scotish Highlands. Aberdeen will surprise you!
Aberdeen and the "Silver City"
On the flight to Aberdeen, a passenger said to me: "Aberdeen is a special city. Everything is grey. The whole city. I bet you've never seen so much grey at one place in your life!" Ha. Well, he didn't know that I grew up in an industrial area in Germany, the "Ruhrgebiet", a place which was dominated by the coal and steel industry for a long time and which isn't very famous for its beauty. I basically grew up between the rests of a dying industry – so I thought, Aberdeen couldn't shock me.
Aberdeen and its granite buildings
Apparently our passenger was right: Everything in Aberdeen is grey. Even the sky was grey. But although I'm more the sunshine type of gal and I get seriously depressed when the temperature falls under 20 degrees, it didn't bother me at all. Turns out, all the buildings are grey, because they are build from granite – a very expensive construction material, but typically found in the area around Aberdeen.
Crazy thing: If you really, really look closely to the facades and if you're lucky to catch a ray of sunlight coming through the thick clouds you can see tiny silver particles sparkling in the facades! I never liked grey so much :)
Unfortunately, I didn't have much time to explore the whole city. Or the surroundings. From Aberdeen, you can easily visit some Scottish castles, like the famous Balmoral castle! Anyway, here are my very personal tips for spending a few hours in Aberdeen:
The Maritime Museum
Due to its location and living largely off the oil industry, it's no wonder that Aberdeen has a maritime museum. Must-see for all fans of fishy stuff.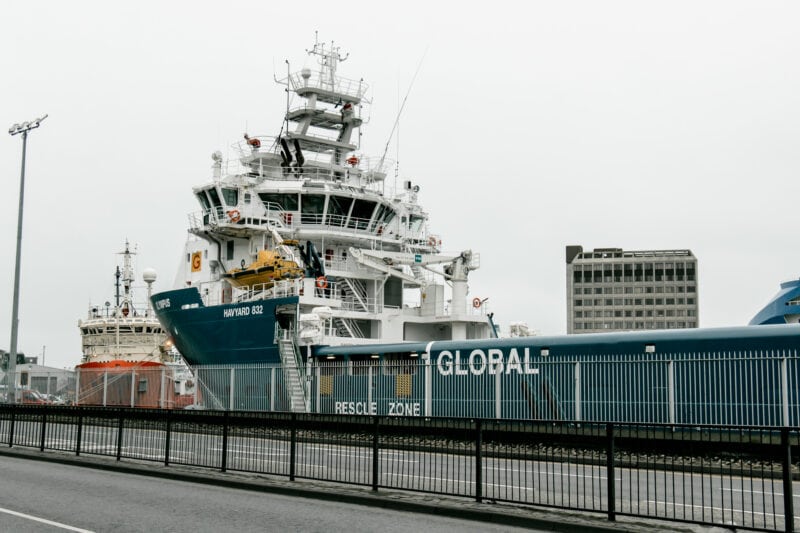 The graveyard at the Saint Nicholas Church on Union Street
Okay, usually not a big fan of graveyards. Kind of creep me out. But this one here left an impression on me, because the green moss on the super-old graves were the only colorful thing around. Kind of a happy place in between all the grey-ness. Located on Union Street, not very big, so if you are around for shopping, stop by.
Shopping in Aberdeen?
My all-time favorite tip for all British locations! (And whoever once got lost in the food court of a Marks and Spencer knows what I mean!) On Union Street, you will find all the classics – and what I love most about British brands as a dwarf-sized person myself is that most of them have a special petite section! So no more cutting trousers! Yay.
And for all Jamie Oliver fans: this.
Afternoon Tea in Aberdeen
Tea, scones, jam and clotted cream: it's sweet, it's fat, it's awesome! Not typically for Aberdeen, but everytime I'm here I love to enjoy an old school British cup of tea. Probably the same as anywhere else, but hey, five o'clock tea is such a classic!
More about British tea time:
http://britlog.at/wordpress/die-briten-und-ihr-tee/ (in German)
https://www.adecentcupoftea.de
Have you ever been to Aberdeen?
Any suggestions for my next Aberdeen visit? Feel free to share your Aberdeen and/or Scotland tips in the comment section!
More inspiration for quick city trips around Europe: