At Es Verger restaurant in Alaró, it's said that you can get the best lamb shoulder on the island. To say one thing up front: Yes, it was probably the best lamb shoulder I have eaten in my life. On the other hand, a visit to Es Verger is one of the greatest adventures you can have in Mallorca – find out why here!
Fancy a relaxing vacation in the mountains of Mallorca?
Click here to book your accommodation in the Serra Tramuntana!
An excursion to Es Verger in Alaró
Alaró is a small village at the foot of the Tramuntana mountains in the west of Mallorca. Alaró is best known for its weekly market, which takes place every Saturday in the village center, and for the Castell d'Alaró, which towers over the quiet town on top of the Puig de Alaró. On the way there is the excursion restaurant Es Verger, also very popular among Mallorcans.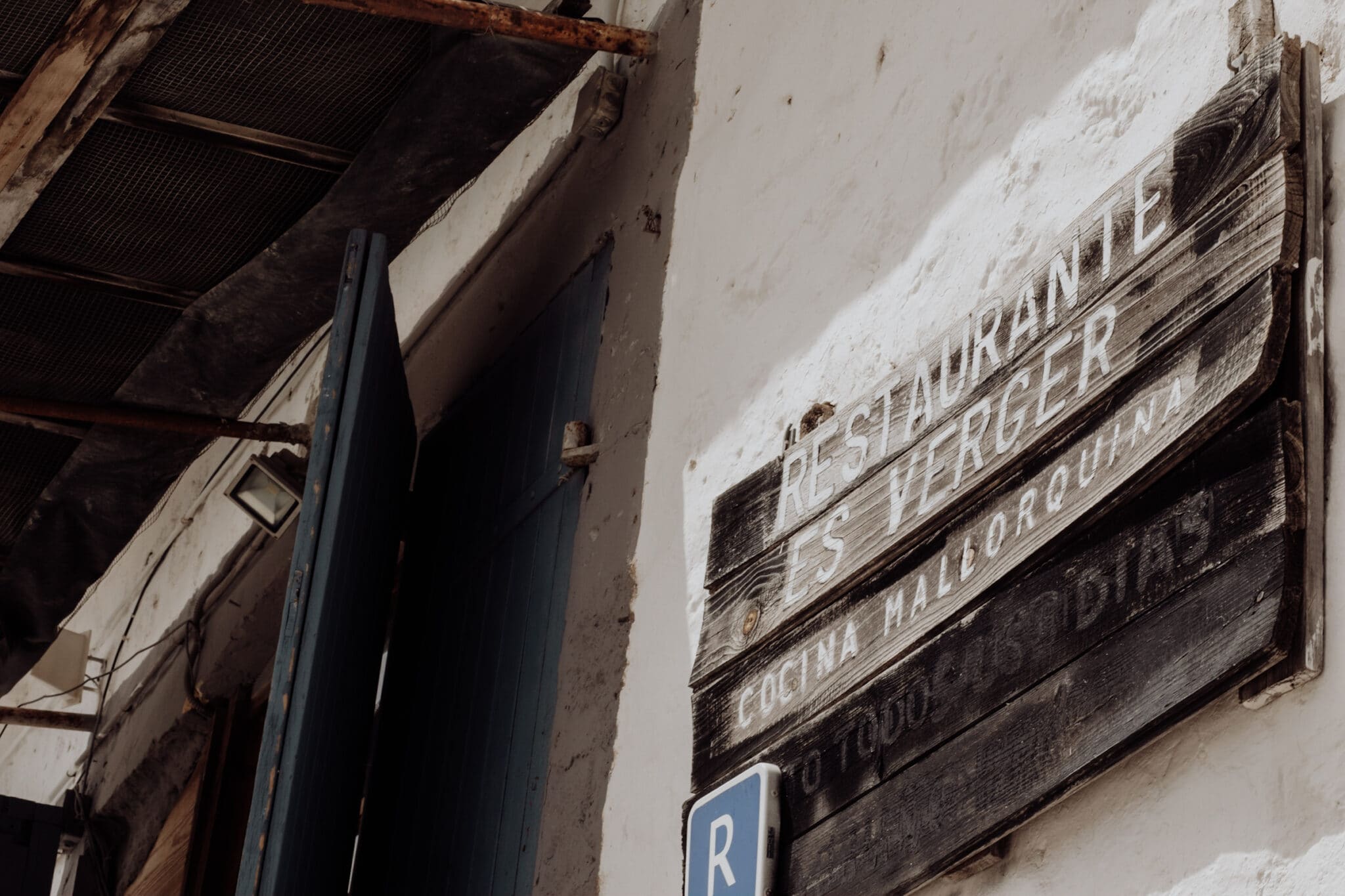 By the way, you can find more tips for Mallorca here!
The best lamb shoulder in Mallorca
Rumor has it that Es Verger is THE place to go for the most tender shoulder of lamb ever. But also the lechona (suckling pig) and the cabrito de montaña (goat) are also among the house's signature dishes. At Es Verger, the meat is slowly roasted in the huge wood-burning oven for hours in the morning until it lands on the plates at noon, aromatic and soft like butter. Meanwhile, the Mallorcan lamb shoulder of Es Verger has brought it to some fame since it's been discovered by British TV chef Rick Stein who did a bit for a BBC show here. Even the German star chef Tim Mälzer has once filmed here and written down his own recipe.
Tim Mälzer's recipe for Mallorcan lamb shoulder
The ambiance is rustic and simple. Outside, you sit on plastic chairs like in a beer garden. However, with the fascinating mountain panorama all around, this isn't important at all.
You may also have to get used to the fact that the meat, so delicious, is so tender not only because of the long braising, but probably also because of its freshness: at least some small goats run around on the property and you'll hear them moving.
Hiking to Es Verger
It takes about an hour and a half to walk up from Alaró to the restaurant Es Verger, and there are quite a few meters of altitude to climb. So in summer, it is rather not recommended if you do not leave early enough. (Please also check if it's open at all, sometimes the restaurant is closed for vacation in plain summer.)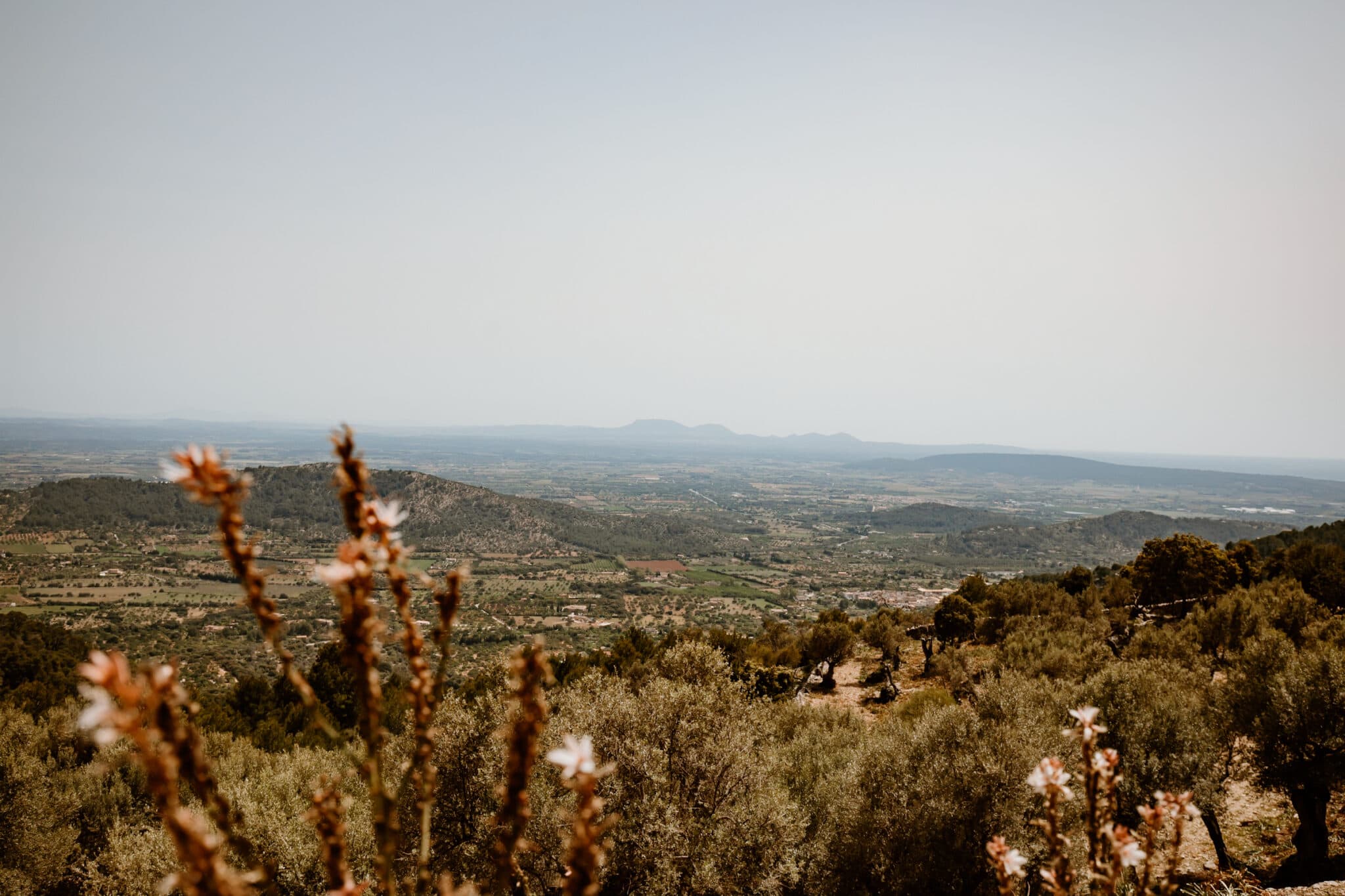 By car to Es Verger
Alternatively, you can drive up to the restaurant and park in a parking lot. I have ignored warnings that the way here is adventurous. I said to myself, if others can make it up there, then I can do it too, that's for sure!
However, I didn't expect what was coming: The road that leads up is mostly not asphalted and hardly wider than a small car. And it's full of tight curves uphill! The road is rather reminiscent of a hiking trails and you won't see any guard rails or anything alike. But my adrenaline level reached its peak when oncoming traffic appeared – often the only thing that helped was to roll backwards to the next slightly wider spot and pray that it fits somehow without any major damages.
The ride up is really not for the faint of heart.
Tips for the drive
But if you still can't let it go (like me), here are a few tips:
Remember that you have to accept damages to the car on this route. Especially because of the bumpy road, this drive is not recommended for sports cars.
Are you traveling by rental car? I always advise to take fully comprehensive insurance without deductible, for example, when you book

here

*. It doesn't usually cover damage from driving over such crazy roads, but maybe it will help.
Go with the flow: Drive up in the morning if possible, then there are fewer cars on the road and there is little oncoming traffic.
Aim for Es Verger for lunch before many dishes are sold out, then you can head up to the Castell and then back down in the late afternoon with everyone else like in a convoy.
Parking: Also because of the parking situation on site you should go early. Parking is limited, so is the space above. If you arrive too late, you have to park rather adventurous in the few bays just outside the parking lot. Or even worse: You have to go all the way back immediately (happens again and again), because there is simply no more space left and you made all the effort for nothing.
The higher up you are, the less likely you are to find a opportunity to turn around.
So if you're scared to death after just a few minutes, you'd better turn around and go back while you can. After a certain point there is no turning back and you have to go up to the parking lot.
Drive carefully!
However, whether on foot or by car, you'll have earned yourself the huge portions at Es Verger by the time you reach the top!
Es Verger
Camino del Castillo de Alaró
daily 10-20, except Mondays (check for vacation in plain summer!)
More articles about Mallorca: