The Dead Sea was one of my stops on my trip to Israel. After Jerusalem, Tel Aviv and Masada, Ein Bokek was my last stop of the Israel trip. Here you can find my tips for a visit to the Dead Sea in Israel!
Already my arrival has been truly special. The Dead Sea is the deepest point on earth and it's located in the middle of a desert landscape. Shimmering air over the asphalt announced that it wouldn't be quite so cool outside my air-conditioned rental car. As if in an elongated valley, I slowly approached the Dead Sea, further and further down. The barren landscape and the great heat gives an idea why the Dead Sea is called Dead Sea.
The place Ein Bokek
It's hot, there's no a single soul on the streets, and although Ein Bokek seems like a place built exclusively for tourists, city life keeps to a minimum. The center of the village consists mostly of huge hotels, sometimes more, sometimes less chic. My accommodation is right on the beach with direct access, but actually, it doesn't matter. All beaches are open to the public. I treated myself and stayed for two days with lots of relaxation, lying around on the beach and of course bathing in the Dead Sea. Although I'd rather call it floating than swimming.
Hotel recommendation for Ein Bokek*| Renting a car in Israel*
Is it possible to swim in the Dead Sea? My test in Ein Bokek
Bathing in the Dead Sea is not as easy as it sounds. You'll be more floating than swimming! You've probably seen those pictures of people floating in the turquoise waters of the Dead Sea while reading a newspaper. The Dead Sea is actually a salt lake and extremely salty, with one part salt for every two parts of water.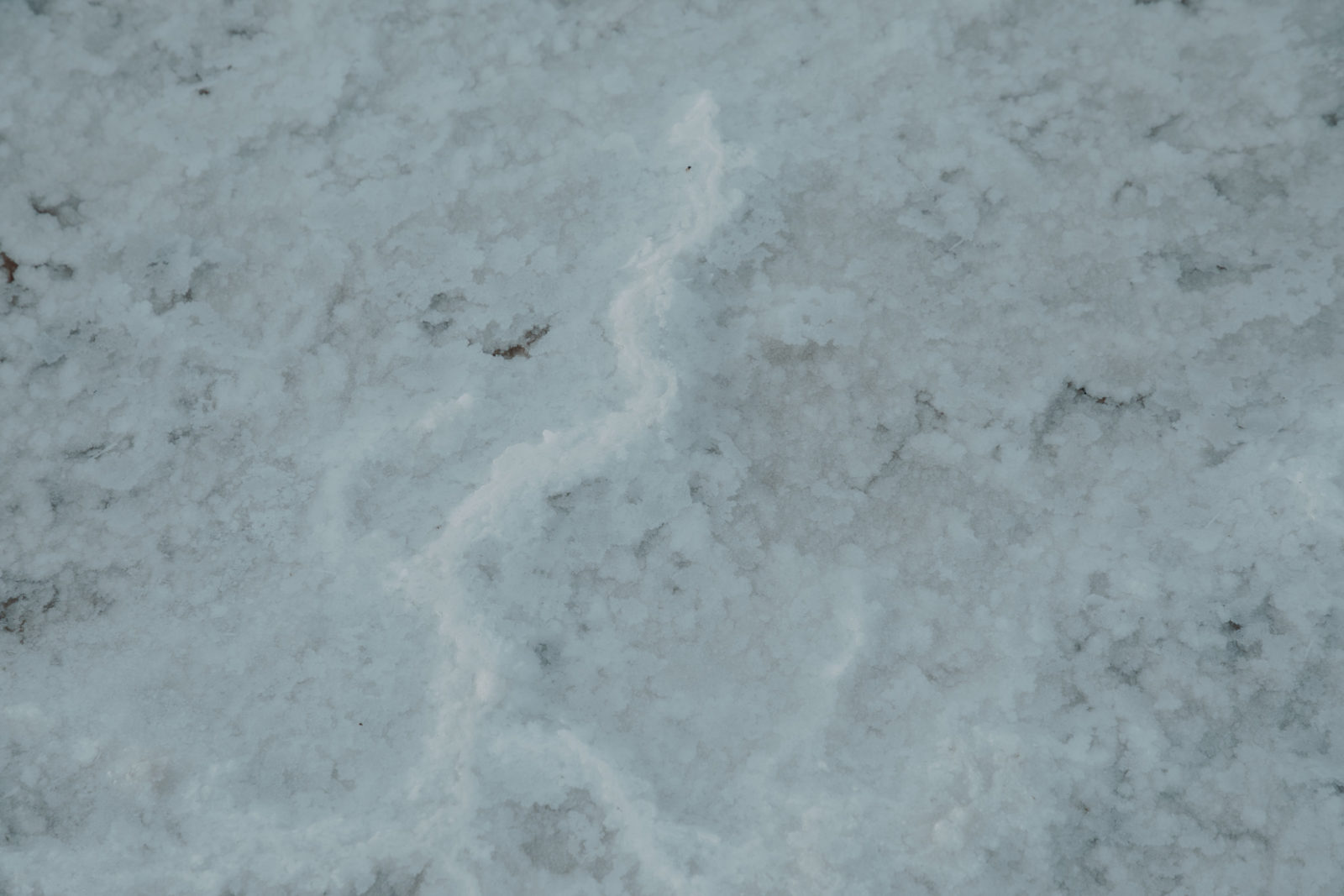 This makes swimming in the Dead Sea almost impossible, because even a tiny hint of a splash in the eye can have nasty consequences. No comparison to conventional seawater. Curious as I am, and defying all warnings, I minimally touched my skin with the tip of my tongue, and I had the caustic, poisonous taste on my tongue for hours. Don't try it yourself! In general, there are more accidents in the Dead Sea than you might think: Swallowed water can even lead to chemical burns.
Dead Sea Mud, Bath Salts & Masks: The Beauty Hype
After tasting the water, I was questioning myself: This water is supposed to be healthy? Many tourists travel to the Dead Sea precisely because of the health aspects: for skin diseases such as neurodermatitis, the water of the Dead Sea with its many minerals is a real blessing. The Dead Sea itself is so inhospitable due to the salt content that only very few organisms survive in it, plants and animals are searched for in vain.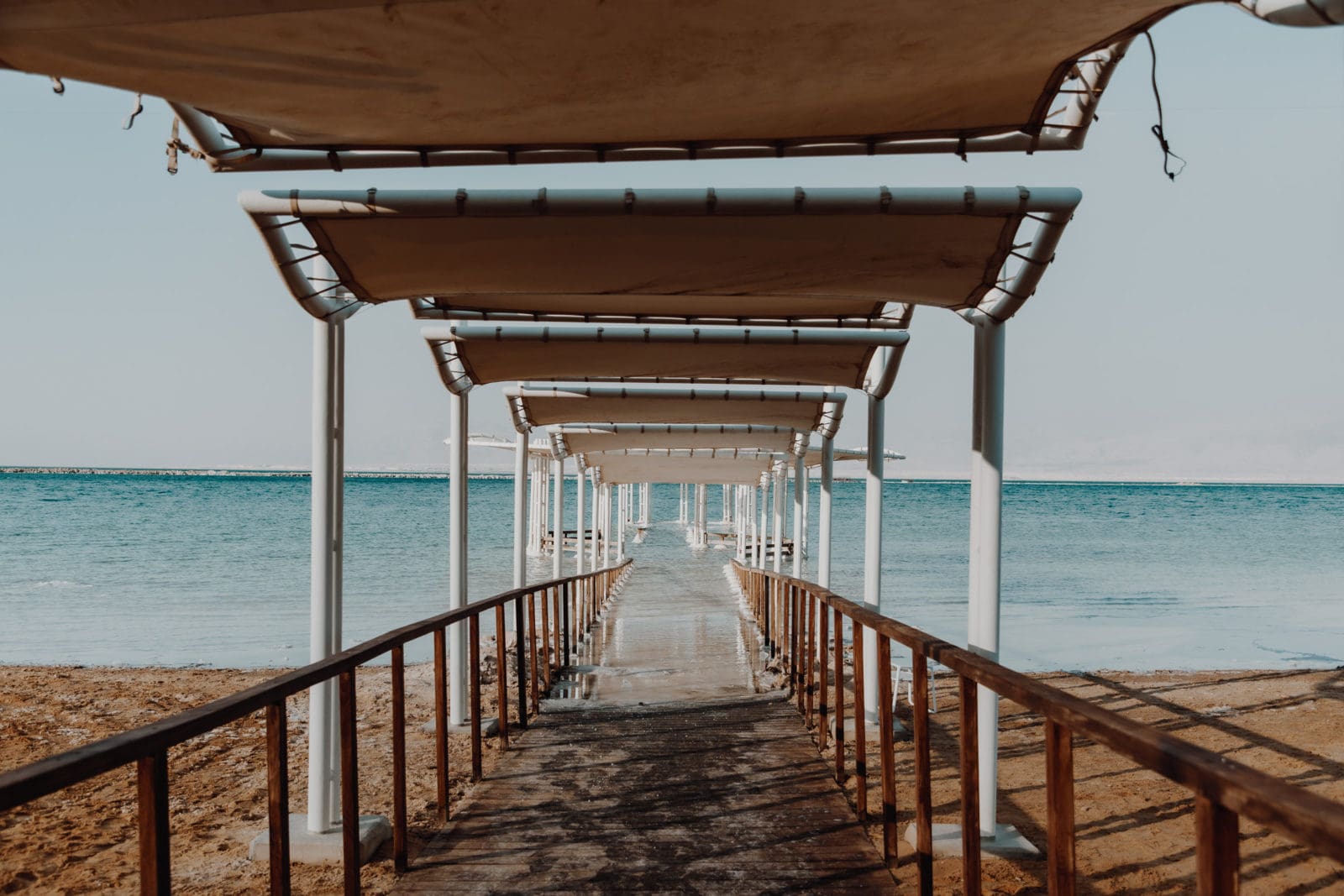 Except for stubborn little miniature flies, which can ruin all the fun of swimming because they prefer to pick at human skin. They do not leave stings, but a stay at the water is still unpleasant. Also the sharp-edged salt crusts are not always pleasant when you're barefoot. Therefore, you have to be very careful at bathing places outside hotel environments like Ein Bokek. Most people then find relaxation rather at the hotel pools, which are filled with conventional chlorinated water.
For the obligatory beauty program, however, you have to go back to the beach: on every corner, packs with real Dead Sea mud are offered, which was scraped from the ground somewhere in the vastness of the lake. With the mud mask you rub yourself from head to toe, wait until everything dries and wash it down again in the lake. The mud made my skin so soft, it was amazing!
Click here to read more travel guides from Israel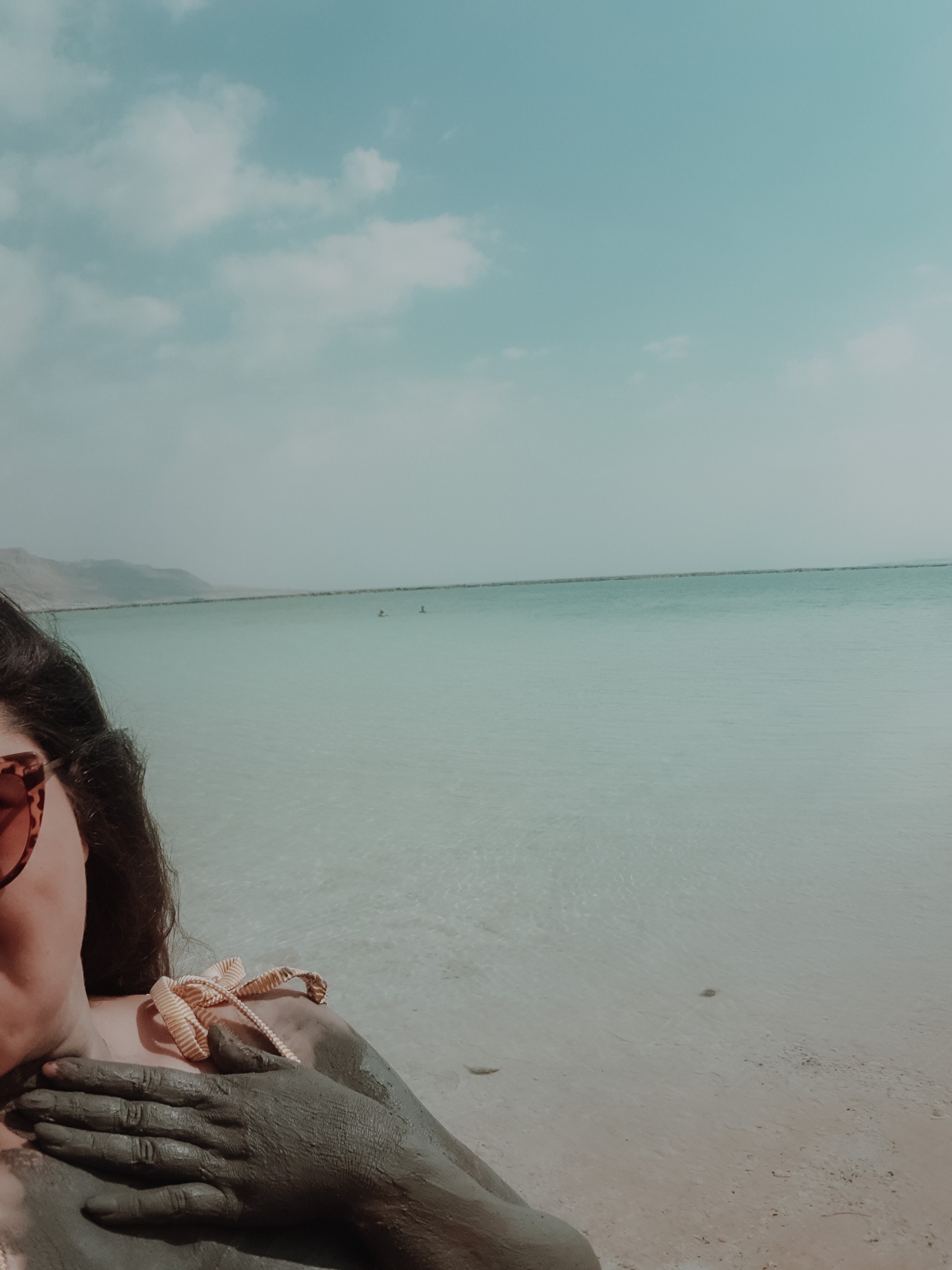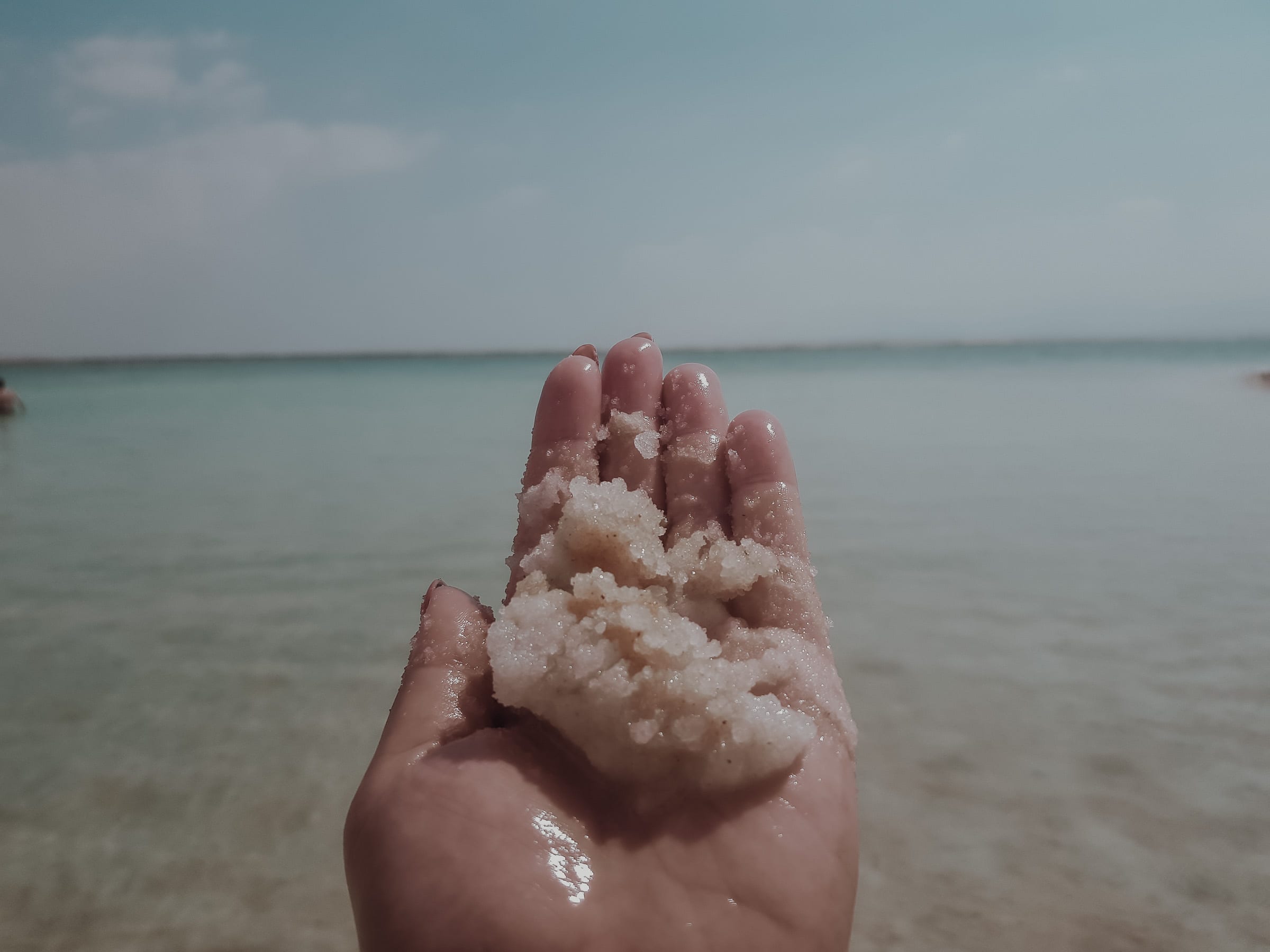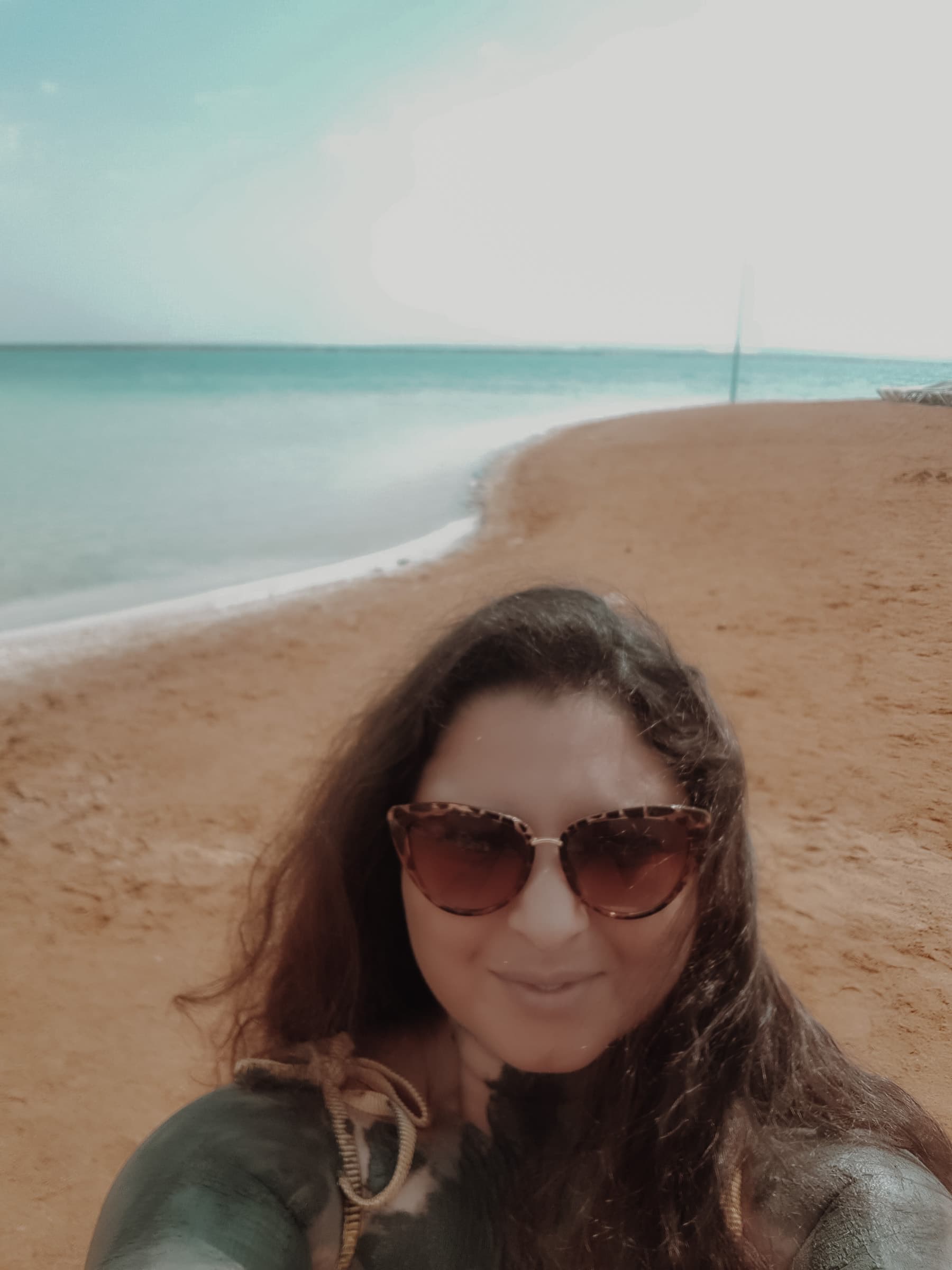 Accommodation in Ein Bokek
Among the many big hotels it almost makes no difference: They all are lacking a bit of charme. I have stayed at the Herbert Samuel Hod Dead Sea Hotel* with pool and private spa. I thought it was better to opt for a hotel with a few amenities due to the lack of entertainment factor in Ein Bokek itself. The pool is small, everything is somehow grubby due to the mass of people and the service, as usual in Israel, is almost non-existent. Service wasn't the best, but I think that's probably an issue in general. Other hotels might be a bit better, but they are also astromically expensive.
Practical tips for your visit to the Dead Sea
I have heard from many travelers and Israelis that the price-performance ratio on the Jordanian side is supposed to be much better. So if you are also planning a trip to Jordan, you can also swim in the Dead Sea there for less money. By the way, popular souvenirs are the Dead Sea mud and Dead Sea bath salts. In the two mini shopping centers of the village you can buy all kinds of beauty products with minerals from the Dead Sea.
How to get there
Ein Bokek is a good two-hour drive from Tel Aviv. Click here to check prices for rental cars in Israel! Basically, a few days at the Dead Sea are more than enough. However, there are also many tour companies that offer day tours from Tel Aviv or Jerusalem to the Dead Sea, which is also a good alternative.
Often tours are offered in connection with the Masada fortress. Read also my article Sunrise in Masada
For more on Tel Aviv and Jerusalem, check out these posts:
The Ultimate Guide for Jerusalem
Jerusalem: Not an easy city to visit
The City of David in Jerusalem
Tel Aviv: The 10 coolest sights