Usually I rarely get to stay in hotels on Mallorca. But when it comes to testing new hotels, I'm only too happy to oblige! Recently, the Cook's Club Calvià Beach* on Mallorca has been launched and I spent a long weekend there.
➜ Check rates: Cook's Club Calvia Beach*
Cook's Club: The Brand
The hotel brand Cook's Club pursues a new, innovative concept for vacation hotels: Here, the well-deserved time out in the sun is celebrated in a casual yet stylish way, without skimping on a certain standard. All Cook's Club hotels are designed in aesthetic minimalism and are pretty much the complete opposite of the usual accomodations at popular destinations.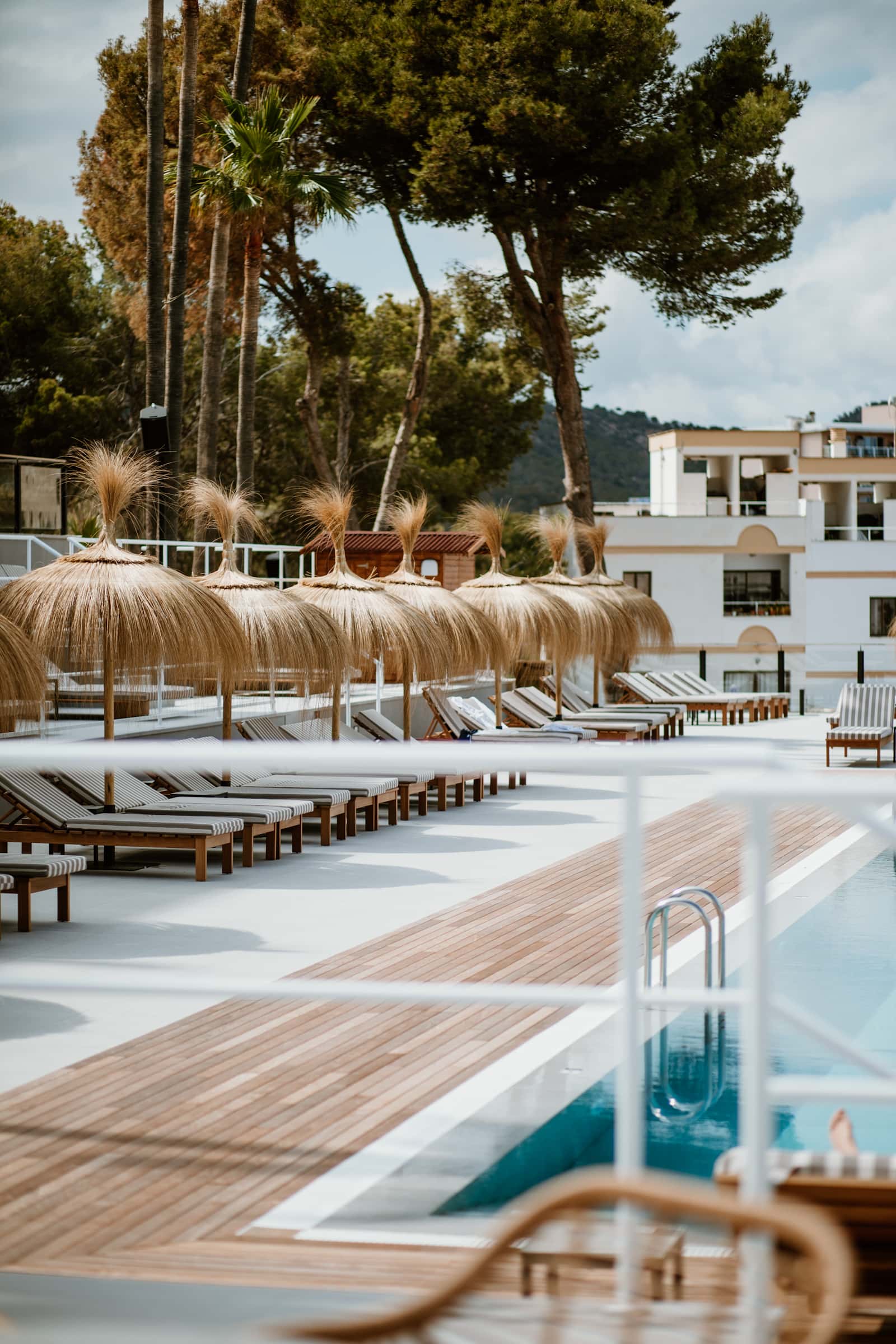 Cook's Club Calvià Beach in Torrenova
One of the latest new locations in the Cook's Club portfolio is Cook's Club Calvià Beach* in Torrenova, located on a hill right between Playa de Magaluf and Playa Son Matias in Palmanova.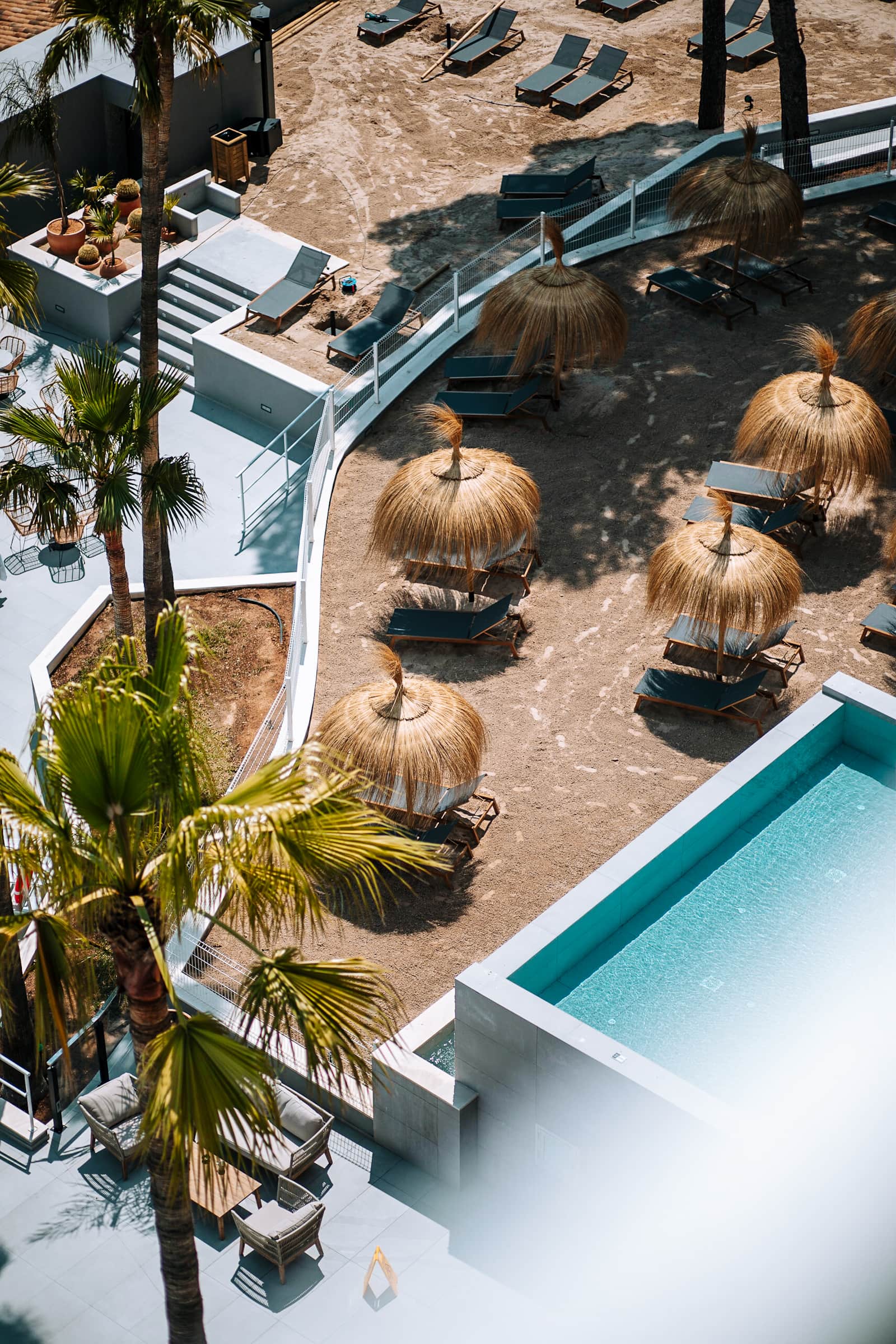 Located on a hill, the Cook's Club Calvià Beach provides a breathtaking panoramic view of the surrounding bays, especially from the higher floors. From my room on the seventh floor, I was able to enjoy beautiful sunrises over the bay of Palmanova every morning.
Rooms at Cook's Club Calvià Beach
Not your average vacation hotel is what they want to be, Cook's Club themselves say – and judging by the rooms, they've stuck to their guns. The original building of Cook's Club Calvià Beach, which just last year housed one of these aforementioned vacation hotels, has been transformed so that not much of the vibe of an interchangeable tourist hotel remains.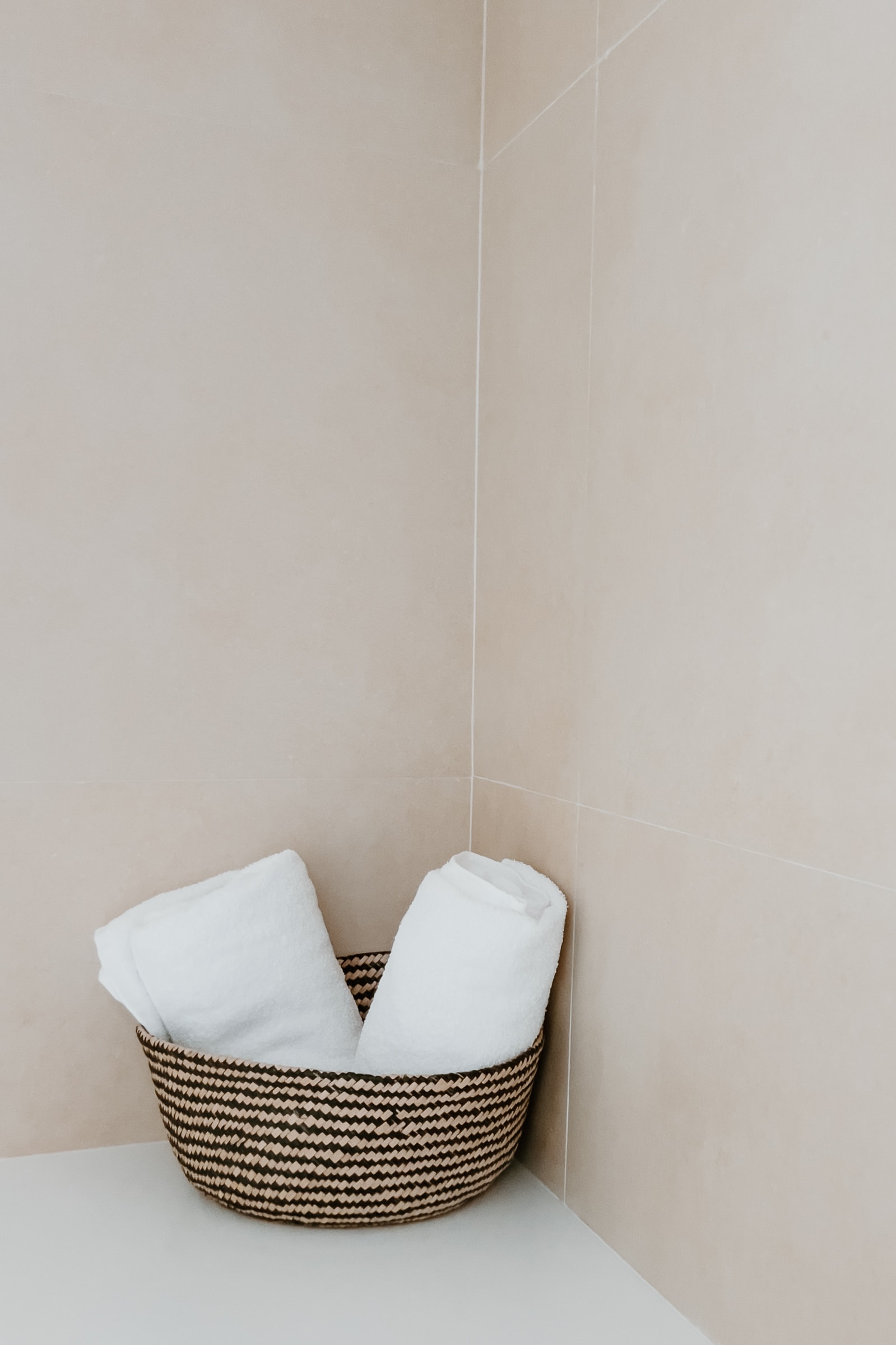 The rooms are spacious, have a large balcony and everything you need for a summer vacation is there. I was particularly pleased with the clean lines and cool tile floor; too many bells and whistles in a hotel room just isn't my thing. And the view of the sea from your own balcony is ultimately the icing on the cake.
Adults Only: Only for adults
I'm always ambivalent when I hear the term "Adults Only" in reference to hotels because it sounds so exclusionary. However, it also helps to find the right hotel for your vacation!
Cook's Club Calvià Beach, for example, is completely geared to the needs of a younger crowd traveling without children: Pool afternoons are often accompanied by chill-out house music, the cocktail bar offers delicious daiquiris as you like, and breakfast starts rather late at 8am only. Those who like to sleep longer are provided with a hang-over breakfast until noon: This corner of Mallorca is less suitable for families with children.
Chilling & Parties: The new Magaluf
Magaluf is right next door and enjoys a similar reputation among Brits as Playa de Palma does among Germans. A lot has changed here in recent years: The days of excessive parties are over. People still party, but in a much more civilized and pleasant way.
The pedestrian zone in Magaluf has also been extensively renovated, so you'll find the main stores here – there's even a pretty well-stocked Mango if you do forget an item or two at home and don't want to resort to the typical tourist boutiques. During the day, it's quiet and you can chill on the beach or treat yourself to an ice cream at one of Mallorca's best ice cream parlors Rivareno.
Need more tips for the island?
Then be sure to check out my Mallorca page!
Anyway, Magaluf is my tip for you if you want to spend a party vacation on Mallorca, but don't really feel like the beating atmosphere around Ballermann. (Or simply do not want to meet acquaintances from Germany ;) ) Because I find that it is always a lot of fun to party with Brits, I know that from several stays in the UK. The mood just often remains very congenial and cheerful despite a high level of alcohol. In Magaluf you will also find BCM, the biggest club in Mallorca for house and electronic music, for which even locals travel from Palma to the southwest.
Palmanova: Even more beach clubs & beach restaurants
On the other side of Cook's Club Calvià Beach is the beach of Son Matias, which belongs to Palmanova. Here, it's a bit more family-friendly, and that's what makes the location of Cook's Club so special: you have the choice between two completely different areas.
What is very successful on both beaches, however, are the many beach clubs and beach restaurants, which also provide entertainment during the day, if you are bored simply lying around on the beach.
For a warm summer evening with very good food, I can recommend Siso Beach; here you get Mediterranean-Asian fusion cuisine served in an upscale ambience with a view of the bay of Palmanova.
Cantina & Cocktails at Cook's Club Calvià Beach
Gastronomically, however, you will also be very well catered for in the Cook's Club itself. As with all the other clubs, they go for the "cantina" concept, which reminded me a bit of Vapiano. Breakfast is rich and served buffet style; fried eggs, waffles or pancakes are available fresh at each station.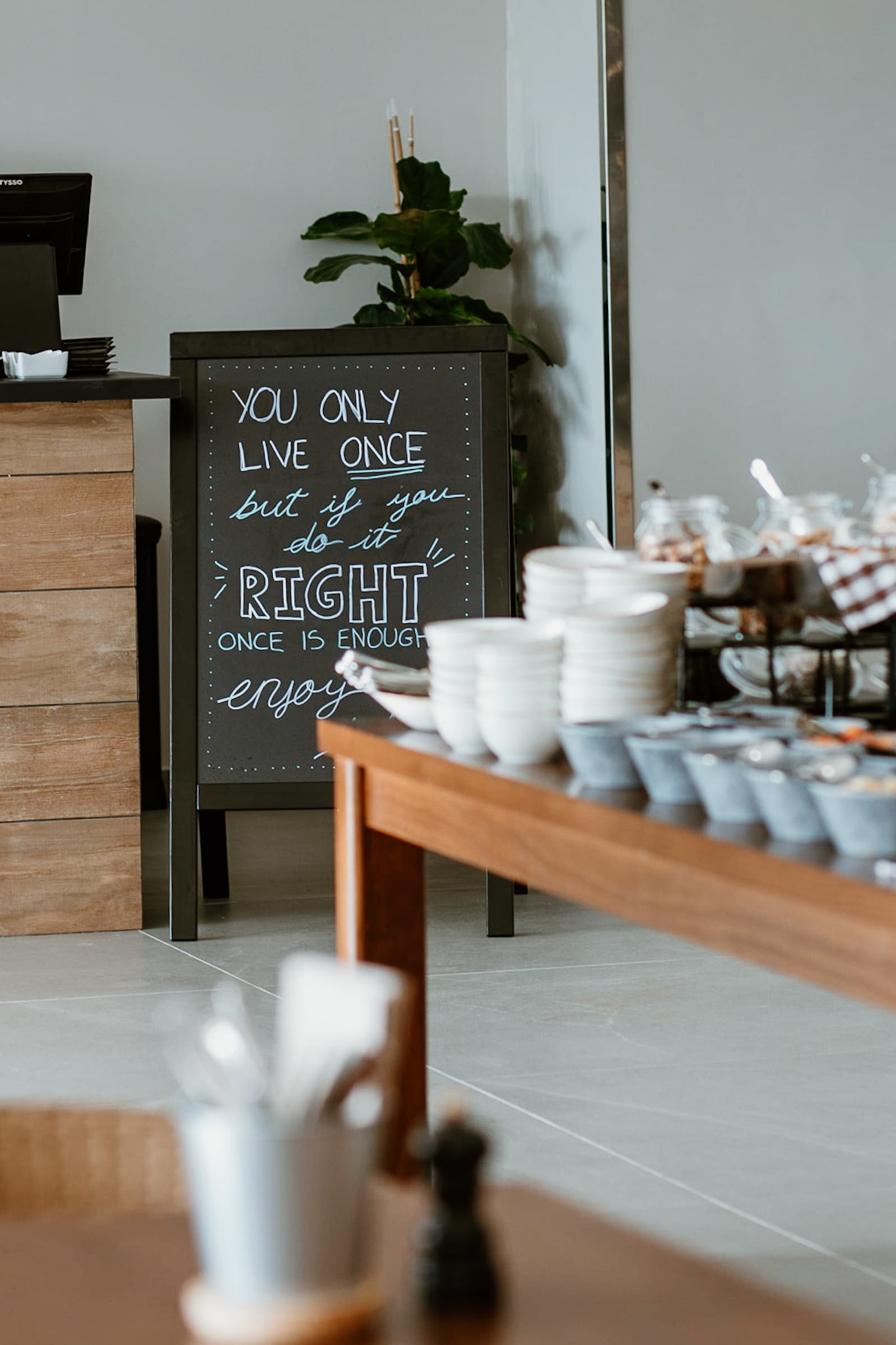 Meals for the lunch and dinner menu are also prepared at the open kitchen counter. The Cook's Club offers a good selection for every taste from crisp salads, varied poke bowls and pasta to fresh pizzas. Orders are placed casually at the counter, and payment is made with the credit on the in-house chip, which also serves as a room card.
The prices are remarkably reasonable, the Cantina is open until 10 pm in the evening, so that you can also snack in the afternoon at the pool, which I really liked as I prefer to skip lunch.
In general, very much attention is paid to quality: Again and again I ended up at the cocktail bar because the drinks there were really good! Especially with cocktails I am a bit picky, because I love cocktails, but there's nothing more awful than cheap booze ruining your drinks.
Music & Nightlife
The musical entertainment in the club was also pleasant: in the afternoon there were mostly chill-out tracks being played by the pool, in the evening there was a DJ or even a saxophonist (and hey, saxophone music plus sunset plus palm trees plus sea view – what more could you want?). However, since the club has only been opened recently and not yet fully established itself, there will still be a lot to do.
Like its sister hotel Cook's Club Palma Beach* in Playa de Palma, the aim is to attract guests from outside the city with chill-out parties by the pool and after-work events. I then took a look at Cook's Club Palma Beach – and it really is a chilled out event location that is also popular with locals.
Check rates & availability for Cook's Club Palma Beach*
What else to do around Calvià
Located in the southwest of Mallorca, Cook's Club Calvià Beach is a very good starting point for a variety of excursions: by car or rental car* you are in the center of Palma in only 20-25 minutes to explore the beautiful old town.
If you don't have a rental car or don't want to search for a parking space, you can also take a public bus within walking distance that will take you to the center of Palma in 40 minutes. The bus stops at Plaza España, from where you can also get on the famous Tren de Soller or take the train to the Jardines de Alfabia or the markets of Santa Maria or Sineu.
How to get there
Cook's Club Calvià Beach is only about 30 minutes by car from Palma Airport. You can take a cab there directly, or try Uber. Uber is in fact starting to operate gradually on the island! If you take a rental car directly at the airport, it is best to ask in advance at the hotel if parking spaces are available, as capacity is limited.
Book your stay at the Cook's Club Calvià Beach*
Disclaimer: Cook's Club Calvià Beach invited me for this stay.