Do you also love the great atmosphere of the markets on Mallorca? Farmhouse furniture from forgotten fincas, old records from bygone days or one or the other Mediterranean vintage decoration treasure for home: At the flea market in Consell you might find what you are looking for. The largest flea market in Mallorca holds quite a few finds and second-hand treasures.
Mallorca's largest flea market in Consell
If you're looking for unusual furniture, decor or knickknacks, be sure to stop by the Consell market on Sundays. The location, however, is less than appealing. Located in the middle of an unadorned industrial park, the flea market is just outside the center of Consell. But it is conveniently located right next to the main road and you can't miss it!
Click here for more ideas for your trip to Mallorca: See all articles about Mallorca!
What to buy at the flea market in Consell
The great thing about this flea market: In addition to some large professional vendors, there are also many private individuals who regularly clear out their fincas, offer antiques for sale or are just genuine flea market enthusiasts. Therefore, you can still find really nice, well-kept pieces here! Everything from furniture to clothing and decoration is allowed for selling. I've bought great pieces of high quality leather for sewing here originally from production sites around Inca, the leather capital of Mallorca.
Furniture designers can also be found at the flea market. One dealer even offered a huge assortment of old aircraft trolleys and catering boxes! In addition, on Sundays several large stores open their warehouses full of furniture, new and used. By the way, it is allowed to haggle everywhere – a true flea market atmosphere!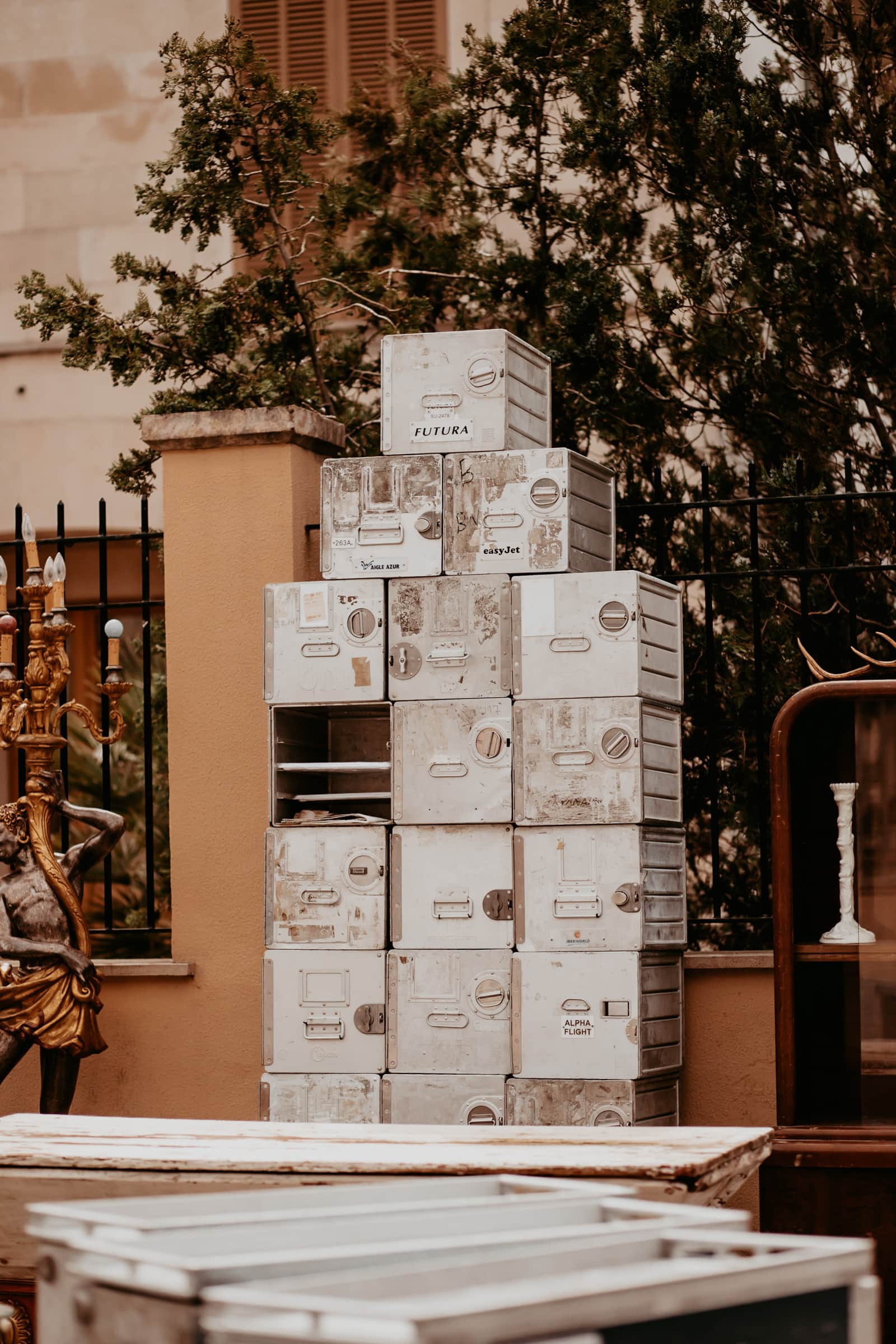 For many sellers, the flea market is not only a nice side business, but also serves as a social get-together on Sunday mornings. The two low-key tapas bars next to the market, for example, are always packed!
How to get there
By car: The Consell flea market is located right next to the mai road M13-A. Coming from Palma, take the MA-13 freeway towards Inca and after Santa Maria del Camí take the next exit to Consell. Follow the signs towards the village. The flea market is located just outside the center, right next to the road. On Google Maps, search for "Mercat de Vell de Consell".
By public transport: Consell is located near the Palma-Inca-Manacor railroad line. Take the train to Alaró station. From there the bus line 342 stops just in front of the market, at Polígon de Consell. However, the bus operates only every hour on Sundays. For exact times and connections, see the website of the TIB.
Parking: Next to the flea market, a large open field is used as a parking lot. Fee 1€, for an unlimited time.
When is the flea market in Consell?
The flea market in Consell is held every Sunday from 8am to 2pm.
(Because of Corona the market did not take place at all for a while, but since April 2021 it has been back as usual on Sundays!)
Looking for more markets in Mallorca? You might also like the Farmers Market in Esporles!