A travel guide to Brasília? Finally! I know Brasilia like the back of my hand, but I've never written about it on this blog before. When others ask me where my parents or me come from, I often look into glowing faces. Being Brazilian is really great, although strictly speaking I'm only half Brazilian. But the excitement quickly turns into a question mark as soon as I'm revealing that my family lives in Brasília. Brazil, that's Samba, carnival in Rio, long beaches or at most the giant city of Sao Paulo. But Brasília is rather unknown to many. Well, Brasília is actually the capital of Brazil – and most people are finally confused by then. The vast majority of Brazil tourists even don't have Brasília on their itinerary. Time for that to change! Brasília will never be able to compete with an exceptional city like Rio – but it is a really interesting and bizarre place that will give your trip to Brazil an original twist. In this article, I'll show you the Top 10 Things to do in Brasília and what you shouldn't miss!
Brasilia: A brief overview over history, construction and architecture of Brazil's capital
Brasília is a city planned on a drawing board. That hasn't changed much until today. New so-called satellite cities have settled around the actual Brasília, the Plano Piloto, over the years – but they all follow their own specific urban planning scheme. In 1960, after only five years of construction, Brasília was inaugurated as the capital, which was quite a fierce decision when you consider what had previously stood on this vast land: nothing. Nothing but the Cerrado, that's how this part of Brazil is called.
Political and economic decisions were made in cities like Rio or Sao Paulo at the coastline of Brazil. Brasília was supposed to change that. Precisely in the geographical centre of the country, architects Lucio Costa and Oscar Niemeyer planned a visionary city. And to this day I don't know of any place that resembles Brasília in the slightest way. The architecture is unique and it's the reason why Brasília will always hold a special place among all Brazilian cities and probably also among all planned cities in the world. Brasília has been a UNESCO World Heritage Site since 1987.
What to see in Brasília? 10 Top Things to do in Brasilia!
#1 Catedral Metropolitana
The Catedral Metropolitana is pretty small for a cathedral. At the same time, it is a perfect starting point for sightseeing and a good first impression of how architecture works here in Brasília. Plenty of white, a lot of clear lines and despite the age (Brasilia and thus all buildings from the founding phase have almost 60 years on the hump) the architecture is still ultramodern.
Talking about white: In Brasilia everything appears whiter than anywhere else – the sun shines brighter, that's how it always seems to me. The city is located on a plateau at an altitude of 1200 meters and during the many sunny days, dark sunglasses are recommended if you are not used to so much bright sunlight.
The entrance to the cathedral is hidden: An underground staircase leads into the interior. And there, through the colourful glass mosaic windows, which seemed so unimpressive from the outside, the cathedral's splendour unfolds. The acoustics in the church are also special: if two people stand very close to the round wall, you can even hear whispers, even if the other person is standing on the other side of the church!
#2 Esplanada dos Ministerios & Praca dos Tres Poderes
The Esplanada dos Ministérios contains all the ministries of the country and ends with the Praca dos Tres Poderes, which houses the main government buildings. The whole government of Brazil in one place – and nothing else. No shops, no restaurants, no cafés. This is the concept of Brasília: everything is neatly sorted according to purpose, with the most important buildings of a capital right in the middle.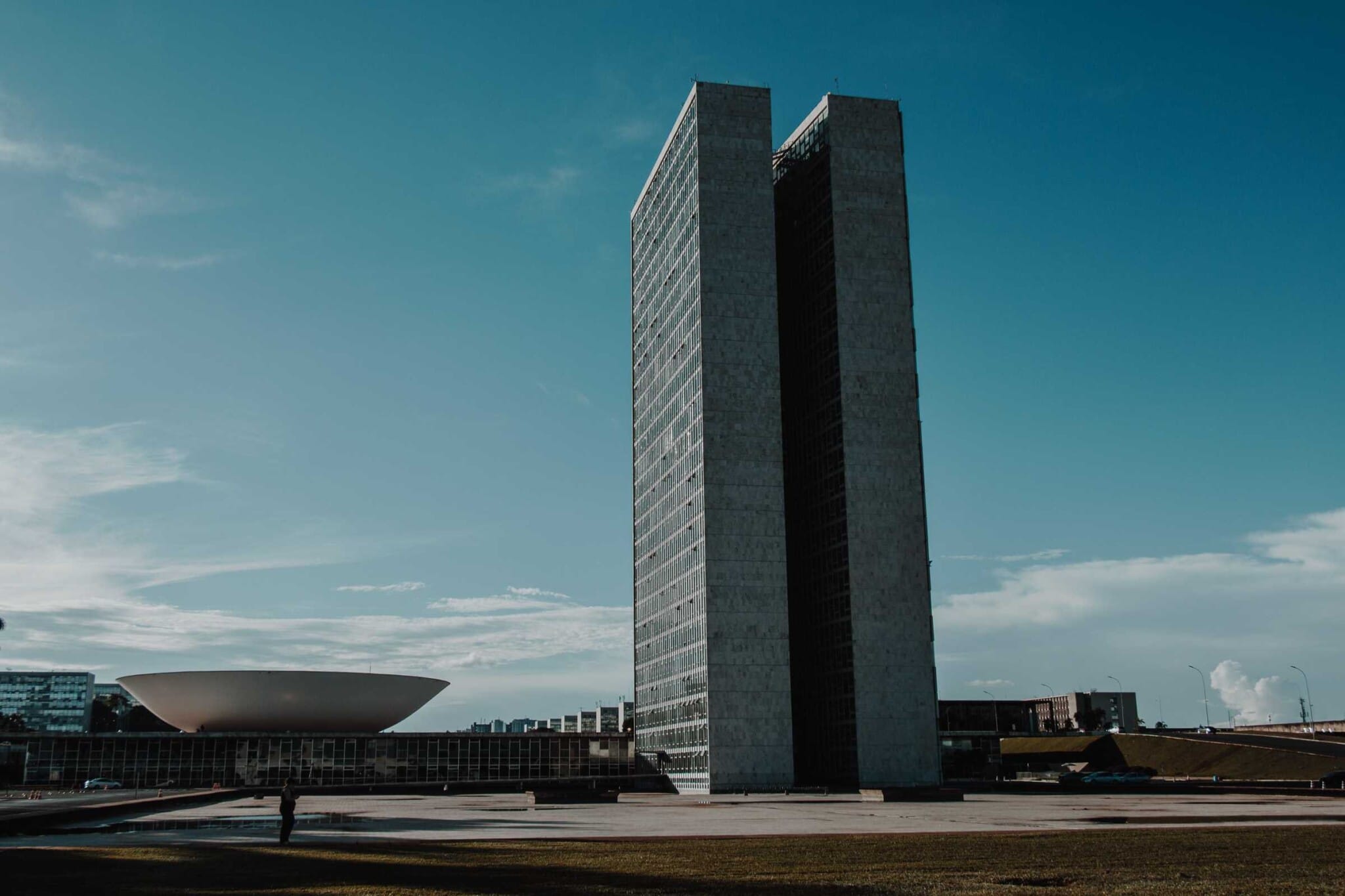 It is worth taking a look at the map of Brasília: The Plano Piloto looks like an airplane. In the wings there are residential areas, in the body of the plane government buildings and branches of economy such as hotels and banks. They are arranged exactly according to importance: The Congresso Nacional (Congress consisting of Senate and House of Deputies), the Palácio da Alvorada and the Supremo Tribunal Federal (Supreme Court) are located in the "cockpit" at the Praca dos Tres Poderes (Square of the Three Powers). All three powers gathered in one spot.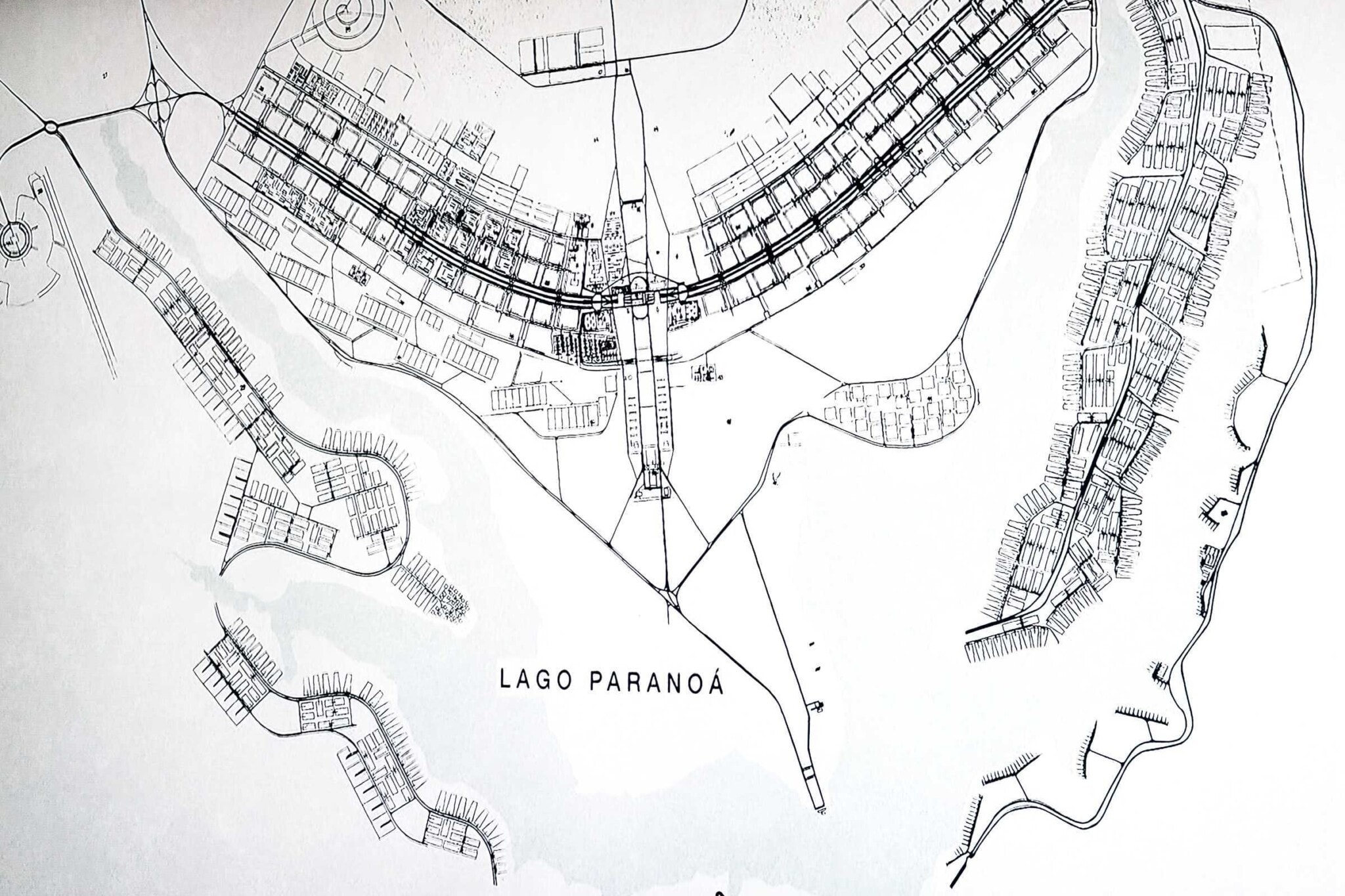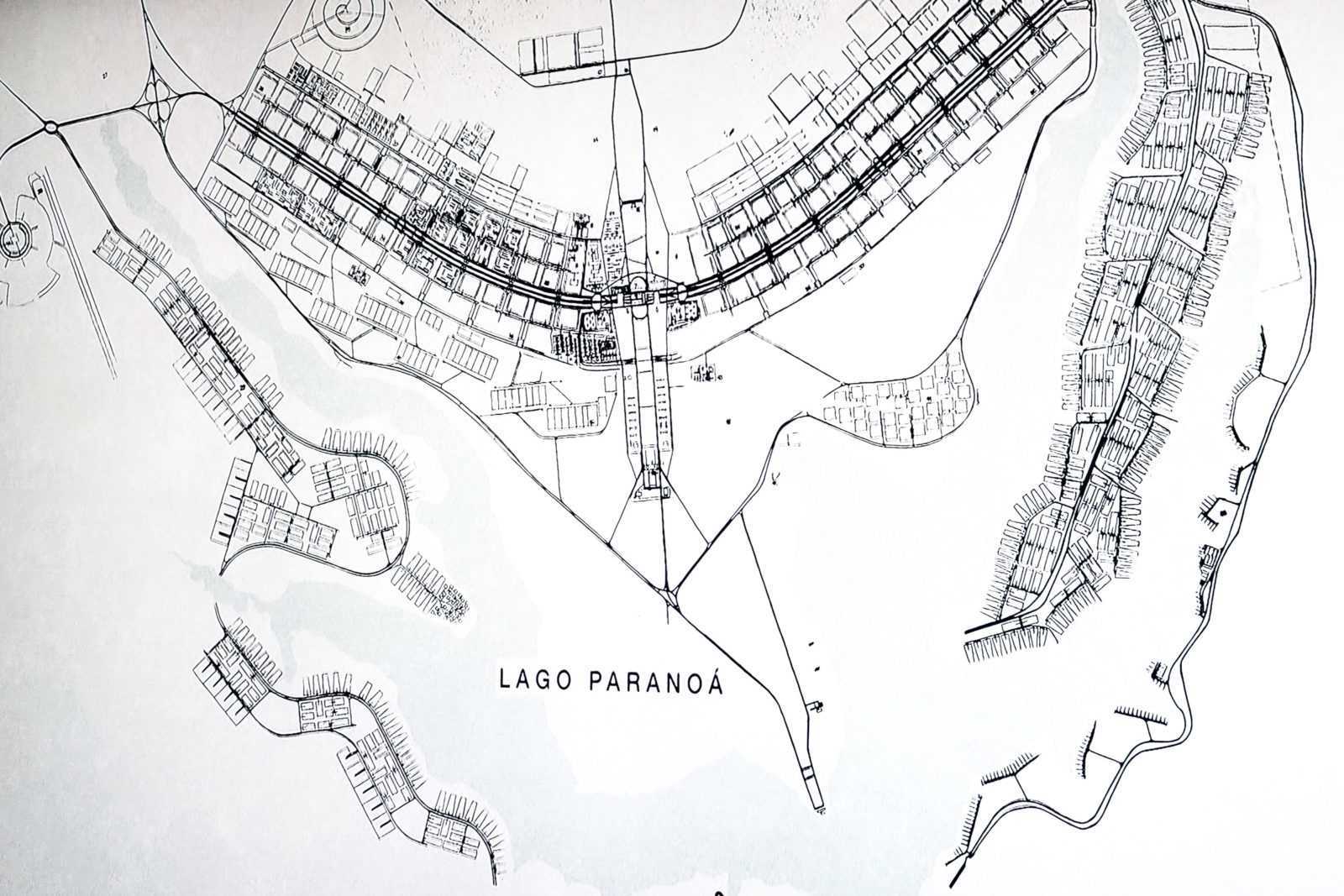 The Palácio da Alvorada as the seat of the Brazilian President is not open to the public. Interesting, however, is the built-in pedestal, which emerges from the palace and is specially designed for speeches to the people. The palace is guarded by the Dragões da Independência, a special unit of the Brazilian military, and with a little luck you can watch the change of guard.
Opposite the Palácio da Alvorada you will find the Supremo Tribunal Federal, the Supreme Court. The Praca dos Três Poderes is also a good example of the architectural concept: lots of space, straight lines and a lot of brightness. Worth a visit: the Museo Histórico de Brasília and the Panteao da Patria. The admission to both buildings is free and they both offer very interesting insights into Brazilian history. Tip: On every first Sunday of the month, the flag of the huge flagpole is changed in a big ceremony, an event that also many Brasilienses go to.
Are you planning a trip to Brazil? Read more articles about Brazil here!
#3 Torre de TV / Television Tower
From Brasília's television tower you have the best view over the Esplanada and the whole Plano Piloto – and the best is: Admission is free. Around the television tower you will find the Feira da Torre, a permanent market with handicrafts and street food. As Brasília has always been a melting pot of all Brazilian regions due to its history, you will traditionally find the most exotic specialities from the whole country, from Tacacá from Pará to Empadas from Goiás. The Feira da Torre is open every day, but on Sundays there are more stands in addition to the regular ones.
#4 Memorial JK
JK (pronounced: geotta-kaa) are recurring letters in Brasília: they are the initials of the Brazilian president who set the long-awaited project of Brasília in motion. Unusual for a Brazilian politician, he is worshipped in Brasília like no other. Initially a doctor, Juscelino Kubitschek was known to be very close to the people and of high integrity – my aunt still talks full of admiration about the day she was once allowed to meet JK as a young girl for a short moment. JK wasn't only responsible for the economic upswing in Brasília, but also in the whole country. He lost all political rights during the following military dictatorship (1964-1984), because he was criticized towards the military government. He died in 1976 in a traffic accident under circumstances that still remain unclear to this day.
After long negotiations and political pressure, the military finally gave in and in 1981, they granted the construction of the Memorial JK as a mausoleum and museum about the life of JK. The exhibition, which also contains much about Brazil's fascinating history, is also recommended for non-Brazilians.
#5 Museo Nacional & Biblioteca Nacional
The Museo Nacional Honestino Guimarães and the Biblioteca Nacional de Brasília are forming the Complexo Cultural da República João Herculino.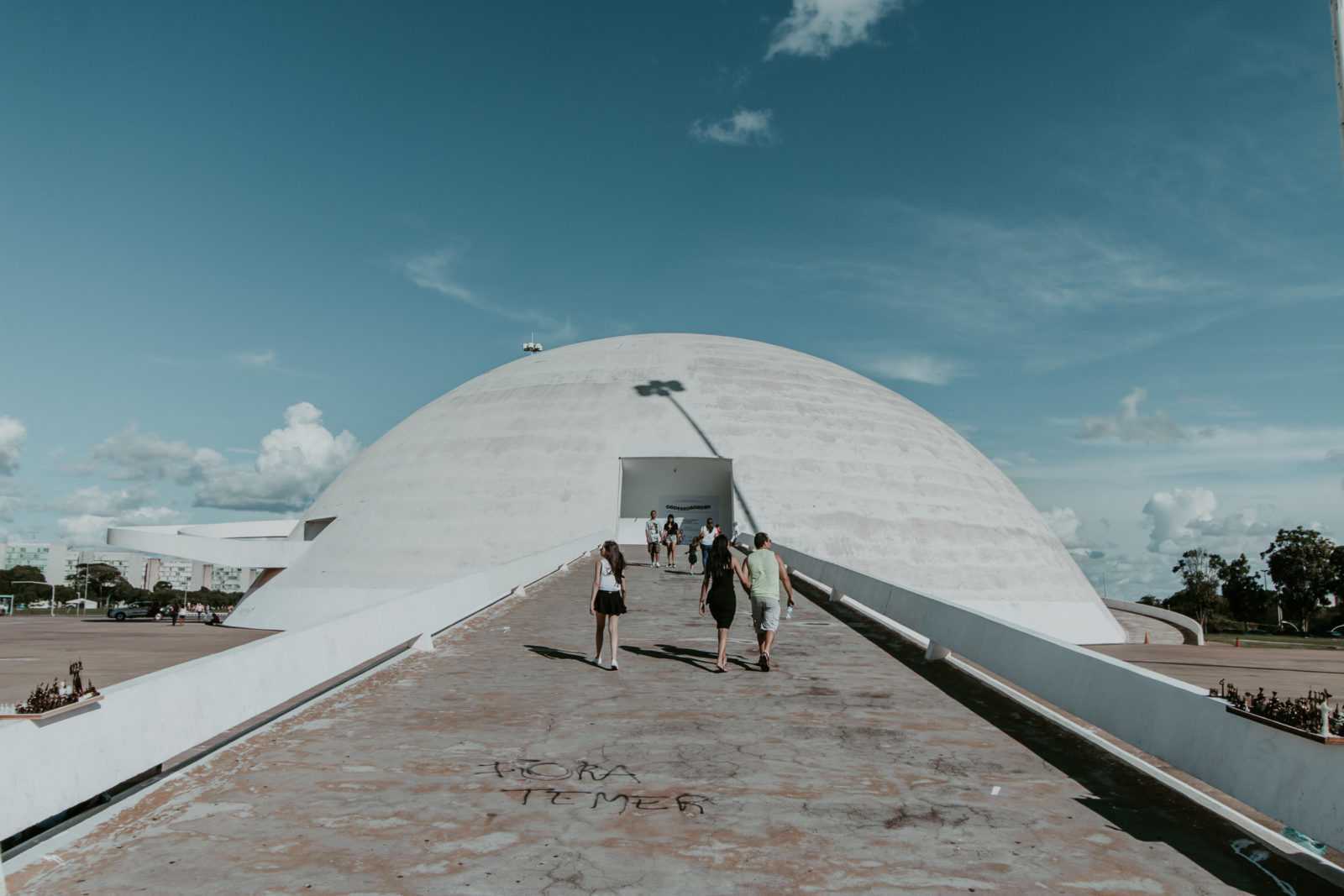 Both buildings were built in 2006 and fit seamlessly into Brasília's unusual 1960s architecture. In the Museu Nacional there are exhibitions of contemporary artists from time to time, admission is free.
#6 Parque da Cidade
Those who are tired from all the architecture can relax and unwind in the Parque da Cidade close by. Basically, it is more than just a park. It's a gigantic recreational area that can only be visited fully by car. Like everything in Brasília, the Parque da Cidade is very spacious, a bit like in the US: Without a car, you won't get anywhere. Even on weekends it never gets crowded here, although the whole city floods the park.
Useful informations for your trip to Brasília
How to get there
If you are making a detour to Brasília within a longer trip to Brazil, you may want to travel by plane. All major Brazilian airlines such as Latam, GOL, Avianca and Azul fly to Brasília. For a capital, Brasilia doesn't get many international flights, there are a few direct flights to the USA and neighboring countries like Paraguay or Chile. As far as safety standards are concerned, I have never been worried to fly with Brazilian airlines. The in-flight service and seat spacing has been reduced in recent years, but many Europeans are still surprised by the in-flight services offered by Brazil's low-cost airlines such as GOL. Tickets can also be bought at low prices at short notice – as long as it is not the peak travel season (Christmas to Carnival or Easter week).
Although there is a well-developed bus network within Brazil with buses in all imaginable configurations (there are even sleeping busses with proper beds), the journey can be very exhausting. The roads are often poor and the distances between cities are huge. From Sao Paulo, it takes about 20 hours to get to Brasília. To northeast Brazil it can even take a day and a half. Not to forget the safety issue: every now and then buses are robbed on their way.
Travelling by train is not an alternative: the rail network in Brazil is virtually non-existent, there are only a few freight train connections.
Transportation in Brasília – Public transport or car?
Public transport within Brasilías is unfortunately not recommended. Brasília is not a pedestrian friendly city and public transport is poorly organized. A few years ago, to the delight of the Brazilians, two metro lines were added to the bus network, connecting satellite cities such as Samambaia, Guará or Taguatinga with the Plano Piloto. These are not very suitable for visitors. In Brasília, the general rule for public transport is: if you can somehow afford it, you should drive by car because it saves a lot of time.
I'd recommend a rental car! As far as the traffic is concerned, Brasília's traffic is even more civilized than in other Brazilian cities due to the size and the space on the roads. It is often hard to get used to the lack of street signs (this has improved a bit with the 2014 World Cup) and the fact, that only the bigger streets are named. In residential and commercial areas, only the blocks of houses are numbered according to a specific system that varies from quarter to quarter or city to city.
If you don't dare to drive yourself, in Brasília you can now also use Uber in addition to regular taxis.
Accomodation in Brasília
Since in Brasília everything is neatly divided into branches, most large hotels are located in the so-called Setor Hoteleiro (hotel sector) near the Esplanada. The majority are hotel of larger chains with no real atmosphere.
Here are 3 tips for more exceptional accommodations that match the flair of Brasilia:
Brasilia Palace Hotel* Planned by Oscar Niemeyer, Brasília's architect. You will also find the typical tile patterns of Athos Bulcao – so typical for Brasília! Located right by the lake near the Palacio da Alvorada.
Hotel Nacional* The first large hotel in Brasília, opened in 1961, was used by many important state visitors. These times are long gone, but you will still get a good impression of Brasília's flair in those days.
Hotel Diplomat* Also one of the oldest hotels in Brasília, almost a relic. Simple, but very central.
On Airbnb you will find a number of rooms in private accommodation. Look for accommodation in the districts of Asa Norte or Asa Sul in typical older homes in Brasília. There you can also experience real Brasília flair.
***

All articles about Brazil: