I don't know about you, but somehow last year I had a hard time getting back into traveling. I have to admit I got pretty rusty during the pandemic! Anyway, that's supposed to change in 2023: I want to travel more again, get to know new places and rediscover old ones. Is that what you also set out to do? Then my list of ideas for a few great city trips in Europe is definitely something for you! Just save this post somewhere and you can always get ideas for the next spontaneous city trip throughout the year!
Pro Tip:
➜ Book early to secure the cheapest tickets: Book cheap flights for your city breaks here!*
➜ Explore the cities of Europe by train: Buy a ticket at a special price with Super Sparpreis from Deutsche Bahn*
➜ Best to book overnight stays directly via booking.com* With just a few bookings, you'll slide into a higher Genius level and get lower prices!
#1 Rome
What can I say? Before I tell you about the little insider tips in Rome, you should also have seen the classics in Rome. This city is just so bombastic and interesting, you're busy enough just seeing the usual sights like the Colosseum, Trevi Fountain or St. Peter's Basilica.
#2 Seville
Spaniards in general are already very open, but Andalusians really pull out all the stops. "Hola reina", "como estás reina", "aqui tiene reina" – I really like this Andalusian habit of always being addressed very affectionately as "reina", meaning "queen". If you are looking for joie de vivre and positive energy, Seville is the place for you!
Tip: Watch the flamenco dancers at the Plaza de España and let yourself be carried away by the intriguing atmosphere in a city that is bursting with passion.
If you are looking for a place to stay in Seville, I recommend the Boutique Hotel La Parada de Marques*! Brand new, really great design, nice people – you'll love it!
#3 Paris
Oh Paris! This city is just such a classic! Even though it's super expensive and most people rant about the rude and overbearing French. Which I don't understand at all, because I don't perceive Parisians rarely as rude (well, living in grumpy Berlin, I might have different standards) and if I were French – hey, I would also be pretty proud of this awesome city!
Tip: Going up the Eiffel Tower by day (buy tickets in advance here to avoid lines*) and admire the glittering landmark of Paris from below in the evening!
More tips for your perfect day in Paris
#4 Zagreb
In Zagreb, I probably experienced the most memorable museum visit of my life: the Museum of Broken Relationships features artifacts from broken relationships. Sounds crazy, and a bit like those tourist museums that are supposed to seem fun, but in the end you're just annoyed about the money you've spent. But it is quite different there, and not only once did the exhibition pieces bring tears to my eyes, whether from joy or sad emotion. Definitely worth a recommendation. And Zagreb as a city is also a good destination for a city break!
#5 Graz
Okay, Austrians will roll their eyes now, but to me, Graz is one of Vienna's little sisters, along with Salzburg. Less crowded, less overwhelming, but still a mix of tradition, culture and pretty good food. And with its picturesque location on the Mur River and plenty of greenery around it, Graz is perfect for a relaxing city break! By the way: The trip gets really perfect with a stay at the Grand Hôtel Wiesler*, which is located in the city directly on the Mur and is just terribly pretty!
Tip: Visit the current exhibition at the Kunsthaus Graz (admire the impressive futuristic building on the side!) and then enjoy the panorama with a glass of wine on the Schlossberg.
#6 Vilnius
Vilnius was my last stop, so to speak, in 2022 (read my article about Vilnius here). By the time I got to Vilnius, winter was already upon us and that was quite a challenge for me as I'm more a summer person. Nevertheless, the mix of history, culture and a young and open atmosphere was very exciting. And at Hotel Pacai*, I had one of the nicest hotel stays in a long time. It was relatively quiet in winter, but from previous visits (admittedly half a lifetime ago) I can still remember how lively it gets here in the summer. And especially in 2023: Vilnius will be celebrating its founding 700 years ago!
Tip: Vilnius is the only city in Europe where you can float over the city center in a hot air balloon.
#7 Venice
Venice is always a good idea, and even if Venice is hijacked by tourists in summer – it is still an incredibly fascinating city. The location in the lagoon, the old palazzi, so much art: I've actually been to Venice only once, but this was certainly not the last time!
My advice: Go up to the terrace of the Fondaco dei Tedeschi for sunset & browse the shelves at the Libreria Acqua Alta.
#8 Prague
Last year I unexpectedly ended up in Prague again and was just super happy about the day I got to spend there. Prague is just one of those cities full of history and old glamour and has a very special vibe.
Tip: Walk across Charles Bridge and take a boat trip across the Vltava River*.
#9 London
I don't know if it's the upcoming coronation of King Charles III or the hype around Harry and Meghan at all, but London has been dominating my Instagram feed lately as far as major cities in Europe go! Well, London is always pretty anyway – so why not consider it for 2023?
Tip: Pick up the London Harry Potter vibe at platform 9 3/4 at Kings Cross station & then sip champagne at the bar right next door at St.Pancras station.
#10 Gdansk
I've been to Gdansk again a few times in 2022, and I rediscovered some great locations there! For example, I went to the site of the old Gdansk shipyard for the first time – and it was so exciting, I hope to go again in the spring or summer. Then the huge crane is also open, from which you have a really good view over the city.
More tips & sights in my Gdansk Guide
#11 Palma de Mallorca
Actually, my second home Palma already gets enough visitors in summer. However, I heard that this year the number of cruise ships docking and thus the crowds that flood the streets of the old town during the day will be limited. Anyway, the cruise tourists usually flock in the same direction and I still have so many tips for great locations in Palma (like my favorite neighborhood, Molinar) that the mainstream doesn't know about. So get ready for more insider tips for Palma here on the blog!
Here you will find all tips for Mallorca
#12 Hamburg
I haven't been to Hamburg for ages and I don't know why! Hamburg is only an ICE ride away from Berlin. I like to travel by train anyway, and I don't let constant delays or a non-existent service culture like from our German train service stop me! (By the way, with the Flixtrain there is still a good alternative to the Deutsche Bahn in Berlin; also not always perfect, but sometimes a refreshing alternative).
My plan for Hamburg: Rediscover the city & explore areas I've never been to before, e.g. the Reeperbahn and St.Pauli (I've never seen those areas in what feels like fifty visits to Hamburg, can you imagine?).
#13 Madrid
I've never been a big fan of Madrid. But after my blogger bestie Sandra raved about so many tips in Madrid last year, I should give the city a chance again and go looking for the best tortillas in Madrid myself.
#14 Dresden
According to Lonely Planet, Dresden is one of the top travel destinations for 2023. But actually, Dresden has always been a great destination. Besides the usual sights like the Zwinger, the Semper Opera and the Frauenkirche, I recommend a trip to the Neustadt where Dresden gets a bit wilder and alternative.
My insider tip for Dresden: The organic café in the Japanese Palace, with its own small garden in the courtyard!
#15 Timisoara
Admittedly, Timisoara and I took off on bad terms. I've probably been there too many times, and at a time when Timisoara and, for that matter, the rest of Romania were anything but hip and trendy. Or maybe it was due to the rather revealing nightclub advertisement in the elevator of our crew hotel, which was meant to attract guests to the hotel bar in the basement. And I bet many (mostly male) guests on a business trip were very happy about the hint. Already a very unusual flair for one of the better hotels in town.
Be that as it may, Timisoara has been properly spruced up in recent years, and perhaps the last windy fortune seekers will soon disappear. In 2023, Timisoara is one of the Capitals of Culture in Europeand I am curious to see how the city has changed.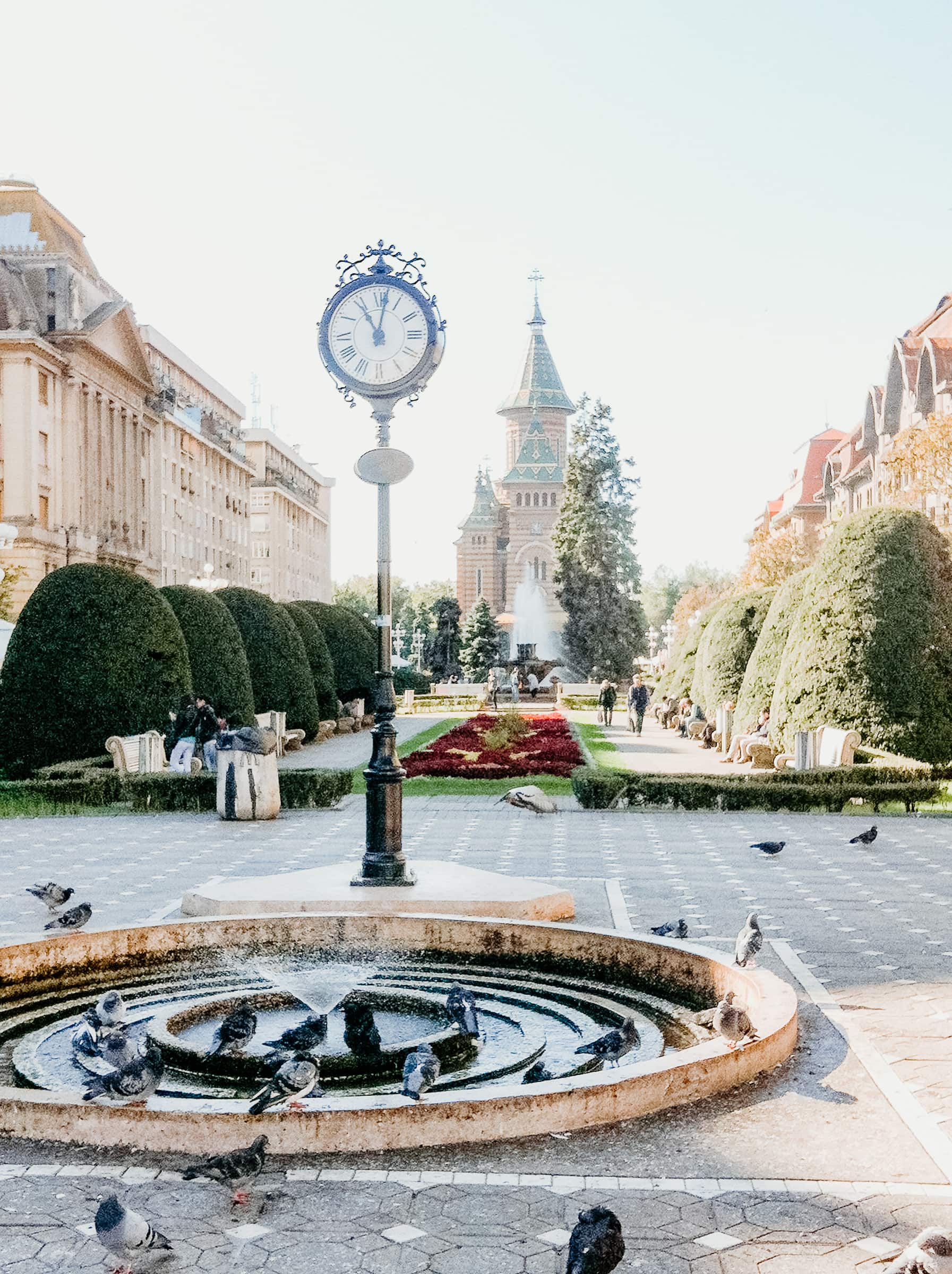 #16 Lisbon
I realized with horror how long it has been since I've been to Lisbon. Yet the Portuguese capital is my absolute place of strength; especially in winter, when it's gray and dreary in Germany, a sunny day in Lisbon is worth its weight in gold I don't know what it is, but the light, the water around it, the wind of the Atlantic make it one of my favorite cities in Europe. And of course the Portuguese, the delicious food, the great old town and much more.
#17 Faro
After my Algarve trip the year before last, I almost got stuck in Faro! I just didn't want to go back to Berlin. What it is, I don't know, but Faro is possibly just the perfect mix of Portuguese lifestyle, laid-back cafes and stunning beaches just outside the city.
Learn more about Faro in my article on Travellers Insight
#18 Manchester
My personal UK expert Sandra from A decent cup of tea always says Maaaaahn-schesta with a long "a"- but I always think of Manchester and English as the hot potato that every Mancunian has to have in the mouth when speaking. The broad accent is just one of a kind! And in general, I feel a bit at home in Manchester, probably also because there are quite a few parallels between Manchester as an old industrial city and my original home region, the Ruhr area, the first industrial area in Germany.
Sandra's tip for Manchester: Tib Street in the hip Northern Quarter with street art, specialty coffee cafes and craft beer pubs till you drop.
#19 Basel
Okay, Basel is in Switzerland, so that makes it extra expensive, and anyway, in Swiss cities you always have to ask yourself if it's worth having half a heart attack every time you run up a bill at the café. But Basel in summer is just cool because of its Rhine swimming: Put your clothes in the so-called "Wickelfisch" (a waterproof plastic bag), swimwear on, jump into the Rhine and let yourself drift on the Wickelfisch with the quite swift current. Always an amazing experience!
#20 Poznan
Actually, I've had quite an overdose of stays in Poland in the last few years, because I'm there all the time for work reasons. But that also means that a considerable number of tips have piled up that I still absolutely have to share with you here on the blog – from the best St. Martin's croissants to a real jungle, I still have quite a few in store for Poznan. And if you're looking for a nice and easily accessible destination for a short trip that won't blow a huge hole in your travel budget, Poznan is just perfect!
#21 Torino
Omg, I just miss overnights in northern Italy! In the meantime, I have given up hope of ever returning to Milan, Bologna or even Torino on duty. Whether for a casual cappuccino or tango dancing under arcades, I'll definitely have to return!
You can find more travel tips for Bella Italia here
#22 Reus
Reus was one of my new discoveries in Spain last year, along with Tarragona! Only a hundred kilometers from Barcelona, it is perfectly accessible by train for a day trip from there! Find out what you can experience there in my travel guide for Reus!
Tip: In general, a trip to Catalonia is worthwhile. Here you can find my Catalonia insider tips!
#23 Berlin
Opinions differ about my current hometown, which I constantly quarrel with, but which is also simply unique in many ways. Berlin is loud, chaotic and dirty – but you shouldn't let such trivialities stop you!
Besides, there's so much to see in Berlin, there's a pretty good chance there's still plenty to discover. When I talk to people who didn't like the city so much, I often realize that they were just exploring the wrong corners. To make sure that doesn't happen to you, I've resolved to share more tips for Berlin here on the blog this year!
For example, like this one: Breakfast at the Reichstag
➜ Book your table on the roof terrace of the Reichstag here*
City breaks in 2023: My outlook
I'm excited to see what city breaks the new year brings me. As always, I am very spontaneous in planning, but anyway I am often on the road professionally as a flight attendant in Europe. Anyway, I hope I was able to give you some travel inspiration. And if you want to know where I'm off to right now, just follow me on Instagram!