Chicago is an impressive city: A huge skyline, but also a lot of green and long beaches on the shore of the huge Lake Michigan. People here are incredibly open-minded and friendly: Chicago is known for its positive attitude to life! Although I have never been one of the great USA enthusiasts, Chicago instantly blew my mind. In this article, I'll show my Top 20 sights and my best things to do in Chicago!
#1 The Bean & Millenium Park
The sculpture by Sir Anish Kapoor in Millennium Park is actually called Cloud Gate, but because it looks like a bean, the nickname stuck: The Bean. This is probably the most popular photo spot in all of Chicago!
But The Bean is not the only work of art worth to be seen here! Almost right next to it you'll find the Crown Foutain, a water-spewing video installation that provides refreshment especially for children in Chicago's scorching hot summers.
#2 Willis Tower
Formerly called Sears Tower, the Willis Tower in Chicago was the tallest building in the world. That's a long time ago, but the view from the Chicago skydeck is still impressive. A special highlight are the four glass balconies ("The Ledge"). Even the floor is made of glass! But be aware: This is nothing for people who are afraid of heights!

#3 360 Chicago at the John Hancock Center
If you want to see Chicago from a different perspective than the Willis Tower, you should go to 360 Chicago. At the extra attraction Tilt you can lie down on glass panes that tilt forward.
By the way: At attractions like the Skydeck or 360 Chicago the entrance fee is quite expensive. With the Chicago City Pass
* you can save up to half of the price! It's best to calculate beforehand whether you want to pay the entrance fee separately or take the pass.
➜ Buy the Chicago City Pass online!
*
Are you planning a visit to Chicago? Read more about Chicago and other cities in the US in my blog!
#4 Magnificent Mile / Michigan Avenue
On Michigan Avenue, you'll find a paradise for shopping addicts: All the major stores are here. Quite luxurious – that's why this piece of Michigan Avenue is also called "Magnificent Mile". You can stay overnight in style here at the Warwick Allerton*, one of Chicago's most historic hotels. Recently renovated, you will stay in one of those old skyscrapers like in a movie: big rooms, high ceilings. And everything is top notch.
➜ Book your stay at the Warwick Allerton Chicago*
#5 Chicago Riverwalk
The banks of the Chicago River have been renovated recently. Now you can stroll along here or just have a short lunch break at one of the beach bars. If you prefer a sport activity, you can take a kayak, while more comfortable ones take one of the water taxis and explore Chicago from the water. The water taxis are part of Chicago's public transportation system!
The almost hundred-year-old Navy Pier has been refurbished quite a bit in the nineties, and now you can find all kinds of recreational activities here, from a Ferris wheel to a musical theatre and art exhibitions. The many cafes and restaurants are great places to take a break from sightseeing and enjoy the view of Lake Michigan – in the beer garden, for example, you can enjoy a beer and a traditional Chicago hot dog. There are always free fireworks on Wednesday and Saturday evenings. Many other free events such as concerts and festivals can also be found in the event calendar on their website.
#7 Chicago Elevated, Loop, "L"
The Chicago elevated railway is also known by the letter "L", but it's actually called Chicago Elevated. Especially remarkable is the Loop, the ring that runs through the street canyons in the middle of downtown Chicago.
#8 Lake Michigan and Lakefront Trail by Segway
The Lakefront Trail runs all along the city, perfect for jogging, cycling – and Segway riding! The distances are huge, so a set of wheels is quite handy if you want to see some of Chicago's beautiful waterfront. The lakefront definitely defines Chicago's high recreational value: An absolute must if the weather is nice!
➜ Book your segway tour here!*
#9 Art Institute of Chicago
If you really want to see all exhibitions, you will be busy for a whole day. But it's also worth a visit just for the highlights: the Art Institute of Chicago houses numerous American classics such as Edward Hopper's Nighthawks. Admission is quite expensive with 25 dollars, but with city passes like the Chicago City Pass you can save a lot of money if you are on a sightseeing tour through Chicago.
Read my report about the Chicago City Pass: Chicago City Pass – Is it worth it?
#10 Chicago Theatre
Even if you don't attend a show at the Chicago Theatre: A photo in front of the legendary neon sign is a must! During the day, you can visit the historic Chicago Theatre with a guided tour.
#11 Jazz Clubs & Live Music
Jazz and blues are the leading music genres in Chicago. And if you don't feel like dancing after a long day of sightseeing, a jazz club is the perfect way to end a day in Chicago. For example, Andy's Jazz Club offers live music from all jazz genres every night while you enjoy good cocktails.
Guide Book Chicago
Need an extra travel guide for Chicago? The Lonely Planet Chicago* is particularly detailed and provides all the important information you need. Very handy if you have a little more time in Chicago and want to really immerse yourself in the city!
#12 Chicago' s Deep Pan Pizza
Chicago is famous for its Deep Dish Pizza or Deep Pan Pizza, which was invented here in the forties. The original is said to have been created in the Pizzeria Uno – but Gino's East and Lou Malnati's can also look back on a long Deep Pan Pizza tradition. Unlike the traditional Italian pizza, the Chicago Pizza is served in a pan, with the cheese placed under the other toppings on a cornflour dough. This has not much to do with an original Italian pizza, but the Chicago Pizza is still delicious. Gino's East is worth a visit just because of the interior decoration: the complete (!) restaurant is scribbled from top to bottom. Get your marker at the entrance and leave your message on one of the walls!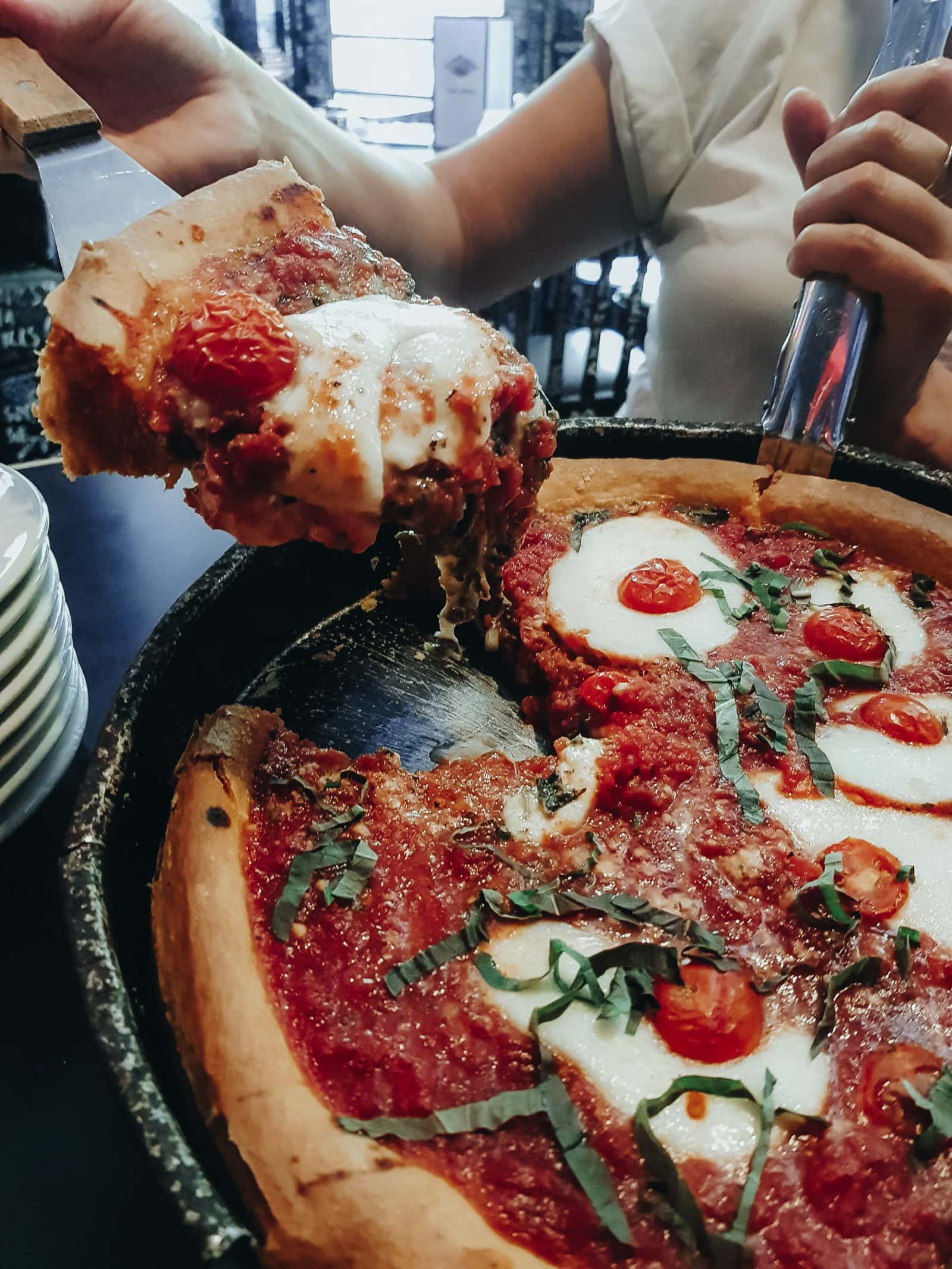 #13 Route 66
The legendary Route 66 actually starts here in Chicago! Route 66 no longer exists as an official road, but the old sign on Adams Boulevard that marks the beginning still exists. By the way: A road trip on Route 66 from Chicago, as I did, is also highly recommended! You can read more about my roadtrip through Illinois here:
#14 West Loop, Randolph Street & Fulton Market Street
The new restaurant mile in Chicago's gastro heaven: Chicago is known for its fantastic restaurants. In West Loop, a new generation of restaurants has established itself along Randolph Street and Fulton Market. There's always something going on in the evening. Once a year, in the summer, there is the "Taste of Randolph", a street festival with events and live music, in which many restaurants of the district participate and where you can taste all the specialties at a low price.
My tip: breakfast at The Allis!
#15 Wicker Park
In big cities I also like to visit the small neighbourhoodslike districts, because this is where you get to see more of the real life. If I hadn't decided to stay in the city center, I would have ended up in Wicker Park, one of the hipster districts of Chicago with a lot of street art, cool bars and unique stores.
Some of my favorite findings in Wicker Park:
Dove's Luncheonette Tex-Mex cuisine is reinterpreted here in a retro luncheonette style. Amazing food.
Milwaukee Avenue If the Magnificent Mile is too much dominated by giant chains for you, Milwaukee Avenue will be much more comfortable for shopping. Here you will find small shops between larger indie chains like Urban Outfitters, and you can stroll around much more comfortable than on the occasionally busy Mag Mile.
#16 The 606 / Bloomingdale Trail and Park
Relatively unknown, since just outside the city centre between Logan Square and Humboldt Park: The 606 is a disused elevated railway line that has now been converted into a leisure park. Over the roofs of Chicago, you can jog, cycle and whatever else comes to your mind for over 4 kilometres.
#17 Humboldt Park
Chicago is such a melting pot! People from so many nations live here that sometimes you feel like you're on a little trip around the world. Humboldt Park is a district where many Puerto Ricans live: In summer there is a big street carnival with lots of salsa, bachata, reggaeton and merengue and I loved it!
#18 Buckingham Fountain
If you grew up in the 90s, you will recognize it, no matter where in the world you grew up! As I sat by Buckingham Fountain in Grant Park, I immediately thought of the opener of the TV series "Love&Marriage". The Buckingham Fountain is one of the biggest fountains in the world!
#19 Oak Street Beach & Co.
Chicago has it all: vibrant city life, lots of green, the great Lake Michigan – and even great city beaches! Oak Street Beach is one of the most popular, but you wouldn't expect to find beaches like 12th Street Beach next to the Adler Planetarium in a big city like Chicago either.
#20 Chicago for Foodies
Chicago lives up to its name as a gourmet destination. It has such a variety of good restaurants! You won't stay hungry here!
Some of my personal favorites:
Imperial Lamian Asian fusion cuisine with homemade fresh noodles and a dessert that is served in such a fascinating way that you will want to order it twice just because of the show it comes with (ask for "Lunar Blossom")
Hugo's Frog Bar Yes, here you can get frog legs, but also everything else that a down to earth gourmet could desire. Classic dishes in an Italian-American setting and absolutely delicious!
➜ Read also my Chicago Food Guide!
Check my Google map with all locations:
***
All blog posts on Chicago:
*Enjoy Illinois kindly invited me on this trip.